How to Make Chocolate Fudge
The process of how to make fudge is such a quick and easy one! Basic chocolate fudge only calls for 4 ingredients and can be made in less than 10 minutes and the results are absolutely delicious! 
Learning how to make fudge is one of those basic baking skills that you can keep in your back pocket to use for endless variations. I love keeping master recipes that are easy to customize around (my Marshmallow Cereal Treats are another favorite) because you can make so many variations! And if you've never made basic fudge before, would you believe me if I told you it would take you less than 10 minutes to whip up a batch? Honest!
What is Fudge?
Fudge is a candy made of sugar, milk, butter, and a variety of other ingredients, most commonly, chocolate. The very traditional way of making fudge requires making a sugar syrup that is cooked to a very specific temperature and then is cooled and beaten until it thickens. However, there are many fudge recipes that call for the use of marshmallows or sweetened condensed milk in place of the sugar syrup as an easier way of making an equally delicious fudge.
Ingredients in Easy Chocolate Fudge Recipe
Basic chocolate fudge requires so few ingredients it almost feels like cheating when you end up with the final product. One of the ingredients that many fudge recipes don't include but I highly recommend including is salt. I have always sort of felt that I didn't actually like fudge. But when I started making my own and included salt in mine, I realized it was just because most fudges aren't well balanced.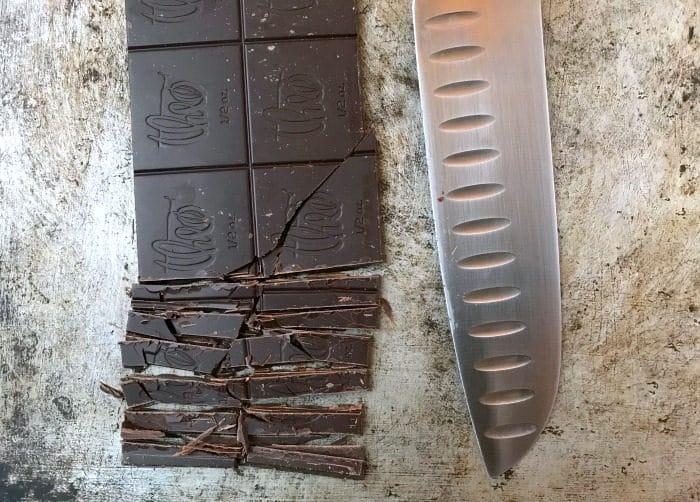 The Chocolate for Fudge
The kind of chocolate used in a chocolate fudge recipe is extremely important. I personally like to use a dark or bittersweet chocolate. The amount of sugar in the sweetened condensed milk will make the chocolate plenty sweet and I like all of the complexity of flavors that come with dark chocolate. While a fudge recipe will technically work with a very cheap and low quality chocolate, I wouldn't recommend it.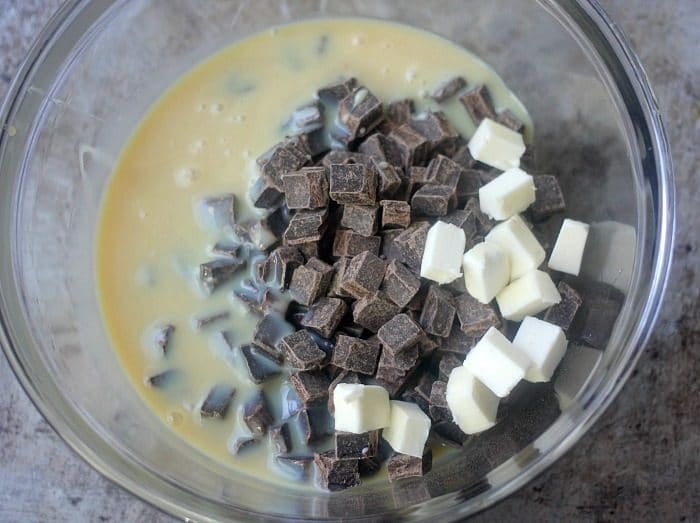 Sweetened Condensed Milk
I have to tell you, I have had a somewhat irrational avoidance of sweetened condensed milk in my baking days. I pretty much avoid most recipes that call for it, thinking that it must be a lame shortcut that a real baker doesn't need because they can just make things the traditional way. But as I was researching fudge recipes I decided to consider fudge made with sweetened condensed milk because who wants the stress of very precise cooked sugar with everything else going on right now?  And I have to say, I was completely mistaken. Here I am inserting my foot in my mouth.
Sweetened condensed milk only contains two ingredients: sugar and milk. The mixture is literally a condensed form of milk, meaning most of the water has been evaporated off, mixed with a sugar syrup. The end product is essentially a pre-made version of what you would end up with if you were to make fudge the old fashioned way by making your own cooked sugar and milk syrup. This may seem like a completely obvious realization, but I had just never considered it before. Two ingredients for the price of one and a bonus of not needing a candy thermometer to make your fudge!
Note: If you do not have sweetened condensed milk on hand, you can make homemade sweetened condensed milk to use in this recipe! 
How to Make Fudge
The process of making a simple chocolate fudge is quite easy. Chocolate is melted with sweetened condensed milk and butter. These are truly the only 3 ingredients needed to make chocolate fudge in its most basic form, however I also always add salt to help balance the sweetness. The chocolate fudge can then be left as is, or any variety of flavorings or add-ins can be added to it to create any flavor you desire.
The process of making fudge this way, really couldn't be simpler. The only thing that really requires some attention to keep your fudge at the right consistency is that you must melt the chocolate slowly and not allow it to get too hot. If it does get too hot it will seize up and the resulting fudge will get grainy. There are 2 methods for making basic chocolate fudge: The Stove Top Method and The Microwave Method.
How to Make Fudge on the Stove Top
Making fudge on a stove top is my preferred method of making fudge. I believe it is the best way to ensure that the chocolate melts slowly enough and doesn't seize up. To do this, you need to set up a double boiler. A double boiler is a pot of simmering water that a heat proof bowl sits over. The steam from the simmering water will slowly melt the chocolate. This is much better than putting the chocolate directly in a pot over a low heat, because even the lowest heat can be too much and can burn the chocolate or cause it to seize.
All of the basic ingredients for your fudge are put into a bowl and the bowl is set over the pot of simmering water. Stir frequently until you have a smooth consistency. Then carefully remove the bowl from the pot and stir in any flavorings or mix-ins.
How to Make Fudge in the Microwave
I will preface by saying that I do not prefer this method because if you aren't absolutely diligent about standing by and watching it closely, you can very easily ruin your fudge. That said, this does work if you are absolutely adamant about staying right by it.
For the microwave fudge method, put all of the basic ingredients for the fudge in a microwave safe bowl and heat in 30 second bursts, stirring in between. Between each 30 second interval, remove the bowl from the microwave and stir thoroughly, making sure to scrape the sides and the bottom of the bowl.
Chocolate Fudge Variations
This basic recipe can be used as the base for endless variations. Add in spices, extracts, and mix-ins to create all kinds of flavors. I like to split 1 batch into two bowls and make two different kinds at once. Below are some ideas for how to flavor your chocolate fudge.
Nut Fudge
Add coarsely chopped toasted nuts to the fudge mixture before putting it into the pan to set.
Spicy Mexican Chocolate Fudge
Add vanilla extract, cinnamon, and cayenne pepper into the fudge mixture before putting it in the pan to set.
Peppermint Fudge
Add peppermint extract into the fudge before putting it into the pan. After the fudge is in the pan, press chopped up peppermint candies or candy canes into the top.
Salted Caramel Fudge
Pour caramel sauce or dulce de leche over the top of the fudge and swirl it through with a butter knife. Sprinkle the top with flaky salt before it sets.
Yield: 2 lbs
Basic Chocolate Fudge
Prep Time 10 minutes
Additional Time 2 hours
Total Time 2 hours 10 minutes
This basic fudge recipe can be made on the stove top or in the microwave and uses sweetened condensed milk to make the process so easy and fast! No candy thermometer required for this recipe and it takes less than 10 minutes to make! 
Ingredients
1 lb (16 oz, 448 gr) good quality chocolate or chocolate chips (I like to use a bittersweet or dark chocolate. I suggest using a chocolate that you like eating on its own since it is the star flavor of the fudge.)
1- 14 oz can (394 gr) sweetened condensed milk (not evaporated milk, they are not the same thing)
2 TBSP (1 oz, 28 gr) unsalted butter, cut into small pieces
1/2 tsp Morton kosher salt (use 1 tsp if using Diamond Kosher)
Instructions
If you are not using chocolate chips, roughly chop the chocolate and place it in a medium heatproof bowl. Add the sweetened condensed milk, butter, and salt into the bowl.
Stove Top Method (skip this step if you are following the microwave method): Set up a medium saucepan filled without 2 inches (about 5 centimeters) of water on your stove and turn it on medium heat to bring the water to a simmer. This will be the base of the double boiler. Set the bowl over the saucepan of simmering water, making sure that the bowl is not touching the water. If the water is touching the bowl, pour out some of the water. Use a rubber spatula to stir the mixture as the chocolate begins to melt, until you have a smooth texture and all of the chocolate is melted. The mixture will be very thick, almost like a dough.
Microwave Method (skip this step if you followed the stove top method): Heat the mixture for 30 seconds on high. Stir the mixture thoroughly, being sure to scrape the bottom and sides of the bowl. Heat for 30 more seconds and stir the mixture again. Heat in 15 second increments, stirring in between, until the mixture is a smooth consistency. This should take about 1 min 45 seconds to 2 minutes total time from start to finish. The mixture will be very thick, almost like a dough.
Line a 8x8 or 9x9 pan with foil, parchment, or wax paper. Spread the fudge in the pan using the back of a spoon, a rubber spatula, or an offset spatula, until it is evenly distributed. Smooth out the top. Note: You can also split the batch into smaller tins for gift giving or use a 9x13 pan for a much thinner fudge.
Allow to sit at room temperature for about 2 hours or in the refrigerator for 1 hour to set before cutting.
The fudge can be stored in an airtight container at room temperature for about 1 week or in the refrigerator for up to 3 weeks.
Notes
Variation IdeasNut Fudge: Add 1 1/2 cups roughly chopped toasted nuts into the fudge mixture right before putting it in the tin to set.
Spicy Mexican Chocolate Fudge: Add 1 tsp vanilla extract, 1/4 tsp of cinnamon, and a 1/4 tsp of cayenne pepper into the bowl with all of your ingredients before melting them all together.
Chocolate Peppermint Fudge: Add 3/4 tsp of peppermint extract into the bowl with all of the ingredients before melting them all together. After smoothing the fudge out into the pan, top with chopped up peppermint candies or candy canes. Gently press the candy into the fudge so that they stick.
Salted Caramel Swirl Chocolate Fudge: Measure out about 1/2 cup of dulce de leche (you know the kind that comes in a can, like this one?) and heat it in the microwave for about 20 seconds until it is a pourable consistency. Drizzle the dulce de leche over the chocolate fudge once it is already in the pan and use a butter knife to swirl it through. Sprinkle flaky salt over the top of the fudge before it sets.
Recommended Products
As an Amazon Associate and member of other affiliate programs, I earn from qualifying purchases.