Salted Caramel Pecan Shortbread
My take on a pecan diamond is a salted caramel pecan shortbread! These cookies would work very well for holiday sharing as it makes a large amount of diamonds and they are incredibly delicious and hard to stop eating! The buttery flavor and crumbly texture of the cookie base contrasts so well with the salted caramel and toasted pecan topping!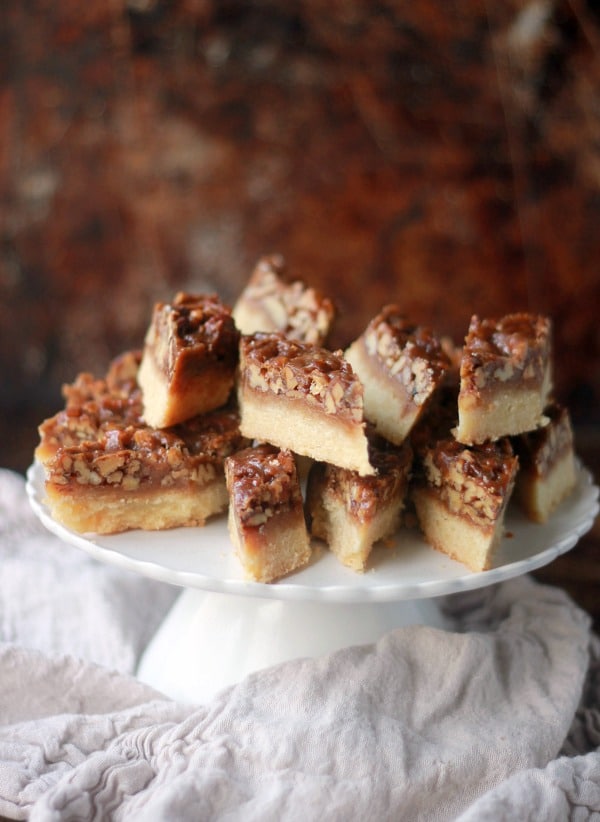 A few years ago at Christmas my sister's mother-in-law gave my family a tin of Pecan Diamonds. Essentially they are shortbread on the bottom and a layer of caramel and pecans on top.
That little tin sat out in the kitchen all weekend while we were home and I had the hardest time leaving it alone every time I walked through the room. Absolutely addictive. I figured it was about time for me to do my own version of this holiday treat!
If you know anything about me then you know I am a cookie freak. I think cookies are 100% better than cupcakes and I kinda have to force myself to bake other things from time to time. (Maybe I need to start a second blog dedicated to cookies….) Anyway, you might be surprised to find out that shortbread is actually my favorite kind of cookie.
I just love how over the top buttery they are as well as the crumbly texture. BUT shortbread gets even better when salted caramel and toasted pecans are thrown on top! The simple and crumbly nature of the shortbread contrasted with the chewy/crunchy/salty/sweet layer on top is just perfection. And kind of dangerous. These were even more difficult to leave alone!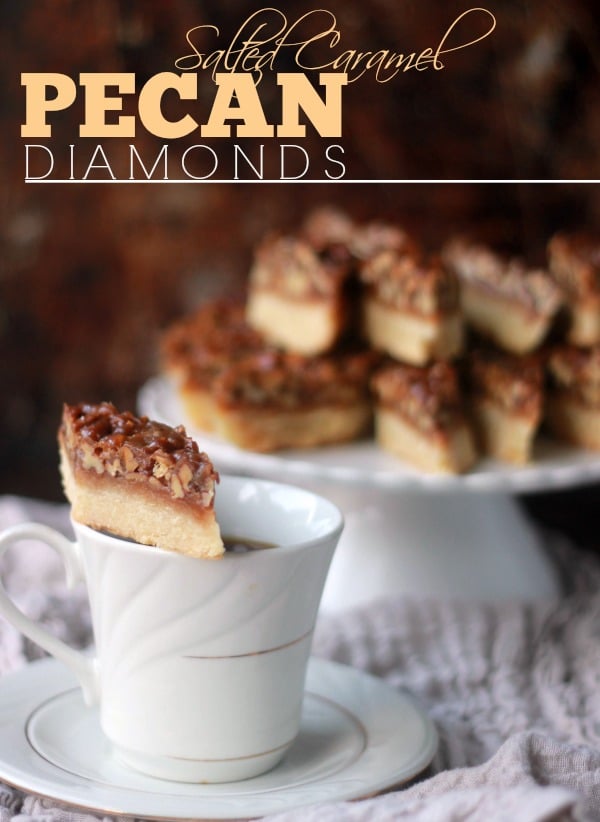 By definition, the cookie base of this recipe is not a true shortbread. But because of the thick caramel/pecan layer on top it needed to have some egg in it for binding. However, the cookie base definitely has the same feel as a shortbread in buttery flavor and slightly crumbly texture.
The layer of caramel on top is super complex in flavor too. Of course the saltiness goes without saying, but toasted pecans and the addition of honey bring a whole new level to the caramel game!
Baking Science Fun Fact!

Adding honey to caramel not only changes the flavor, in a totally delicious way, but it also helps prevent the dreaded crystallization when working with cooked sugar! Honey is an invert sugar, meaning that it contains both glucose and fructose! This is handy because sucrose has a more difficult time piling up on each other and crystallizing when glucose and fructose are in the party!
The other awesome thing about this recipe is that it makes a heck of a lot of cookies! This is one of those perfect holiday recipes because not only can you easily share with numerous people, but they actually taste amazing too! I'm sure I am not the only one who has been gifted really terrible tasting holiday cookies. Don't be that person! These are your ticket!
Let the holiday baking begin!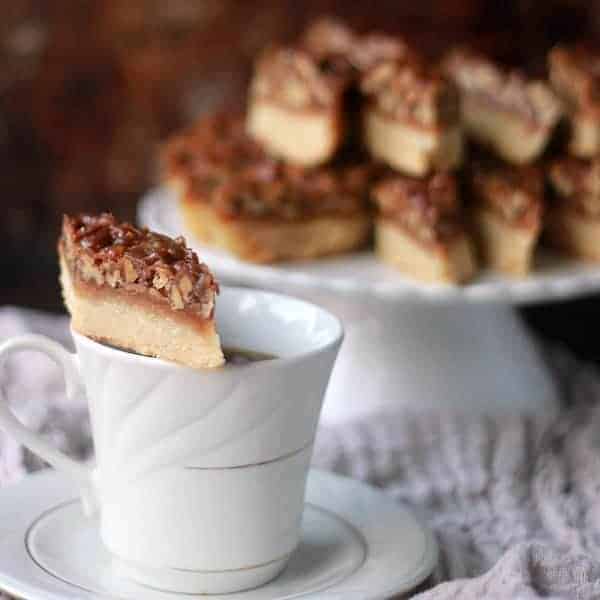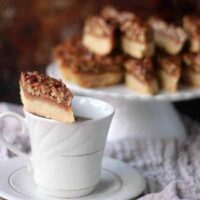 Salted Caramel Pecan Shortbread
Yield: 4-5 Dozen
Prep Time: 20 minutes
Cook Time: 50 minutes
Total Time: 1 hour 10 minutes
These cookies would work very well for holiday sharing as it makes a large amount of diamonds and they are incredibly delicious! The buttery flavor and crumbly texture of the cookie base contrasts so well with the salted caramel and toasted pecan topping!
Ingredients
For the Shortbread
1 cup (2 sticks) unsalted butter
1/2 cup shortening
1 cup granulated sugar
2 large eggs
1 tsp vanilla
1/2 tsp baking powder
1/4 tsp kosher salt
4 1/4 cups all purpose flour
For the Topping
1 lb pecans, toasted and chopped
1 cup (2 sticks) unsalted butter, cut into small pieces
1 cup brown sugar
1/3 cup granulated sugar
3/4 cup honey
1 tsp kosher salt
1/4 cup heavy cream
Instructions
For the Shortbread
Preheat the oven to 350F. Line a 9X13 baking dish with parchment paper and set aside.
In the bowl of a stand mixer fitted with a paddle attachment (or a large bowl with a hand mixer) cream together the butter, shortening, and sugar until light and fluffy. Add in the eggs and vanilla and mix just until incorporated. Scrape down the bowl.
Add in the baking powder, salt and mix in the flour, 1 cup at a time, scraping down the bowl as needed. Mix just until incorporated and then stop. Do not over-mix. The dough will be fairly crumbly.
Press the dough into the parchment lined baking dish. Try to spread the mixture out as evenly as possible. Using a fork, poke holes all throughout the dough so that the cookie mixture doesn't rise much.
Bake at 350F for 15 minutes then remove from the oven to a cooling rack while the caramel topping is made.
For the Topping
While the cookie base is cooking, toast the pecans in a dry pan over medium heat until fragrant. Roughly chop the pecans and set aside.
Once the cookie base is done cooking, place the butter, brown sugar, sugar, and honey in a medium saucepan over medium-low heat. Once the mixture is boiling cook for 3 more minutes. Do not stir during this time!
Remove from the heat and add the chopped pecans, salt, and heavy cream, stirring until combined.
Pour the pecan salted caramel over the cookie base evenly. Bake for 35 minutes at 350F.
Let cool completely on a cooling rack before removing from the pan and cutting.
Once completely cooled use a very sharp knife to cut in diamond shapes. Cut the bars lengthwise about 1" apart. Then cut the bars on a diagonal, again about 1" apart to make diamond shapes.