How to Make Chocolate Truffles
Learn how to make chocolate truffles with this very simple yet decadent basic chocolate truffle recipe! Truffles only call for 3 ingredients but always impress anyone you share them with!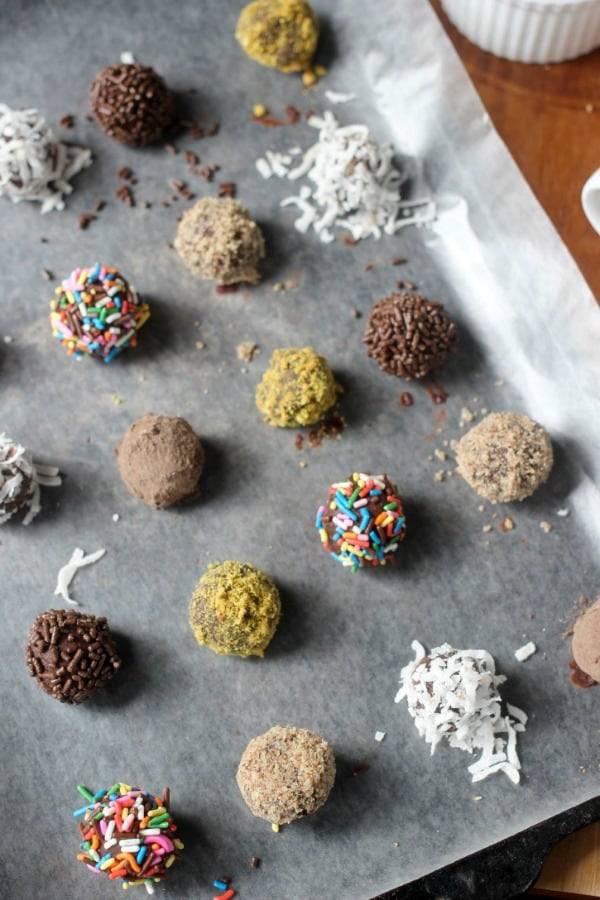 This article was originally published in the August 2014 Edition of VRAI Magazine.
---
I hadn't ever really considered what the transition would be like when I started my own family. And then one day it just hit me that it had already happened. There really wasn't a transition at all. Just this fluid movement of blending my family and my husband's family and then all of a sudden we were our own family.
One day I was on my way home from a trip with my husband and I thought to myself, "I can't wait to get home and see our cats and snuggle with them. I can't wait to just be home with all four of us." And it just hit me. We are a new family. He and I and our two cats. We are "The Hoffmans."
Now I know that some of you are probably rolling your eyes at the mere thought of me considering our cats as our children in a way. But really, I think they are one of the biggest pieces that made us start feeling like a real family. They are something that we take care of together.
Sure, I take care of my husband and he takes care of me, but our cats are ours together. And there is just something about that process of caring for another being together that feels like the last piece of the puzzle. And yes, I'm sure that having kids would feel like that times a billion, but for now our cats complete our little Hoffman family.
Plus, look at how pretty they are! How could you not have 1000 pictures of them on your phone and fill up your instagram feed with their cuteness?! Yes, beware. If you follow me on instagram be warned that I will torture you with food-porn and cat pictures. I fully embrace my cat lady status.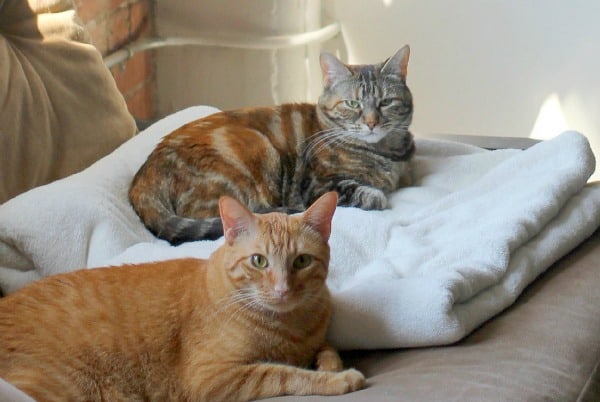 Remember that Ganache 101 post from the other day where I taught you all about this super easy and incredibly versatile concoction that you MUST have in your baking arsenal?! Well, today I am sharing how to make chocolate truffles by using that same simple ganache recipe.
Chocolate truffles are incredibly rich and intensely chocolate and have a luscious silky smooth texture that just melts in your mouth. They feel fancy. Really fancy. But the secret you can keep to yourself when sharing the truffles that you made with friends, is that they are stupidly easy to make.
And in their most basic form they require 3 ingredients: chocolate and cream for the ganache, and cocoa powder to roll them in. These simple 3 ingredients create one heck of a dessert! I'm telling you, anyone can do this!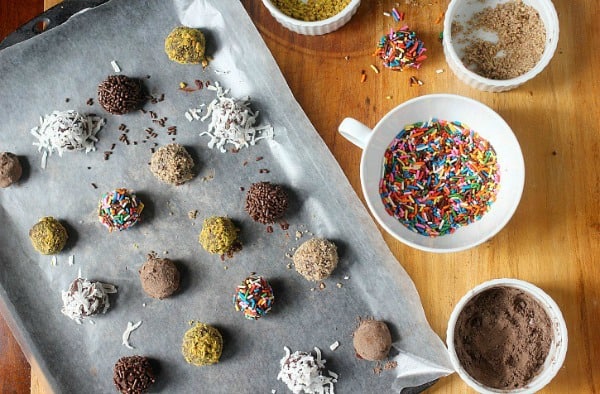 [x_custom_headline type="left" level="h3″ looks_like="h4″ accent="true"]How to Make Chocolate Truffles[/x_custom_headline]
The base of a chocolate truffle is chilled ganache. If you aren't familiar with ganache it is a mixture of chocolate and cream. That's it. Two ingredients. Ganache is an incredibly versatile mixture that can be used for all kinds of baking and pastry needs.
To learn all the baking science of ganache and it's numerous uses, check out my Ganache 101 post on my blog.
STEP 1: MAKE A THICK GANACHE
A thick ganache calls for a 2:1 ratio of chocolate to cream, meaning you will use double the amount of chocolate as you will cream. You can use semi-sweet or bittersweet chocolate chips or cut up a chocolate bar into small pieces.
Place the pieces of chocolate in a bowl and pour hot cream over them. Allow the hot cream and chocolate to sit for about 2 minutes. Place a whisk right in the center of the bowl and whisk in small circles slowly moving outward. This process creates an emulsion between the fats and the liquid and results in a smooth and silky mixture.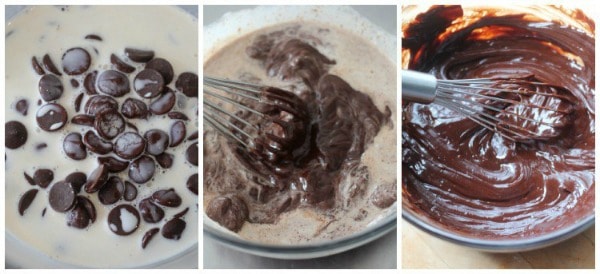 STEP 2: CHILL THE GANACHE
After you have a smooth ganache mixture, chill it in the refrigerator uncovered until solid. It will still be soft and scoopable. This should take about 1 hour to chill.
STEP 3: SCOOP AND ROLL GANACHE INTO TRUFFLES
Use a small scoop or a spoon to portion out truffles. I use my small cookie scoop for this. It is about a 1 oz scoop. This is the biggest I would go with a truffle. They are so rich you don't need any bigger. I think smaller would actually be a little better.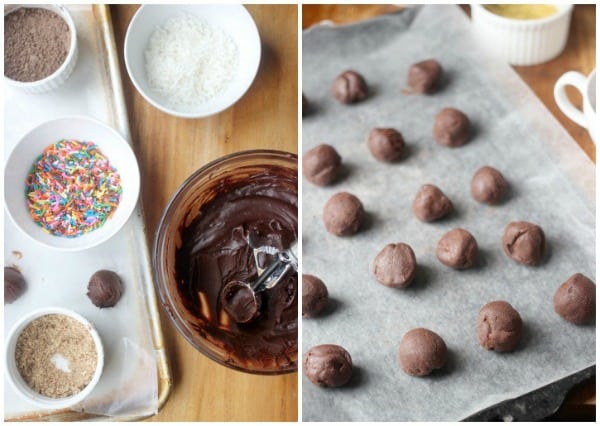 STEP 4: ROLL TRUFFLES IN TOPPINGS
Roll the truffles in between your palms. This will warm them slightly and allow the toppings to stick more easily. Classic truffles are rolled in cocoa powder. That's actually why they are called truffles. Because when rolled in cocoa powder chocolate truffles look like mushroom truffles.
But you can roll them in any kind of toppings you like. I used a variety including: cocoa powder spiced with cayenne pepper, shredded coconut, pulverized pecans and pistachios, and chocolate and rainbow sprinkles.
Store the truffles in the refrigerator in an airtight container.
(Wyatt is such a good quality control supervisor)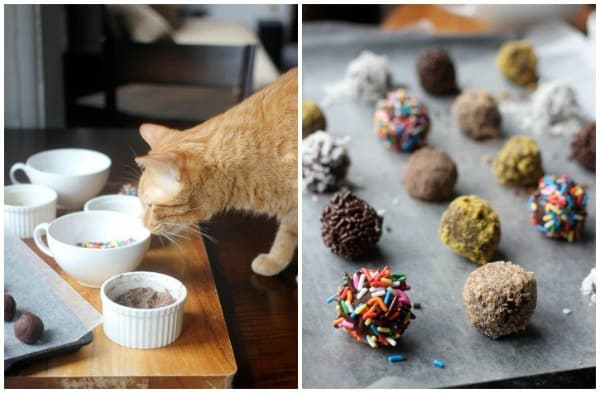 Other Ways to Flavor Truffles
If you want to change up the flavor of your truffles more than just in the toppings, you can flavor your ganache too. Here are a few ways to flavor your ganache:
INFUSE FLAVOR IN YOUR CREAM: Steep fresh herbs (basil, mint, rosemary, thyme), citrus zests, or coffee beans in the cream while heating it. Strain the cream before adding it to the chocolate.
ADD FLAVOR DIRECTLY INTO THE CHOCOLATE MIXTURE: Add extracts (vanilla, almond, anise), spices (cinnamon, cayenne, nutmeg, cardamom), finely grated citrus zests (orange, lemon), or instant espresso powder right into the chocolate cream mixture.
ADD TEXTURE TO THE GANACHE: Add finely chopped nuts, cocoa nibs, shredded coconut, etc… right into the chocolate cream mixture.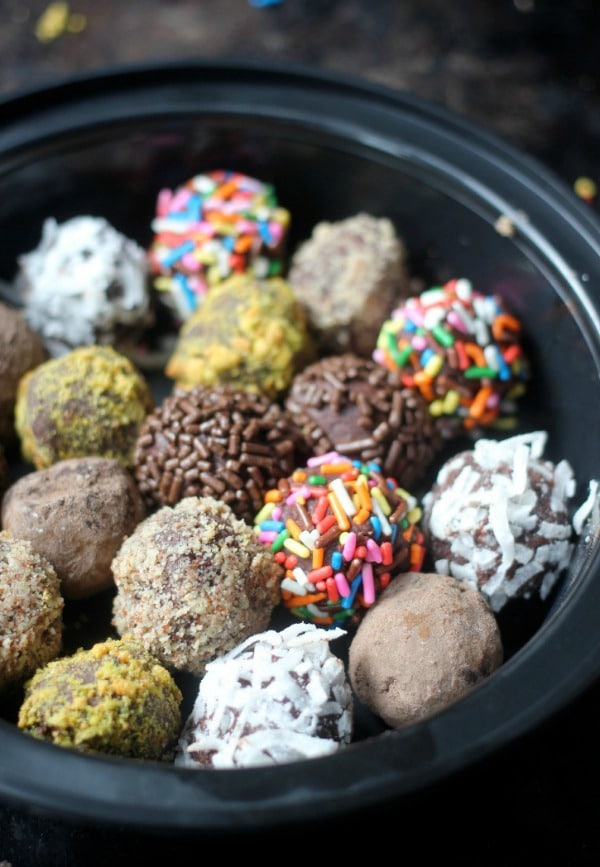 Basic Chocolate Truffles
Learn how to make chocolate truffles with this very simple yet decadent basic chocolate truffle recipe! Truffles only call for 3 ingredients but always impress anyone you share them with!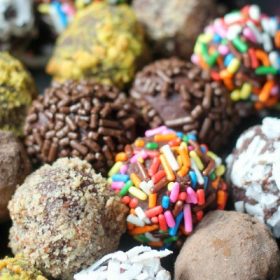 Ingredients:
8 oz bittersweet or semi-sweet chocolate
4 oz (1/2 cup) heavy cream (also known as double cream)
large pinch of salt (optional but recommended)
cocoa powder for rolling or any other toppings you desire
Directions:
Chop your chocolate into small pieces and place in a bowl.
Put your cream in a saucepan and place over medium heat. Allow cream to heat until simmering and almost boiling.
Pour the hot cream over the chopped chocolate and let stand for about 3 minutes. Add your salt into the bowl at this point if using.
Put your whisking to the center of the chocolate cream mixture and begin whisking in small circles going in one direction and slowly moving outward until the mixture is smooth.
Place the ganache in the refrigerator uncovered until the mixture becomes solid, about 1 hour, before scooping and shaping.
Scoop small amounts of ganache, about 2 TBSP or less, roll between your palms, and roll in toppings. Store in the refrigerator in an airtight container for up to 1 week.
All images and text ©
.