Huge Dark Chocolate Cookie with Espresso and Toasted Pecans
Recipe for a giant dark chocolate cookie with toasted pecans and espresso. This cookie is huge, gooey, rich and decadent. What better way to celebrate your birthday?!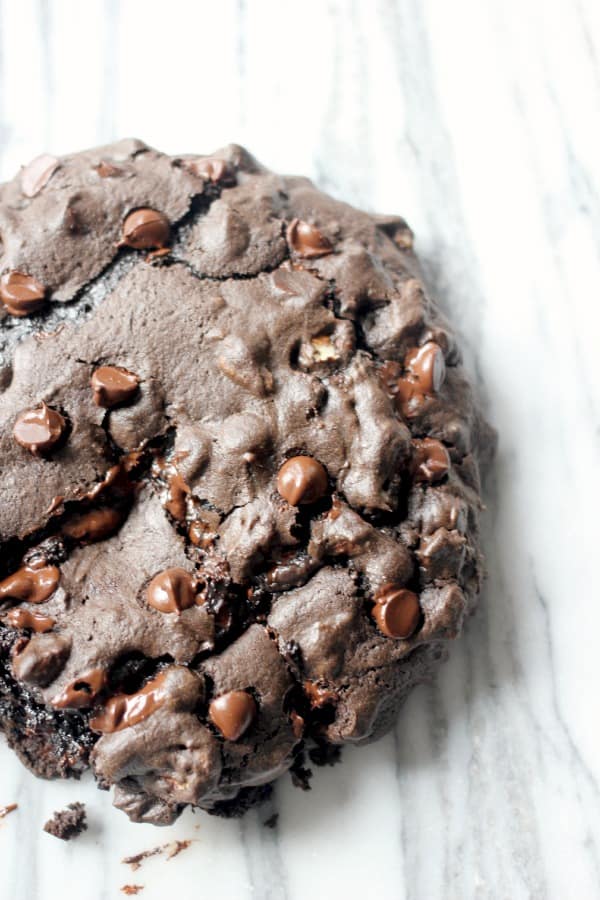 Today I turn 28. It isn't a big deal. Just another day really. But it's kind of a thing to at least sort of celebrate your birthday. And numerous people told me I should make my own cake.
So I had plans of doing that. I got all the stuff. I had the cake recipe and frosting recipe all mapped out and I was ready to bake a cake. Except I wasn't.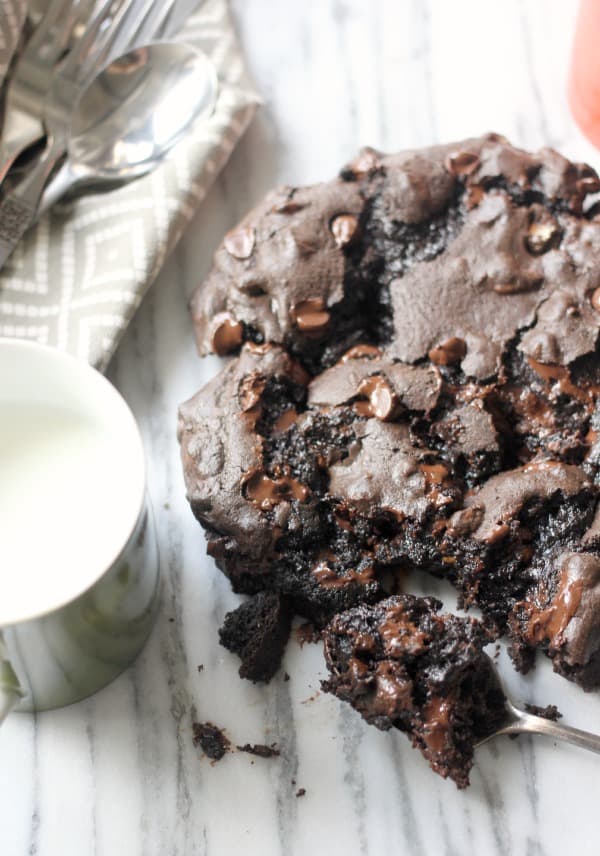 I just don't know what it is with me and cake. I just don't love it. I would even venture to say that I usually don't like it at all. And do not even get me started on cupcakes.
I think it is safe to say that you will never see a cupcake recipe on this blog. That cake to frosting ratio. Eeeek! Horrifying. I just can't.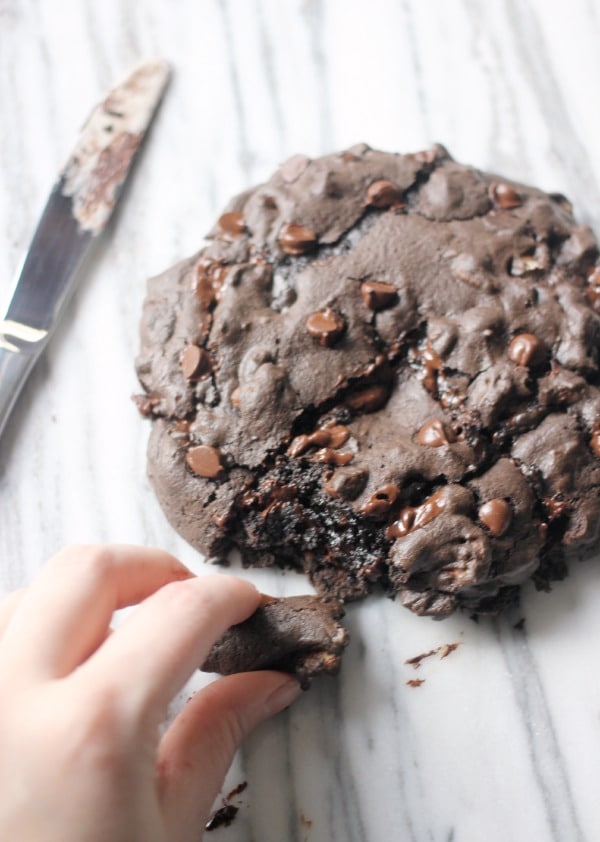 So the cake I had planned will get made. Because I need to challenge myself as a baker and I am definitely not confident with cakes. But for today I made myself a cookie. Well, a cookie to share. A cookie that is almost the size of a small cake.
A cookie that is filled with all my favorite things like brown butter, and dark chocolate, and espresso, and toasted pecans. A cookie that could totally be made into 6 or 8 smaller cookies if you wanted. But making it all together as one big mass keeps it really thick and gooey in the middle.
It is almost a cookie/brownie hybrid. And since I'm embracing the sort of celebrating my birthday thing I went ahead and embraced the typical birthday attitude too. "It's my birthday, I do what I want!"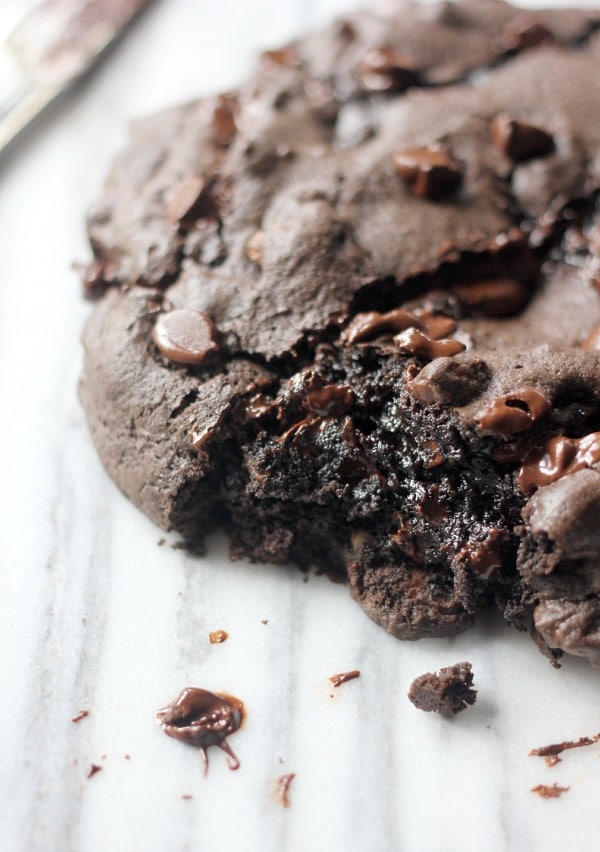 The rosemary cake with lemon cream cheese frosting will get made this weekend and will be up soon. And I'm sure it will be delicious and challenging and I hope I can make it beautiful.
But today I'm snowed in with my hubby and we are lounging with the kitties and watching movies and eating the rest of this cookie together. Perfect birthday in my opinion.
I even woke up to a birthday present from the cats this morning. I could hear them working hard on it all through the night. It's a collaborative deconstructive art piece. It's just beautiful. Here is Shadow posing with it.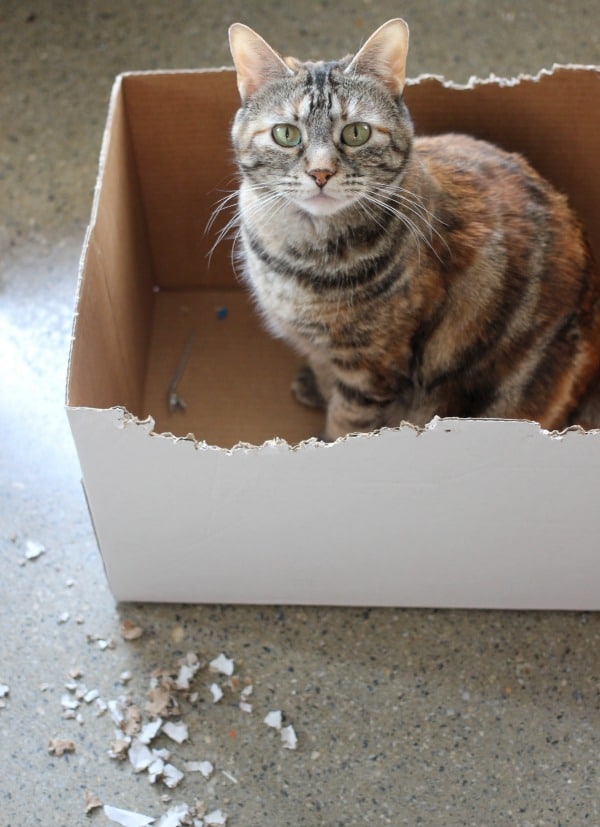 So thoughtful of them…
If you are in part of the country that got the big storm last night I hope you are safe and warm and cozy today! This is a perfect day to stay in and bake and binge watch something on Netflix. Have a fantastic weekend!
One Year Ago: 
Pan Roasted Brussels Sprouts with Dates and Smoked Almonds
Two Years Ago: 
Oven Roasted Tomatoes with Onion Hash, Fried Egg, and Sausages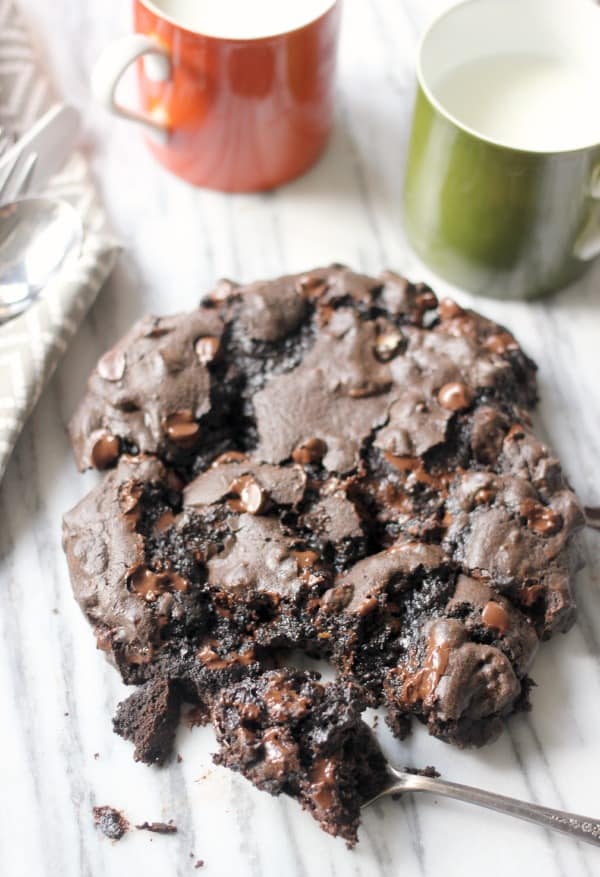 Baker Bettie
Yields 1
Giant Dark Chocolate Cookie with Espresso and Toasted Pecans
10 minPrep Time
20 minCook Time
30 minTotal Time
Ingredients
4 TBSP butter, browned and cooled slightly
1/2 cup dark brown sugar
1/2 TBSP vanilla
1 egg
1 tsp baking powder
1/2 tsp instant espresso powder
1/2 tsp salt
1/4 cup dark chocolate cocoa powder (or dutch processed cocoa powder)
1/2 cup + 2 TBSP ap flour
1/2 cup dark chocolate chips, plus more for topping
1/2 chopped pecans, toasted
Instructions
Preheat oven to 350F.
In the bowl of a stand mixer fitted with a paddle attachment, cream together the butter and the brown sugar. Add in the egg and mix until incorporated. Mix in the vanilla.
In a separate medium bowl, whisk together the baking powder, espresso powder, salt, cocoa powder, and flour.
With the mixer on the slowest setting, slowly mix in the dry ingredients. Mix until just incorporated. Do not overmix. Fold in the chocolate chips and toasted pecans.
IF MAKING THE LARGE COOKIE: Mound the dough into a large ball on a baking sheet lined with parchment paper. Top with a few chocolate chips and bake at 350F for 16-20 minutes until set. Allow to cool on the baking sheet.
IF MAKING INDIVIDUAL COOKIES: Mound 6 or 8 balls of dough on a baking sheet lined with parchment paper. Top each mound with several chocolate chips and bake at 350F for 10-12 minutes until the edges are set and the middles look slightly underbaked. Allow to cool on the baking sheet for at least 5 minutes before removing.
7.6.7
84
https://bakerbettie.com/huge-dark-chocolate-cookie-espresso-toasted-pecans/