Chewy One Pan Cookie Cake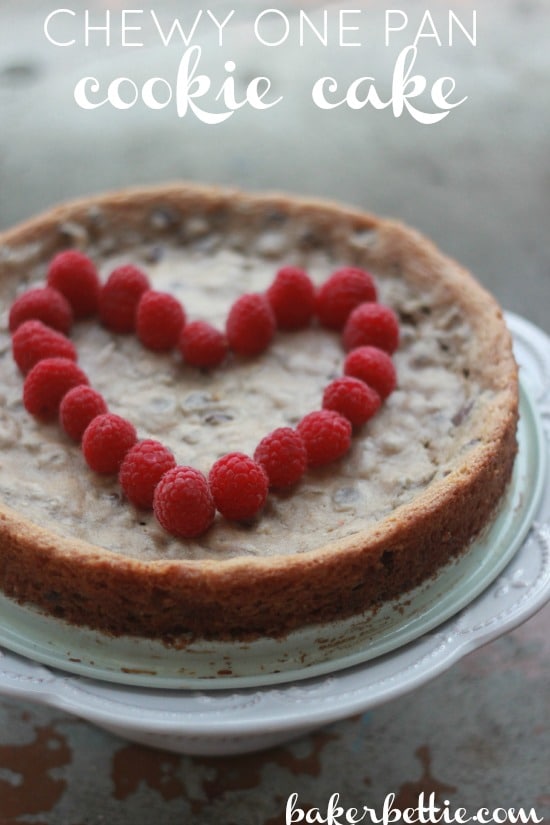 I have been in the mushy kind of mood lately…
It seems like life has been smacking me in the face over and over again lately saying, "Life is precious and short. Take the time to really show people how much you care about them." So I have been trying to do just that.
My husband is not one to get very emotional about things. It is actually one of the things I love most about him. He keeps me grounded and calm. He is so great at putting things into perspective and is just easy going about life. But it cracks me up how excited he can get about the little things in life. Things like a cookie cake.
Whenever we go to the grocery store, he immediately runs over to the discount bakery section.  On the rare occasion that there is a cookie cake in the section he is like a kid in a candy store. He is so excited. Honestly, it confuses me. I make delicious baked goods at our house all the time, and he is excited about a store bought cookie cake? But last week when he was out of town for a business trip I wanted to make him something special for when he returned. I immediately knew it had to be a cookie cake. So I did just that and had this set up for him when he got home. Just a small gesture to show him how much I missed him and how much I love him.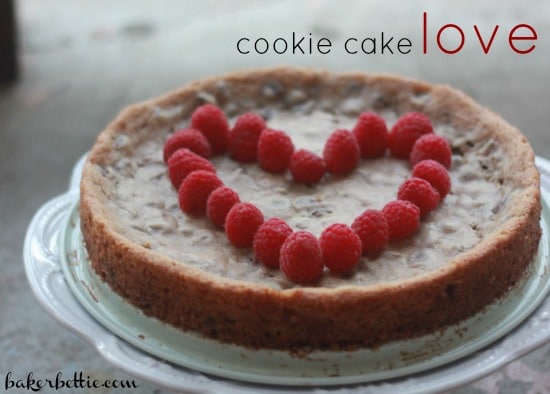 Take some time this week to do something for someone you love. It doesn't have to be something big, sometimes the little things are the most special and memorable!
xoxo
~Baker Bettie

Chewy One Pan Cookie Cake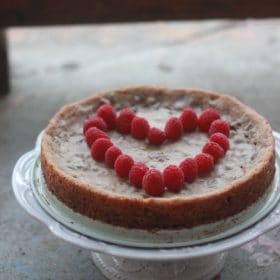 Ingredients:
1 stick unsalted butter, softened
3/4 cup dark brown sugar
1 egg, room temperature
1/2 TBSP vanilla
1/2 tsp kosher salt
1/2 tsp baking soda
1/2 tsp baking powder
1 cup plus 2 TBSP unbleached all-purpose flour
1 cup chocolate chips
Directions:
Preheat oven to 350 degrees.
In a 9 inch spring form pan, mix butter and sugar with a spoon until combined and creamy. (you can do this in a bowl if you prefer, but I like to do it right in the pan I'm going to bake it in).
Add the egg to the butter & sugar mixture and stir until combined.
Add the vanilla, salt, baking soda, and baking powder and stir until combined. You can also do this with clean hands, which I find easier.
Add the flour in 4 parts, stirring after each addition until combined.
Add the chocolate chips and mix into the cookie dough mixture.
Use clean hands to pat and spread the dough out in the spring form pan in an even layer.
Bake for 12-16 minutes, until slightly browned on the edges. (I like it slightly under baked, but bake longer if desired)
Allow to cool before removing the sides of the pan.
All images and text ©
.