Big Ass Chocolate Chip Cookie For Two (or One)
This big ass cookie is filled with chocolate chips and the perfect size to share with someone, or really, you could just eat the big ass cookie yourself!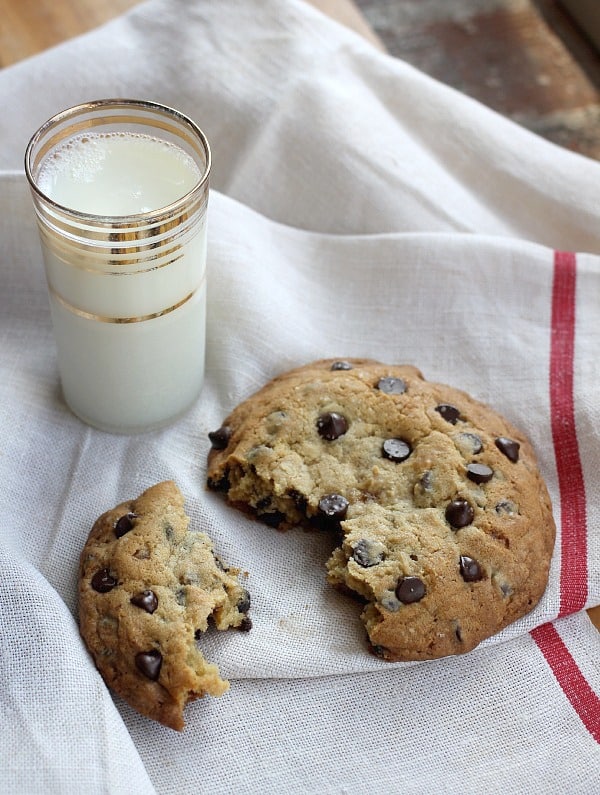 Hello there! Would you like a big ass chocolate chip cookie? Not a cookie with a big ass. And not a cookie that will give you a big ass (though that could definitely be a side effect), but a cookie that is, in and of itself, big ass. Am I saying ass too much? I don't really care. I feel feisty today!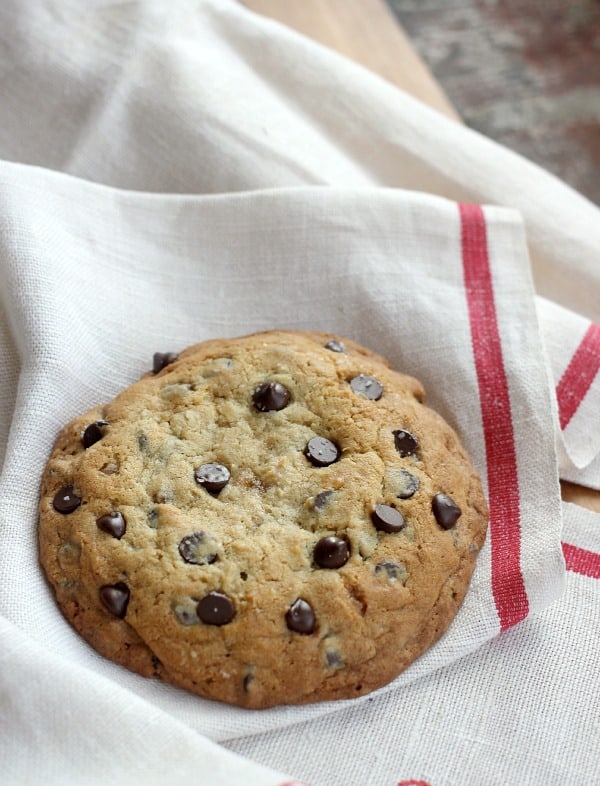 Since moving to Philadelphia we don't have as many people to share my baked goods with. I take them to work with me sometimes but it just feels weird getting on the subway with a cookie carrier filled with cookies. I feel like everyone is staring at them.
And I feel guilty not offering one to pretty much everyone. It is so incredibly awkward. But my husband says I feel awkward way more than necessary. Life is just full of awkwardness. And probably too much of my energy is spent trying to avoid it.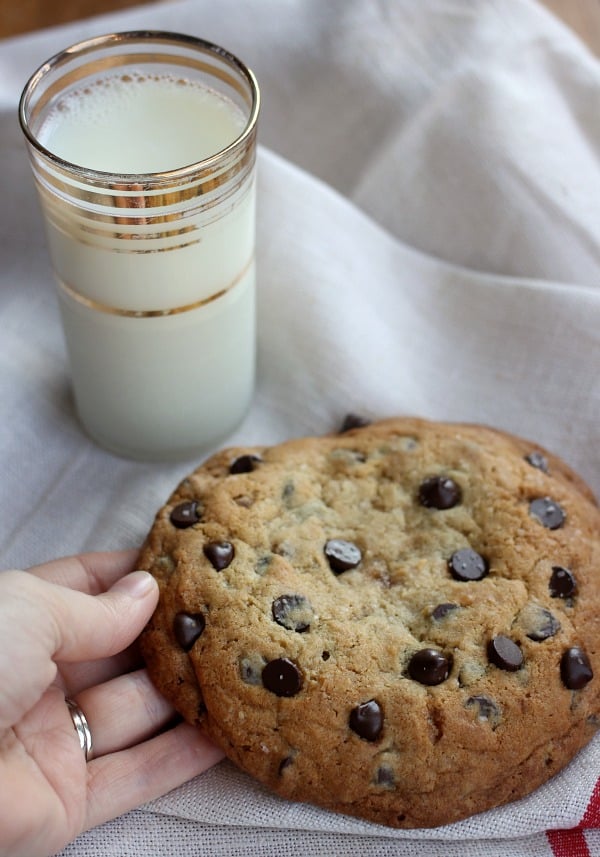 I've seen recipes for huge single serving cookies on a few other blogs before. Most notably, Sally's Baking Addiction. And so I got the idea the other day to cut down my go to quick chocolate chip cookie recipe.
I created this single "big ass" cookie perfect for two to share. It's about the size of 4 large cookies squished together. The size of it makes the perfect texture. Crispy on the edges, puffy and chewy in the middle, and slightly under baked. In my mind, perfect.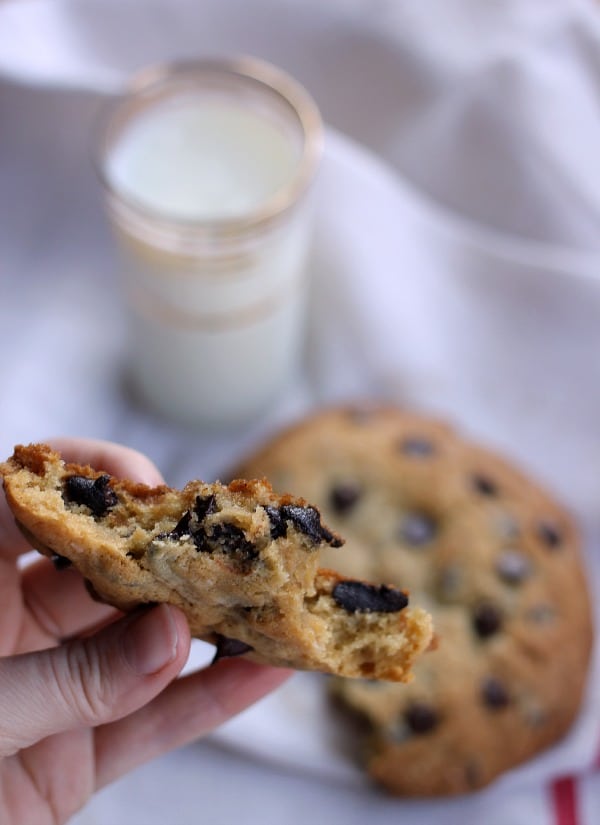 I'm going to go ahead and shamelessly admit that I ate this one all by myself. With a big glass of milk. Mr. Baker Bettie was at work. What else was I supposed to do? Sheesh.
But it feels pretty adorable to share this with someone you love.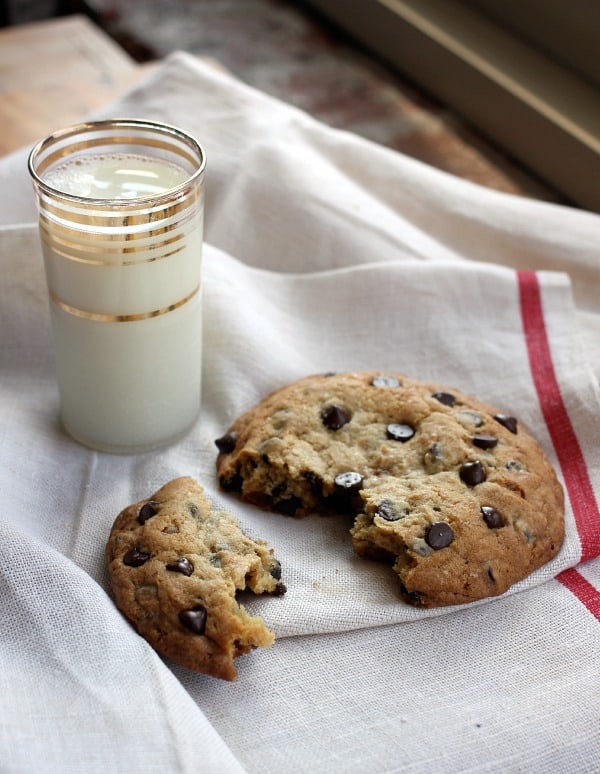 Baker Bettie
Yields 1
Big Ass Chocolate Chip Cookie For Two (or One)
10 minPrep Time
15 minCook Time
25 minTotal Time
Ingredients
3 TBSP unsalted butter, softened
1/4 cup brown sugar
2 1/2 TBSP whisked egg
1/2 tsp vanilla
large pinch salt
1/4 tsp baking powder
1/4 tsp baking soda
1/2 cup flour
1/4 cup chocolate chips, plus 2 TBSP more for topping
a bit of kosher or sea salt for sprinkling (optional)
Instructions
Preheat oven to 350F.
In a small bowl, stir together the butter and sugar until well combined. Add in the vanilla and egg stir until incorporated.
Sprinkle the the salt, baking powder, and baking soda evenly over the mixture and stir until incorporated. Add the flour and stir just until combined. Fold in the 1/4 cup chocolate chips.
Form a large ball of dough in the center of a baking sheet lined with parchment paper or a silpat. Top with more chocolate chips and a bit of salt if desired.
Bake at 350F for 13-15 minutes until the edges are set and lightly browned and the center still looks under-baked.
Allow to cool for several minutes on the baking sheet.
7.6.7
79
https://bakerbettie.com/big-ass-chocolate-chip-cookie-one-two/
Products I used for this recipe…
Disclaimer: Please note that the links below are affiliate links and I will earn a commission if you purchase through those links.
[AMAZONPRODUCTS asin="B0000VLZKS"][AMAZONPRODUCTS asin="B00HG5OXIW"][AMAZONPRODUCTS asin="B000G0KJG4″]