Chocolate Peanut Butter Oatmeal Brownie Bites (wheat free, vegan)
These wheat free vegan brownies are made from only a few simple ingredients including rolled oats, peanut butter, cocoa powder, and non-dairy yogurt. There are no "weird" or specialty ingredients in these and they come together in a snap! This recipe is perfect for a group with a  mix of people with and without dietary restrictions.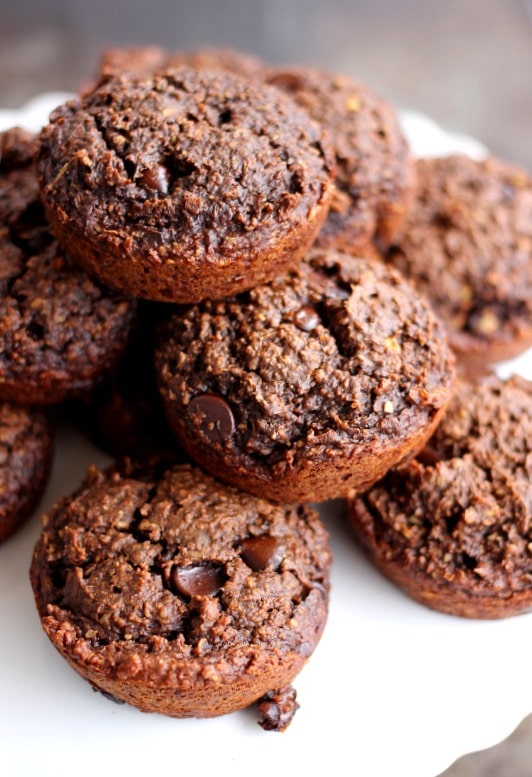 I have this pattern in my life involving my hair. I have done it over and over again, I can't even remember how many times. I see someone with really awesome bangs that look fantastic on them and then I decide, "Hey! I want bangs!" So I get bangs. And immediately I hate them. Immediately I regret ever having let the thought of wanting bangs enter my head.
Then I'm stuck with them for a ridiculous amount of time, because if you've ever had bangs you know how freaking long it takes to grow them back out.
I'm sure you have guessed by now that I just got bangs… again. And again, I hate them. I'm kicking myself for thinking that this time it will be different. That I didn't learn after last time.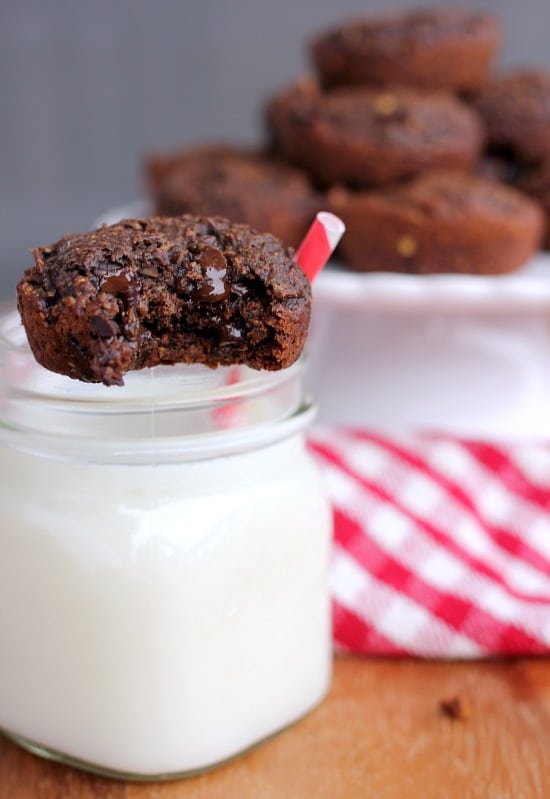 In my job we do a lot of talking and teaching about radical acceptance. The letting go of fighting reality and accepting the situation for what it is. It is so important in big life struggles and I guess in little ones too.
Kicking myself for chopping off my bangs is not going to grow them out any faster. So I guess my only choice is to embrace them and rock them. At least for the next 6 months or so until I can get these babies grown out.
It's the little things in life that sometimes remind me of big lessons. I preach radical acceptance but need to take my own words to heart. Not just with my bangs, but with big things going on in my life.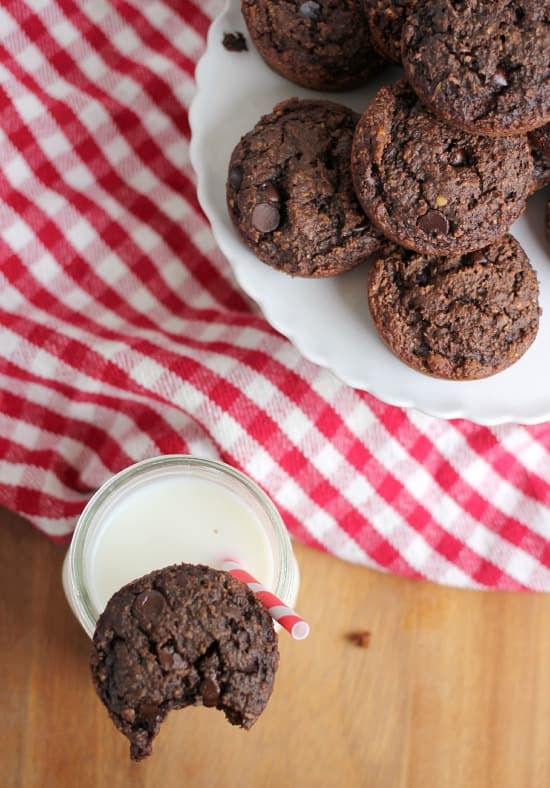 But there is no need for radical acceptance when it comes to these brownie bites. They are what they are, and what they are is delicious! They are incredibly easy to put together, really rich and chewy, and wheat free and vegan!
I mean, come on! What else could you want? These actually remind me a lot of the flavor of no-bake cookies. No-bake cookie flavor in a little brownie bite!
Tools I used for this recipe…
[AMAZONPRODUCTS asin="B003XU3C7M,B00008W70J"]
---
One year later: Espresso Pecan and Dark Chocolate Coffee Cake
One year ago: Carrot Whoopie Pies with Orange Cream Cheese Filling

Yields 16
Chocolate Peanut Butter Oatmeal Brownie Bites (wheat free, vegan)
Amazingly simple gluten-free and vegan brownies with none of those "weird" ingredients!
10 minPrep Time
15 minCook Time
25 minTotal Time
Ingredients
1 cup SoDelicious Non Dairy Coconut Milk yogurt (or your favorite yogurt)
1/2 cup peanut butter (or other nut or seed butter)
1/2 cup dark brown sugar
1 tsp baking soda
2 cups rolled oats, or 13/4 cup oat flour (make sure they are certified gluten free if you have a gluten intolerance)
1/3 cup unsweetened cocoa powder
1 cup chocolate chips (I used Enjoy Life chocolate chips)
Instructions
Preheat oven to 350ºF. Lightly spray muffin tins with non-stick spray.
Put rolled oats in a blender or food processor and pulse to a fine crumb, alternatively you can use already prepared oat flour.
In a large bowl, combine yogurt, peanut butter, and brown sugar and mix with a spoon until well combined.
Add the baking soda, oat flour, and cocoa powder and mix until combined (the batter will be thick)
Fold in the chocolate chips.
Scoop batter into prepared muffin tins, filling about half way full.
Bake for 10-15 minutes, until a toothpick comes out clean.
7.6.7
38
https://bakerbettie.com/chocolate-peanut-butter-oatmeal-brownie-bites-wheat-free-vegan/