This classic cream cheese frosting is tangy and sweet and is perfect for cupcakes or cakes. This cream cheese frosting uses a high ratio of cream cheese to butter to really let the cream cheese flavor shine through.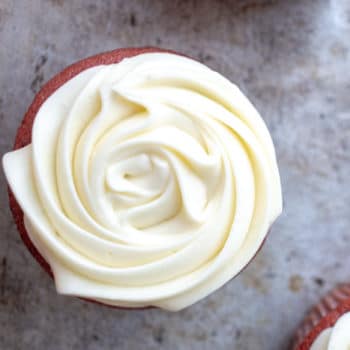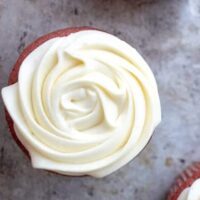 Cream Cheese Frosting
Ingredients
8 oz (225 gr) full fat cream cheese, room temperature
2 TBSP (28 gr) unsalted butter, room temperature
3-4 cups (360-480 gr) powdered sugar
large pinch salt
Instructions
Place the cream cheese, butter, 3 cups of the powdered sugar, and a large pinch of salt in the mixing bowl. Mix with a hand mixer or stand mixer, starting on low speed and gradually increasing until well combined and creamy. You can add up to 1 more cup of powdered sugar for a more stiff frosting that will stand up better to piping.
Use immediately or store in an airtight container in the refrigerator. Beat for a few minutes to refresh before using.
Notes
This recipe makes enough frosting to frost one single layer 8": or 9" round cake, a 9x13 sheet cake, or 12-18 cupcakes.
Recommended Products
As an Amazon Associate and member of other affiliate programs, I earn from qualifying purchases.