How to Make Classic Zucchini Bread
I've got to admit I am ready for fall. I hesitate to say that because moving into fall means we are just that much closer to winter, which I loath. But the crisp air of fall is so welcome after the sweltering heat of summer. And of course, the fall flavors that we all love are on their way. They are already popping up everywhere. I have held off getting my first pumpkin spice anything of the season yet. There will be enough of that come October. But zucchini bread is the perfect transition summer to fall baked good.
Zucchinis are fully in season at the moment and I'm sure many of you with gardens have tons of them! I know my family does. So today we are going to make zucchini bread and muffins! If you've never had zucchini bread or don't like zucchini don't think that you won't like this! Zucchini bread does not taste like zucchini the way you think of it in the savory form. The zucchini helps keep the bread quite soft and moist and the bread is typically flavored with vanilla and cinnamon. It is warming and buttery (although there isn't any actual butter in this recipe, it does taste quite buttery) and it is the perfect breakfast or dessert with a hot cup of coffee.
Zucchini bread is a quick bread and we will be using The Muffin Mixing Method to make it. If you remember from my recent posts about biscuits, muffins and other quick breads, The Muffin Mixing Method is used to make muffins and quick loaf breads. The basic technique is to mix all dry ingredients in one bowl, all wet ingredients in another bowl, and then mix the two together making sure to mix as little as possible.
I have been getting a few requests to make more baking tutorial videos for these basic techniques and recipes. So I did a quick one for you for this recipe. Nothing fancy, just recorded me baking. I would love to hear your feedback though. Do you prefer the video tutorials, do you prefer the picture and written tutorials like this post, or do you like a mix of both?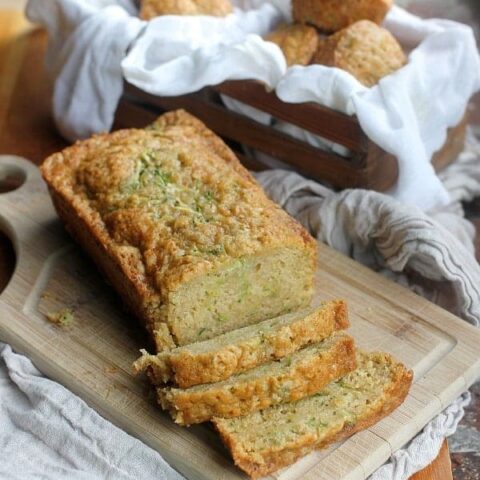 Homemade Zucchini Bread
Yield: 2 Loaves
Prep Time: 10 minutes
Cook Time: 40 minutes
Total Time: 50 minutes
This is a great simple recipe for classic zucchini bread. This recipe make enough for two regular size loaves, one large loaf, or about 18 muffins.
Ingredients
3 cups all purpose flour
1 tsp baking soda
1 tsp baking powder
1 tsp kosher salt
2 tsp cinnamon (up to 1 TBSP if you want a strong cinnamon flavor)
2 1/4 cup granulated sugar
1 cup canola or vegetable oil
3 eggs, room temperature
2 tsp vanilla extract (up to 1 TBSP if you want a strong vanilla flavor)
3 1/2 cups finely shredded zucchini
Instructions
Preheat the oven to 325ºF.
In a large mixing bowl, whisk together the ap flour, baking soda, baking powder, kosher salt, and ground cinnamon until thoroughly combined.
In a medium sized bowl, whisk together the sugar, oil, eggs, and the vanilla extract until combined and a smooth mixture.
Pour the wet ingredients into the bowl with the dry ingredients and stir with a wooden spoon or rubber spatula just a few turns until most of the dry ingredients are incorporated. Add in all of the zucchini, and continue folding just until mixed being careful not to overmix.
Grease either two standard loaf pans (8X4), or 1 large loaf pan (9X5), or standard muffin pans and pan the batter. Bake at 325ºF until a toothpick inserted in the center comes out with a moist crumb, about 20 minutes for muffins, 40 minutes for standard loaves, or 60 minutes for a large loaf.