Old Fashioned Sour Milk Griddlecakes with Cinnamon Roll Syrup
Many weekend mornings when we were little my grandpa would make us pancakes.  But these were not just ordinary pancakes.  He was a pancake artist, making them into different shapes.  Mostly cars or animals or Mickey Mouse ears.  I just about thought this was the coolest thing in the world when I was 6 and honestly, I still do.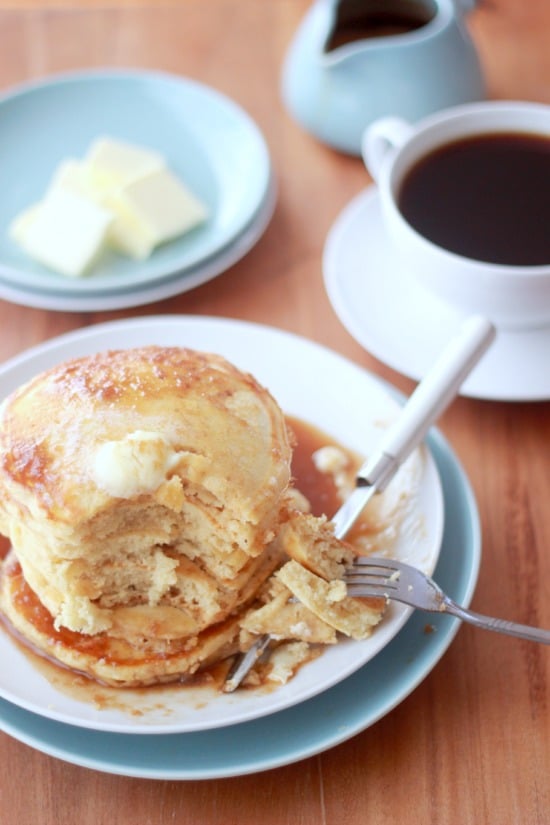 I also have this vivid memory of my sister and I sitting at the table gobbling down our pancakes and here comes our grandpa with a plate for our grandma with pancakes shaped in the letters: I L-O-V-E Y-O-U.  I'm pretty sure that he thought we weren't paying much attention to this at the time, but even if he thought we were that wouldn't have made a difference.  My grandparents are perfect examples of the way partners should treat each other even after they've been together for 40, 50, and 60+ years.  Like they are newly in love and they do little things each and every day to show that.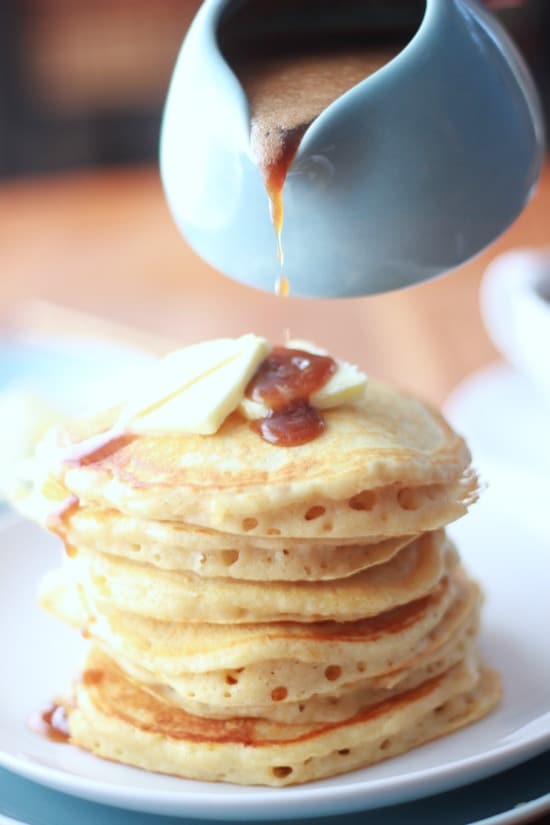 So I guess what I'm getting at here is pancakes feel like love to me.  They bring back all kinds of warm and fuzzy feelings of love and it just so happens that they are one of my husband's favorite breakfasts.  But I didn't want to just make pancakes.  I found a recipe for "Sour Milk Griddlecakes" in my vintage cookbook and tweaked the recipe a bit to create the most fluffy, melt in you mouth griddlecakes around.  I also made a homemade syrup which tastes exactly like cinnamon rolls.  Seriously.  Put away that store bought maple syrup and make this.  It is divine.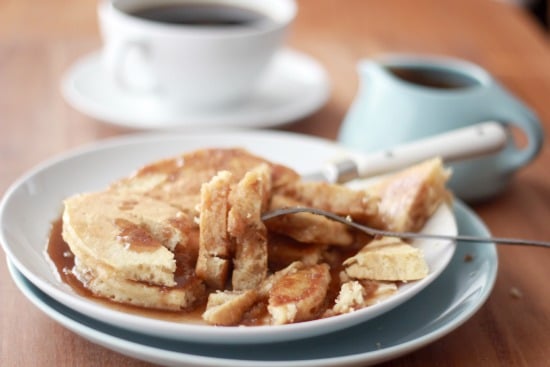 So without further ado I present to you Baker Bettie's Old Fashioned Sour Milk Griddlecakes with Cinnamon Roll Syrup
Old Fashioned Sour Milk Griddlecakes adapted from The Gourmet Cookbook 1957 publication
[amd-zlrecipe-recipe:103]
Ingredients
1/4 cup butter
1/2 cup brown sugar
1/2 cup buttermilk (you can also use soured milk. Mix 1/2 tbsp of lemon juice or vinegar into the milk and let sit for 5 min)
1/2 tbsp pure vanilla extract
1/4 tsp cinnamon
1/2 tbsp light corn syrup
1/4 tsp baking soda
Instructions
Combine butter, brown sugar, buttermilk, vanilla, cinnamon, and corn syrup in a medium sauce pan. Bring to a simmer. Once simmering, mix in baking soda and cook for 10 seconds. Remove from heat.
Make the syrup before the pancakes and let it cool slightly so it will thicken up a bit. This syrup will not get as thick as regular maple syrup.
Notes
This syrup tastes exactly like cinnamon rolls!
7.6.7
207
https://bakerbettie.com/old-fashioned-sour-milk-griddlecakes-with-cinnamon-roll-syrup/