Strawberry Birthday Cake & 30 Life Lessons I Learned From My Sister
Strawberry birthday cake with strawberry vanilla bean icing uses fresh strawberries and is so incredibly light and tender. It can easily be made vegan!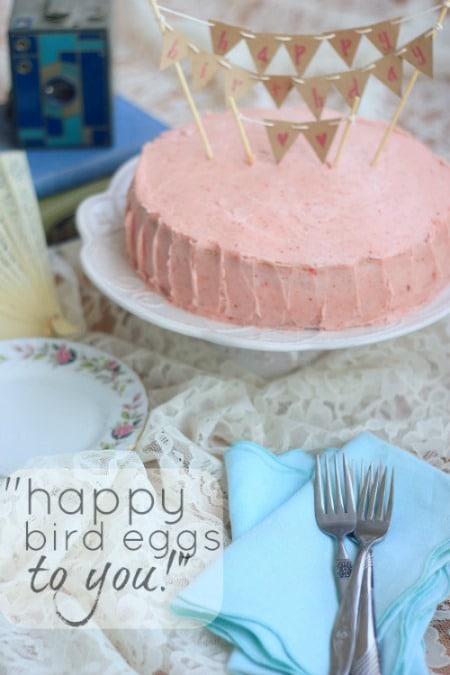 30 Life Lessons I've Learned From My Sister…
#30: How to put on makeup. And most importantly, how to put on mascara without getting clumps.
#29: How to flirt with boys.
#28: Share. (that was a hard lesson for me)
#27: Confidence is very important. Even if you have to fake it.
#26: Don't set your cell phone down in a restaurant or the bathroom stall. You will walk away from it.
#25: Rescuing an animal is one of the most fulfilling things you can do.
#24: Rockstar Energy drinks are both very delicious and very bad for you.
#23: Heartbreak is a very real and necessary part of life.
#22: Don't be ashamed of loving silly cheezy TV shows. The Office, True Blood, and Glee are all shows worth watching.
#21: Don't be scared of failure.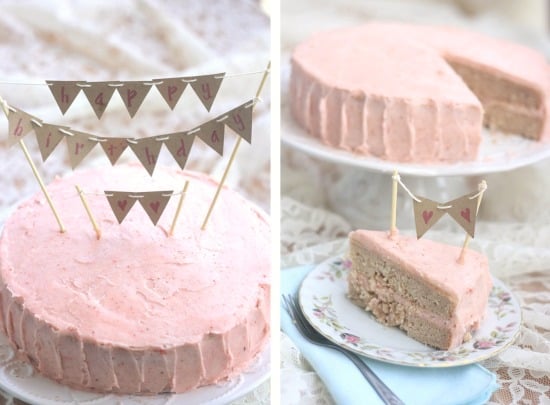 #20: Try new things, and especially new foods.
#19: Wearing bright yellow tube socks up to your knees with tennis shoes is not fashionable.
#18: Dressing with a pinup flair is very fashionable.
#17: How to forgive and move on.
#16: If a girl you don't know is giving you judgmental looks, give her a compliment and she will stop.
#15: Don't answer the phone when you're sleeping.
#14: Telling people you are going to do something is really good motivation to make yourself actually do it!
#13: A boy who doesn't want to be with you, doesn't deserve to be with you.
#12: Finding a fun way to work out is the only way you will keep working out.
#11: Treasure your childhood and tell stories about it so you don't start to forget.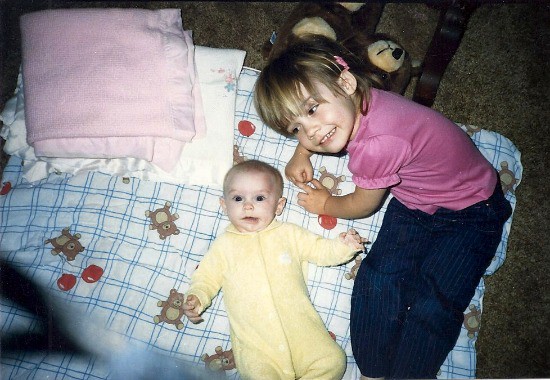 #10: Wear lipstick. It's a game changer.
#9: Wait for the right man. You will know it when you find it, and he will be so worth it.
#8: ALWAYS get back up.
#7: Things do happen for a reason.
#6: Rain on your wedding day is good luck. Just go with it and don't let it ruin your day.
#5: Keep your head up, even when people are trying to knock you down.
#4: See the world. It's how you learn about it and about yourself. (one of her biggest lessons to me that I have not yet done)
#3: Dream big.
#2: Live those big dreams. Just do it.
#1: What the true meaning of a best friend and unconditional love looks and feels like.
Happy Birthday Kelsey! I hate that I never get to celebrate with you, but I love you so much. I hear 30's are supposed to be the best years of your life. If that is true, you have a lot in store for you!
Love, Kristin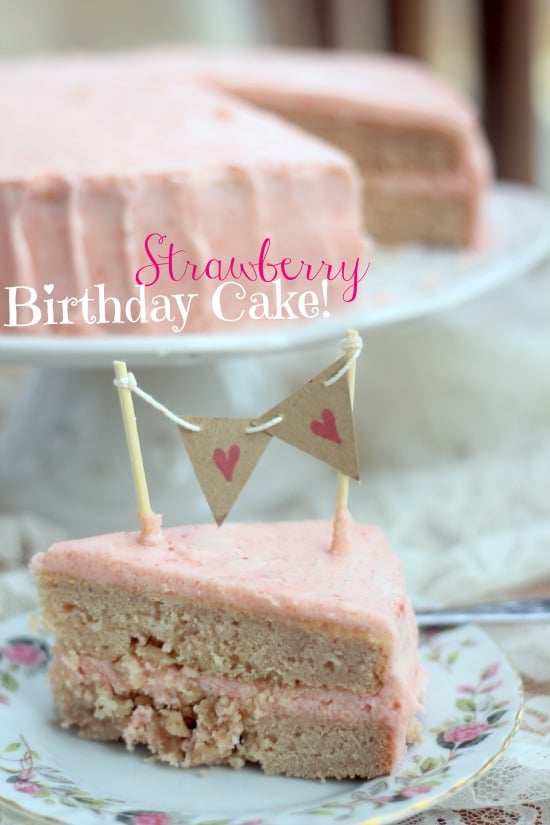 Strawberry Birthday Cake Vanilla Bean Icing (vegan option)
Ingredients
For the Cake
3 eggs equivalent of egg replacer (or 3 eggs)
½ cup almond milk, (or your milk of preference)
¾ cups strawberry puree (made with fresh or frozen strawberries)
1½ tsp vanilla extract
1/2 tsp almond extract
2 cups cake flour
2 teaspoons baking powder
1/2 teaspoon salt
1 1/4 cups sugar
1/2 cup unsalted butter (I used Earth Balance), softened but still cool and cut into pieces
For the Frosting
1½ cups butter (I used Earth Balance non-dairy), at room temperature
4 cups confectioners' sugar
1 tablespoon almond milk (or other milk)
1 tsp almond extract
1 vanilla bean, split and seeds scraped
½ cup strawberry puree (made with fresh or frozen strawberries)
Instructions
For the Cake

Preheat oven to 350 degrees.
Grease and flour 2 8- or 9-inch cake pans, and set aside.
In a small bowl, whisk together the egg replacer (or eggs), milk, strawberry puree, and vanilla and almond extracts. Set aside.
In the bowl of a standing mixer, combine the flour, sugar, baking powder, and salt.
With the mixer on low, add the butter one piece at a time, mixing until the dough comes together and looks sandy (do not allow the mixture to become doughy)
Add about half of the wet mixture and mix on low speed until incorporated.
Increase to medium-high and beat until light and fluffy.
With the mixer on low speed, slowly add the remaining wet mixture until incorporated.
Scrape the bowl, if necessary, then increase speed to medium-high and beat for about 20 seconds. The batter will just barely look a little curdled.
Divide that batter evenly between the prepared pans.
Bake for 23-25 minutes, or until a toothpick inserted in the center comes out clean.
Cool completely before frosting.

For the Frosting

In the bowl of a standing mixer, whip the butter for 8 minutes on medium speed, until the butter is light in color and creamy.
Add the sugar and milk and mix on low speed for 1 minute.
Stir in the vanilla bean seeds and almond extract.
Increase mixer to medium speed and whip the mixture for another 6 minutes, until the frosting is very light and creamy.
With the mixer on low, incorporate the strawberry mixture.
Use frosting immediately or store in an airtight container in the refrigerator for up to 2 days. Allow to sit at room temperature for 10 minutes before using out of the refrigerator.
7.6.7
285
https://bakerbettie.com/strawberry-birthday-cake/
Products I used for this recipe…
Disclaimer: Please note that the links below are affiliate links and I will earn a commission if you purchase through those links.
[AMAZONPRODUCTS asin="B0099EUPHQ"][AMAZONPRODUCTS asin="B00TBPDCCI"][AMAZONPRODUCTS asin="B00QRI7746″]
[subscribe2]