Savory Caprese Profiteroles are the perfect two bite treat for your summer gathering! The shells are made out of black pepper studded pate a choux shells and they are filled with slices of tomato, fresh mozzarella, and basil!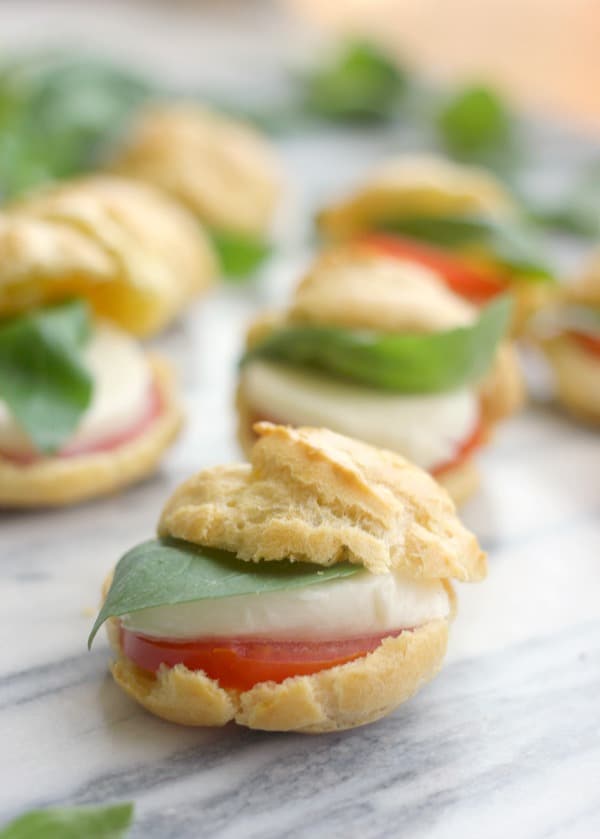 I met my husband in 2009 and we've been together ever since. It was right at the start of the huge craze of internet dating sites and hookup apps. I feel lucky that I never had to do any of that. But to be 100% honest, sometimes I wish I could chime in with my crazy swiping stories when others share theirs. It is not something to envy, I know that. But it is an iconic experience of my generation that I never had. Until now! Kind of.
Since moving to Chicago a little over a year ago it has been difficult to make friends. Neither my husband or I really have co-workers so how else are you supposed to meet people when you are in your 30's? I was in a tea shop a few weeks ago and the girl helping me was so fun and friendly. I kept thinking to myself, "I feel like we could be friends." But how do you make that happen? How do I ask for a complete stranger's phone number without coming off like a total creep? But I just discovered an app that is like Tinder for friends. Have you heard of Bumble BFF? It is literally swiping to find friends. I'm not kidding. And here is what I have learned from a couple days of this swiping to find friends: #1: All women love brunch. #2: All women love wine. #3: All women say they love to work out.
I only love two of these things.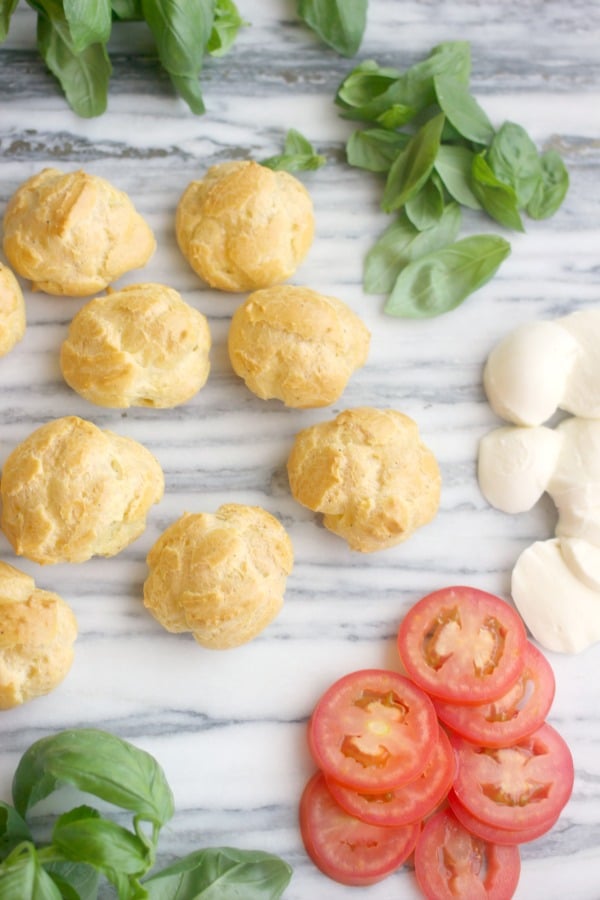 If you know anything about Chicago then you know the summers are magical. It doesn't get ridiculously hot, there are tons of activities outside, and amazing al fresca dining options! But the biggest thing you notice during Chicago summer is  just an amazing energy from people who know that the warmth is fleeting and therefore they must savor every second of it before winter creeps back in! I plan to bask in as much of Chicago summer that I can! That means I will be making all kinds of summery recipes and I hope to find a few gal pal bff's to share them with!
Memorial Day marks the start of summer activities in my mind, so to kick it off I have the perfect snack for your gathering! You start with that basic pate a choux batter that I taught you all about in my "Pate a Choux and All it Can Do Series." Instead of making the shells sweet, you leave out the sugar, up the salt, and add some black pepper! Then these shells are filled with slices of tomato, fresh mozzarella, and basil leaves. Sprinkle with salt and black pepper and serve with balsamic vinegar for drizzling. Hello summer! You're looking good!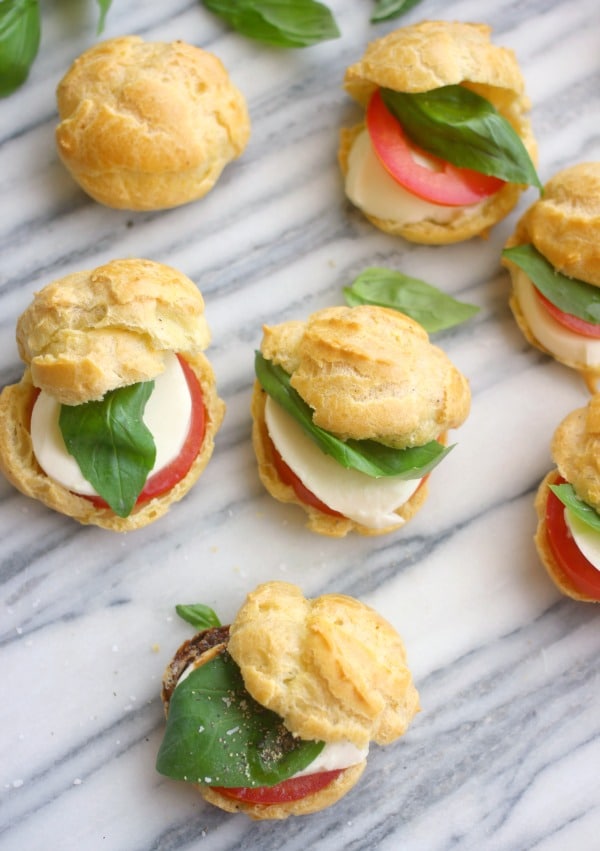 Yields 24
Savory Caprese Profiteroles
10 minPrep Time
23 minCook Time
33 minTotal Time
Ingredients
1 cup water (8 fl oz, 240 ml)
1 stick unsalted butter, cut into pieces (1/2 cup, 4 oz, 113 grams)
1 tsp kosher salt
1/2 tsp black pepper
1 cup all-purpose flour (4.5 oz, 127 grams)
4 large eggs
roma tomatoes, sliced
fresh mozzerella, sliced
fresh basil leaves
coarse salt, for sprinkling
cracked black pepper, for sprinkling
balsamic vinegar, for serving
Instructions
Preheat oven to 400F. Line baking sheets with parchment or silpat.
Place the water, butter, salt, and black pepper in a sauce pot over medium high heat. Stir until butter is melted and everything comes to a boil.
Reduce heat to medium. Add flour into the mixture all at once while stirring quickly. Continue to stir and cook off the moisture in the dough until it pulls away from the sides and starts to form into a ball. This should take about a minute.
Place dough into the bowl of a stand mixer fitted with a paddle attachment or a large bowl if using a hand mixer. Allow to cool for about 5 minutes.
With the mixer on medium-low speed, add eggs in one at a time. Do not add another egg until the one before has been completely absorbed into the batter. The batter will look smooth and glossy when ready. (Alternatively, you can mix in the eggs by hand. This just takes a bit longer. Mix each egg until completely absorbed before adding the next).
Use a small cookie scoop to scoop rounded mounds of batter onto your prepared baking sheet. This is the scoop that I use. Alternatively, you could pipe 1" mounds of dough if you do not have a scoop. The shells will puff up considerably, so do not be concerned with how small the mounds are before they hit the oven.
Place the baking sheet in the oven and turn to heat up to 425F. Bake for 10 minutes (without opening the oven) then drop the heat down to 350F and bake for 11-13 more minutes until the shells are crispy on the outside and set.
Allow the shells to cool completely, then split down the middle with a pairing knife.
To assemble, layer slices of tomato, with slices of mozzerella,and pieces of fresh basil. Sprinkle with coarse salt and black pepper then top with the other half of the shell. Serve with balsamic vinegar to drizzle on top.
7.6.4
181
http://bakerbettie.com/caprese-profiteroles/
Tools I used for this recipe…
[AMAZONPRODUCTS asin="B00946DJ54,B000G0KJG4,B00V5IM0EU"]