Hi! Welcome to Baker Bettie my baking science blog!  I am so happy to have you here! Please have a look around. You can find all kinds of recipes by searching through my recipe index!
A little about this blog…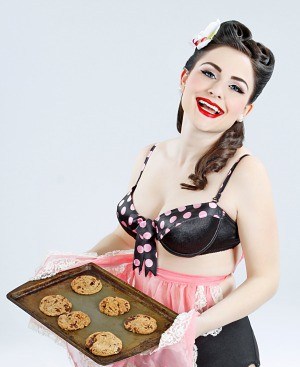 I am totally obsessed with baking, baking science, and basic baking techniques. I want  this to become a place where you can find all of the answers to any of your baking questions! Many of my posts have baking science tips and tricks written into them. If you have a certain topic you are looking for use the search bar at the top right of the page to find it! If you can't find it, please feel free to leave a comment or send me a message through my contact form and I will definitely try to answer it for you.
A few things that might help you navigate the site more easily…
I have a section of basic baking recipes that are very simplified recipes of easy baked goods. Basic cookies, pancakes, brownies, biscuits, cakes and other pastries. This is a great place to start if you are a new baker!
My Baking 101 section will answer a lot of basic baking science questions.  Want to know the difference between baking soda and baking powder? Need weight conversions for basic baking ingredients? Want to learn all about the different varieties of flour? All of these answers can be found in the Baking 101 section.
I have created an archive list of basic techniques, baking words/phrases, and ingredients. Each topic has a link to a page where you can learn more about it. This is a great place to start when trying to understand a topic better. While reading my posts, you will see many links on baking words and ingredients. These links will take you to the page to learn more about it. Don't see something on the page that you want to know? Contact me and I will try and get it added!
I hope you enjoy the site! Please leave me comments if you have any questions and I will try to get to them as soon as possible!
A little about me…
I am a 20 something Kansas native who was raised in the performing arts. Music and theater were what I knew so naturally, I chose music when deciding my college major. I knew I loved helping people, so I decided to go for a music therapy degree. And after a long 6 years, I finally finished.
While finishing my music therapy internship at the state hospital in Austin, TX, I began baking. I was mostly making cookies and the people I worked with loved them and encouraged me to try and sell them. So I did. And my success with my online cookie business was far more successful far faster than ever expected. I was overwhelmed with orders and after filling a Christmas order for over 6,000 cookies I knew I needed to put the business aside and figure out my career goals.
I continued to work as a music therapist and case worker for a few years. And while I loved working with and helping people I just kept feeling as though something was missing from my life.
In 2011, I decided to start writing this baking blog. I knew I didn't want to continue the cookie business but I craved a creative outlet and a clear reason to keep baking. My passion for cooking and baking has continued to grow exponentially since the day I started this blog. Through the blog I have found my creativity, my voice, and really I have found myself. I am especially interested in the science of baking, recipe creation, food styling, writing about life as it relates to food, and food photography.
In 2013 I left my job in social services when my husband was offered a job in Philadelphia. I decided to take the leap and figure out how I can make a living doing what I love the most. I went to culinary school and finished in 2014. I am working on generating an income from the blog and have also recently co-founded an online lifestyle magazine, VRAI Magazine. I love food media and sharing my passion in this way. Writing, photographing, styling food.
Baker Bettie is my way of connecting with the other people who share this big passion I have. It is my art project, it is my passion, it is my home.  Feel free to ask any questions and I hope I inspire you to "get busy in the kitchen with me!"