Dark Chocolate Espresso Cookies with Butterscotch Chip
---
Intensely dark chocolate butterscotch cookies with espresso are chewy and soft and the perfect mid afternoon pick-me-up. Hershey's dark chocolate cocoa powder gives these their intense dark chocolate flavor, however dutch processed cocoa powder could be used in its place.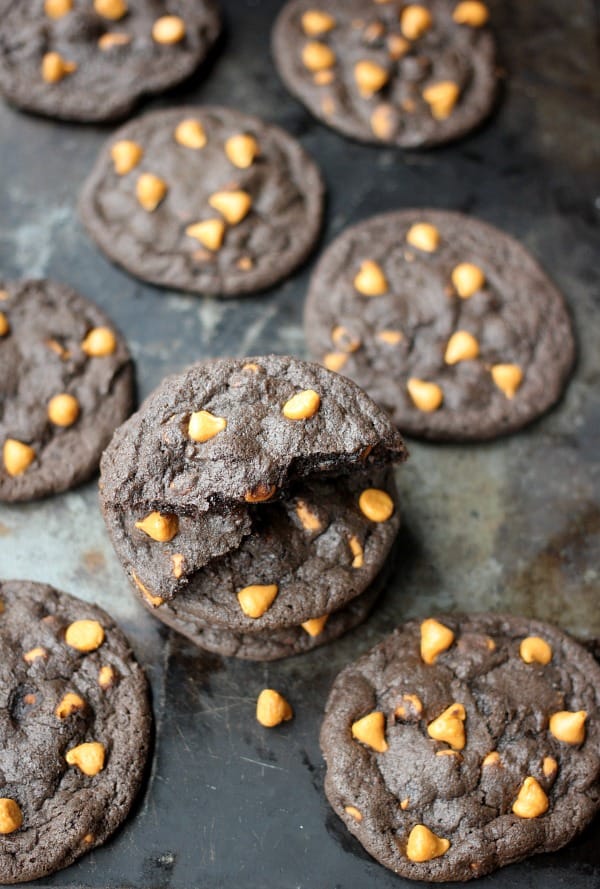 I can't believe I haven't posted this recipe before now. I'm sorry I've been holding out on you. When I had my cookie business, you know that one where I baked 6,000 cookies one Christmas, this was one of my flavors. I called them "The Pick-Me-Up".
They are ultra chocolatey and pack a good punch of espresso. And oh those butterscotch chips. Oh man. These babies warm out of the oven with a strong cup of black coffee… I'm pretty sure they can cure most things. At the very least they cure the mid afternoon crash. I am telling you.
Speaking of the mid-afternoon crash. Mine really happens mid morning. See, I have this problem. I wake up pretty early and eat breakfast. Then I don't have to be to work until 10, but it takes me almost an hour to walk there. So by the time I get to work I am immediately hungry. So basically I get to work and my first order of business is to eat my lunch.
I always try to hold out as long as possible. But usually by about 10:15 I've already given in to the hunger. So while most people experience the 2 pm crash, mine is usually about 12 noon. It's sad really. But it is so real. Last week when I made these cookies they were the perfect noon pick-me-up to get through the end of the day.
I miss you, cookies.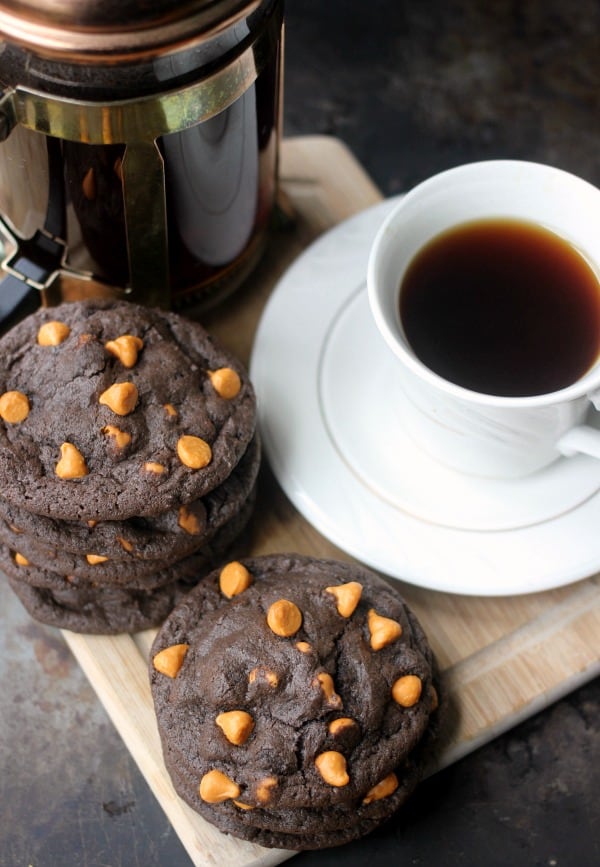 So, I apologize for holding out on you so long with this one. And now that I think about it, there are quite a few of my cookie business recipes I haven't shared. I'll start working those in.
But today I leave with these. These bitter dark chocolate with a good amount of salt and a kick of espresso. And that creamy butterscotch. But hey, if you are one of those weirdos that doesn't like butterscotch you could use peanut butter chips. That would be fantastic too!

Baker Bettie
Yields 30
Dark Chocolate Espresso Cookies with Butterscotch Chip
20 minPrep Time
9 minCook Time
29 minTotal Time
Ingredients
2 sticks (1 cup) unsalted butter, softened
1 1/2 cup granulated sugar
2 tsp vanilla
1 TBSP instant espresso powder
2 large eggs
2/3 cup Hershey's dark chocolate cocoa powder (or any natural cocoa powder)
2 2/3 cups all purpose flour
2 tsp corn starch
1 tsp kosher salt
1 tsp baking soda
2 cups butterscotch chips
Instructions
Preheat the oven to 375F.
In the bowl of a stand mixer fitted with the paddle attachment (or a large bowl with a hand mixer), cream together the butter and sugar until fluffy. Add the vanilla, instant espresso powder, and eggs, and mix just until incorporated. Scrape down the bowl as needed.
In a separate medium sized bowl, whisk together the cocoa powder, all purpose flour, cornstarch, baking soda, and kosher salt. With the mixer on low speed, slowly add the dry mixture into the bowl of the stand mixer. Scrape down the sides of the bowl as needed. Mix only until just incorporated. Fold in the butterscotch chips.
Using a large cookie scoop, scoop rounded mounds of dough onto half sheet pans or baking sheets. Do not put more than 8 cookies per sheet.
Bake one cookie sheet at a time at 375 F for about 9-10 minutes, until the edges are set and the middles still look slightly underbaked. This will keep them very soft after they cool.
7.6.4
128
http://bakerbettie.com/dark-chocolate-butterscotch-cookies/
[envira-gallery id="12045″]
 Disclaimer: this post contains affiliate links. Thank you for supporting this blog! 
---