Fluffy Blueberry Buttermilk Pancakes
These fluffy blueberry buttermilk pancakes really live up to the "cake" party of their name. They are incredibly tender and light and filled with fresh blueberries. Whatever you call them: pancakes, hotcakes, flapjacks or griddle cakes, these will quickly become a favorite breakfast!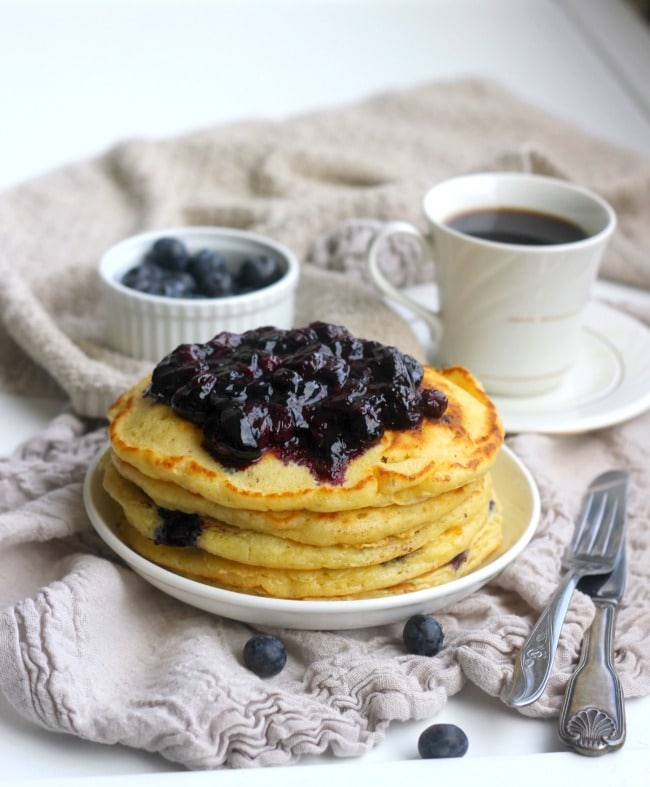 This article was originally published in the May 2015 Issue of VRAI Magazine. 
Becoming an adult forces you into realizing a lot of things about the world. While a lot of these realizations are little things, some of them are big and almost too much to process sometimes.
A few big things my adult years have taught me include: the realization that many successful people are literally faking it until they make it and I can too, more money does not bring more happiness, and my mother made endless sacrifices for my sister and I when we were growing up.
That last one is huge for me. I know that no child will ever truly understand everything their parent's did for them, but in my adult years I have gained some clarity about it. And I want so much to show my mom that I recognize it and I am eternally grateful to her for all she did to give me the life I have.
Mother's are like that. They tend to give and give more than anyone should ever expect from one person. And then one day a year we give those women the amount of attention and thanks that we should be dishing out all year round. That's why I'm so glad that we are celebrating the special women in our lives all month long here at VRAI Magazine. One day just isn't enough.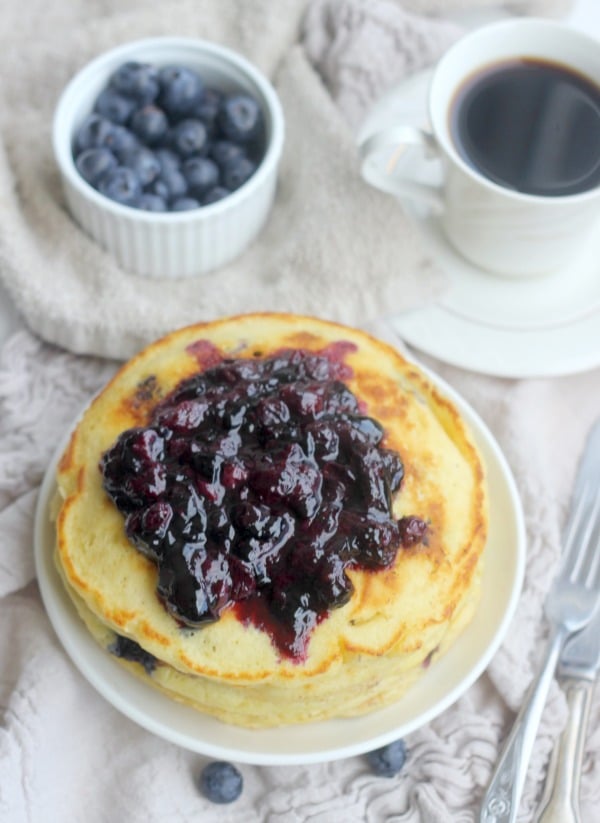 I can't help myself but to cook comforting food when I want to show someone how much I love them. I'm a mid-west girl and darn good home style cooking is definitely my style.
I don't think you can get much more comforting than big fluffy buttermilk pancakes for breakfast. Except maybe if you fill the pancakes with blueberries and top them with blueberry compote. Making food like this is how I express my love.
I don't get to see my mother very often these days. We live in different states and visits have become special occasions. But we talk frequently and I hope she knows that I appreciate all the sacrifices she made for our family.
There really isn't a way of saying thank you for that and pancakes almost seem a laughable gesture. But who doesn't love breakfast and a home cooked meal? It is my humble offering to such an amazing woman.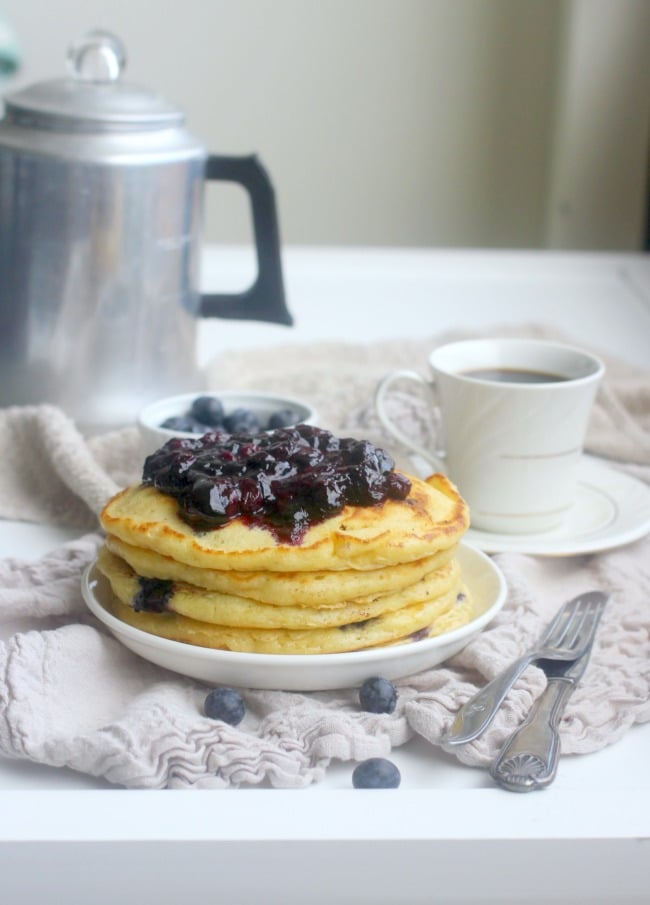 These are the kind of pancakes that really live up to the "cake" part of their name. They turn out incredibly fluffy and cakey in the center. The key to this texture is in the cake flour as well as the buttermilk.
However, if you do not have cake flour, using only ap flour is acceptable and will still make beautiful pancakes. After I started making these beautiful cakes, I haven't been able to bring myself to making a simpler recipe.
The few extra ingredients are definitely worth the end result. These are "Wow the One You Love" pancakes.
Yields 16-
Fluffy Blueberry Buttermilk Pancakes
20 minPrep Time
20 minCook Time
40 minTotal Time
Ingredients
For the Pancakes
11/2 cups all purpose flour
1 cup cake flour
1 TBSP baking powder
1/2 tsp baking soda
1/2 tsp salt
2 cups buttermilk
6 TBSP unsalted butter, melted
2 large eggs
2 large egg yolks
1/4 cup granulated sugar
1 tsp vanilla extract
blueberries
For the Blueberry Compote
2 cups frozen blueberries
3 tablespoons water
1/4 cup sugar
2 teaspoons lemon juice
Instructions
For the Pancakes

In a large bowl, whisk together the ap flour, cake flour, baking powder, baking soda, and salt.
In a separate bowl, whisk together the buttermilk, butter, eggs, egg yolks, sugar, and vanilla. Pour the wet mixture into the bowl with the dry mixture.
Gently stir together the batter until just combined. It will be lumpy and that is okay. Do not keep stirring! Let the batter stand for about 5 minutes before cooking.
Meanwhile, preheat a griddle or large skillet over medium-high heat. Lightly grease.
Ladle batter onto the hot griddle and sprinkle blueberries across each cake. Cook for about 3-4 minutes before flipping. You will know the cakes are ready to flip when bubbles form on top and then burst.
Serve with real maple syrup or warm blueberry compote (recipe below).

For the Blueberry Compote

In a saucepan over medium heat, combine half of the blueberries and the rest of the ingredients.
Cook for about 10 minutes until the blueberries begin to pop. Stir in the rest of the blueberries and cook for another 5 minutes.
Serve warm over pancakes.
7.6.4
161
http://bakerbettie.com/fluffy-blueberry-buttermilk-pancakes/