Perfect Pan Baked Easy French Toast
This method for perfect and easy french toast gives you a super crispy crust with a light and fluffy inside! The pan baked method allows for all of the french toast to be complete at the same time while preventing any of the toast from getting soggy!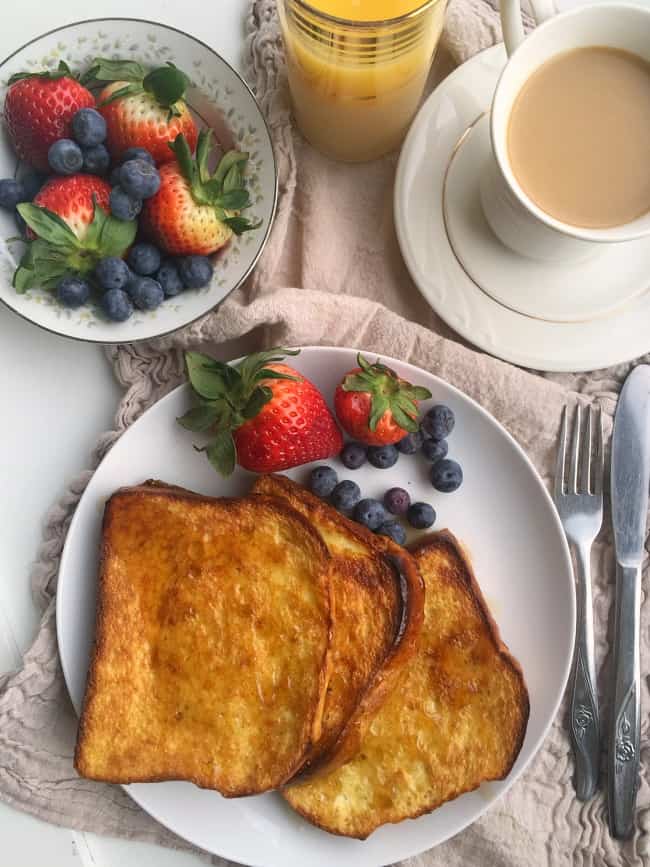 Honesty time. I have never been a big fan of french toast. Especially homemade french toast. It just seems that every time I make french toast it always gets soggy and cold before I can sit down and eat it. Even if I try to keep it warm in an oven it all starts to get flat and wet and sad. If I'm going to eat french toast I want it to be perfectly crispy on the outside with a fluffy custard-y inside. And it rarely is. BUT, I have figured out a fool proof way to achieve this at home when trying to feed french toast to your family or friends. Not only does this technique give you the most perfect texture for french toast, but it also ensures that your entire batch is finished all at once so you can sit down with your family or guests and eat together! This perfect and easy french toast technique is also incredibly fast! I'm a little bit obsessed with it!
The key to perfect pan baked french toast is a pan heating in the oven. You want to get a sheet pan roaring hot in your heating oven while you prep your other ingredients. This will cause the bottom side of the bread to sear immediately when you put it on the pan. Preheat the oven to 450F while you prep all of your ingredients. You want the pan to heat in the oven for at least 20 minutes, but you can leave it in there longer until right before you are ready to finish off and serve the french toast.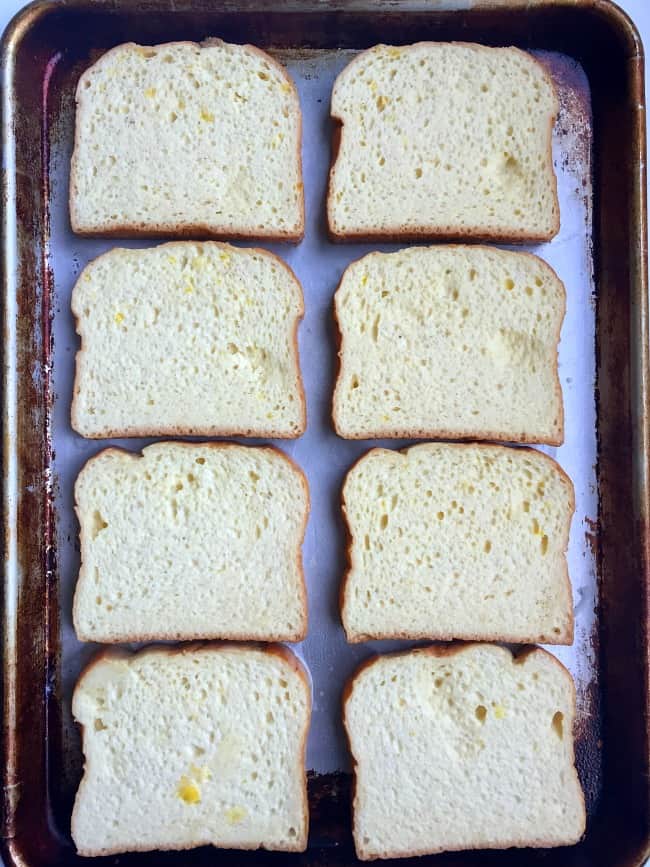 While the oven is preheating, mix together your egg/milk mixture and get all of your bread out and ready to go. I like to use a rich, sweet bread like a brioche or challah. My grocery store sells loaves of brioche sliced like sandwich bread which is perfect for this. You could also use a texas toast style thick cut bread if you prefer. One sheet pan should fit 8 slices of bread. If you want to make more than that, you can heat up two sheet pans and make a double batch!
Once the oven to fully heated and your are about ready to serve your guests, pull the sheet pan out of the oven and work quickly! Liberally spray the sheet pan with non-stick spray, dip your pieces of bread into the custard mixture, then arrange them on the sheet pan. You want them to hit the pan while the pan is still hot so they get a good sear! Be very careful to remember to use an oven mit when handling the hot pan! It's easy to forget that pan is really hot when you are working so quickly!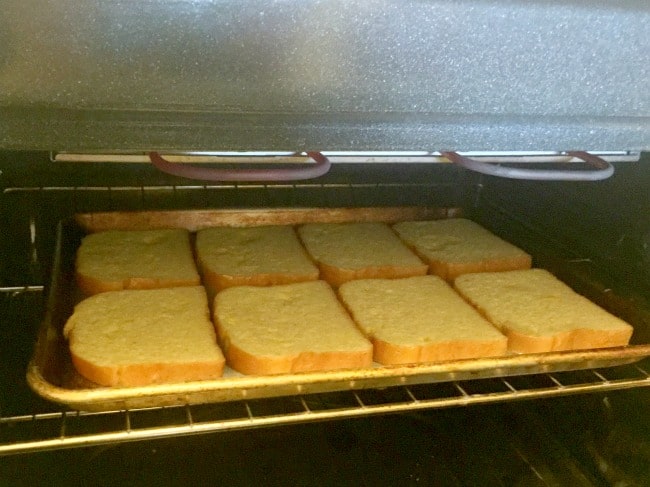 Once the toast hits the oven, stay close by! You want to kind of babysit it so it doesn't burn. Mine takes about 6 minutes to get fully crispy once it goes into the oven. But as we all know, all ovens are different so definitely keep an eye on it!
Once the french toast is done it will be perfectly crispy on the outside and light and fluffy in the middle! Exactly how I love it! I also love that this method gives you a few spots here and there that are a little charred. I love those bits!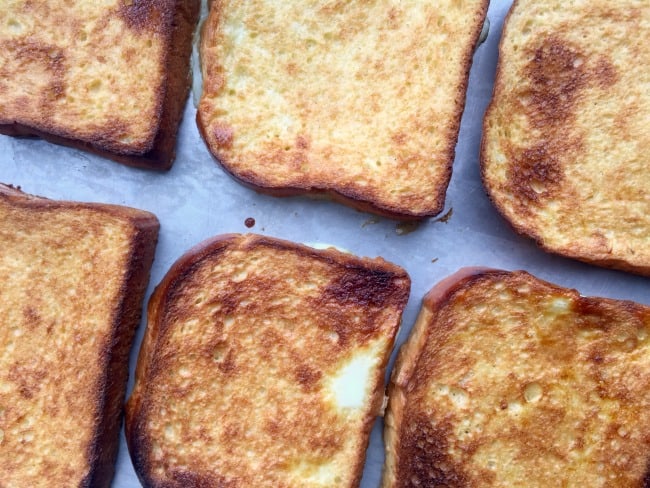 Now you can serve your hot and perfect french toast to everyone all at once! My husband loves to top his with lots of butter and powdered sugar! I prefer mine simply with just a bit of real maple syrup. But go at it with whatever you like! What is your favorite way to eat french toast?!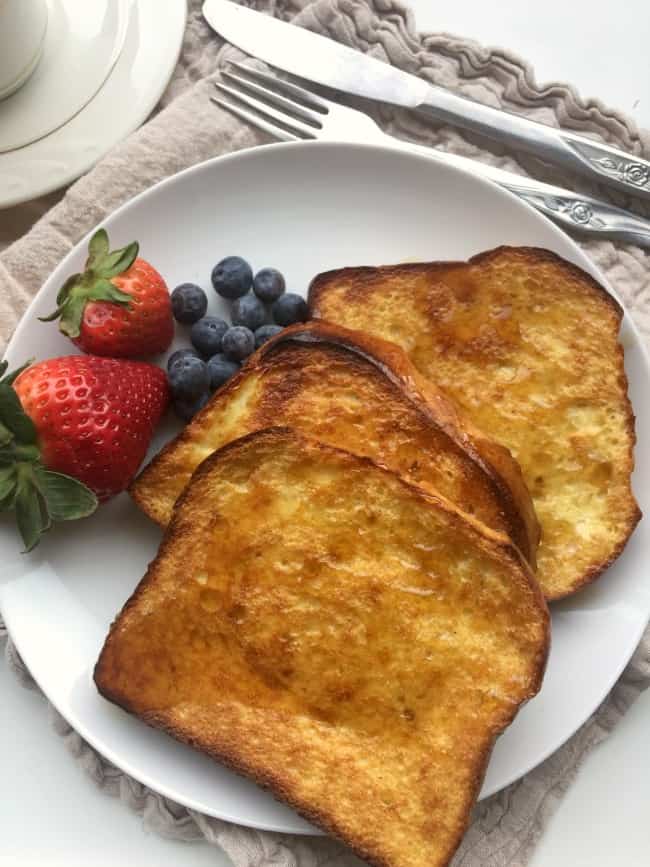 Baker Bettie
Yields 8
Perfect Pan Baked Classic French Toast
20 minPrep Time
8 minCook Time
28 minTotal Time
Ingredients
sheet pan
non-stick spray
2 whole eggs
1/2 cup milk
1/2 tsp vanilla extract
8 pieces of sweet, rich bread such as brioche or challah (can be more pieces of bread is smaller than sandwich style loaf)
Instructions
Position your oven rack in the center position and place a sheet pan on the rack. Preheat your oven to 450F. Let the sheet pan heat in the oven for at least 20 minutes or until you are ready to cook your french toast.
In a shallow dish, whisk together the eggs, milk, and vanilla extract. You can also add a touch of cinnamon if desired.
You will need to work quickly once you pull the pan out of the oven so get your pan spray ready and have your milk/egg mixture and pieces of bread set up and ready.
Once the oven is completely preheated and you are about ready to serve, use an oven mitt to pull the hot sheet pan out of the oven. Spray the pan liberally with non-stick spray. Dip each piece of bread into the milk/egg mixture, coating both sides, then arrange the pieces on the sheet pan. The pieces should sear when they hit the hot pan.
Return the pan to the oven to finish cooking the french toast. It will take anywhere from 5-8 minutes for the pieces to cook so stay nearby and watch the pan so the french toast does not burn.
Serve immediately.
7.6.4
179
http://bakerbettie.com/perfect-pan-baked-easy-french-toast/
Tools I used for this recipe…
[AMAZONPRODUCTS asin="B000G0KJG4, B00004OCNS, B0001BMXIU"]