Spicy Dark Chocolate and Cinnamon Cookies
---
These spicy dark chocolate cookies with cinnamon are rich and chewy with a hint of spice from cayenne that lingers at the end. These were one of my most popular flavors when I owned my cookie business.
The spiciness is not overpowering, it just pops in a bit at the end and makes for a really unique cookie experience!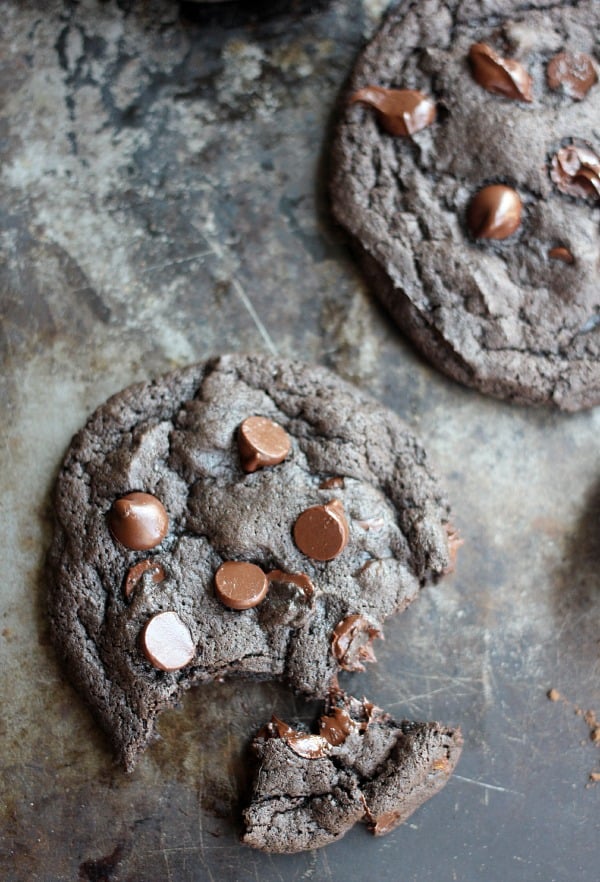 I'm at this crossroads in life. This place where it feels like something big is about to happen. Like my life is going to head in a new direction soon and I really have no clue what direction that is.
It is a weird place to be. Because I am the one who initiated this change of direction. Yet I still have no clue what destination I am aiming for.
I'm waiting for something to show me, give me a sign and say, "Here. Go this way. This is what you are meant to do." Even though that is highly unlikely, I'm still waiting.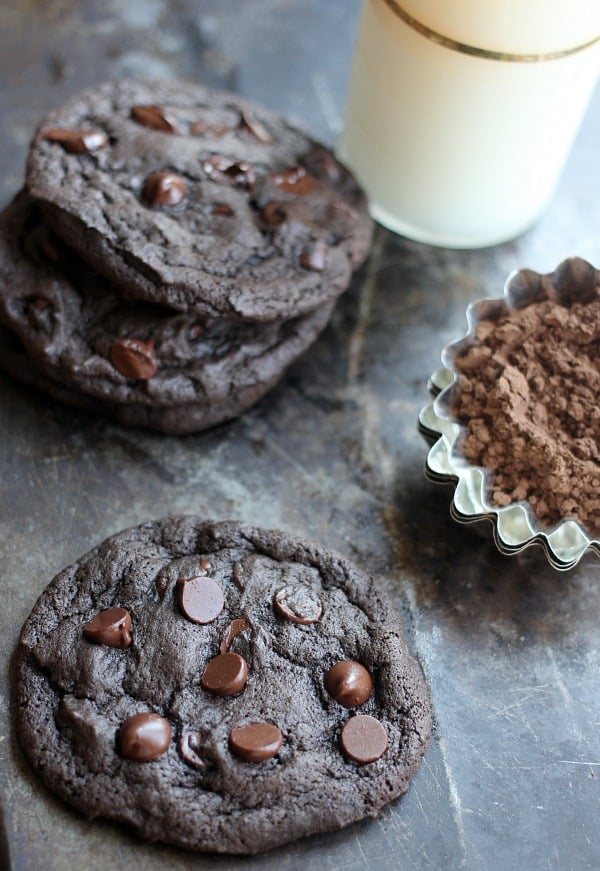 What we are meant to do. I'm not sure that really is a thing. Sure we say it all the time. "This is what I was meant to do." But I think it is up to us, not the universe, to find our place. And it is up to us to figure out our contribution.
I struggle with that sometimes. Is pursuing a passion for food and writing and creating recipes selfish? Is there really a need for that in the world? I think so. There is always a need for art. And this is my art.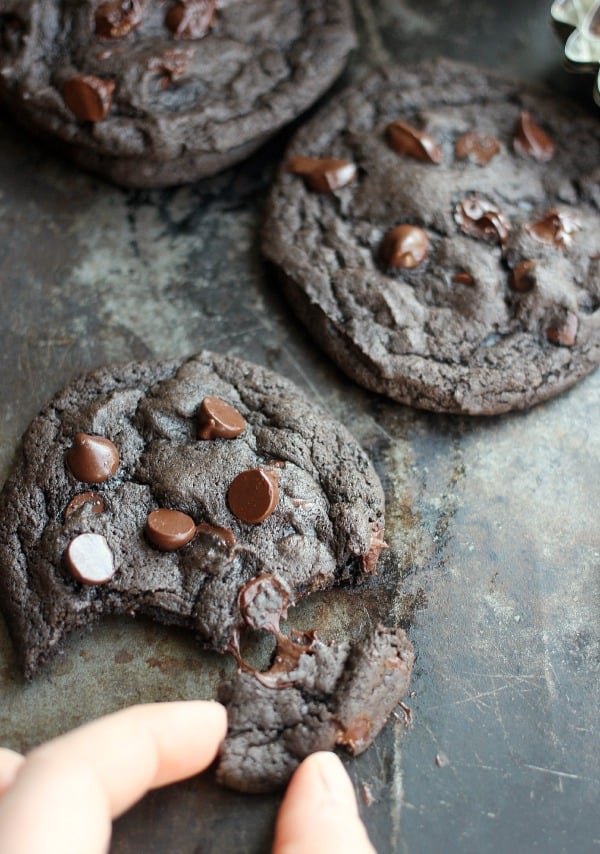 So if nothing else, I hope my contribution to this world is to inspire some creativity in you and to help build memories and connections when you create my recipes with and for the people you love.
That is probably my biggest pull toward my passion for food. It helps me connect with people which has always been a difficult thing for me. Which is why I always show up to parties with a big tray of fabulous cookies. Instant conversation starter all night long. "You're the one who made those cookies? Let's talk about life." Pretty much how it goes down.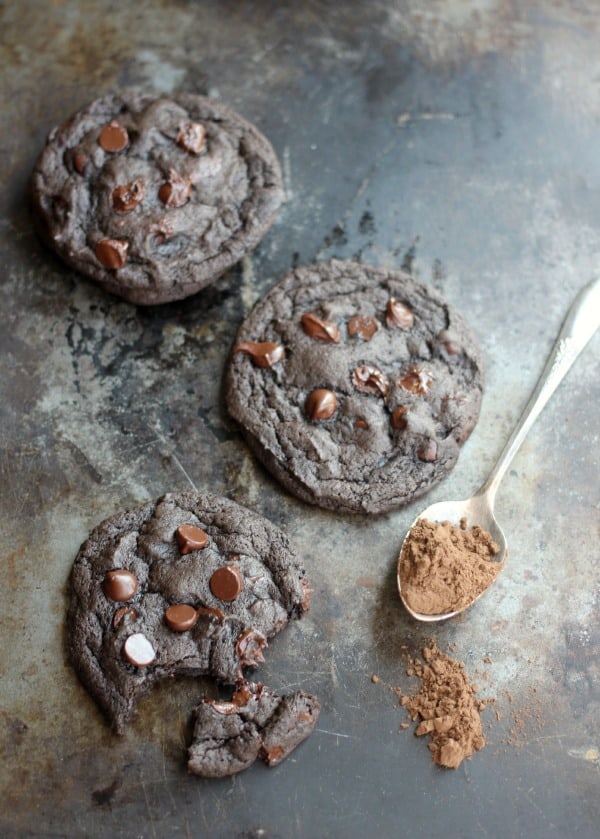 So next time you are headed to a party and need to impress or need a party "security blanket" you should consider bringing these. They are rich and decadent and surprising.
I love how the cayenne rounds out the richness of the chocolate. You don't notice it at first but then it lingers on the palate for a little while. The cayenne isn't overpowering or too spicy. It just enhances the chocolate experience. Trust me.
Everyone will know you as the one who made *those* cookies. And they will love you. And they will want to talk about life with you. This is my contribution.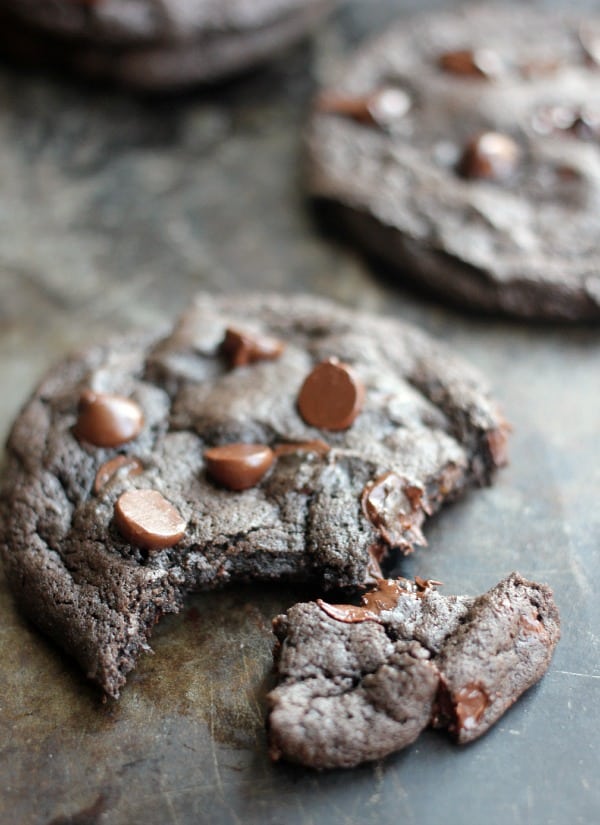 Baker Bettie
Yields 14-16
Spicy Dark Chocolate Cookies with Cinnamon
15 minPrep Time
10 minCook Time
25 minTotal Time
Ingredients
1 stick (1/2 cup) unsalted butter, softened
1 cup dark brown sugar
2 eggs
1 TBSP vanilla
2 tsp baking powder
1 tsp kosher salt
1/4 tsp cayenne pepper
1/2 tsp cinnamon
1/2 cup cocoa powder (preferably Hershey's Specialty Dark Chocolate or a different dutch processed cocoa powder)
11/4 cup all-purpose flour
1 cup dark chocolate chips, plus more for topping
Instructions
Preheat oven to 350F.
In the bowl of a stand mixer fitted with a paddle attachment, cream together the butter and the brown sugar. Add in the eggs 1 at a time and mix until incorporated. Mix in the vanilla.
In a separate medium bowl, whisk together the baking powder, salt, cayenne pepper, cinnamon, cocoa powder, and flour.
With the mixer on the slowest setting, slowly mix in the dry ingredients. Mix until just incorporated. Do not overmix. Fold in the chocolate chips.
Scoop large mounds of dough onto cookie sheets lined with parchment paper. Top each dough mound with a few chocolate chips.
Bake at 350F for 8-10 minutes until the edges are set and the middle is still slightly underbaked. Allow to cool on the cookie sheets for 5 minutes before removing to cooling racks.
7.6.6
81
http://bakerbettie.com/spicy-dark-chocolate-cinnamon-cookies/
[envira-gallery id="12045″]
 Disclaimer: this post contains affiliate links. Thank you for supporting this blog! 
---