How to Make Cream Puffs, Classic Cream Puffs
Soooo….
That whole Pate A Choux thing is still going on over here at Baker Bettie headquarters. I hope that's okay. I know I'm cool with it, even though my thighs aren't. But seriously, the more I play with this pastry dough, the more obsessed with it I am getting.
Check out the rest of the Pate a Choux and All it Can Do series here:
How to Make Basic Pate a Choux
Eclairs with Espresso Glaze and Cinnamon Whipped Cream
Homemade Beignets 
Sharp Cheddar and Thyme Cheese Puffs (Gougère)
Today we explore cream puffs! The classic cream puff. As much as I like to put my own spin on things and do unique variations on the classics, I love making the classics properly as well. So I tried to make proper cream puffs. I still need some practice, but with several attempts I got much better results.
A couple of things I initially had problems with was getting this babies to puff as much as I wanted and making sure they didn't deflate when I took them out of the oven. You want them to stand tall with a hollow center so you can fill them with all that beautiful cream chantilly!  I had a couple batches that didn't rise very much, and a batch that fell flat. So I watched a lot of tutorials and thought about the science behind pate a choux and what might help these babies come out how I wanted. And I think I figured out a method that worked beautifully!
Most tutorials suggest baking the puffs at 425F or 450F for some time and then dropping the temp down to 350F to finish them off. This still didn't give me quite the rise I was looking for.
I remembered this thing I heard Alton Brown talking about on his podcast about biscuits one day. He stated that he always makes sure his oven is in the "heating cycle" when he first puts his biscuits in the oven. Meaning the oven is actively heating up.
To do this, he preheats to oven to 25 degrees less than his cooking temp and turns the heat up right as his puts his biscuits in the oven. He claims that the active heat will create more rapid evaporation and steam, creating more rise.
The rise that occurs in pate a choux pastries is all about steam. The pastry has a very high water content and we are relying on this to create the airiness in the final product.
So I tried Mr. Brown's method hoping for better results. I preheated the oven to 425F and cranked it to 450F just as I was putting the puffs in the oven. I let them bake there for 10 mins then dropped the heat down to 350F for 15 more minutes.
This allowed the pastries to get a nice big puff and then continue cooking until completely set and dried out and hollow on the inside. The result was these gorgeous shells!
Once I got the method figured out, these are amazingly easy to make. Like pretty dangerously easy.
These ladies are then filled with creme chantilly, which is basically sweetened vanilla whipped cream that is whipped to soft peaks. But let's face it, creme chantilly or chantilly cream sounds waaaaay fancier than whipped cream. And it's a lot easier to say than gougère. It's cool to stick with cheese puffs on that one.
You can split the shells in half if you like to fill them with cream, or poke a little hole in the bottom of each shell and pipe the cream in. I like the method of filling the whole shells. I think they look a little nicer and are easier to eat that way.
The final step is sprinkling a little (or a lot) of powdered sugar over the puffs. I opted for a medium amount.
I think they are perfect with the only slightly sweet shell and barely sweet chantilly creme. I didn't want to ruin that with tons of powdered sugar.
But by all means, if you love the sugar, go for it! Nobody will be the sugar police. Pinky promise!
 Don't forget to check out my tutorial post for step-by-step instructions on how to make pate a choux! It will make it seem as easy as it is! This video tutorial is also helpful for seeing how to pipe the shells too!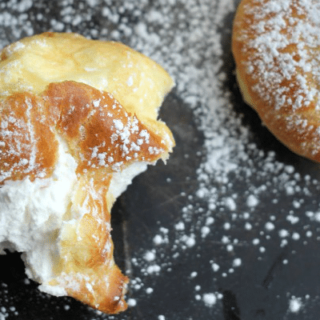 Classic Cream Puffs
Yield: About 24 Cream Puffs
Prep Time: 20 minutes
Cook Time: 25 minutes
Total Time: 45 minutes
This is the basic recipe for making cream puffs using the classic french pastry- pate a choux.
Ingredients
For the Shells
1 cup (8 fl oz, 240 ml) water
1 stick (1/2 cup, 4 oz, 113 grams) unsalted butter, cut into pieces
large pinch kosher salt
2 TBSP (0.8 oz, 24 grams) granulated sugar
1 cup (4.5 oz, 127 grams) all-purpose flour
4 large eggs
For the Cream Chantilly
1 1/2 cups (12 oz) heavy cream, cold
3 TBSP powdered sugar
1 tsp vanilla
Instructions
For the Shells
Place water, butter, sugar, and salt in a sauce pot over medium high heat. Stir until butter is melted and everything comes to a boil.
Reduce heat to medium. Add flour into the mixture all at once while stirring quickly. Continue to stir and cook off the moisture in the dough until it pulls away from the sides and starts to form into a ball. This should take about a minute.
Place dough into the bowl of a stand mixer fitted with a paddle attachment or a large bowl if using a hand mixer. Allow to cool for about 5 minutes.
With the mixer on medium-low speed, add eggs in one at a time. Do not add another egg until the one before has been completely absorbed into the batter. The batter will look smooth and glossy when ready. (Alternatively, you can mix in the eggs by hand. This just takes a bit longer. Mix each egg until completely absorbed before adding the next).
Place batter in a pastry bag fitted with a large round tip or a zip top bag with the tip cut off. Preheat oven to 425F. Line baking sheets with parchment or silpat.
Hold the pastry bag over the baking sheet and squeeze over one area until you have about a 2 inch round. Release the pressure from the bag and pull up to release the dough mound. You will have a little peak on the each that can be smoothed out with a wet fingertip. Keep the mounds about 2 inches apart. (about 9 per baking sheet)
Place the baking sheet in the oven and turn to heat up to 450F. Bake for 10 minutes (without opening the oven) then drop the heat down to 350F and bake for 13-15 more minutes until the shells are crispy on the outside and set.
Fill cooled pastries with creme chantilly (recipe follows) and dust with powdered sugar.
For the Creme Chantilly
Whip cream by hand, in stand mixer with whisk attachment, or with a hand mixer until just starting to thicken.
Add sugar and vanilla and continue whipping until soft to medium peaks form.
Fill a pastry bag with the cream, and pipe into the bottom of the puffs until filled.
Nutrition Information:
Amount Per Serving:
Calories: 124
The links above are affiliate links, which pay me a small commission for my referral at no extra cost to you! Thank you for supporting Baker Bettie!