Fluffy Classic Yellow Cake
Learn how to make this perfectly fluffy classic yellow cake. Follow this easy step-by-step tutorial to make the perfect yellow cake that is a master recipe for cupcakes and endless other cake flavor combinations.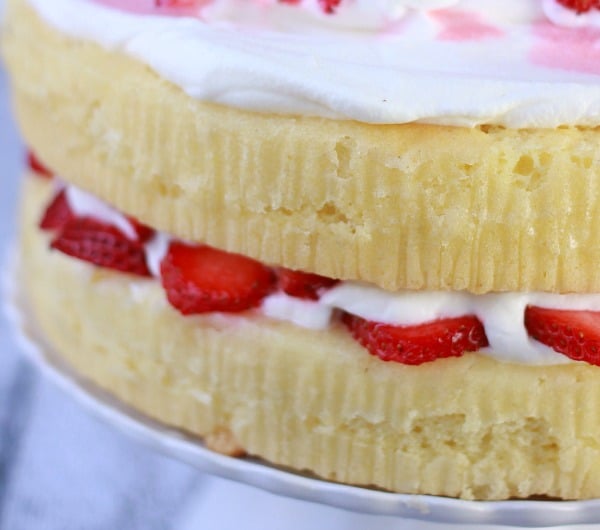 I haven't kept it any secret here on Baker Bettie that cake is not my favorite thing in the world. But I'm dedicating this whole week to cake. Because I do think that to be a serious baker, you need to be able to make a great cake. One that is light and fluffy and moist. And that isn't easy.
Making a tough and dry cake is more common than not. But this is my favorite cake recipe. And I want to teach you how to make it properly.
I had grand plans for this series. Complete with a few video tutorials. But technical difficulties got in the way so we are going to have to stick to text and pictures. I'm sorry!
I think the thing that I aim to teach the most here on Baker Bettie is that baking is just a series of master recipes. If you can make 1 amazing basic yellow cake, you can make endless different flavors of cake based off this 1 master recipe. Once you really grasp that concept, it opens a whole new door to feeling creative with baking.
But technique is everything, especially with cake. A great recipe is only great if the baker uses proper technique when putting it together. This process is actually very simple.
The method is technically the Chiffon Mixing Method and it is 5 basic steps: Gather the ingredients, mix together all dry ingredients & mix together all wet ingredients,  combine the wet with the dry, make a simple meringue, and fold the meringue into the  batter.
Step 1: Gather Ingredients and Equipment 
When gathering the ingredients for this cake I like to keep them separated into 3 groups. This helps you stay organized when mixing and making the cake. The groups are the dry ingredients, the wet ingredients, and the meringue ingredients.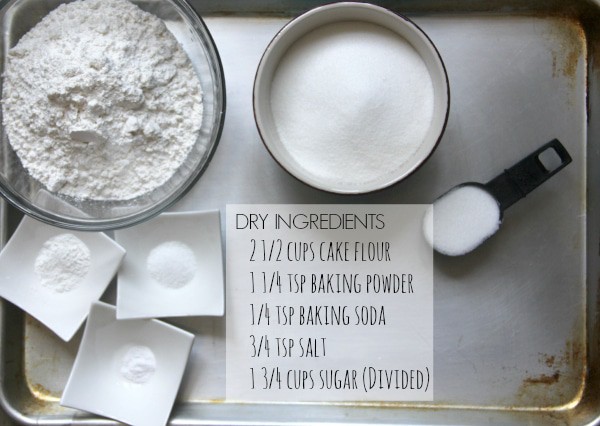 Dry ingredients include cake flour, baking powder, baking soda, salt, and granulated sugar. 1/4 cup of the granulated sugar is set aside to be used to make the simple meringue.
And it is important to note here about the cake flour too. Cake flour has a lower protein content than all-purpose flour. This means that less gluten will develop and this will serve to keep our cake nice and tender.
Technically, all-purpose flour could be used here. But I don't think this would be my favorite cake if it was. It just wouldn't have the same light crumb that we are looking for.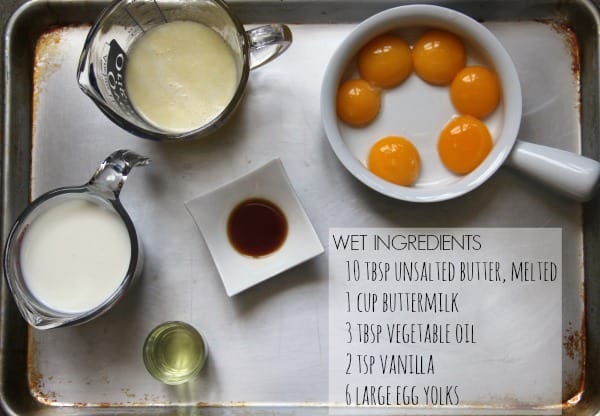 The wet ingredient lineup features unsalted butter than has been melted and cooled slightly, buttermilk at room temp, vegetable oil, vanilla, and egg yolks also at room temp.
When separating your eggs, make sure you keep 3 of those whites for the meringue! Buttermilk is acidic and it will help activate that tiny bit of baking soda to help with the leavening of this cake. It also adds just a tiny hint of tang to the flavor profile.
It is also important here to make sure the buttermilk and the egg yolks are at room temp. We want the butter to stay melted and liquid. Cold ingredients will make it start to firm up again when mixed together.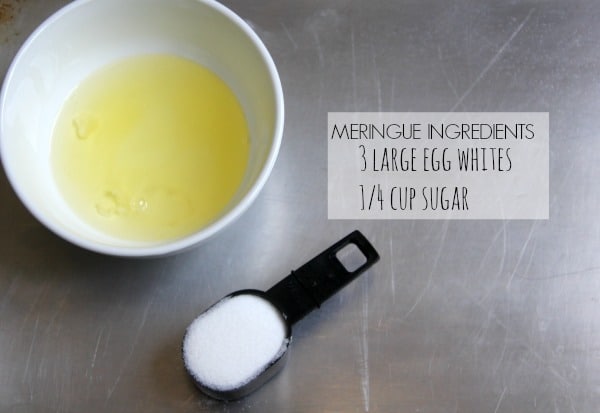 Lastly, your meringue ingredients calls for just 3 egg whites and that 1/4 cup of sugar you set aside when preparing our dry ingredients!
The meringue is possibly the most important part of putting this cake together. The whipped egg whites serve to give the cake lift and keep it nice and light and moist. Trust me, it's worth it.
Step 2: Sift and Combine All Dry Ingredients & Combine All Wet Ingredients
In a large bowl (this will be the bowl that everything else is added into) sift all of your dry ingredients together. Then take a whisk and make sure they are all thoroughly combined.
Now go ahead and mix all of your wet ingredients together! Give them a quick whisk to combine. Make sure your butter isn't really hot! You don't want cooked egg yolks!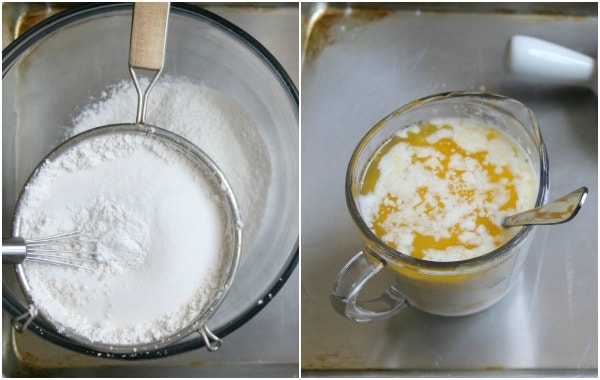 Step 3: Add the Wet Ingredients into the Dry
Now up to this point things have been fairly easy going. But once we get to this step we need to start being more careful.
We are going to pour all of the wet ingredients right into the bowl with the dry and stir them together. If you know anything about gluten development then you know it is at this point when things can go all wrong.
Once flour comes into contact with moisture and is worked around those gluten strands start developing. We want to control that. So stir the wet ingredients in just until combined. As soon as all those large pockets of flour are gone, STOP!
We're going to let this sit while the meringue is made and any bits of flour that didn't get completely absorbed will do so at this time. Just trust me.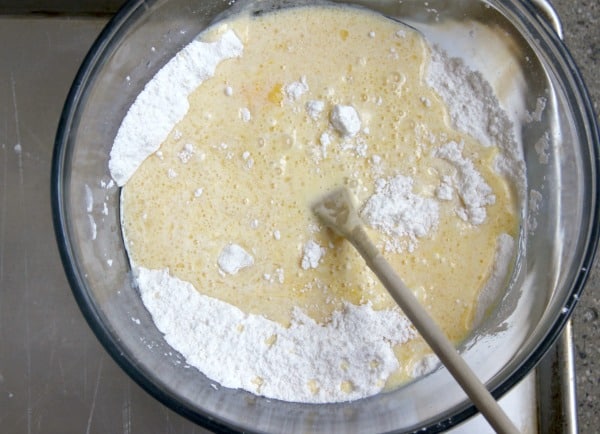 Step 4: Make a Meringue
Using either a stand mixer with a whisk attachment or a hand mixer, beat the eggs on medium speed until frothy. The 1/4 cup sugar is then slowly streamed in while continuing to mix. The whites and sugar are then mixed on high until thick and holds stiff peaks.
See that peak? Beauty.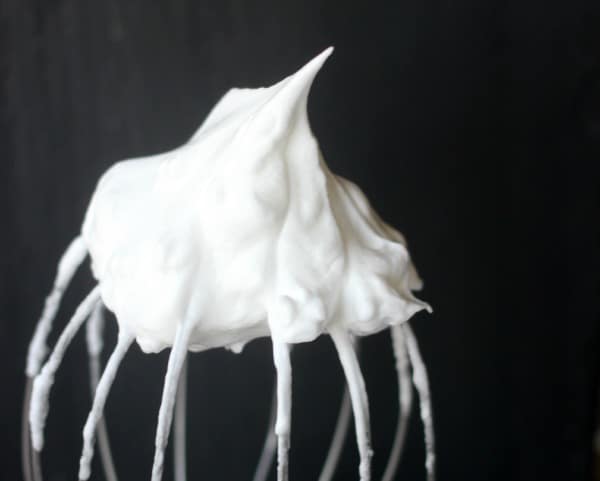 Step 5: Fold the Meringue into the Batter 
This part is all about being gentle too. The goal is to incorporate the meringue into the batter without deflating it.
As gently as possible, fold the meringue into the batter in two batches. There will likely still be white streaks of meringue throughout the batter but don't worry, it will bake out.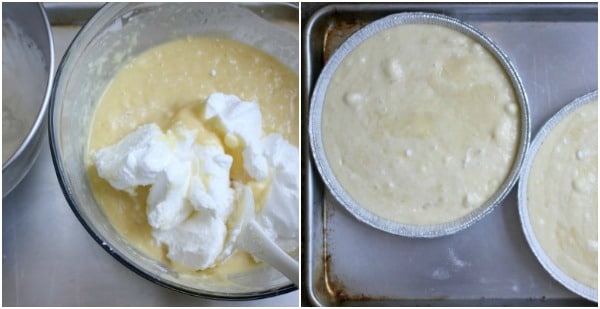 The batter is then split into two greased and floured cake pans and baked. But this could also be used for cupcakes.
This cake tastes really awesome on it's own, but you can flavor it however you want. Lemon zest is always an excellent choice. Or any number of extracts. You may remember my lemon-rosemary cake I made a while back. This was the base recipe for that.
And I have an awesome summer cake coming up later this week using this recipe. I even use a version of this recipe in a white cake rendition for cupcakes… I know. Cupcakes.
The self proclaimed cupcake grump is posting cupcakes. I can't believe it either. But it's happening. So stay tuned. It might not ever happen here again. We'll see.
Fluffy Classic Yellow Cake
Learn how to make this perfectly fluffy classic yellow cake. Follow this easy step by step tutorial to make the perfect yellow cake that is a master recipe for cupcakes and endless other cake flavor combinations.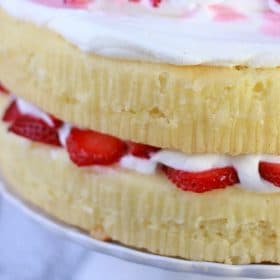 Ingredients:
2 1/2 cups cake flour, plus extra for dusting pans
1 1/4 tsp baking powder
1/4 tsp baking soda
3/4 tsp table salt
1 3/4 cups sugar (divided)
10 TBSP unsalted butter, melted and cooled slightly
1 cup buttermilk, room temperature
3 TBSP vegetable oil
2 tsp vanilla extract
6 large egg yolks, room temperature
3 large egg whites, room temperature
Directions:
Preheat oven to 350F. Grease two 8″ or 9″ round cake pans. Dust pans with flour and tap out excess any excess.
In a large mixing bowl whisk together flour, baking powder, baking soda, salt, and 1 1/2 cups sugar. In another bowl whisk together the melted butter, buttermilk, oil, vanilla, and egg yolks.
Add all of the liquid ingredients (excluding the egg whites) into the large bowl of dry ingredients. Stir until combined being careful not to over mix.
For the meringue: In the bowl of your stand mixer fitted with whisk attachment, beat egg whites at medium speed until foamy. With machine running, stream in the remaining 1/4 cup sugar. Beat at high speed just until stiff peaks form.
Using rubber spatula, gently fold in 1/2 of the meringue into the batter just until incorporated. Fold in the rest of the meringue. Be very gentle to not deflate the air in the meringue. You will have a few white streaks in the batter. Divide batter evenly between your prepared cake pans.(Alternatively, you can divide the batter in between 24 paper lined cupcake tins)
Place pans on a half-sheet pan and bake on the center rack in the oven at 350F for 20-23 minutes, rotating halfway through. The cake will begin pulling away Bake until cake layers begin to pull away from sides of pans and will no longer jiggle in the center when it is finished.
Cool cakes in pans on wire rack for 20 minutes. Run a thin bladed knife around the sides of the pans to loosen cakes then invert on a greased wire rack. Allow to cool completely (about 1 more hour) before frosting.
Recipe adapted from Cook's Illustrated's Fluffy Yellow Cake
All images and text © .