Chili mocha cupcakes start with a rich chocolate cake spiced with cayenne pepper, smoked paprika, and cinnamon! They are then topped with an espresso buttercream and a sprinkle of cayenne for a little extra spice!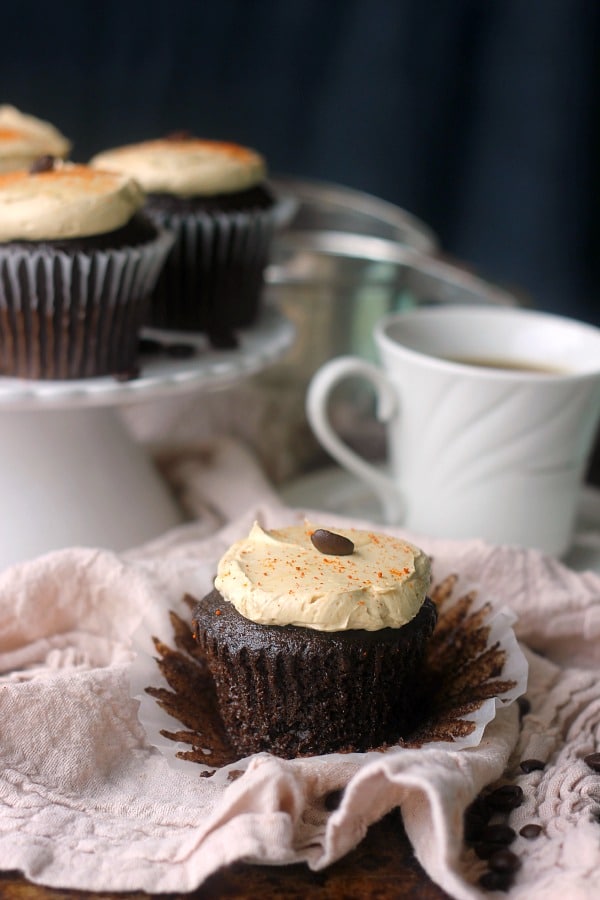 I'm a pretty simple coffee drinker. I usually like a strong black cup or sometimes an americano. But every once in a while I like to indulge in a "fancy" coffee drink.
My best friend once told me, "I always get a mocha on my birthday. Everyone deserves a mocha on their birthday!" She is SO right! Everyone DOES deserve a mocha on their birthday! And I've lived by that philosophy ever since!
But slowly that philosophy has turned into, "I'm going to get a mocha on my day off. Everyone deserves a mocha on their day off!"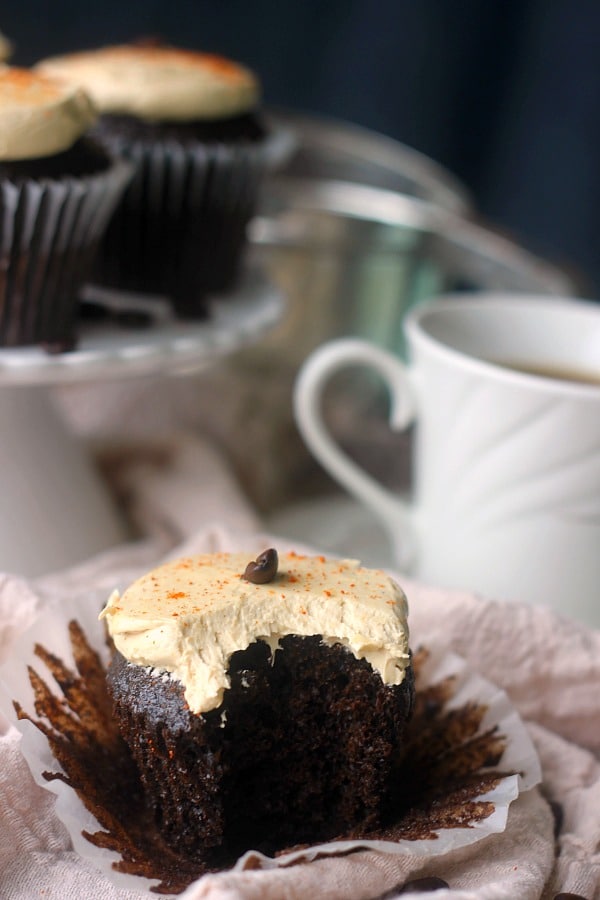 If you are a coffee house frequenter, then you are already being flooded with advertisements for fall drinks. I admit, I will have a pumpkin spice latte or two before the season is over, but Starbucks has a new Chile (spelled like the country) Mocha on their menu that I can totally get down with! I LOVE spicy chocolate.
I had my first day off Chile Mocha the other day and I immediately wanted to create a cupcake with the flavors. The mocha is spiced with cinnamon, cayenne, and paprika and it is my new favorite fall treat!
I decided to make a really moist rich chocolate cupcake enhanced with instant espresso and spiced with the same chili mocha spices! It is then topped with an espresso buttercream and I sprinkled a little cayenne on top for a little extra zing! I also used espresso beans as a little garnish!
You have got to make these! Then take them to work or to a party and share them and let everyone love you!
Ingredients
for the cupcakes
1 cup all-purpose flour
1 cup granulated sugar
1/2 cup cocoa
1 tsp baking powder
1/2 tsp baking soda
1/2 tsp salt
2 TBSP instant espresso powder
1 tsp cinnamon
1/2 tsp cayenne pepper
1/4 tsp smoked paprika
1/2 cup milk
1/4 cup vegetable oil
1 large egg
1/2 teaspoon vanilla
1/2 cup boiling water
for the frosting
2 sticks (1 cup, 8 oz) unsalted butter, at room temperature
2 1/2 cups powdered sugar
1 1/2 tsp vanilla extract
1 TBSP instant espresso powder
cayenne pepper for sprinkling, optional
Instructions
Preheat oven to 325F. Line a cupcake tin with cupcake liners.
In a large bowl, or the bowl of a stand mixer, whisk together flour, sugar, cocoa powder, baking powder, baking soda, salt, espresso powder, cinnamon, cayenne, and paprika.
Add milk, vegetable oil, eggs, and vanilla to the bowl with the flour mixture. Use a hand mixer or the paddle attachment on the stand mixer and mix together on medium speed until well combined.
Stop the mixer and carefully add boiling water to the cake batter. Beat on high speed for about 1 minute to add air to the batter.
Divide the batter evenly between the cupcake liners.
Bake at 325F for about 18 minutes, or until a toothpick inserted in the center comes out with moist crumbs.
Remove from the oven and allow the cupcakes to cool completely before frosting.

for the frosting

In a large bowl beat the butter with a hand mixer until light and fluffy. Add the powdered sugar, vanilla extract, and espresso powder and beat together until combined and fluffy.
Frost the cupcakes and sprinkle lightly with cayenne pepper if desired.
Notes
7.6.4
372
http://bakerbettie.com/chili-mocha-cupcakes/