Learn how easy it is to make homemade pizza with this basic pizza dough recipe. This crust turns out thin and crispy yet sturdy enough to load up on toppings. I used the dough to make sausage, onion, and cream cheese pizza, as well as bite size caramelized onion, prosciutto, and goat cheese pizzettes.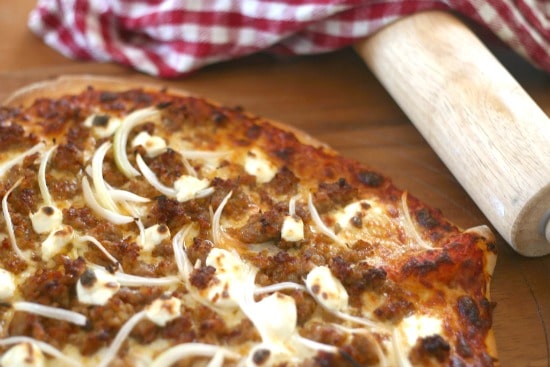 I first moved out of my mom's house when I was 19, a sophomore in college.  It was hardly away from home. A small apartment my mother owned above her photography studio that I shared with my cousin.  But it was a good transition from total dependence to sort of independence.  I have a lot of good memories of that year.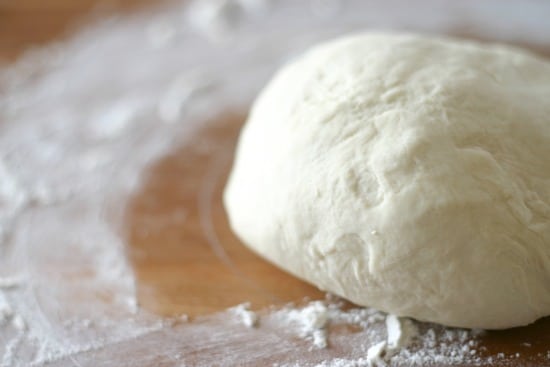 I remember the first few weeks in that cute apartment.  I was so excited to get up every morning and make a small pot of coffee and some breakfast.  Breakfast usually consisted of a bagel or cereal or something that didn't involve actual cooking.  But I remember that feeling so grown up.  Sitting at my little breakfast table and sipping my coffee in my OWN apartment.  The smell of coffee still brings me back to that gitty, excited feeling of my first taste of coming into my own.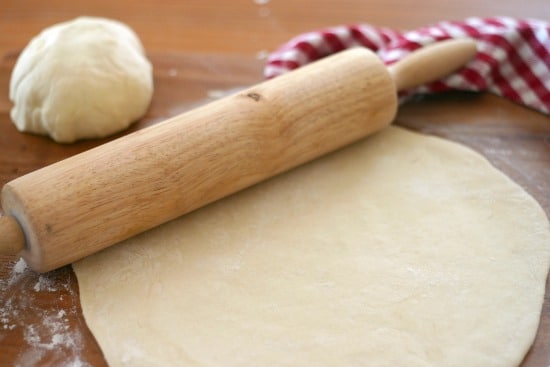 This was the year my interest in cooking began.  I didn't know how to cook.  At all.  I remember calling my mom and asking her how to make spaghetti.  Seriously.  Spaghetti.  That was probably the first meal I really ever cooked.  Browned ground beef, boiled spaghetti, and heated up canned marinara sauce.  I'm sure I probably didn't really season anything.  But it was a start.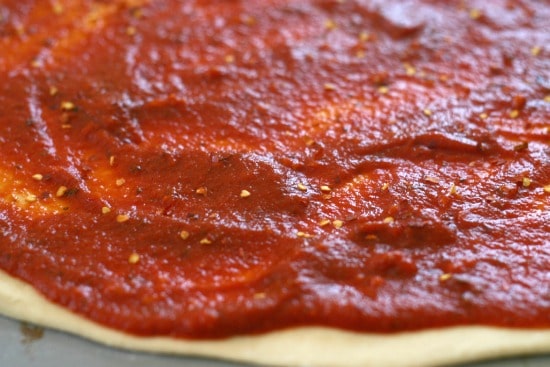 And as I learned more about cooking, the more I started to feel creative for the first time in my life.  Which sounds silly, because I am a musician.  But I have never truly felt creative in music.  I have never felt confident in a mastery of music, nor do I really have a huge desire to.  Don't get me wrong, almost all of the most important people in my life I met through studying music and I have many amazing memories.  But while exploring and creating through food I finally started to understand what having real passion for something felt like.  I long to become a truly great cook and my creativity with food doesn't feel phony as it has with many other things in my life.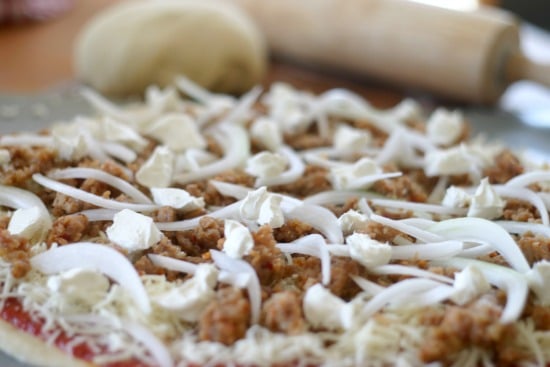 Now, 7 years after first moving out on my own, I am a much better cook.  I know a lot more about basic cooking and seasoning techniques and difficult recipes are no longer as scary to me.  But there is still SO much I don't know and crave to learn.  It's kind of like that saying "The more you know, the more you know you don't know."  SO TRUE.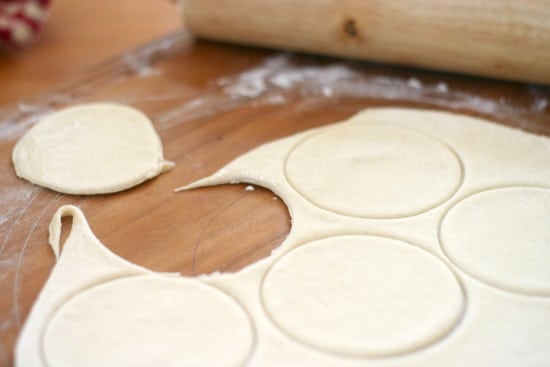 So I guess that's the point of this blog.  To keep learning and to share about my exploration in the culinary world.  It's easy to get stuck in the rut of cooking that same few dishes that I like over and over again.  Blogging will keep pushing me to grow and expand.  To try recipes that I might otherwise keep putting to the side to "try later."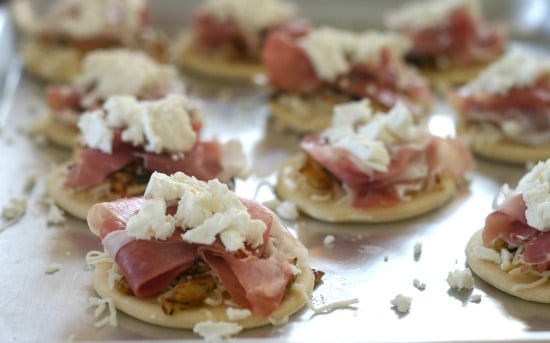 Today: pizza made completely from scratch.  Of course I have made pizza at home before.  But today I wanted to focus on technique of making a great dough, a delicious sauce, and to try my hand at making tiny 2 bite pizzas, otherwise known as pizzette!

Baker Bettie
Yields 2-
Basic Pizza Dough Recipe
1 hr, 30 Prep Time
1 hr, 30 Total Time
Ingredients
1 package (2 1/4 tsp) active dry yeast
1 teaspoon sugar
1 cup warm water (about 110F)
1 Tbsp kosher salt
extra virgin olive oil
3 cups ap flour
Instructions
In the bowl of a stand mixer fitted with a dough hook, combine the yeast, sugar, and warm water. Stir together. Let the mixture stand until the yeast comes alive and starts to foam, about 5 minutes.
Turn the mixer on low and add the salt and 2 tablespoons of olive oil. Add the flour, a little at a time, mixing at the lowest speed until all the flour has been incorporated. When the dough starts to come together, increase the speed to medium; stop the machine periodically to scrape the dough off the hook. Get a feel for the dough by squeezing a small amount together: if it's crumbly, add more water; if it's sticky, add more flour - 1 tablespoon at a time. Mix until the dough gathers into a ball, this should take about 5 minutes.
Turn the dough out onto a lightly floured surface and fold it over itself a few times; kneading until it's smooth and elastic. Form the dough into a round and place in a lightly oiled bowl, turn it over to coat. Cover with a damp towel and let it rise in a warm spot until doubled in size, about 1 hour.
Notes
Recipe adapted from Tyler Florence
7.6.4
12
http://bakerbettie.com/game-day-gourmet-homemade-pizza/
---
Basic Pizza Sauce
Recipe adapted from Tyler Florence 
2 tbsp olive oil
3 cloves garlic
2 (10 oz) can tomato puree
1/2 tsp dried marjoram
1/2 tsp dried basil
1/2 tsp red pepper flakes
salt and pepper to taste
Over medium heat, heat oil in a saucepan until hot. Add all ingredients, cover and bring to a boil. Uncover, lower heat and allow to simmer for 30 minutes.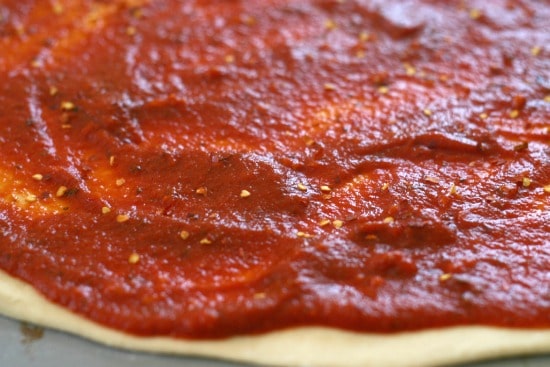 ---
Sausage, Onion, and Cream Cheese Pizza 
1/2 of the pizza dough
1 cup marinara sauce
2 cups mozzarella cheese
1/4 an onion thinly sliced
1/2 lb cooked ground sausage
4 oz cream cheese
Preheat oven to 475 degrees. Roll out the pizza dough on a lightly floured surface to about a 12in circle. Top with pizza sauce, mozzarella cheese, onion, and ground sausage.  Break cream cheese into small pieces and distribute over the pizza.  Bake for 12-15 minutes, until crust is crisp.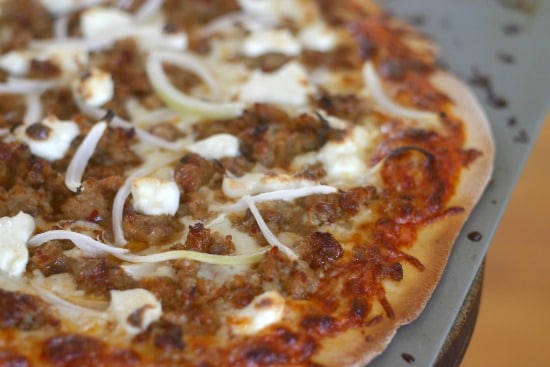 ---
 Caramelized Onion, Proscuitto, and Goat Cheese Pizzettes
Recipe adapted from Giada
1/2 pizza dough
1 yellow onion
1/4 tsp salt
1/4 tsp black pepper
1/2 tsp italian seasoning
1/2 tsp sugar
olive oil
1/2 cup mozzarella cheese
3 oz proscuitto
3 oz goat cheese, crumbled
Heat 1 tbsp olive oil in skillet over low heat. Add the onions, salt, pepper, italian seasoning, and sugar. Continue cooking over very low heat, stirring occasionally, until the onions are caramelized and dark golden brown, about 1 hour.Preheat oven to 475 degrees.  Put a sheet pan in the oven to get hot while you prep the pizzettes.Roll out the dough to about 1/8 of an inch.  Using a 3 inch circular cookie cutter, or a glass, cut out 10 dough circles.  Brush each circle with olive oil. Place a small spoonful of mozzarella and caramelized onions on each dough circle. Top with a small amount of proscuitto and goat cheese.  Using a spatula, transfer the circles to the hot sheet pan. Bake until golden and bubbly, about 10 minutes.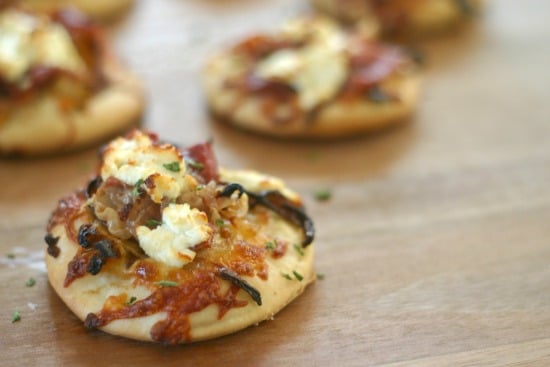 Tools I used and recommend for this recipe:
[AMAZONPRODUCTS asin="B000PJ7YMI,B005JB3WMI,B005IF3086″]