Molten Chocolate Lava Cake
This recipe for molten chocolate lava cake is incredibly simple to put together and is so impressive once it comes out of the oven! Cut into the cakes while still hot and the center will flow with melted chocolate lava!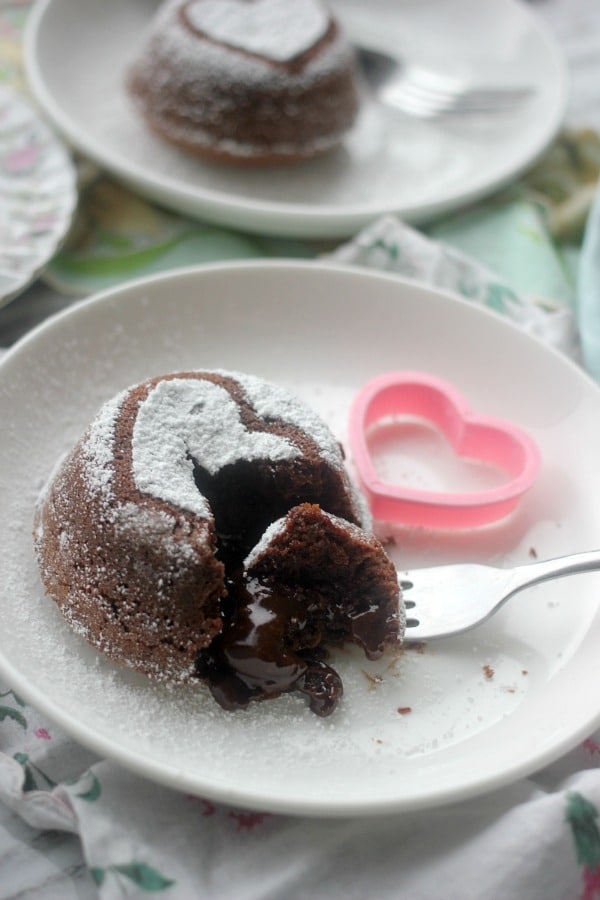 Molten chocolate lava cake, while sort of the cliche romantic dessert, just really never gets old. Jon Favreau reminded us of that in his impassioned rant in the movie "Chef." Side bar, if you haven't watched that movie, get to Netflix pronto. But let's get real, warm chocolate cake with molten chocolate oozing out of the middle is possibly the actual definition of a sexy dessert.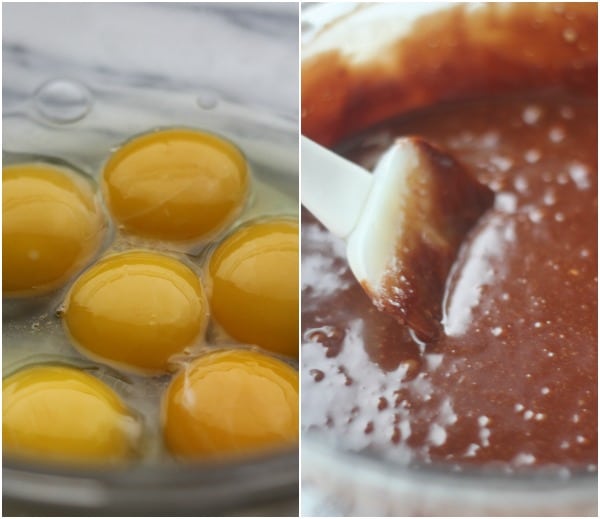 A very traditional molten chocolate cake requires two recipes: a chocolate cake recipe and a ganache recipe. When using that method of making a lava cake, you put a piece of frozen ganache in the middle of the cake before you bake it and that is how the center gets molten. I am a fan of that method, it really is fairly simple to make.
However, I am a bigger fan of this method I am about to show you. This method for making chocolate lava cake, does not require a separate recipe for ganache. It is one simple cake recipe and bakes into a cake with a silky molten center! It makes this process so incredibly easy.
You don't have to make a seperate recipe for ganache and you don't have to wait for the ganache to get frozen. Just one simple recipe and it comes together super quickly!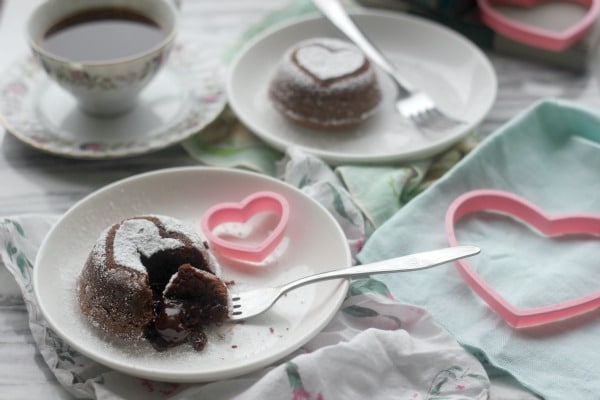 The key to making this cake so molten, is that the cake recipe is very light and fairly unsturdy. The majority of the cake is melted chocolate, butter, sugar, and eggs. There is only a very small amount of flour to hold the structure.
You also bake these cakes at a very high temperature for a short amount of time. This process allows the outside to get firm and set while keeping the middle molten! It is magic cutting into these babies!
Check out the video tutorial to see how incredibly easy these impressive cakes are to make!
Baker Bettie
Yields 6
Molten Chocolate Lava Cake
15 minPrep Time
13 minCook Time
28 minTotal Time
Ingredients
6 oz chocolate chips or chopped chocolate (I like to use bittersweet chocolate, about 60%
5 oz (10 TBSP) unsalted butter, cut into pieces
3 whole large eggs
3 egg yolks
1 1/2 cups powdered sugar, lightly spooned into measuring cups and leveled off
pinch of salt
1/2 cup all-purpose flour
Instructions
Preheat the oven to 450F.
Grease 6- ramekins (5 or 6 oz size) well with butter or non-stick spray. I used glass but you could also use ceramic or metal disposable ramekins. Note: If you are not baking these immediately, you should also dust the ramekins lightly with flour or with cocoa powder to help prevent sticking after baked.
Place the chocolate chips and the butter in a heavy bottom pot over the lowest heat on the stove. Stir continuously until meted and completely smooth. Remove from the heat to cool slightly.
In a large bowl, whisk together the whole eggs with the egg yolks. Sift the powdered sugar into the egg mixture. Whisk until incorporated.
Using a spoon or a rubber spatula, slowly stream the melted chocolate mixture into the egg mixture while stirring continuously.
Add a large pinch of salt and the all-purpose flour into the bowl and stir just until combined.
Divide the batter evenly among the ramekins.
If baking immediately: Bake at 450F for 12-13 minutes, until the edges are set but the middle is still jiggly.
If baking later in the day: Place a piece of plastic wrap loosely over the ramekins and refrigerate until ready to bake. Remove from the refrigerator 20 minutes before going into the oven to take the chill off the ramekins. Bake at 450F for 13-14 minutes, until the edges are set but the middle is still jiggly.
Place a plate over top of the ramekin and quickly, but carefully, flip the ramekin and plate over to turn out the cake.
Dust with powdered sugar and serve immediately.
7.6.4
174
http://bakerbettie.com/molten-chocolate-lava-cake/
Tools I used and recommend for this recipe:
[AMAZONPRODUCTS asin="B001E87S66,B00IXC70K0″]
Disclaimer: this post contains affiliate links