Oreo Chocolate Mousse Tartlets
Rich chocolate mousse tartlets with oreo crust, real whipped cream, and more crushed oreos on top! This chocolate mousse is incredibly easy to make and so fluffy and silky smooth!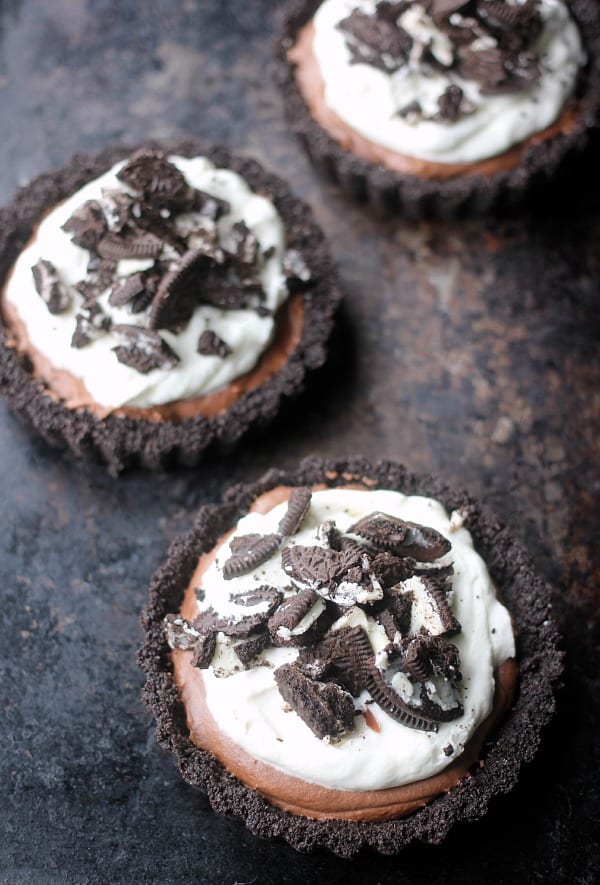 Sometimes I sit down to write a post and get complete writers block. That sometimes is now. I pretty much just want to say:
"Oreo cookie crust + chocolate mousse filling + cookies and cream topping = total yum. Enough said."
I mean really. Is there much more to say? Do I need to convince you that this will be good? I really don't think so.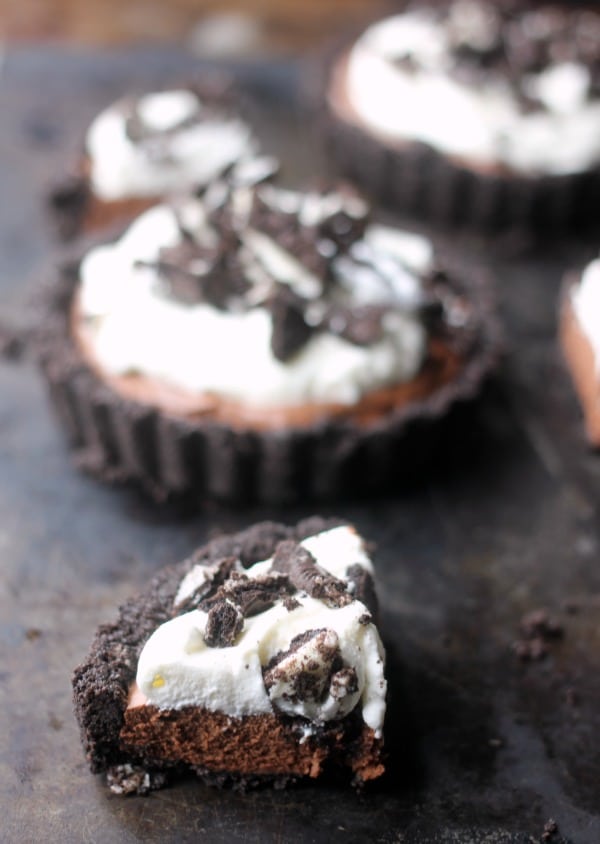 When I made that chocolate mousse last week for the How to Make Chocolate Mousse Tutorial I wanted to do something more than just eat the mousse straight out of the bowl. Although I did do that too.
Mr. BB suggested something with Oreos, or "vegan cookies" as he loves to call them. I decided on tarts. I hadn't used my little tart pans in quite some time so Oreo crust chocolate mousse tarts became the plan! These little babies were totally divine. As evidenced by the fact that they were gone in 24 hours.
---
To make the Oreo Chocolate Mousse Tarts…
STEP 1: MAKE THE OREO CRUST
Pulverize Oreos in a food processor, blender, or if you need to get a little frustration out, put them in a plastic bag and pound them into crumbs with the flat side of a meat mallet. Stir the crumbs together with melted butter.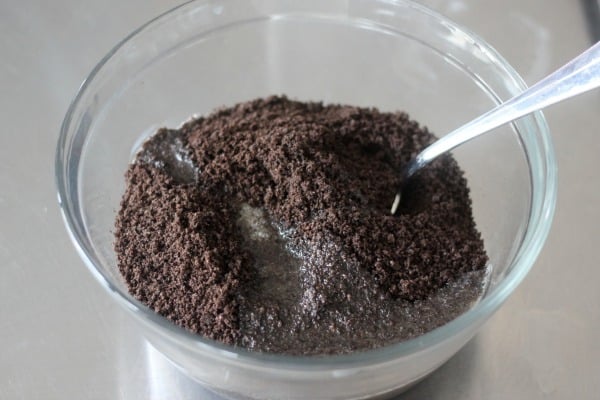 Press the crumb/butter mixture firmly into the bottom and up the sides of 4- 4″ tart pans. Or you can use a full 9″ tart pan or pie plate. Place the tart shells in the freezer to set while making the mousse. You can also place them in the fridge, but they will take longer to completely set in there.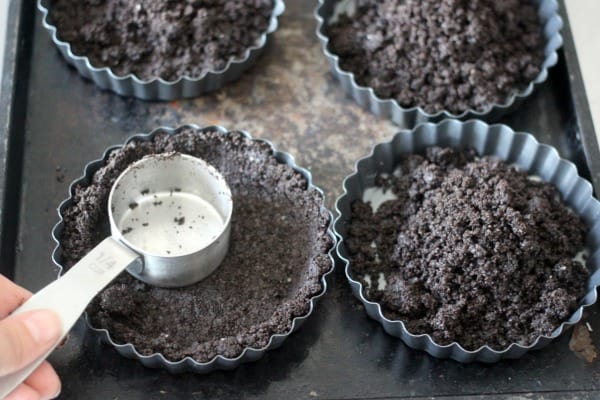 STEP 2: MAKE THE CHOCOLATE MOUSSE
Since I did a detailed tutorial already about how to make chocolate mousse I will not go into every detail here. Check out the "How to Make Chocolate Mousse" post to see every step. It is very simple and you will have a beautiful chocolate mousse thrown together in just 10 minutes.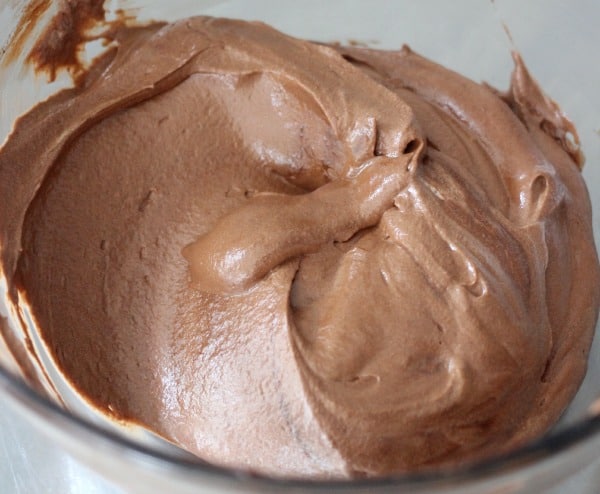 STEP 3: FILL THE TART SHELLS 
Once the mousse is made the crust should be set. Pull the shells out of the freezer and fill with the chocolate mousse. You may have a bit of mousse left over. You can divide it in two cups and let it set in the fridge for another quick treat. Allow the tarts to set in the fridge for at least an hour and up to 3 days.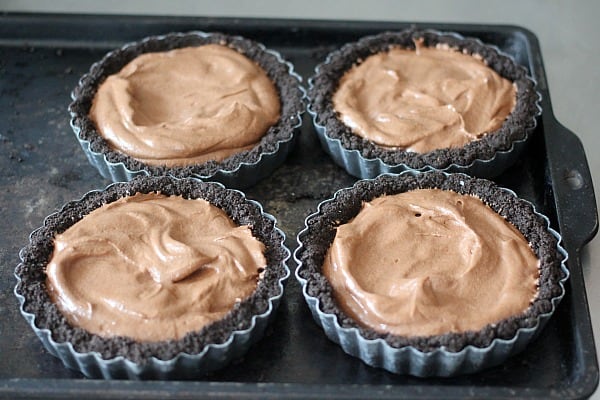 STEP 4: TOP TARTS WITH WHIPPED CREAM AND CRUSHED OREOS
I added some barely sweet real whipped cream to top with some more crushed oreos. Needless to say Mr. BB was pretty thrilled about how these turned out. We couldn't even wait to photograph these before we shared one. The struggles of a food blogger.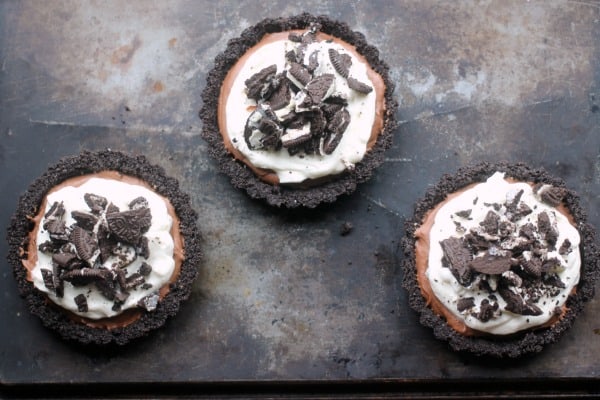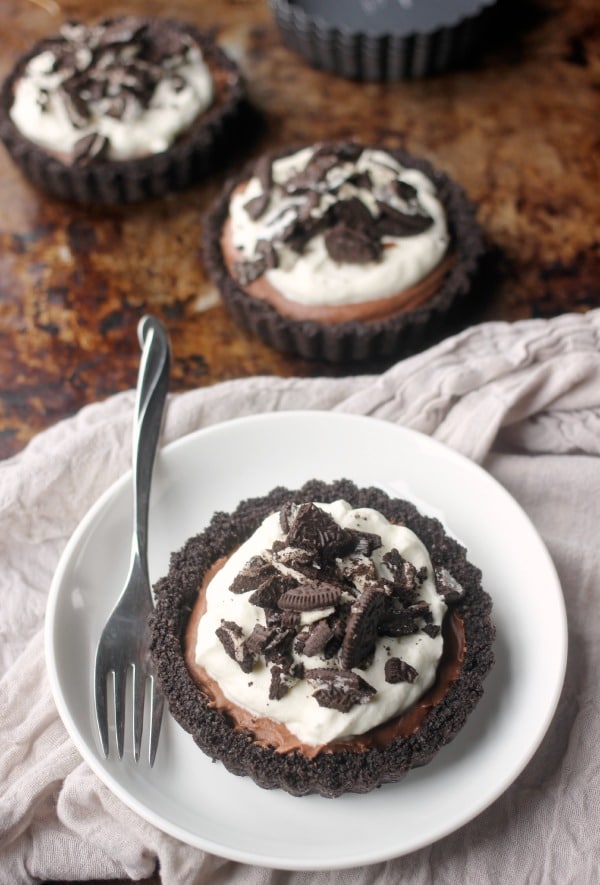 I think chocolate mousse may be my new favorite pie and tart filling. Once again: oreo cookie crust + chocolate mousse + cookies and cream topping = yum! Enough said
Baker Bettie
Yields 4-
Oreo Chocolate Mousse Tartlets
1 hr, 30 Prep Time
1 hr, 30 Total Time
Ingredients
FOR THE CRUST
24 oreos
1/4 cup (1/2 stick) unsalted butter, melted
FOR THE MOUSSE
8 oz good quality chocolate (semi-sweet or bittersweet, I used 60%), cut into small pieces
1/4 cup (2 fl oz) hot water
large pinch of salt
2 large egg whites, room temperature (buy pasteurized eggs if you are worried about eating raw eggs)
1 1/2 TBSP granulated sugar
1 cup heavy cream, very cold (not half and half, it must be heavy cream)
FOR TOPPING
whipped cream
crushed oreos
Instructions
FOR THE CRUST

Pulverize the oreos in a food processor or blender and mix together with the melted butter in a small bowl. Divide the mixture evenly between 4- 4" tart pans or 1- 9" tart pan or pie plate. Press firmly in the bottom and up the side. Place in the freezer to set while making the mousse.

FOR THE MOUSSE

Melt the chocolate either over a double boiler or in short, 15 second, bursts in the microwave, stirring well in between. After the chocolate is completely melted and glossy, add the hot water and immediately begin whisking very quickly until completely incorporated. Add a pinch of salt into the chocolate and mix in.
In a clean mixing bowl with the whisk attachment, whip the egg whites until foamy. Slowly stream in the sugar while still whisking and whisk to just barely stiff peaks. Check for peaks frequently being careful not to over whip the whites. Gently move the meringue to another bowl and wipe out the mixing bowl so you can make whipped cream.
Whip the cold heavy cream to make whipped cream to medium-firm peaks. Again, be careful not to over whip your cream.
Make sure your chocolate bowl has cooled down to about room temp before moving on to folding in your whites and cream. Take about 1/3 of the egg whites and whisk them into the chocolate to lighten it and make it easier to fold in the rest. Use a rubber spatula to then fold in the rest of the egg whites in two more portions. Be very gentle not to deflate the whites. You will have some white streaks at this point.
Now, fold the whipped cream into the chocolate mixture about 1/3 at a time. Again, being very gently and patient. Keep gently folding until you have a pail chocolate mousse. It will be light and fluffy.
Fill the tart shells with the mousse and refrigerate for at least 1 hour before topping.
Top the set mousse filled tarts with whipped cream and crushed oreos.
7.6.4
124
http://bakerbettie.com/oreo-chocolate-mousse-tartlets/