Spicy Sausage Pasta Marinara with Perfect Garlic Bread
Spicy Sausage Pasta Marinara is the perfect quick weeknight meal when you want something hearty and comforting with out all the fuss. Broil some french bread with butter and garlic to serve on the side and you will never make garlic bread any other way again!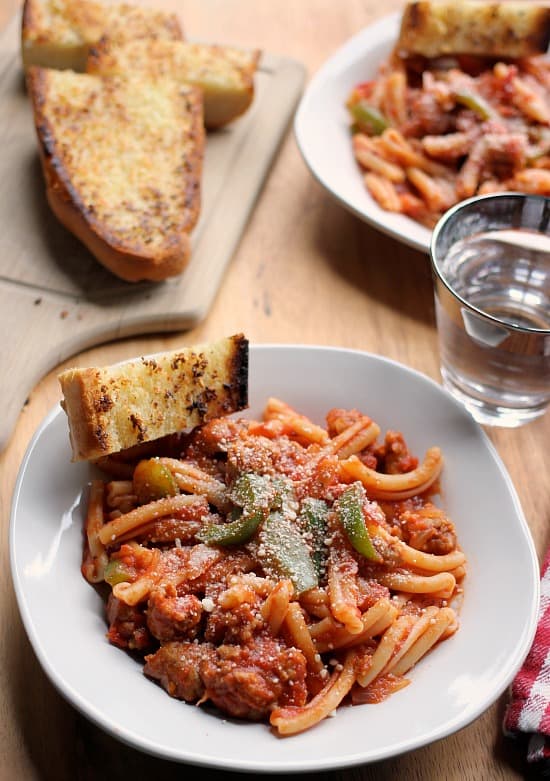 Quick meals that are easy to reheat are so necessary for me and my husband right now. I am almost through week 1 of culinary school and with work and studying I am literally never home. I made a big batch of my husbands favorite pasta a few days ago because it is so fast to throw together and it still tastes great as leftovers.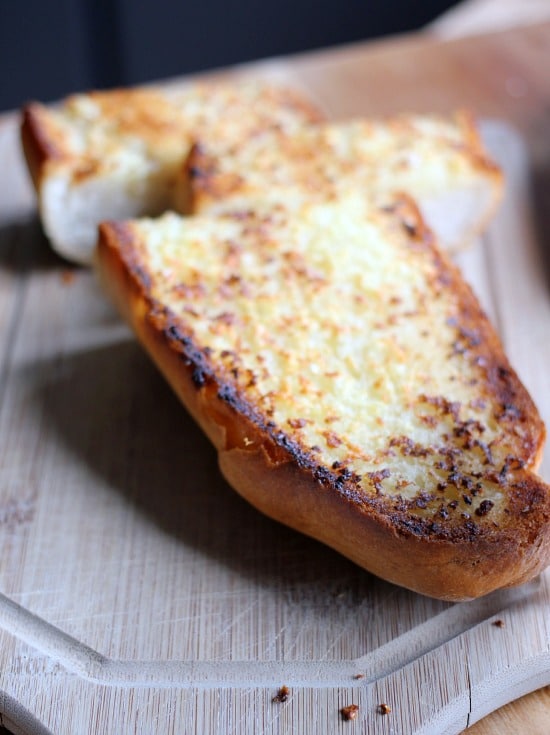 I'm also going to share with you my non-recipe recipe for perfect garlic bread. This is my favorite way to make/eat garlic bread and it is so easy and over the top delicious. I say it's a non-recipe recipe because you don't need any skill to make this and I'm cheating because I didn't actually make the bread itself. I will soon when I have time.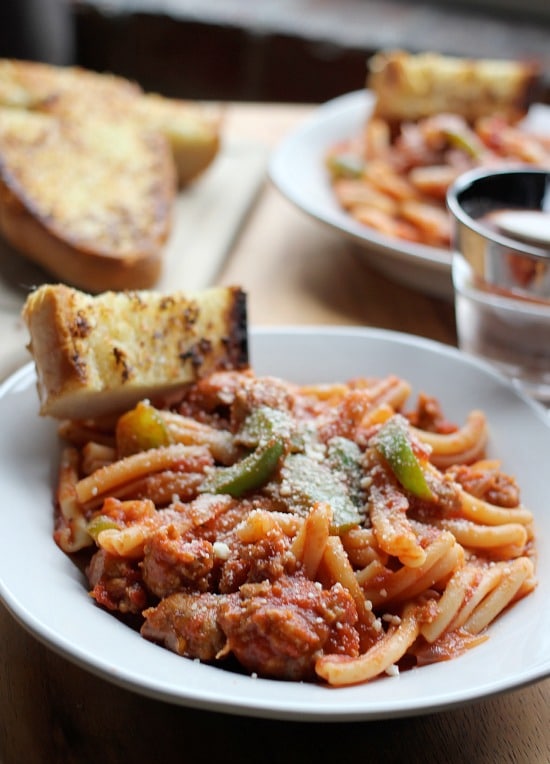 And I have to apologize that I don't have anything provocative to say at the moment. I'm on a quick break for lunch at school and my brain is just fried. I'm having a blast and learning so so much and I am exhausted in the best way possible. This week has only confirmed more that I am exactly where I should be and doing exactly what my passion is. I'll try to gather my thoughts better this weekend to write a more exciting post coming up! And thank you thank you thank you to you all who sent me words of encouragement and support for this major life change.
Spicy Sausage Pasta Marinara & Perfect Garlic Bread
Ingredients
For the Pasta
1 tsp oil
2 cloves garlic
1- 28 oz crushed tomatoes
2 tsp dried basil
1 tsp oregano
1 tsp red pepper flake
salt and pepper
1 lb pasta of your choice (I used casareccia)
1 lb spicy sausage
1 medium white or yellow onion, sliced
1 green bell pepper, sliced
For the garlic bread
1 loaf of italian bread
1 stick butter, softened (1/2 cup)
2 cloves garlic, minced
kosher or sea salt
Instructions
For the Pasta

Bring a large pot of salted water to a boil for the pasta.
Heat oil in a large pot over medium heat.
Add the garlic and saute for 1 minute.
Add the crushed tomatoes, basil, oregano, red pepper flake and salt and pepper to taste. Let simmer on low while preparing the rest of the ingredients.
Cook the pasta according to package instructions to al dente.
Brown the sausage and drain keep 1 TBSP of the fat to cook the vegetables. Add the sausage to the sauce.
Over medium high heat, cook the onion and bell pepper in the sausage fat for several minutes until slightly soft. Add to the sauce.
Drain the pasta and toss with the sauce. Serve.

For the garlic bread

Preheat the oven to 350ºF
In a small bowl, combine the butter and garlic in a bowl and stir until incorporated together.
Split the bread in half lengthwise
Generously butter each half of the bread using all of the butter (it will look like a lot of butter!)
Generously sprinkle each half with kosher or sea salt.
Bake at 350ºF for 10 minutes
Turn on the broiler and let the bread broil for several more minutes until slightly charred. Do not walk away! Watch the bread, it can burn quickly.
7.6.6
49
http://bakerbettie.com/spicy-sausage-pasta-marinara-with-perfect-garlic-bread/