Ultimate Fudge Brownies with Toasted Pecans
These are my definition of ultimate fudge brownies. They are packed with bittersweet chocolate, brown butter, toasted pecans, and sea salt. Intensely chocolatey, fudgy, and an incredible contrast of flavor and texture from the pecans and salt.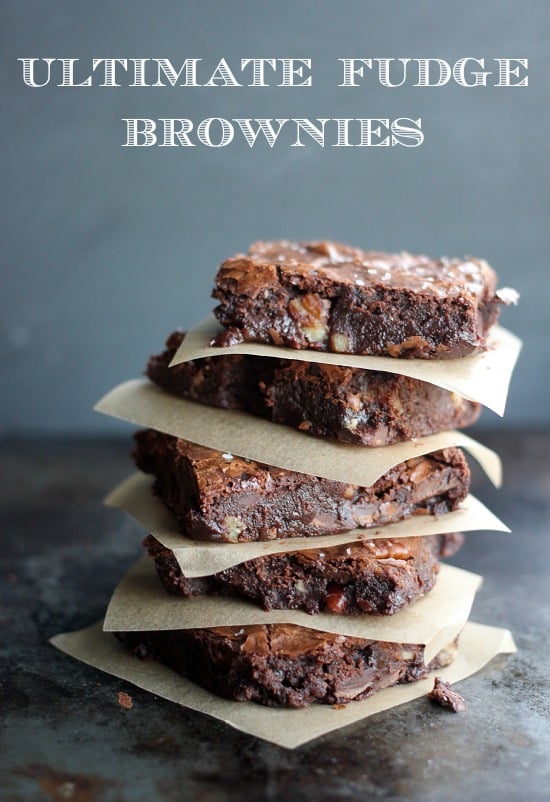 I feel like I need to have a disclaimer on this recipe. A disclaimer saying: I understand it sounds insane to put an entire pound of butter, 2 pounds of dark chocolate, 2 1/2 cups of sugar, and a pound of pecans into one bowl and then into your oven. I know.
But this makes a lot of brownies. Like, a whole lot. And if you think your head might explode by putting that much awesome into your oven, then cut the recipe back.
But you just shouldn't do that because you are going to want to eat a lot of these, and share a lot of these, and brag about these, and then freeze some so you can have more sometime later and reminisce about how awesome they were. Just trust me. These are the ultimate fudge brownies!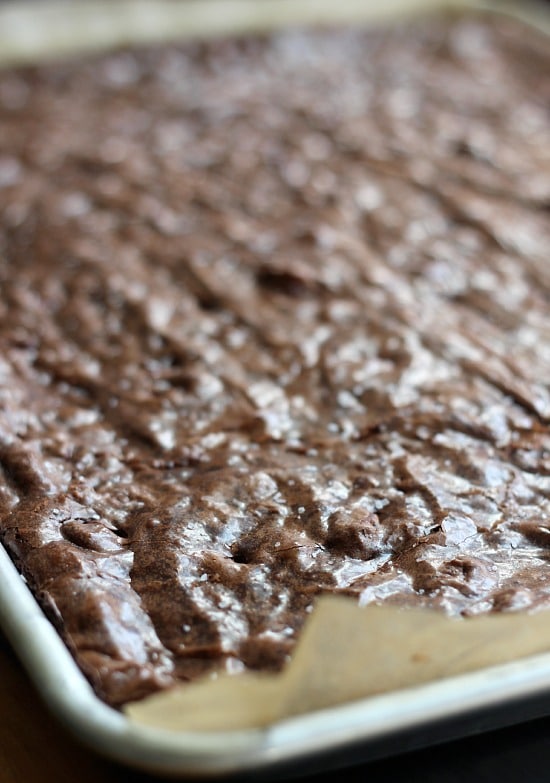 One of the sous chef's at work has been requesting that I make him something really chocolatey for a while now. Specifically, a Sacher Torte. I agreed to it but told him it would be a while before I could. A Sacher Torte takes some time commitment. And time is very limited for me right now.
He said he was patient. But THEN I found out he really wasn't  patient and found someone else to make it for him. I should have just let it go and bowed out of my promise right then and there, but I'm stubborn. So I decided I was going to make him the chocolatiest most over the top brownies ever.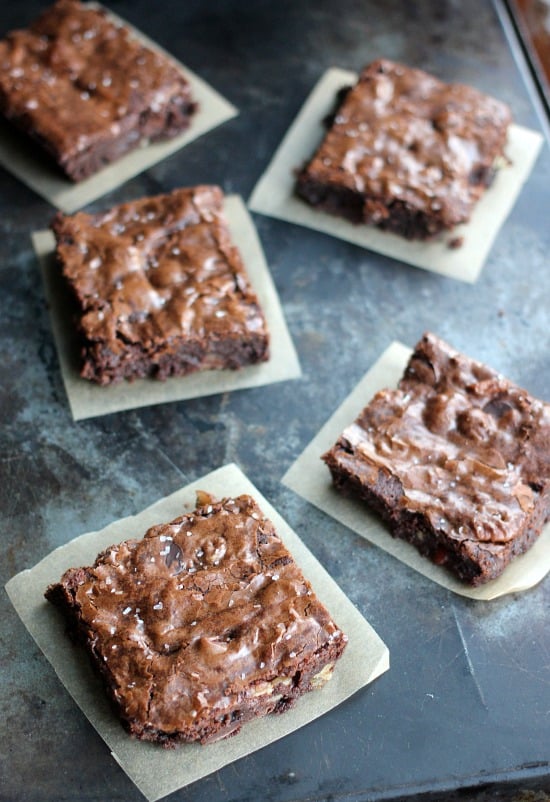 So what makes these so brownies so ultimate? Well, I'll tell you what. They are filled with a ridiculous amount of butter that has been browned, and tons of melted dark chocolate, and a hint of coffee to intensify the chocolate flavor, and more dark chocolate and toasted pecans folded in at the end, and sea salt sprinkled over top.
Does that paint an ultimate enough picture for you? If not, check your pulse.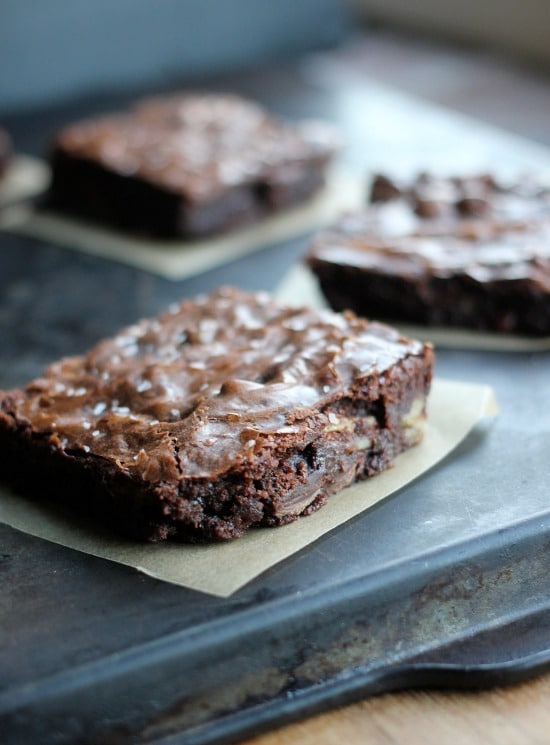 Oh, hello Monday. Hello dark chocolate brownies with sea salt and pecans! It's going to be a good week. Make the choice that it is.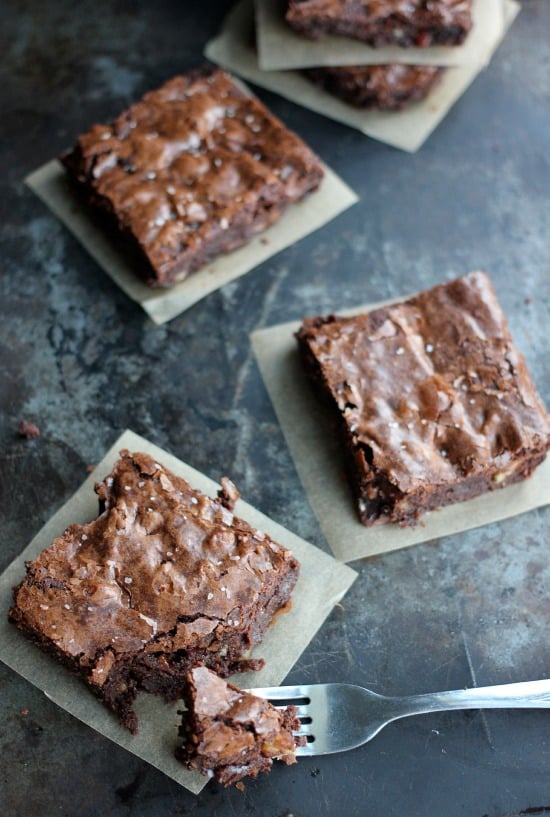 Baker Bettie
Yields 30
Ultimate Fudge Brownies with Toasted Pecans
20 minPrep Time
40 minCook Time
1 hrTotal Time
Ingredients
1 pound (2 cups) unsalted butter
22 oz dark chocolate or chips (at least 60%) plus 10 oz dark chocolate chips
6 large eggs
1/4 cup brewed strong coffee
2 TBSP pure vanilla extract
2 1/2 cups sugar
1 1/4 cup flour
1 TBSP baking powder
1 tsp sea salt (or kosher salt), plus more for sprinkling
1 lb chopped pecans, toasted
Instructions
Preheat oven to 350ºF.
Line with parchment paper or butter and flour a half sheet pan (12 x 18 x 1-inch baking sheet).
Cut the butter into chunks and place in a medium saucepan. Brown the butter over medium heat and set aside.
Melt the 22 oz of chocolate in a medium bowl over a double boiler. Once the chocolate it almost completely melted, stir in the brown butter. Continue to stir the chocolate butter mixture over the double boiler until completely smooth. Set aside and allow to cool slightly.
In a large bowl, stir together the eggs, coffee, vanilla, and sugar. Stir the warm chocolate mixture into the egg mixture and allow to cool to room temperature.
In a separate bowl, sift together the flour, the baking powder, and salt. Add to the cooled chocolate mixture.
Fold in the pecans and 10 ounces of chocolate chips.
Pour the mixture into the baking sheet and use a rubber spatula to smooth out. Sprinkle sea salt over top.
Bake for 35-40 minutes until a toothpick comes out clean.
Allow to cool thoroughly and cut into 30 squares.
Notes

7.6.6

67

http://bakerbettie.com/ultimate-fudge-brownies-toasted-pecans/


[AMAZONPRODUCTS asin="B009VUHLHA"][AMAZONPRODUCTS asin="B00TBPDCCI"][AMAZONPRODUCTS asin="B000G0KJG4″]