Classic Fudgy Brownies, Only 5 Ingredients
---
Get this easy brownie recipe with cocoa powder and only using 5 ingredients! Make homemade fresh and fudgy brownies in just 30 minutes!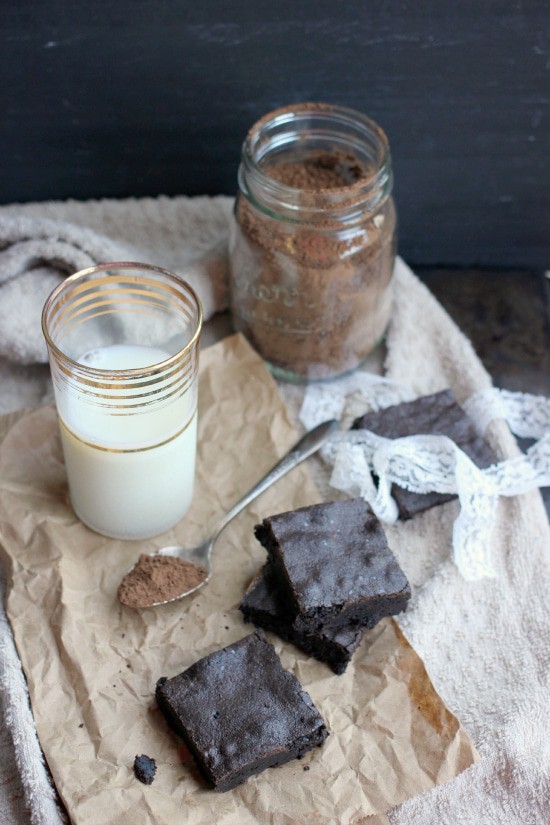 I am in a sort of difficult transition at the moment. I have moved enough times to know this would probably happen. The feeling that your new home doesn't quite feel like home yet and knowing that your old home doesn't exist anymore.
The feeling will absolutely subside. I have no doubt about that. It just takes getting to know a few people and the area more. But for now, I have to use my husband as my anchor. And he is a good one.
Being back in the kitchen is definitely helping too. This Back To Bake-sics Series is perfect for me right now. I get to create in the kitchen, but I'm creating things I know inside and out.
No room for error and inevitable over-reaction to error due to my emotional state. Just pure and simple creation and perfection. It's helping me to feel confident in this new unfamiliar place.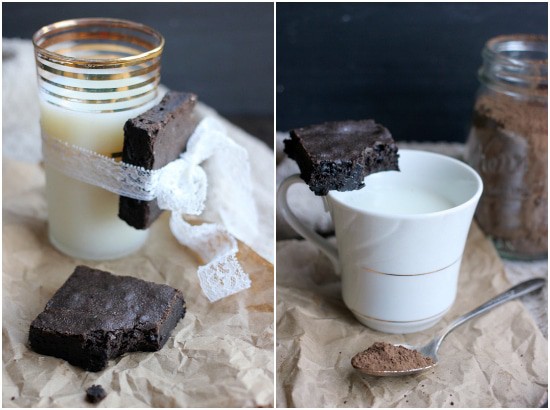 I had a facebook reader request brownies for one of the installments of this series, and specifically, vegan brownies. Brownies are one of those baked goods that are pretty fool proof and not too fussy.
You can easily make them vegan without a lot of worry about how they will turn out.  The ones I made here, are dairy free but do have eggs in them because I didn't have my egg replacer on hand. But I know from lots of experience, that egg replacer will absolutely work in these.
Here are the 5 basic ingredients you need to make brownies…
Sugar: Most brownie recipes call for granulated sugar. Part of the reason for this is that you are not going to beat this batter with a mixer and brown sugar is going to be more difficult to break up and evenly distribute with a spoon.
BUT if your brown sugar is very moist and not clumpy you can absolutely use brown sugar or a combination of white and brown sugar. The brown sugar will give the brownies more chew and more depth of flavor which is never a bad thing with brownies!
Liquid Fat: If you've made brownies from a box mix, you will notice that it almost always calls for oil. But really you can use any fat in liquid form. Melted butter, melted shortening, vegetable oil, canola oil.
When I am making non-vegan brownies I often use browned butter for a nuttier flavor. Use what you have available! Brownies are different than cookies in that you don't cream the fat and sugar to aerate them. You want liquid fat so that the two easily mix together to give you a dense result.
Eggs or Another Binder: The eggs add some moisture and richness, do some leavening and also help to bind the batter together when baked. Ener-G egg replacer works well for a vegan substitute and it already has a leavener in it.
If you use applesauce or another vegan replacement such as flax or chia egg, it would probably be good to add a bit of baking soda to the batter. About 1 tsp should do the trick. The recipe won't fail without it, but it will help tenderize the final product.
Flour: Flour along with the cocoa powder, is the structure for the brownies. All-purpose flour is the preferred flour here. Bread flour will likely produce more of a tough chewy brownie and cake flour will give the brownie a very light texture, more like cake.
Whole wheat flour could be used but will give the brownie a more coarse crumb. A gluten free all-purpose mix would also work well as a substitute. Check out this post for more information about flours and how to substitute them.
Cocoa Powder: Cocoa powder is also part of the structure of the brownie, but obviously is what gives it a chocolate flavor. In most recipes you need to use either Dutch-processed or Natural cocoa powder based on what chemical leavener you are using.
Natural cocoa powder is acidic and is used in recipes calling for baking soda while dutch-processed needs baking powder since it's acidity has been neutralized. Since eggs are used as the leavener of this brownie recipe it does not matter which kind of cocoa powder is used.
It also doesn't matter which is used if you are using the vegan substitutes because Natural Cocoa powder can be used with either baking soda or baking powder, just not vice versa, and baking soda is not used with any of the substitutes mentioned. Check out this post for more information on cocoa powders.
It almost seems silly to ever use a box mix when you see how easy it is to make for yourself!
A few other things you might consider adding for flavor: salt, vanilla extract, almond extract, mint extract, cayenne pepper, cinnamon, chocolate chips or chopped nuts, a swirl of peanut butter or nutella or speculoos…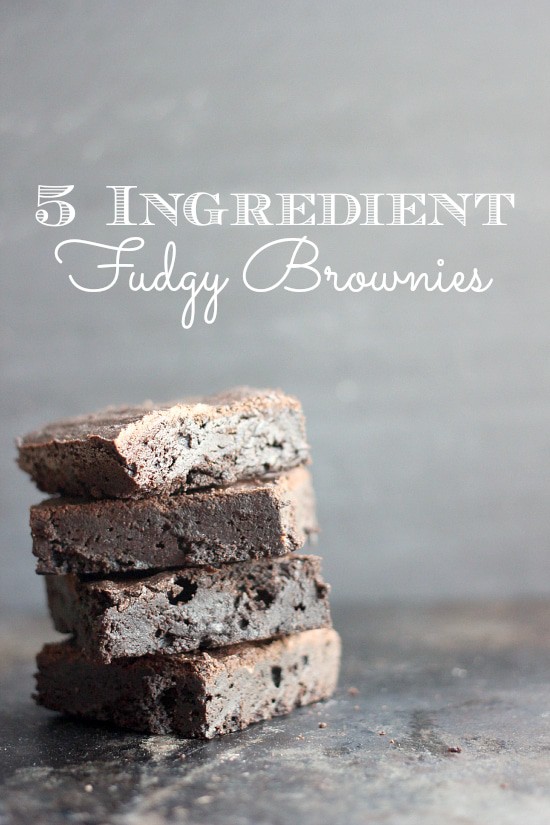 Other Posts from the Back to Bake-sics Series: 
5 Ingredient Perfect Chocolate Chip Cookies
Easy Fudgy Brownies
This is an easy brownie recipe that only calls for 5 simple ingredients!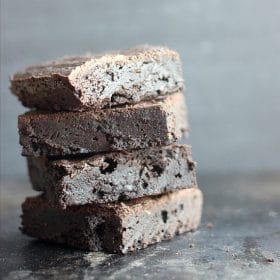 Ingredients:
1 cup sugar (white, brown or a combo of the two)
1/2 cup oil or melted butter
2 eggs or vegan equivalent (Ener-G egg replacer, flax or chia eggs)
1/2 cup flour
1/3 cup cocoa powder
large pinch of salt (optional, but recommended)
Directions:
Preheat oven to 350ºF and lightly grease a 9X9 or 8X8 pan and set aside.
In a large bowl, stir together the sugar, oil, and eggs until completely combined.
Stir in the flour, cocoa powder, and salt (if using) just until combined. Do not overmix. The batter will be slightly lumpy.
Pour the batter into the prepared pan and use a rubber spatula to smooth out.
Bake at 350 for 20-25 minutes until set.
Let cool before slicing.
All images and text ©
.