Blueberry Scones with Lemon Glaze
Learn the process of how to make blueberry scones that are soft, fluffy, and moist! These blueberry scones are tender and flavorful and topped with a tangy lemon glaze! Pin it for Later »

Blueberry Scones Overview
What are Scones?
Scones fall into the category of baking known as quick breads. Quick breads are bread like products that are leavened with baking soda and/or baking powder instead of yeast, meaning they can be made quickly.
Scones are very similar in texture to American style butter biscuits. Biscuits and scones have the same mixing method and similar ingredient.
The main difference between biscuits and scones are that scones include an egg and often a little bit of sugar. Scones tend to be slightly less flaky in texture than biscuits and often include sweet add-ins like raisins or blueberries.
Blueberry Scones Tips, Tricks, & Techniques
One of the most important part of making the best blueberry scones that are flaky in texture is to use very cold butter and cream. This helps the scones puff up in the oven.
It is also very important to mix as little as possible to keep the scones fluffy. If you mix too much you can overdevelop the gluten and create dense and dry scones.
These blueberry scones are made with my basic scone recipe. This recipe can be used to make any flavor of scones including lemon scones, cranberry orange scones, or chocolate chip scones.
How to Make Blueberry Scones
Blueberry scones are quite easy to make. The mixing method used to make scones that are fluffy, tender and moist is the biscuit mixing method. If you follow this method, you will not have dense or dry scones.
Step 1: Combine All of the Dry Ingredients
Place all of the dry ingredients for the blueberry scones in a large mixing bowl and whisk them all together. This recipe has a large quantity of baking powder, which will help keep the scones very tender.
Step 2: Cut the Butter Into the Dry Ingredients


It is very important that your butter is very cold for your scones. This will create the flakiness in the scones.
Cube the cold butter and then use a pastry cutter, or a fork, to cut the fat into the dry ingredients for the scones. You want to cut the fat in until it is the texture of coarse meal.
Step 3: Add the Blueberries
Stir the blueberries into the scone mixture until evenly distributed. You can use fresh or frozen blueberries for your blueberry scones or even dried blueberries.
I prefer to use frozen blueberries in my blueberry scones because it helps keep the scone dough very cold. This helps keep the scones light and fluffy.
Step 4: Mix in the Liquid Ingredients


Add the cold cream into the bowl and stir the ingredients together until just combined. You want to be careful to not stir too much here or you will overdevelop the gluten and create dense and tough scones.
The batter dough will look shaggy and sticky. That's okay! Stir only a few times until everything is just starting to come together.
Step 5: Lightly Knead the Dough
Lightly knead the dough just about 4 turns. This will help build a little structure in the scones and will help bring the dough together.
Be gentle here so you don't pop all of the blueberries. A few of them will likely pop, which will give your dough a few pretty purple streaks. But you don't want them all to pop.
Step 6: Form the Dough
Lightly flour your hands and pat the blueberry scone dough out to about 1″ thick circle. Use a sharp knife to cut the dough into 8 triangles.
Step 6: Bake the Blueberry Scones
Transfer the dough onto a parchment lined baking sheet and brush with a little more cream. You can also sprinkle a little sanding sugar over the top if desired. Bake the scones until golden brown.
Blueberry Scone FAQ
What makes the best blueberry scones?: The best blueberry scones are made using the biscuit mixing method which keeps the scones light and fluffy. Blueberry also pairs extremely well with lemon so adding some lemon into the scone dough as well as topping it with a lemon glaze makes blueberry scones that are bakery quality.
Can you freeze blueberry scones?: Yes! Once the scones have cooled completely, place them in a freezer ziplock bag and freeze for up to 3 months. To refresh, warm in a 300 F (148 C) oven for about 10 minutes.
Can I use fresh blueberries or frozen blueberries in blueberry scones?: Yes! You can use fresh, frozen, or dried blueberries in your blueberry scones. I prefer to use frozen blueberries because they keep the dough very cold, creating the best and flakiest blueberry scones!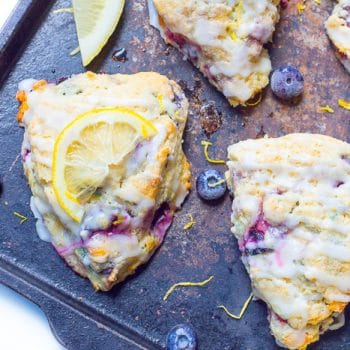 Blueberry Scones with Lemon Glaze
Yield: 8 Scones
Prep Time: 10 minutes
Active Time: 15 minutes
Total Time: 25 minutes
These blueberry scones are topped with a tangy lemon glaze and are soft, tender, and incredibly fluffy!
Ingredients
For the Blueberry Scone Dough
2 cups (240 gr) all-purpose flour
1/2 cup (100 gr) granulated sugar
1 TBSP baking powder
1/2 tsp kosher salt
1/2 cup (1 stick, 112 gr) very cold, unsalted butter, cut into small cubes
1 large egg, cold
1/2 cup very cold heavy cream, half and half, or buttermilk (plus more for brushing the tops)
1 TBSP (15 ml) lemon juice
1 cup (150 gr) fresh or frozen blueberries
turbinado sugar or sanding sugar (optional)
For the Lemon Glaze
1 cup (120 gr) powdered sugar
1 TBSP grated lemon zest
2-4 TBSP (30-59 ml) lemon juice
Instructions
Preheat the oven to 425 F (220 C). Line a baking sheet with parchment paper or a silicone baking mat.
In a large bowl whisk together the flour, sugar, baking powder, and salt, until well combined.
Add the pieces of cold butter into the dry ingredients. Cut the butter into the dough using a pastry cutter or a fork until the texture or coarse meal. Toss your blueberries throughout the mixture at this point.
Lightly whisk together the heavy cream or half and half, the egg, and lemon juice together. Add the wet ingredients into the bowl with the dry ingredients and stir just until combined. Do not over-mix.
Lay the dough out on a lightly floured work surface and lightly knead with a lightly floured hand about 4 times. Be gentle so that you do not pop all of the blueberries. It is unavoidable that a few will pop. Pat the dough out to an 8 or 9 inch circle (about 1 inch thick) and cut into 8 triangle shaped pieces.
Gently transfer the scones onto the prepared baking sheet. Brush lightly with cream and sprinkle liberally with turbinado sugar or sanding sugar, if desired.
Bake at 425 F (220 C) for 12-15 minutes until golden brown. Allow the scones to cool completely before glazing.
To make the lemon glaze by whisking the powdered sugar and lemon zest with the lemon juice little by little until you have a thick but pour-able consistency.
Store leftovers completely cooled in an airtight container for up to 2 days. OR wrap cooled scones in plastic wrap or in a ziplock freezer bag and store in the freezer for up to 3 months. Refresh in the oven at 300F (150C) until warmed through