How to Make Scones
Learn how to make scones the easy way using this basic scone recipe that can be used for any flavor. With very simple ingredients, and a little technique, you can make your own bakery quality scones at home!
Pin it for Later »
Basic Scones Overview
When I first started teaching myself how to bake, learning how to make scones was high on my priority list. And not just any scones, I wanted to learn how to make the best scones. Ones that are slightly crisp on the outside and puffy and tender on the inside, with just the right amount of sweetness.
Because, let's face it, there are a lot of really bad scones out there. You know the ones! The ones that are really dry and crumbly and way too dense!
The main problem with bad scones is not necessarily the recipe, it is with the technique. So let's review the process of how to make scones the best way so that you can have bakery quality scones with your coffee at home!
What Are Scones?
Scones are in a category of the baking world called quick breads. This means that scones (and other quick breads like biscuits) can be made and baked quickly because chemical leavening is used instead of yeast to make the bread rise.
Baking powder is what is used to leaven these scones and you may notice that this recipe has a lot of baking powder in it. This helps the scones be very fluffy.
Scones are very similar to an American biscuit and the two baked goods have very similar ingredients and techniques for making them. While there are varying kinds of scones around the world, the scones that are typically seen in American bakeries are slightly sweetened and typically have fruit or other add-ins mixed in.
These Strawberry Cream Scones and Blueberry Scones are perfect examples of American style scones.
In Eurpoe, scones are typically kept plain and served with a rich and thick clotted cream and jam, like the scone pictured above.
Scones are made in a variety of shapes such as circular, square, rectangle, or triangle or even sometimes sort of free form like a drop biscuit might look.
How to Make Scones
The baking method used to make scones is called The Biscuit Mixing Method. This method not only works to make beautiful fluffy biscuits, it is also the method for making scones that are not tough and dry.
This is an easy base recipe for scones and will help you understand the technique of how to make scones so you can use it for a variety of variations. I used it here to make blueberry scones, but you truly could use it for any flavor you can think of. I listed some ideas below.
I will quickly review the basic steps in using The Biscuit Mixing Method here, but for more details about how and why this method works and all of the science behind it, check out this post.
Step 1: Combine All The Dry Ingredients
In a large bowl (this will be the bowl your dough gets mixed in) whisk together all of your dry ingredients. The dry ingredients for scones are almost identical to the dry ingredients for biscuits with the addition of sugar and the subtraction of baking soda because we are not using buttermilk here.
Step 2: Cut Your Fat Into Your Dry Ingredients
Start with very cold fat and cut it into small pieces. Add the fat into the bowl and use a pastry cutter or fork to "cut" the fat into the dry ingredients until it resembles coarse meal.
The process of cutting in fat serves to coat the flour so that it will not overdevelop gluten once liquid is added. This process also evenly distributes pieces of fat throughout the dough so that little pockets of steam will be created when it bakes, creating flakiness.
To learn more about this technique and the science of how it works in baking check out the article, What Does it Mean to "Cut in Fat?"



Step 3: Add Your Mix-Ins (if using)
This is the step where you would mix in things like dried fruit, berries, chocolate chips, nuts, etc if you are using them. This way the add-in will get distributed throughout the dough before the liquid is added. If you try to mix it in after adding the liquid it could result in overworking the dough and getting tough scones. I've had many of those. We don't want that!
Step 4: Mix In The Liquid Ingredients
The liquid to dry ingredient ratio here is slightly less than with my buttermilk biscuit recipe. Instead of using a cup of buttermilk we are going to use 1/2 cup of heavy cream and 1 large egg.
The total of this liquid will be about 3/4 cup. The reason the liquid is a bit less here is that we do want a bit of a sturdier, denser crumb than a biscuit.
I cannot stress this point enough: do not over-mix this dough! Just a few turns of the spoon to get everything absorbed and then stop!
Those gluten strands are going to start developing as soon as the liquid is added. We aren't making a crusty, chewy yeast bread here! Be very gentle!
Whisk Together Wet Ingredients
Mix Wet Ingredients into Dry Ingredients
Dough will be Slightly Crumbly
Step 5: Fold the Dough
In order to create just a bit of an outer crust and a little bit of structure for the scones, create a few folds in the dough.
Press the dough out to about 1″ thick and then fold it in half. Turn the dough 90 degrees and then repeat this process for about 6 folds. Be gentle with the dough especially if you have mix-ins that will break.
Step 6: Form the Dough
Now, using lightly floured hands, pat the dough out into about 1/2″ thick, without using a rolling pan. You can pat it into a circle and cut it into triangles or use a biscuit cutter to stamp out round pieces.
Stamp Out
OR Cut into Triangles
Step 7: Bake The Scones
Gently move the scones onto a baking sheet lined with parchment paper or a silicone baking mat. Brush the scones with a bit of cream and, if desired, sprinkle liberally with turbinado sugar.
Bake until golden brown. Eat warm with coffee or tea. Try not to eat the whole pan. It's a challenge.


Tips and Tricks for How to Make Perfect Scones
Always make sure your fat and liquid ingredients are cold. You want a cold dough to hit the oven. The steam created from the evaporation of the water helps to create lighter scones.
Be very gentle with the dough and handle as little as possible. The heat from your hands will warm up the dough and working the dough too much will result in tough scones.
This recipe makes a sweet scone which is what we are used to in America. If you want a less sweet scone, cut down on the sugar in the recipe by half.
If using berries in these scones, use either fresh or frozen berries that are still completely frozen. You do not want to use thawed berries here.
Bake the scones on parchment paper or a silacone mat to avoid the bottoms from getting too dark.
Ideas for Flavoring Your Scones
ADD SPICES such as cinnamon, nutmeg, cardamom, clove, allspice, and ginger into the dry ingredients when mixing.
ADD HERBS such as mint, basil, rosemary, and thyme into the dry ingredients when mixing.
ADD CITRUS ZESTS such as orange, lemon, lime, and grapefruit into the liquid ingredients when whisking them together.
ADD EXTRACTS such as vanilla, lemon, almond, anise, and mint into the liquid ingredients when whisking them together.
ADD MIX-INS such as fresh or frozen berries (blueberries, raspberries, cherries, strawberries), chocolate chips, toasted coconut, chopped nuts (pecans, almonds, pistachios) after cutting in the butter and before adding the liquid.
ADD A GLAZE OR FROSTING if you want more of a dessert scone. A simple powdered sugar glaze made with lemon or orange juice or a light cream cheese frosting can be added after baking and cooled slightly for a sweeter more dessert-like scone.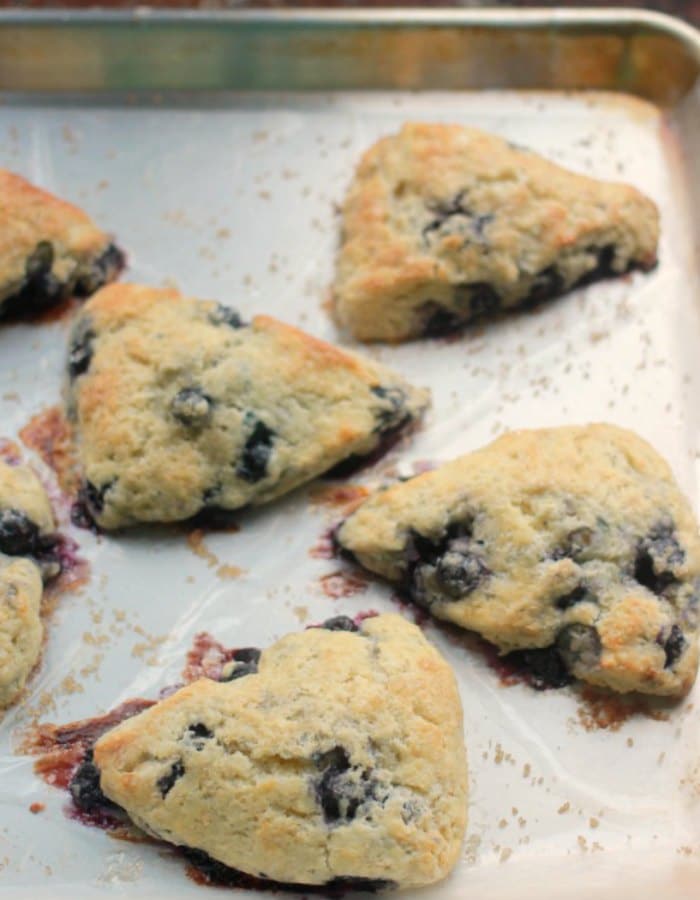 Once you learn how easy it is to make scones you will be making them frequently. They are quite addicting and so incredibly easy to throw together that you could theoretically have fresh scones every morning.
Wouldn't that be the life? Of course they are best served warm with a piping hot cup of black coffee.
Other Scone Recipes to Try
Yield: 8 Scones
Basic Scones
Prep Time 10 minutes
Cook Time 20 minutes
Total Time 30 minutes
This is a basic recipe for scones. I used it to make blueberry scones, however it can be used to make plain scones flavored as desired. If you prefer a scone that is not very sweet, cut down on the sugar to 1/3 or 1/4 cup. See the post notes for other ideas on how to flavor the scones.
Ingredients
2 cups (8.5 oz, 238 gr) all-purpose flour
1/2 cup (3.5 oz, 98 gr) granulated sugar
1 TBSP baking powder
1/2 tsp Morton kosher salt or table salt (use 1 tsp if using Diamond Kosher)
1/2 cup (1 stick, 4 oz, 112 gr) very cold unsalted butter, cut into small cubes
1 large egg, cold
1/2 cup (4 fl oz, 118 ml) heavy cream, cold
1 cup fresh or frozen blueberries or other mix-in (optional)
a few tablespoons of additional heavy cream for brushing the tops
turbinado sugar for sprinkling the tops (optional)
Instructions
Preheat the oven to 425F (220C).
In a large bowl whisk together the flour, sugar, baking powder, salt, and any other herbs or spices you may choose to add until well combined.
Add the pieces of cold butter and cut into the dough using a pastry cutter or a fork until the texture or coarse meal. Toss your berries or other mixins if using throughout the mixture at this point.
Lightly whisk together the heavy cream, the egg, and any zests or extracts you may decide to use. Pour the wet ingredients into the dry ingredients and mix just until the liquid is absorbed. The dough will be shaggy and crumbly at this point but it will come together on the counter.
Turn the dough out onto a lightly floured countertop. With floured hands, gently pat out the dough to about 1" thick. Fold the dough in half and then turn it 90 degrees. Pat out and fold again about 5 more times. Be very gentle with the dough here. (see the video for demonstration).
Pat the dough out to an 8 or 9-inch circle (about 1 inch thick) and cut into 8 triangle-shaped pieces.
Gently transfer the scones onto a parchment paper or silicone baking mat lined baking sheet. Brush lightly with cream and sprinkle liberally with turbinado sugar, if desired.
Place in the freezer for 5-10 minutes to firm up before baking. This is technically optional, but your scones won't spread as much if you do this.
Bake at 425F (220C) for 13-16 minutes until golden brown. If desired, sprinkle with extra turbinado sugar for more texture.
Store leftovers completely cooled in an airtight container for up to 2 days. OR wrap cooled scones in plastic wrap and store in the freezer for up to 3 months. Refresh in the oven at 325F (162C) until warmed through.
Recommended Products
As an Amazon Associate and member of other affiliate programs, I earn from qualifying purchases.
Nutrition Information:
Amount Per Serving:
Calories: 0