The Biscuit Mixing Method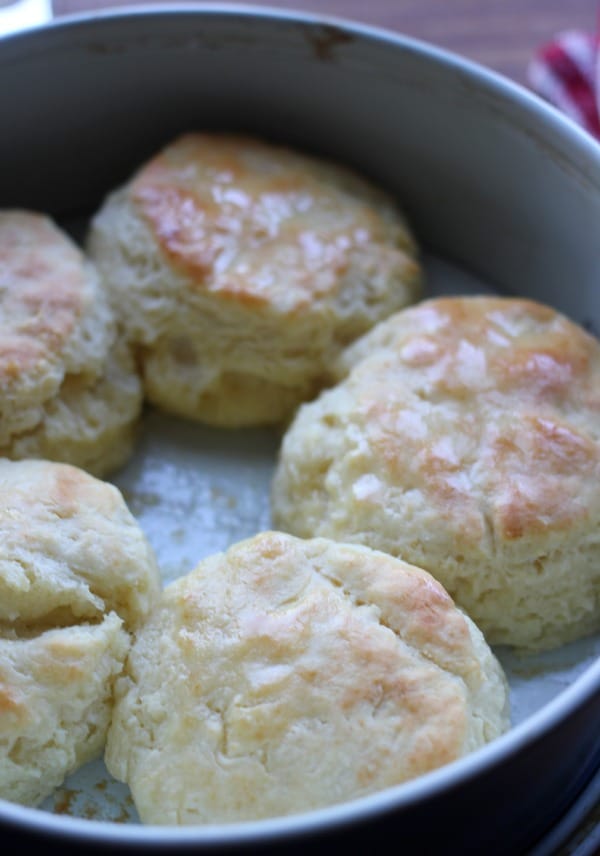 Hello lovely friends! Look at my biscuits! Just LOOK at them! I was squeeling with glee when I pulled these babies out of the oven the other day! They are beauts aren't they?
It's amazing how excited I get over really simple baking executed properly. It is probably my favorite thing ever. And these were my best batch of biscuits yet.
SOOO, here we go with the science stuff to help you get biscuits as big and fluffy and flaky as those babies!!!
A while back I did a post on The Muffin Mixing Method and gave you a few recipes for basic muffins, blueberry muffins and a some quick loaf breads. But today I want to talk about how to make biscuits using The Biscuit Mixing Method. I promise to keep it simple for you!
---
QUICK BREADS
Muffins and biscuits are both in a category of the baking world called "quick breads." The basic definition for a quick bread is a bread that does not require long rise or proofing time because it is not leavened by yeast.
All quick breads are leavened by either chemical leavening agents (baking soda, or baking powder or both), by steam, by eggs, or by a combination of these things. These breads need to be baked immediately because as soon as the chemical leaveners are moistened they start releasing valuable gases that produce the rise in your baked good.
And in general, with a few exceptions, all quick breads are made up using either The Muffin Mixing Method or The Biscuit Mixing Method.
QUICK BREADS MADE USING THE MUFFIN MIXING METHOD: 
muffins (bet you didn't see that coming)
quick loaf breads (banana bread, zucchini bread, pumpkin bread, or other breads that don't use yeast)
cornbread
pancakes
popovers
most quick breads that are a batter consistency (with the exception of drop biscuits)
QUICK BREADS MADE USING THE BISCUIT MIXING METHOD:
Biscuits (obviously)
Scones
Other quick breads that are a dough consistency
Today we are going to review The Biscuit Mixing Method with my favorite and best recipe for flaky buttermilk biscuits. I also gave you a recipe a while back for drop biscuits, and this recipe uses The Biscuit Mixing Method as well. The difference here is the dough for those biscuits is a little more wet, more of a thick batter, and you use a scoop to drop the biscuits on the baking sheet.
I use that recipe all the time when I'm in a huge hurry or I'm making a cobbler type dessert. However, these biscuits are the more traditional kind. Big, flaky, tall, buttery, and perfect for slathering sausage gravy all over them or for a breakfast sandwich, or even just warm with butter and jam.
---
THE BISCUIT MIXING METHOD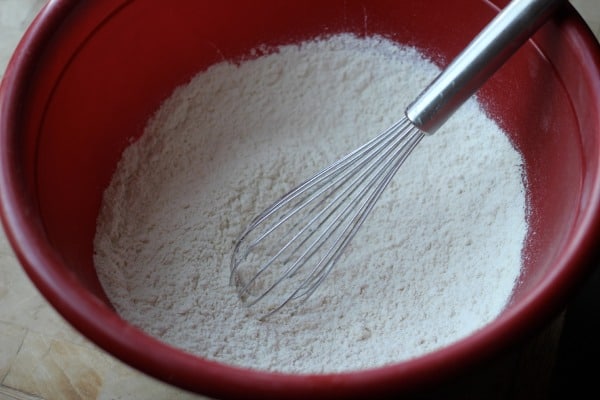 STEP 1: COMBINE DRY INGREDIENTS
To start The Biscuit Mixing Method put all of your ingredients in a large bowl and whisk them together. Our dry ingredients for this recipe are flour, baking soda, baking powder, and salt.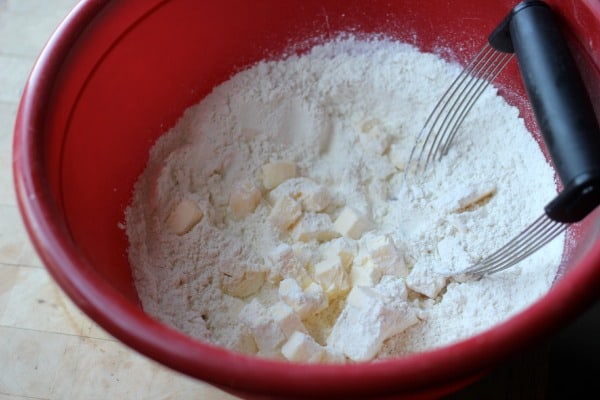 STEP 2: CUT IN YOUR FAT
The next step in The Biscuit Mixing Method is to "cut in" the fat into the dry ingredients. One of the key differences in the biscuit mixing method and the muffin mixing method is that for the biscuit method you use solid fat, almost always cold solid fat, and the muffin method you will use a liquid fat.
For these biscuits we are using very cold, real, unsalted butter cut into small pieces. Using a pastry cutter, or a fork if you don't have a pastry cutter, "cut" the fat into the flour until it looks like coarse meal.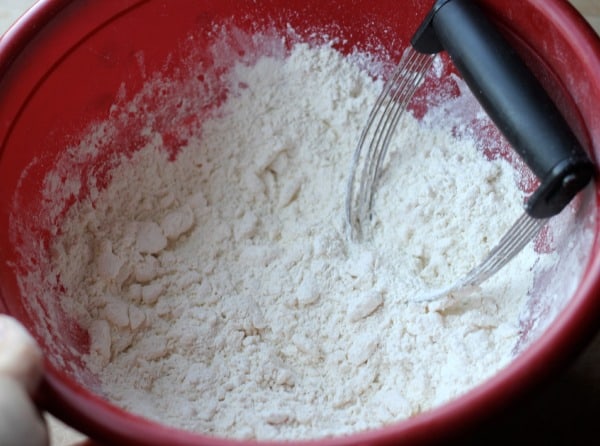 There are a few reasons for this process. The fat from the butter is going to coat the flour during this process and shorten the gluten strands. This will help prevent the overproduction of the gluten strands once the liquid is mixed in. This process also evenly distributes the fat throughout the dough while still keeping larger pieces of the fat mixed throughout.
The liquid in those pieces of cold fat will begin to evaporate in the oven and the steam that is created helps with the flakiness and layers in a biscuit. Baking powder and baking soda do a lot of the heavy lifting in a biscuit recipe, but the fat is equally as important for the flakiness and rise.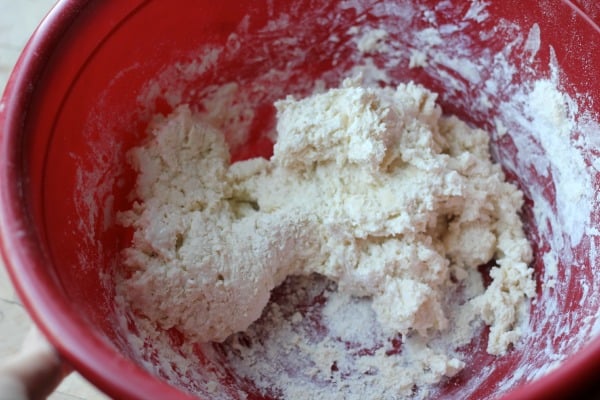 STEP 3: ADD YOUR WET INGREDIENTS
At this point, all of the wet ingredients are added into the flour butter mixture. And I want you to pay close attention here. Stir just until the liquid is absorbed into the flour mixture and then STOP! This should only take you a few turns of the spoon. The more you move that batter around the tougher your biscuits are going to get.
With this particular biscuit recipe you are also probably going to think the dough is too wet at this stage and will be tempted to add more flour. Just STOP! You are good if the dough is pretty wet and sticky. We want that. It will be almost unamangeable, but it will work out. Promise!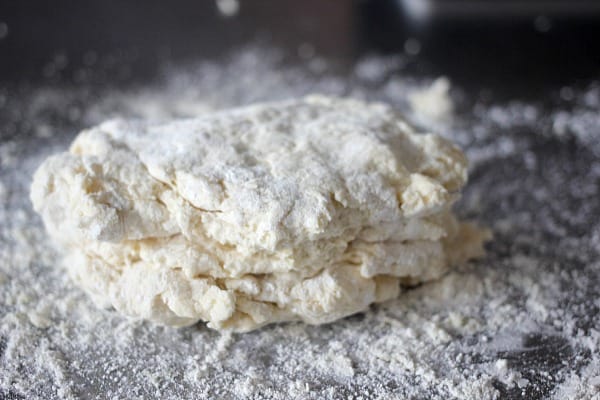 STEP 4: KNEAD AND ROLL/PAT OUT DOUGH
With some biscuit and scone recipes you want to do a little bit of light kneading. Meaning you will use a light hand to fold the dough over itself and pat it out a couple of times. No rough housing here! Gentle! Gentle!
With this particular biscuit recipe keep that rolling pin out of it. Your hands are the perfect tools. Lightly flour a clean work surface and your hands and lay the dough out. Pat it lightly with your hands to about 1 inch thick, then fold it in half over itself, gently pat out again, then fold in half the the other way again. I do this about 4-6 times, making very sure you are being gently with the dough.
This process will create more layers in the biscuits and will also work the glutens just a tiny bit to give you structure. We want structure but not toughness.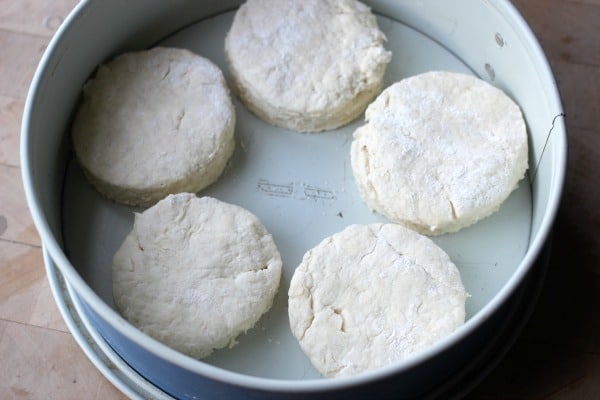 STEP 5: SHAPE DOUGH AND BAKE
I rarely if ever use a rolling pin for biscuits or scones. I suggest using your hands and getting a feel for the dough. Just don't mess with it too much because the heat from your hands can start melting your fat.
This particular biscuit recipe creates 5 really large biscuits using a 3″ biscuit butter (aka my red wine glass) or about 8 smaller biscuits. It is the perfect amount for me and my husband. Enough for us to each have 1 1/2 biscuits and then 2 left over for us to each have 1 the next morning. I would definitely recommend doubling this recipe if making them for 4 or 5 people.
I like to bake my biscuits in a cake pan or a spring form pan baked close together. I believe the high sides of the pan and putting them close together helps them to climb against each other and bake up taller. You can be the judge of that. A sheet pan works as well!
I also learned a tip from my baking science mentor Alton Brown to pre-heat the oven a few degrees lower than the baking temp and to turn the heat up once the biscuits hit the oven. He argues that the active heating of the oven produces more rapid evaporation and a better rise. I believe him. I notice a difference. I also use this technique for my cream puff shells. He's a smart man, that Mr. Brown.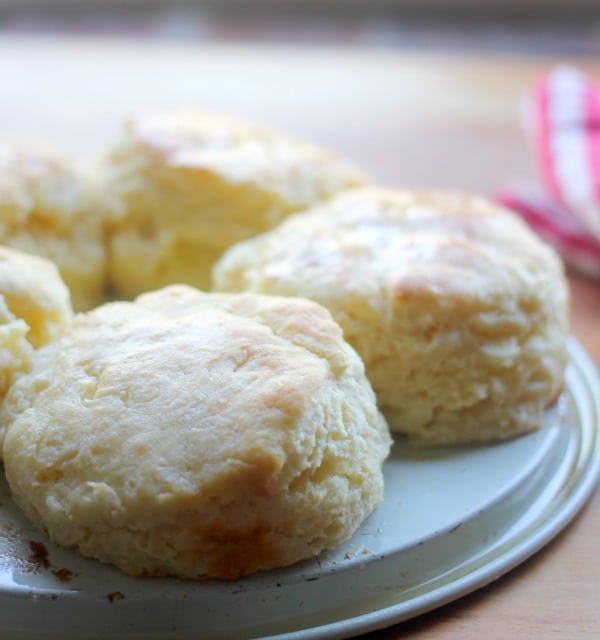 ---
A REVIEW OF QUICK BREAD MIXING TECHNIQUES
There are a few things to keep in mind when making quick breads that can help with your success.
Almost all quick breads should be mixed as little as possible once the liquid hits the flour. An exception to this rule would be popovers where you want to develop the glutens to create a strong structure.
If your recipe calls for solid fat you will most likely be using The Biscuit Mixing Method, if the recipe calls for liquid ingredients you will most likely be using The Muffin Mixing Method.
In general, when using The Biscuit Mixing Method you want your fat and your liquids very cold. In general, when using The Muffin Mixing Method you want your fat and liquids at room temp (or slightly warm if your fat is melted butter).
Quick breads must be baked immediately due to the chemical leaveners used to make the baked good rise.
---
Fluffy Buttermilk Biscuits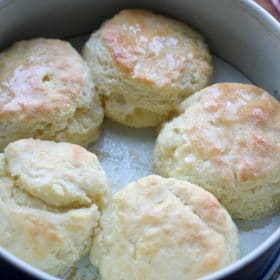 Ingredients:
2 cups (8.5 oz or 238 grams) all-purpose flour, plus more for dusting the work surface
1/4 tsp baking soda
1 TBSP baking powder, aluminum free
1 1/4 tsp kosher salt
6 TBSP (3 oz, or 85 grams) unsalted butter, very cold and cut into small pieces
1 cup (8 oz) buttermilk, very cold
melted butter for brushing baked biscuits if desired
Directions:
Preheat your oven to 375°F.
Combine the dry ingredients (flour, baking soda, baking powder, salt) in a large bowl and whisk together.
Add the cold butter pieces into the dry ingredients and cut into the flour, using a pastry cutter or a fork, until it resembles coarse meal.
Add the cold buttermilk into the bowl and stir with a spoon or a rubber spatula JUST until combined. This should only take a few turns. The dough will be pretty wet and sticky.
Turn the dough out onto a lightly floured board. With floured hands gently pat out (do NOT roll with a rolling pin) the dough out until it's about 1/2″ thick. Add a tiny bit of flour over top if needed and fold the dough over itself about 5 times, gently pressing down in between each fold. Gently pat the dough out to a 1 inch thick.
Use a round cutter to cut into rounds about 3 inch wide. You can go smaller for more biscuits.
Gently pat the scraps together to cut out the rest of your biscuits.
Place the biscuits in a cake pan or springform pan close together. Place in the over and immediately turn the heat up to 450ºF.
Bake for about 10-12 minutes until golden brown. Do not open the oven door for AT LEAST the first half of baking time. You want the steam to stay trapped in the oven to help with the rise. Brush biscuits with melted butter if desired.
Recipe Notes:
*If you do not have buttermilk on hand you can make "soured milk" by combining 1 cup of milk with 1 TBSP of lemon juice or white vinegar and let it sit for about 5 minutes. You need to acid in this recipe from either the buttermilk or the soured milk to activate the baking soda.
*You can flavor these biscuits with herbs or spices by adding them in with the dry ingredients.
*You can make these biscuits slightly sweet if you like by adding 2 TBSP granulated sugar to the dry ingredients bowl.
*If you want to add any mix-ins such as cheese, berries, bacon, etc.. Add it into the bowl after cutting in the butter and before adding the buttermilk. Give it a quick toss to evenly distribute before adding the buttermilk.
All images and text ©
.
---
 OTHER RECIPES USING THE BISCUIT MIXING METHOD: