Bourbon and Thyme Oatmeal Raisin Cookies
These Bourbon and Thyme Oatmeal Raisin Cookies are packed with brown butter, old fashioned rolled oats, and raisins soaked in bourbon. These cookies take the classic to a whole new level. Smash some good quality vanilla bean ice cream between two of them for a truly gourmet treat.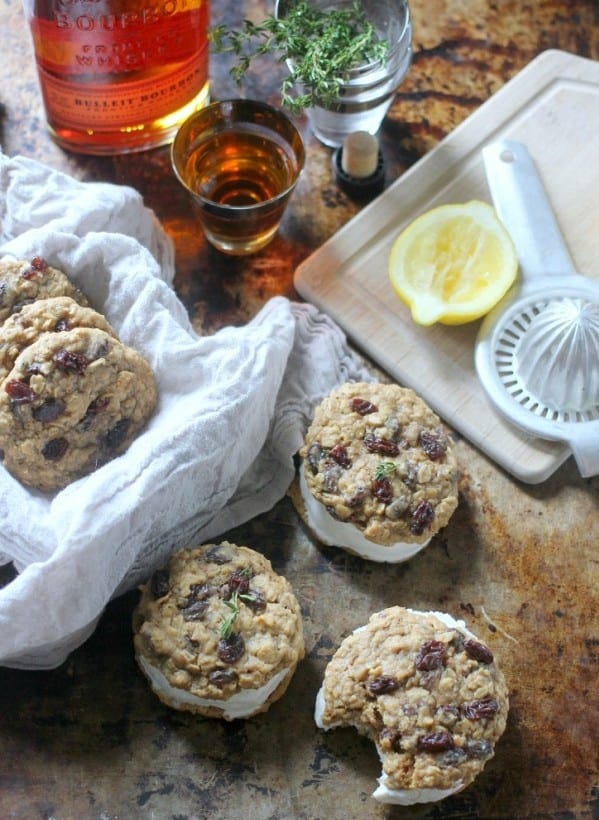 This recipe was originally published in the July 2014 Edition of VRAI Magazine. 
---
In January of 2010 I was all moved out of my college apartment and on the road, making the long drive from Lawrence, KS to Austin, TX. I had taken an internship at the state hospital in Austin in order to finish my music therapy degree. As I traveled from the -4 degree winter day we were having in Kansas into the 40 degree day that felt like summer in Austin, I was filled with excitement and anticipation. I expected a lot of things. I expected to be challenged and to work really hard.
I expected to learn. To learn all kinds of things, about myself, about the profession, about the real world, about mental health, and just about life. I expected to have days when I loved what I was doing and days when I hated it. And I expected to build relationships with my co-workers to help me through. All of this, and so much more, happened. But what I did not expect was to discover my true passion while I was there. Discover a passion that would take me down a completely different road than the one that I was on. And I found this in cookies.
I had already been interested in baking, but while living in Austin I got REALLY into it. I thought at the time it was my way of coping with my homesickness. But really, I think it was a natural draw to a passion. In times of big changes we tend to feel a bit lost in the world- not like ourselves. And I think it is a natural tendency to focus time and attention on what makes us feel most at home. Focus on what makes us feel most like ourselves- our passions. Even if we aren't really aware that it is a passion yet.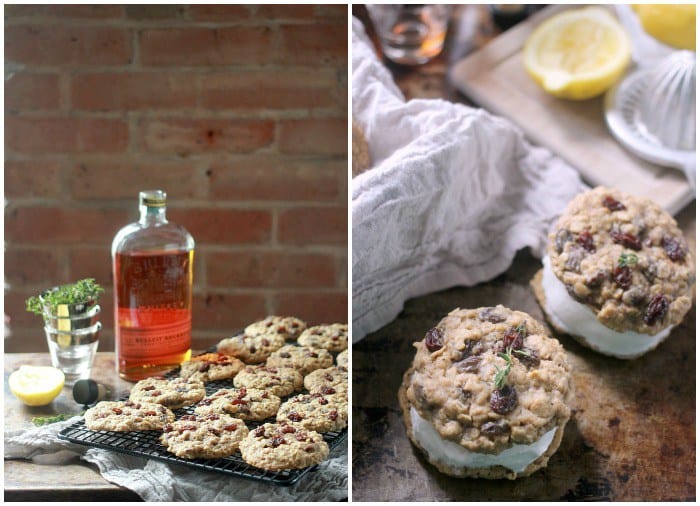 Somehow cookies just became my thing. I connected to cookies. I understood them in the baking sense. Cookie dough was a blank canvas with which to create flavors. I saw classic cookie recipes as an opportunity to do something new yet still familiar. Cookie creating helped me get my footing in a new and unfamiliar world. And the people around me noticed. They encouraged me to keep creating, keep sharing, and even start selling my cookies. Which I did do for some time.
These days I am really interested in baking science and learning and teaching proper baking techniques. But I still always go back to cookies. When I'm feeling a little uninspired I can always find inspiration with a cookie creation. And I tell you all of this so that you will understand that I take my cookie recipes seriously! I say all of this so you will believe that the process of making this recipe is so worth it. The soaking of raisins in bourbon, the browning the butter, the careful process in which all of the ingredients are mixed. It all comes together to create these incredibly complex flavors. Toasty notes from the brown butter, herbacious notes from the thyme, a bit of brightness from the lemon, and oh yes, the bourbon. It is all, every last bit of it, worth it.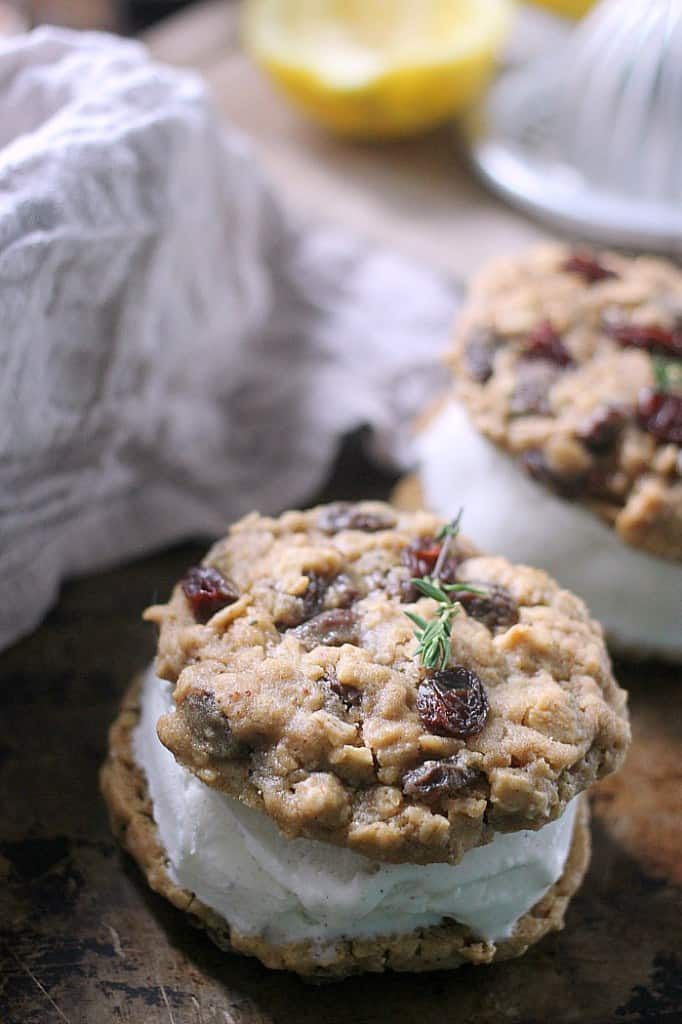 I'm sure most of you are longing for the heat of summer. My solution is ice cream. Always, ice cream. Cookies are obviously great on their own, but cookies with ice cream is perfection. I paired these with a really good quality vanilla bean ice cream. You could make the ice cream yourself, but the cookies are enough of a project that it is definitely reasonable to use a store bought ice cream. I made the sandwiches one by one as needed, just adding a scoop of ice cream to the soft room temp cookies. But if you want to make them ahead of time, set the sandwiches on a baking sheet in the freezer until firm and them wrap them in parchment paper and freeze for up to a few weeks (though they won't last that long!)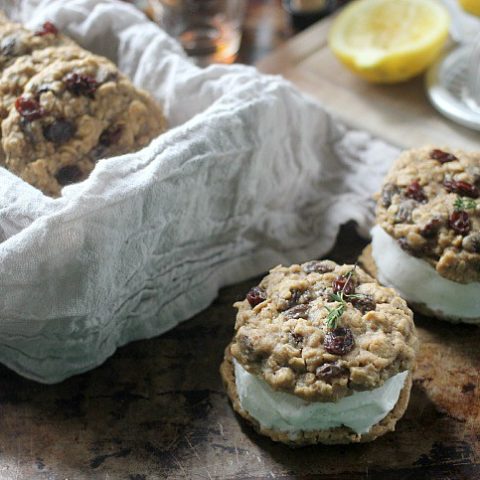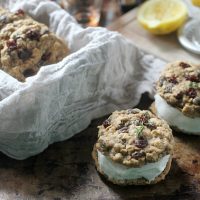 Bourbon and Thyme Oatmeal Raisin Cookies
These cookies are packed with brown butter, old fashioned rolled oats, and raisins soaked in bourbon. Smash some good quality vanilla bean ice cream between two of them for a truly gourmet treat!
Ingredients
2 cups raisins
good quality bourbon
1 cup (2 sticks) unsalted butter
1 1/2 cups dark brown sugar
2 TBSP finely chopped fresh thyme
2 large eggs, room temperature
1/2 TBSP vanilla extract
2 TBSP reserved bourbon
juice of half a lemon
1 tsp kosher salt, plus extra for sprinkling
1 tsp baking soda
1 tsp baking powder
1 tsp cinnamon (preferably Vietnamese cinnamon if you can get your hands on some)
3 cups old-fashioned rolled oats (not quick cooking or instant)
2 1/2 cups plus 2 TBSP all-purpose flour
Instructions
SOAK THE RAISINS: The night before you will make cookies or at least 8 hours before, place the raisins in a bowl and pour over enough bourbon to just barely cover them. Let soak for up to 12 hours before making the cookies. Drain the raisins completely, reserving the bourbon, before adding to the dough.
BROWN THE BUTTER: Cut the butter into small chunks and place in a saucepan over medium heat. Stir the butter occasionally until melted. Once the butter is melted and starting to bubble, stir continuously until it turns a rich amber color and smells nutty. Be careful not to burn. Set aside until cooled to room temperature, at least 30 minutes.
Preheat the oven to 350F. In the bowl of a stand mixer fitted with the paddle attachment (or a large bowl with a hand mixer), cream together the butter, dark brown sugar, and the thyme on medium speed until light and fluffy. This should take about 5 minutes. Scrape down the sides of the bowl with a rubber spatula.
Turn the mixer back on low speed and add in the eggs one at a time, the vanilla, 2 TBSP of the reserved bourbon, and the lemon juice until combined. Scrape down the sides of the bowl.
Add the baking soda, baking powder, kosher salt, and cinnamon into the mixing bowl. Mix on low speed until incorporated. Scrape down bowl making sure to scrape the bottom of the bowl as well. Mix a few more turns.
Add the rolled oats and the raisins into the mixing bowl and mix until combined. With the mixer on low speed add the flour in slowly. Mix just until incorporated and no more. Stop and scrape down the bowl if necessary while mixing to incorporate the flour completely. Cookies will become tough if mixed too much after adding the flour.
Using a large scoop (about 3 oz), scoop rounded mounds of dough onto ungreased baking sheets, 8 per sheet. Sprinkle lightly with coarse salt if desired (but definitely recommended!). Bake at 350F for 9-11 minutes until the edges are set and the middle still looks slightly under baked. Allow the cookies to cool on the baking sheets and set for at least 5 minutes, they will be difficult to remove from the sheets right out of the oven.
[envira-gallery id="12045″]

Disclaimer: this post contains affiliate links. Thank you for supporting this blog! 
---