Cranberry White Chocolate Chip Cookies
Thick and chewy cranberry white chocolate chip cookies with oatmeal and orange zest. The cookies get slightly crisp on the outside and stay super soft and chewy on the inside.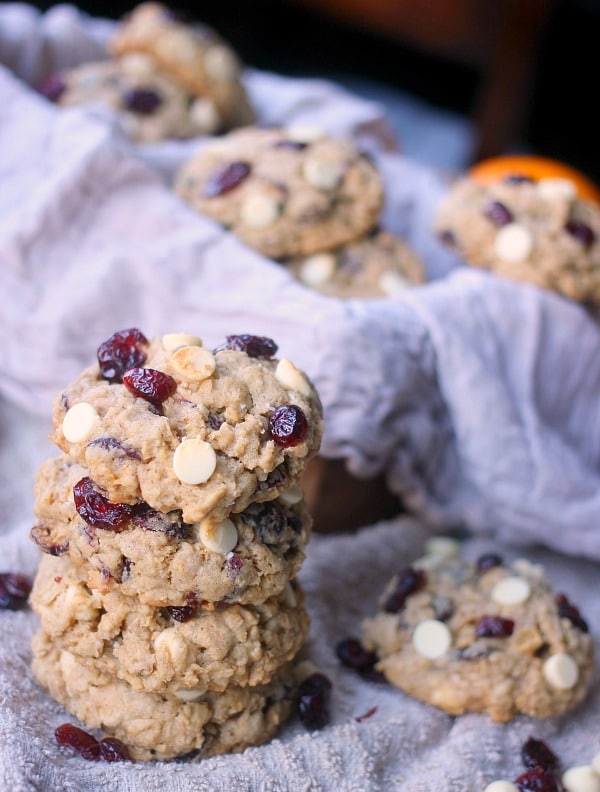 I have a difficult time meeting new people. I'm not sure when that started because I don't remember being a shy kid. Maybe I was. Possibly I was just less self aware than I am now.
But sometime in my young adult years I started getting overwhelmed with the idea of new people and new places. The thought of going to party and not knowing the majority of people that will be there feels like my worst nightmare. But that is why I always come armed with sweets- usually cookies.
One of my tricks is to make the dough ahead of time and scoop it out but then refrigerate or freeze it. Then, about 45 minutes before I need to leave for the party, I bake the cookies. This way I show up with warm cookies in hand.
Of course, they won't stay warm all night long, but the first few people who try them will be so impressed. I don't know what it is about the idea of fresh warm cookies, but people flip for it. It is just such a cozy and comforting feeling.
It gives you an in. You will be known as the person who brought those amazing warm cookies, and who wouldn't want to be friends with you?! This is my armor against my social anxiety. It is a pretty good one. I think I'll keep it for now. It has saved me from plenty of awkward social gatherings.
In the winter, cranberry white chocolate chip cookies are one of my favorite cookie recipes to take with me. It feels festive and warming yet still bright because of the orange zest.
It may sound like a lot of flavors going on- cranberry, white chocolate, orange zest, cinnamon, oatmeal… But they all work so well together. I am one of those people that doesn't particularly love white chocolate. But next to the tartness of the cranberries it works very well in this recipe.
These cranberry white chocolate chip cookies turn out thick and chewy. They have a slight crunch on the outside but stay incredibly chewy on the inside. I suggest pulling them out of the oven when they still look under baked. The cookies will set as they cool and stay super chewy for several days.
It is also really important to pay attention to the way you mix this dough. Make sure you cream the butter and sugar together very well, but mix as little as necessary after that, especially after the flour has been added.
This will be a very thick dough and I often finish mixing it with my clean hands. It will be messy, but then you have an excuse to lick dough off your fingers so just get in there!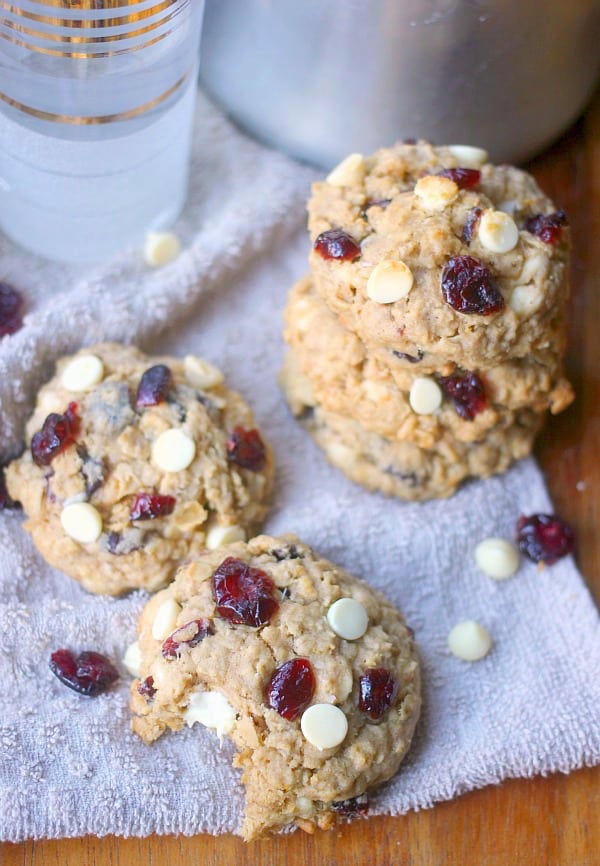 One Year Ago: Creamy Tomato and Herb Soup
Two Years Ago: Pumpkin, Chocolate Chip, and Walnut Coffee Cake with Toffee Sauce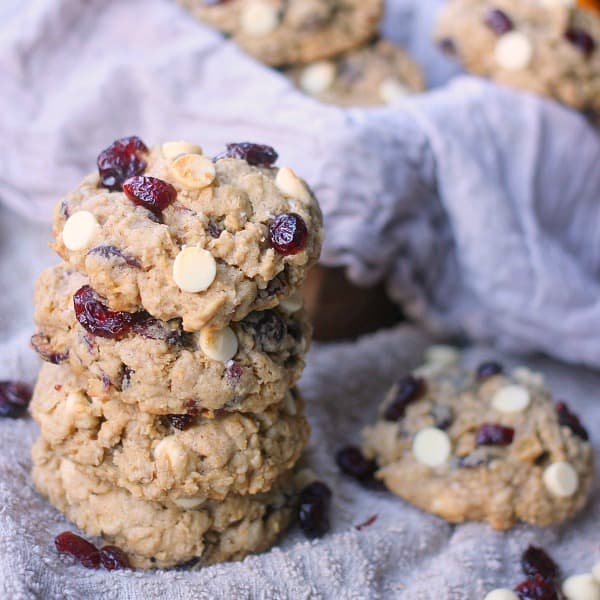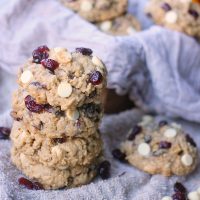 Cranberry White Chocolate Chip Cookies
Yield: 24 Cookies

Prep Time: 15 minutes

Cook Time: 10 minutes

Total Time: 25 minutes

Thick and chewy cranberry white chocolate chip cookies with oatmeal and orange zest. The cookies get slightly crisp on the outside and stay super soft and chewy on the inside. 
Ingredients
1 cup (2 sticks) unsalted butter, softened
1 1/2 cups dark brown sugar, lightly packed
2 large eggs, room temp
2 tsp vanilla extract
zest of an orange
1 tsp baking soda
1 tsp baking powder
1 tsp kosher salt
1 tsp cinnamon
2 1/4 cups all purpose flour
3 cups rolled oats
1 cup white chocolate chips (plus more for topping if desired)
1 cup dried cranberries (plus more for topping if desired)
Instructions
Preheat your oven to 375 degrees F and position the oven wrack in the center of the oven.
In the bowl of a stand mixer, or a large bowl with a hand mixer, cream together the butter and brown sugar on medium until light and fluffy. About 3 minutes. With the mixer still running add in the eggs, vanilla, and orange zest. Mix for just about 10 seconds then stop and scrape down the sides of the bowl. Mix again just until incorporated.
In a separate bowl, whisk together the baking soda, baking powder, salt, cinnamon, and all purpose flour. With the mixer on low speed, gradually add the dry ingredients into the wet ingredients. After all of the dry ingredients are added, stop the mixer, scrape down the bowl, and mix again for just about 30 more seconds. (you do not want to overmix the dough).
Fold in the rolled oats, chocolate chips, and dried cranberries. It will be a fairly thick batter and I sometimes find that clean hands work best to finish mixing the dough. This helps to avoid overmixing.
Use a large scoop (mine is just a little less than 1/4 cup) to scoop rounded mounds of dough onto baking sheets, no more than 8 cookies per sheet. If desired, add more white chocolate chips and cranberries to each dough mound for a more visually appealing cookie. Gently press down each dough mound just slightly. You want to keep them fairly thick so that they do not come out completely flat.
Bake, 1 cookie sheet at a time, at 375 for 9-10 minutes or until the edges are set and the cookies still look underbaked in the middle. They will continue cooking on the baking sheets while cooling.