Thick and chewy oatmeal scotchies are one of my favorite kinds of cookie! This is my recipe for the best oatmeal scotchies and they turn out just slightly crispy on the outside and really chewy and gooey in the middle. Use dark brown sugar for the most chew!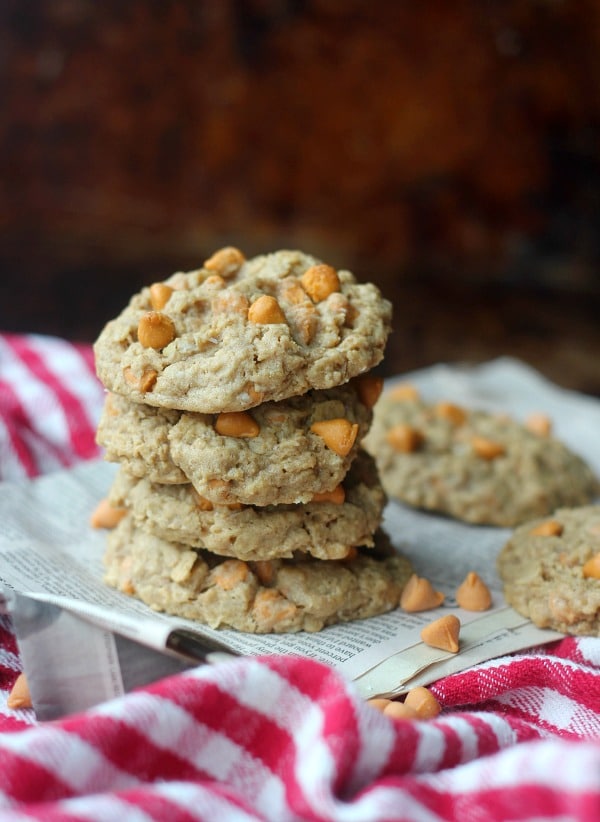 Are you getting sick of cookies yet? I know the internet is flooded with them these days. Cookie recipes coming out from everywhere! I didn't plan this well. I should have given these to you earlier and kept some other holiday recipes for later but, you know, you live and you learn.
BUT I'm telling you, these are over the top chewy oatmeal scotchies so you should be pumped! Have you tried my 6 ingredient oatmeal cookies yet? You know the ones that everyone goes crazy for and is my most popular recipe? Well… this is a modified and slightly amped up version of that.
I wanted an oatmeal scotchie recipe that stayed thick and chewy even after being cooled. I wanted complex flavor and a good contrast of saltiness. I wanted a hint of cinnamon and a ton of oatmeal. These have all of that.
If you love butterscotch, then these are your babes. And hey! Even if you don't love butterscotch chips, these would be awesome with toffee pieces or any other kind of chips you prefer. Peanut butter chips anyone? Hey yo!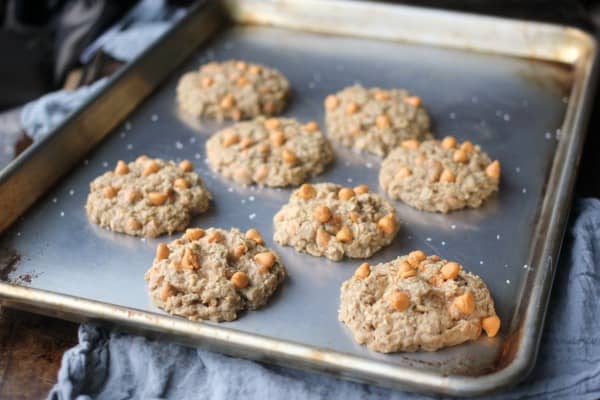 Let's talk a little bit about the science of what makes these cookies so chewy. Some of it has to do with the recipe and some of it has to do with technique.
All brown sugar is used in this recipe to up the chew factor. I'm not using any granulated sugar here. Brown sugar contains molasses, which we've discussed is more hygroscopic than plain granulated sugar. The highly hygroscopic nature of molasses holds onto moisture in the cookies and keeps them nice and soft and chewy. Dark brown sugar is going to give you the most chewy because it has the most molasses.
---
[feature_headline type="left" level="h4″ looks_like="h3″ icon="flask"] Baking Science Fun Fact! [/feature_headline]

Molasses is the bi-product of the process of refining sugar. Granulated sugar (or white sugar) has had all of the molasses removed during the refining process. Most commercial brown sugars are actually refined sugar with molasses added back in, though some brown sugar has just gone through less refining in order to maintain some of the molasses within the product. 
---
 You've heard me say it many times before and here I am saying it again, do not over-mix the dough in this recipe if you want to keep the soft and chewy quality! Once the flour is added, mix as little as necessary so that the glutens do not overdevelop. 
And I'm sure if you've been around here for a while you've also heard me talk about slightly under-baking your cookies and most baked goods really. It is the same principle with baking as it is with cooking meat. They always say to pull your meat out a few degrees under what your desired temp is because the temperature will keep rising for a few minutes once it is out of the oven. This is no different in baking. If your cookies look completely done when you pull them out of the oven then they will be overcooked once cooled. Pull your cookies out when the edges are set but the middle is still looks under-cooked. Then let the cookies cool slightly on the baking sheets to solidify before removing them to cool completely.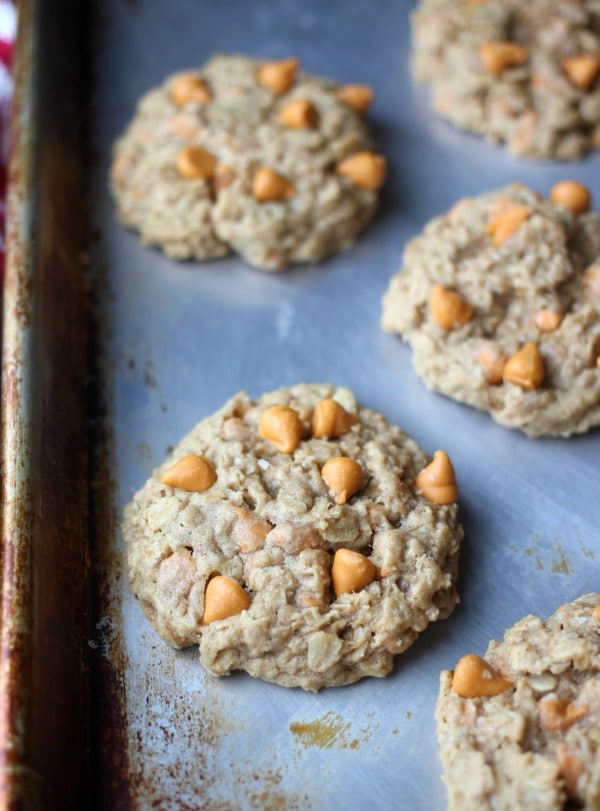 Speaking of baking technique, have you heard of the new cooking iPhone app, Simmer? It just launched a few weeks ago and it is from the makers of Panna, another awesome cooking resource and app. The awesome thing about Simmer is that it is free (always a bonus) and anyone can post their own step-by-step cooking videos!
I think it is a really great way to show baking and cooking techniques in a simple step-by-step way. I got to be a beta tester for the app and have really enjoyed it! I just need to talk my husband into staying in the kitchen with me to shoot the videos more so I can add some more stuff!
Anyway, I went ahead and shot a little video of this recipe for the app. You can watch it here, but you can also get the free app from the app store and see my other recipes, find more recipes from other cooks, and even post your own recipes!
Please excuse the shaky nature of the video. I guess I need to get a little iPhone tripod to shoot these videos with, but Mr. BB did a pretty good job as a first time camera man!
---
One year ago: Sausage Egg and Cheese Casserole
Two years ago: Fresh Apple Almond Cereal with Blackberries
Three years ago: No Bake Mini Cherry Cheesecakes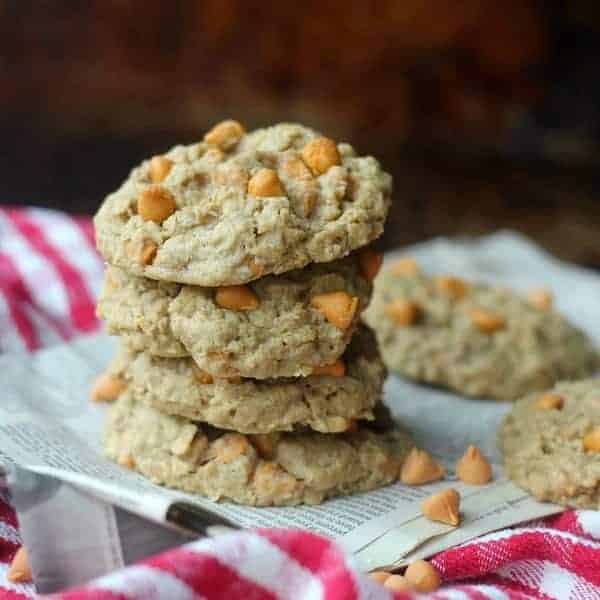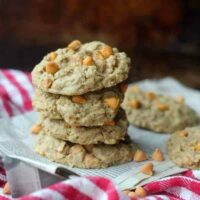 Chewy Oatmeal Scotchies
Yield: 16 Cookies
Prep Time: 10 minutes
Cook Time: 12 minutes
Total Time: 22 minutes
Thick and chewy oatmeal scotchies are one of my favorite kinds of cookie! This is my recipe for the best oatmeal scotchies and they turn out just slightly crispy on the outside and really chewy and gooey in the middle. Use dark brown sugar for the most chew!
Ingredients
1/2 tsp baking soda
1/2 tsp baking powder
1/2 tsp kosher salt
1/2 tsp ground cinnamon
1 stick (1/2 cup) unsalted butter, softened
3/4 cup brown sugar (preferably dark brown)
1 large egg
1/2 tsp vanilla extract
1 1/2 cups rolled oats
1 cup butterscotch chips
Instructions
Preheat the oven to 325F.
In a medium bowl, whisk together the ap flour, baking soda, baking powder, kosher salt, and cinnamon.
In a separate large bowl with a hand mixer (or the bowl of the stand mixer fit with the paddle attachment) cream together the butter and brown sugar until light and fluffy.
Mix in the egg and the vanilla until just incorporated.
Using a spoon, stir in the dry ingredients until just incorporated. The dough will be thick.
Using clean hands, fold in the rolled oats and butterscotch chips.
Scoop large rounded mounds of dough onto baking sheets,, about 8 per sheet. Top each mound with a few more butterscotch chips and a light sprinkling of kosher salt if desired.
Bake 1 sheet at a time at 325 for about 12 minutes, until the edges are set and the centers are still slightly underdone. Let the cookies sit on the baking sheets for about 5 minutes before removing to cool further.