Country White Sandwich Bread Recipe
Learn how to make this beautiful and fluffy country white sandwich bread recipe. No added preservatives, just a good wholesome loaf of bread you will feel good about eating!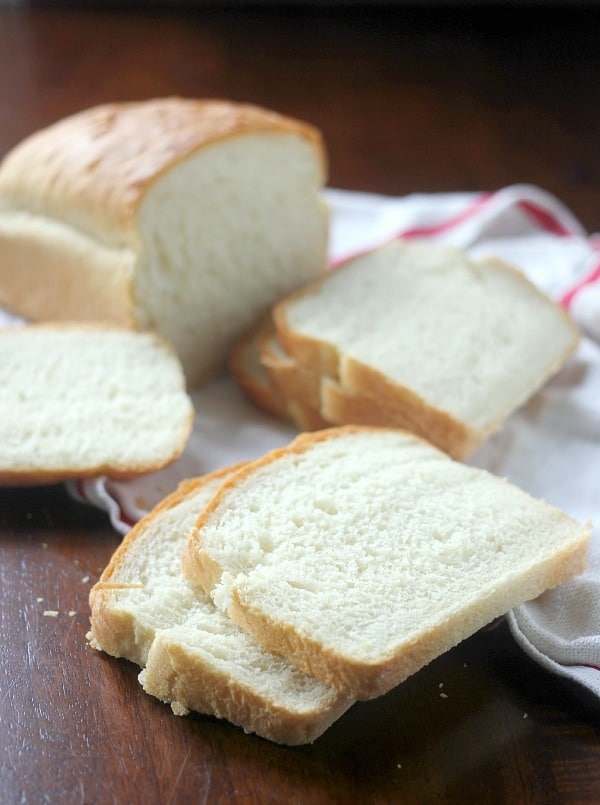 I have been thinking a lot about the idea of worthiness lately. I recently heard someone say, "There are no prerequisites for worthiness." This statement hit me hard. And initially I wasn't even quite sure why. I just couldn't quit thinking about it. "There are no prerequisites for worthiness." It just feels powerful.
We are constantly questioning and trying to prove our worth. If only I was smarter, or skinnier, or more attractive. Even if we aren't aware of it, the question of our worth effects our life. But I feel we can never fully see the worth in others if we don't fully see the worth in ourselves.
I do think it is important to figure out the way I want to contribute to the world. In whatever way that may be, believing in a way to contribute can help me to see my worth. Be it big or small.
I am still figuring out my roles in this existence. I know for sure I have a role as a wife, a friend, a sister, and a daughter. These I know, and are important roles to me. But I know there are other things I am meant to contribute. I'm just not exactly sure what yet. But I do hope bread baking is part of it.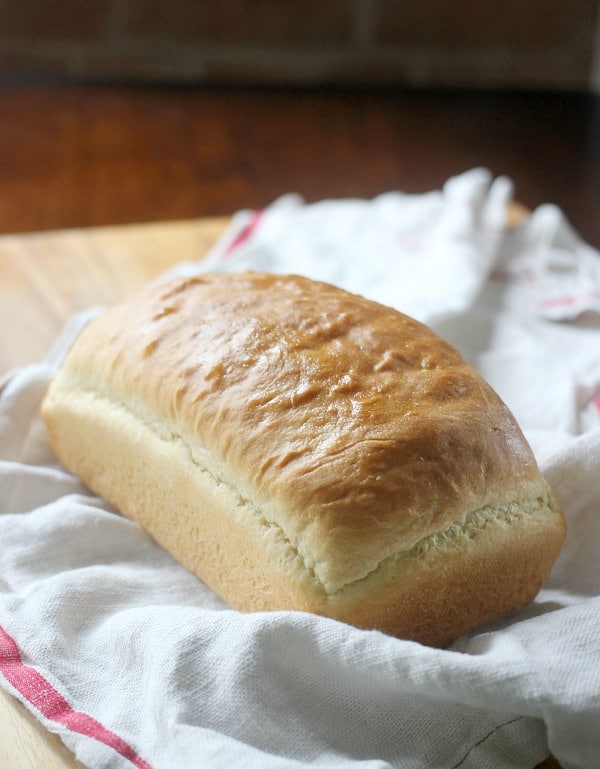 I love baking bread on Sundays when I am spending the whole day in relaxing with Mr. BB and doing housework. I can let it rise while I do a few loads of laundry while binge watching Netflix. It feels like multitasking which makes me feel productive while still be super lazy. It is perfection.
This week I made a country white sandwich loaf. It turned out tall, soft, fluffy, and tender. Mr.BB and I ate this as well as the decadent sweet loaf I have coming up for you this week in about 2 1/2 days. That was us trying to restrain ourselves, but, well… bread. I'm going to teach you the process. Let's get started!
*Sidenote: I am starting to create information pages on basic baking/cooking techniques and ingredients according to what I'm talking about in each post. If you see a link on an ingredient or technique you can click it and find out more information about it. I want this blog to become a space where you can easily find the information you are looking for. If anything is ever unclear or you want more information about something please comment and let me know! I will create a page about it! You will see several of these links below!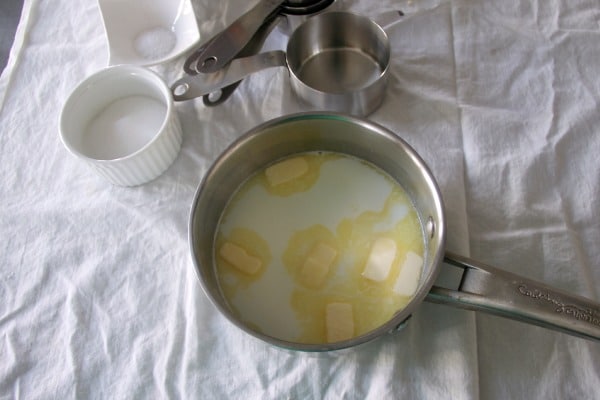 We start by "scalding" the milk. This is done by putting the milk in a saucepan and heating over medium heat until steaming, about 4 minutes, being careful not to boil. The reason for scalding the milk is two fold. It kills any bacteria or wild yeast in the milk that may be lurking around. These things might prohibit the rise of the bread or change the flavor.
Scalding also serves to "denature" the proteins in the milk and kill the enzymes. All of this is just sciency mumbo jumbo that just means, you should not skip this scalding step if you want a great finished product! The scalded milk is removed from the heat and the butter is added to melt and combine with the milk. Let it sit and cool a little.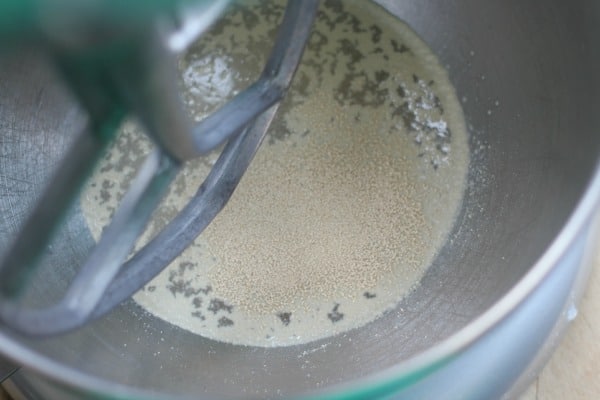 While the milk is cooling, combine the active dry yeast and warm water to hydrate the yeast. Active dry yeast is dormant. Adding it to warm water wakes it up and begins activating it. Yeast loooves warm temperatures.
The most important thing to remember here is you don't want hot water. Yeast begins to die around 130-140 degrees. So you really want your water somewhere between 100-110 degrees.
I never use a thermometer for this, but please do if it makes you feel more comfortable. But then feel the water. Start to learn what 110 should feel like so you can get comfortable with knowing when it is warm enough but not too warm.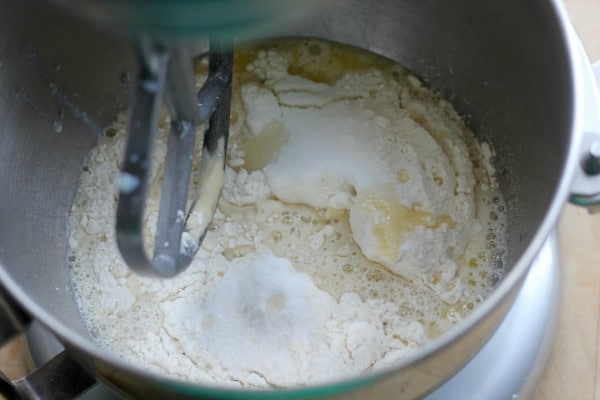 Once the milk/butter mixture has cooled to lukewarm, add 2 cups of the flour, the sugar, the milk/butter mixture, and the salt to the re-hydrated yeast. Mix with the paddle attachment until smooth. Now switch to the dough hook and slowly add in the rest of the flour while mixing on medium speed until the dough forms a ball.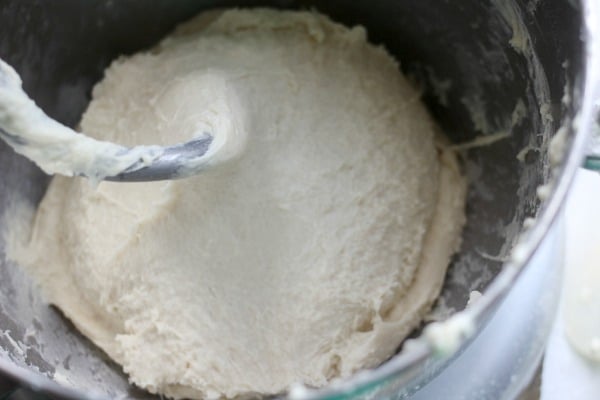 The dough will be sticky at this point but will be forming into a ball. The rest of the kneading will be done by hand on a clean and lightly floured work surface.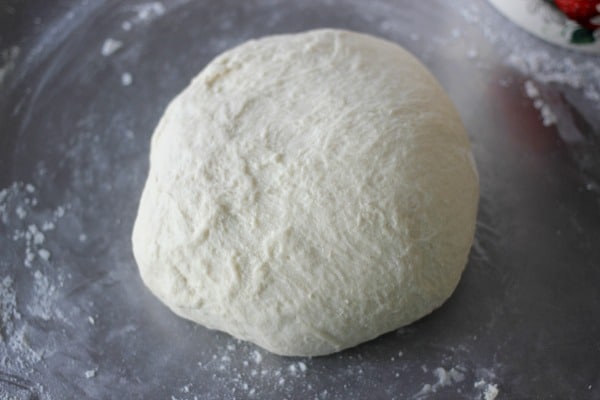 After 5 minutes of kneading, the dough should be smooth and elastic but still slightly sticky. At this point it is ready for it's first rise! Put it in a bowl and cover it with a clean towel or loosely with plastic wrap and go watch some Netflix for 2 hours!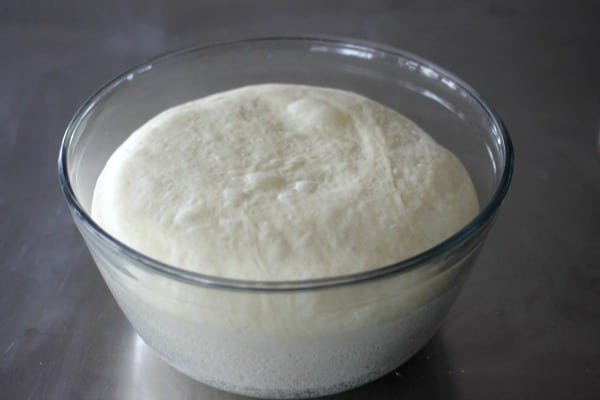 After 2 hours the dough will be doubled in size and airy. You want to deflate the dough so that it can rise again! I always hesitate so say "punch down the dough." Because you really don't want to be forceful here. Just gently press your fist in the center of the dough and then fold the sides into the center.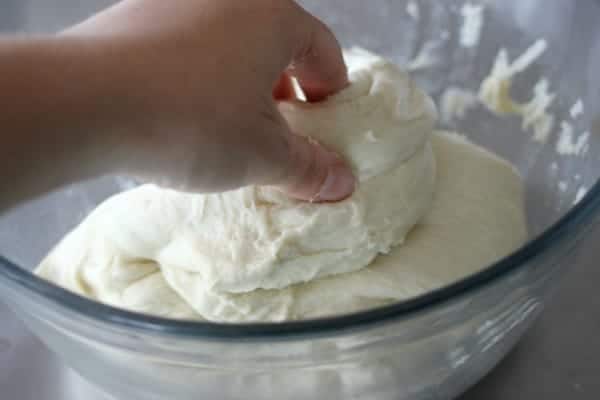 After the dough has been properly deflated cover it again and go watch a few more episodes of Saved by the Bell or some other guilty please show that totally annoys your husband… ahem, Dawson's Creek…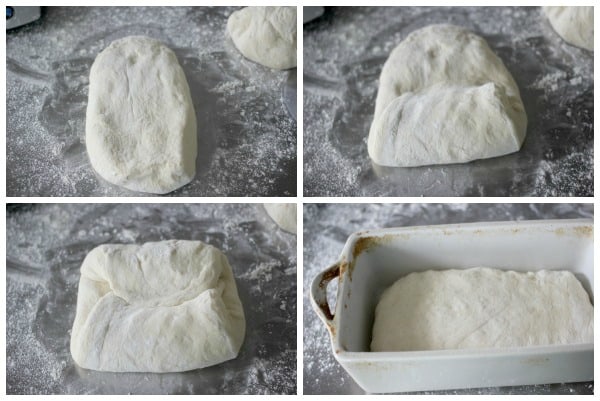 After the second rise and the second degassing (tee-hee) it's time to shape the dough! Gently pat it roughly into the shape of a rectangle. Fold one end into the center, then the other end into the center and use the heel of your hand to gently seal the seem in the middle. Then fold the whole thing in half like a book. Take the entire loaf and set it in a greased loaf pan and use the palm of your hand to pat it down to evenly distribute the dough.
And you are going to have time for a little more Netflix binging here because you have to let it rise one more time! I know. It is such a process. But I love it because it is so satisfying to develop this thing and then pull it out of the oven and see how much your work paid off! And most of the time can be spent doing other things so I don't mind.
After the bread has risen in the pans and should be peaking over top, NOW it's ready for the oven!
This loaf is cooked at 400F for the first 10 minutes which gives it a rapid rise and then it is finished at 350F for another 40 minutes. You then need to let it cool for at least 30 minutes before slicing it. It is torture, I know, but trust me.
If you want this to stay as a fluffy sandwich loaf, do not cut the bread while hot and make sure you use a serrated knife. This recipe makes enough for two large loaves. You can use them both for sandwich bread or save half for an awesome cinnamon sugar braided bread recipe I have coming up for you this week!
If you like making your own homemade sandwich bread, consider also trying my Honey Whole Wheat Bread Recipe!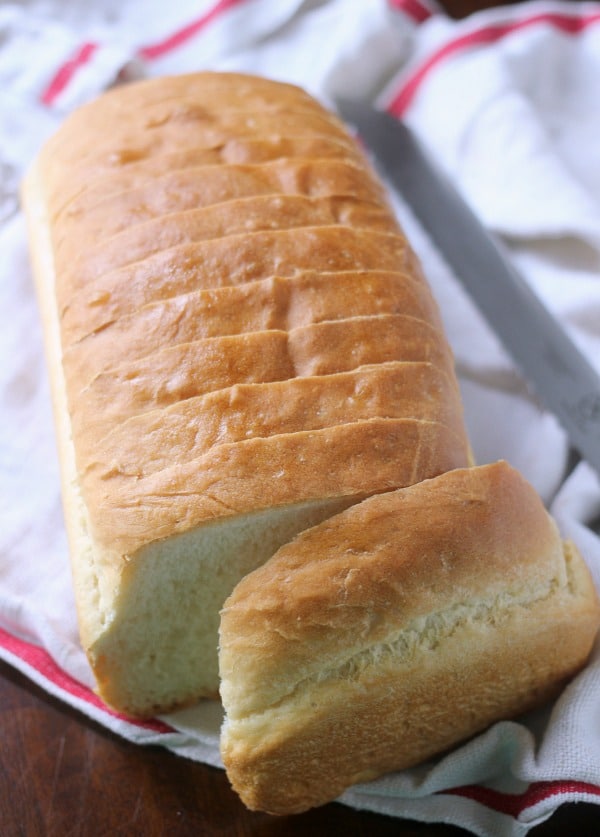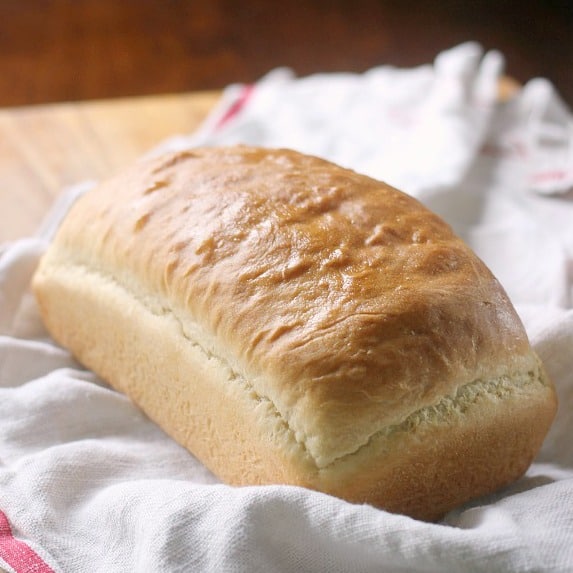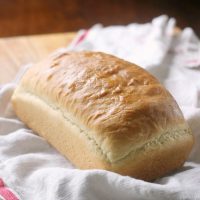 Country White Sandwich Bread
Yield: 2 Loaves
Prep Time: 4 hours
Cook Time: 50 minutes
Total Time: 4 hours 50 minutes
This beautiful and fluffy country white sandwich bread contains no added preservatives. Bake this good wholesome loaf of bread you will feel good about eating!
Ingredients
1 1/4 cup milk
3 TBSP unsalted butter, cut into pieces
3/4 cup water, about 105°F
2 1/4 tsp active dry yeast (or 1 package)
3 TBSP sugar
1 tsp salt
4 1/2 cups unbleached bread flour
1/2 cup all-purpose flour (for kneading)
Instructions
In a saucepan heat the milk over medium heat for about 4 minutes to scald. When the milk is steaming remove it from the heat and add the butter. Set aside to cool.
In the bowl of a stand mixer, mix together the yeast and warm water. Set aside while the milk cools to lukewarm.
The the mixing bowl with the yeast, add 2 cups of the flour, the sugar, salt and cooled milk mixture and beat with the paddle attachment until smooth.
Switch to the dough hook and gradually add 21/2 cups more of flour while mixing on medium speed, scraping down the sides of the bowl as necessary, until the dough forms into a ball. This should take about 2 minutes of mixing.
Turn the dough ball out onto a clean and lightly floured work space and knead for 5 minutes until smooth and elastic. Return the dough to the bowl, cover and let rise in a warm place for 2 hours, until doubled in size.
Gently press all of the gas out of the dough pull the edges over to the center to form a ball, and cover and let rise a second time for an hour.
Grease two standard loaf pans (8.5 X 4.5 X 2.5) pans on the sides and bottoms. Turn the dough out onto the lightly floured surface again, and lightly push the air out of the dough. Cut the dough into two equal pieces. (If you only want to use half of the dough you can put the rest in the refrigerator for up to 2 days covered. Allow it to sit at room temp for 1 hour before using). Gently plat each piece of dough into a rectangle (about the shape of the loaf pan). Bring one end into the center and then the other end into the center so the ends are touching. Use the heel of your hand to press down and seal. Fold the loaf in half and gently move it into the loaf pan. Use the palm of your hand to gently press down the dough and evenly distribute it in the pan.
Spray or brush the loaves with a bit of water and let them rise for about an hour again in a warm place. They should begin popping over the top of the pan. (my pan was taller than most and so my bread didn't come over top like I had hoped)
Preheat oven to 400°F. Bake loaves on the center rack for 10 minutes, and then turn down the oven temperature to 350°F. Bake for a further 40 minutes until golden brown. If the loafs are getting too dark, loosely place a piece of foil over top of them for the last part of baking.
Let cool on baking racks for 30 minutes before slicing with a serrated knife.