Donut shop style classic glazed yeast donut recipe. Use the basic sweet yeast dough master recipe so that you can have hot fresh donuts right at home!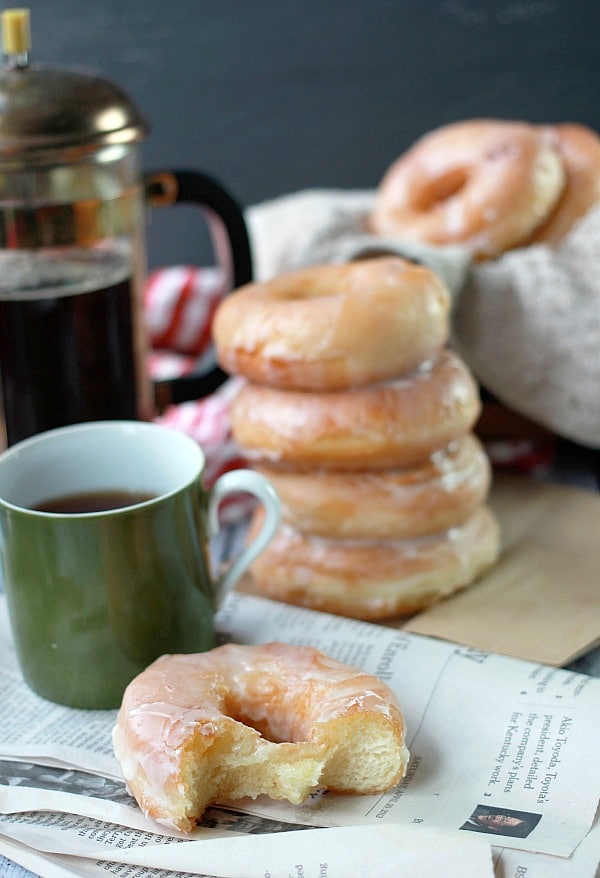 Do you call them donuts or doughnuts? I go back and forth on this. I can't ever decide. I feel like doughnuts sounds more old fashioned (which is an obvious pull for me) but donuts sounds more causal and I think fits the feel of these babies more. Thoughts? Discuss…
I have been making my sweet yeast dough master recipe a lot lately and playing around with various recipes that can be a result of it. Raised yeast donuts (doughnuts?) were an obvious choice. And while I think I like cake donuts just a little bit more than yeast donuts, I really love the yeastiness of this dough.
When making these I took a little taste of one right out of the fryer without any glaze on it. I was worried because it didn't really taste how I was expecting.
It was totally yummy and yeasty but didn't taste like the yeast donut I was looking for. So I let them cool slightly, glazed them, and let them set expecting that they would make it to the list of items that go to work with my husband but don't make it to the blog.
But the second I took a bite of one that had been glazed, I immediately changed my mind. They tasted exactly (or maybe even better) than I was expecting. Like a fresh donut from a donut shop. Warm, and light and airy, with a sugar glaze that is starting to become ever so slightly crisp. Perfecto!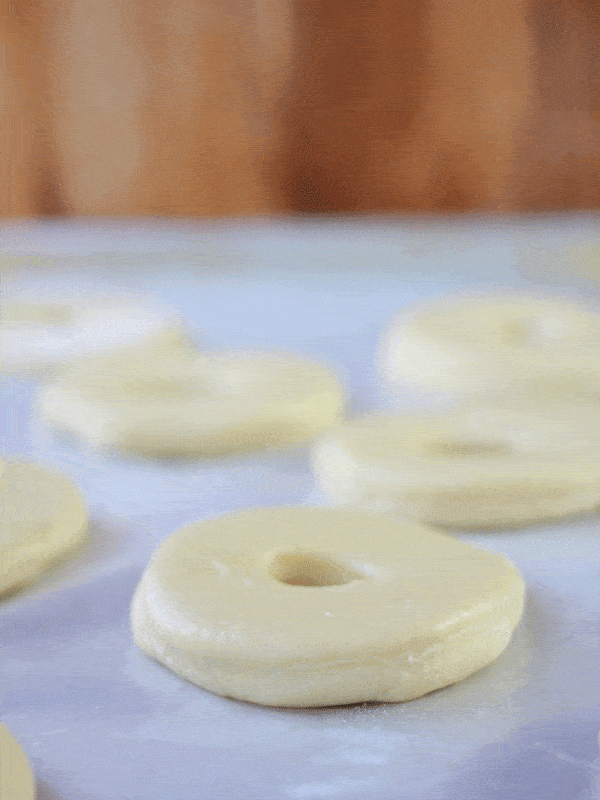 If you haven't checked out my basic sweet yeast dough post yet, head on over there and check it out. I give detailed instructions on how to make the dough that can be used for these donuts and those classic cinnamon rolls and so much more.
The key to making these donuts donut shop worthy is to let them proof quite a bit before frying. I suggest proofing for about 40-45 minutes. The donuts will rise a great deal during this process which is of course important, but they will also ferment a bit and develop more flavor.
The basic steps for making this glazed yeast donut recipe are (more detailed instructions in the recipe below):
1.) Mix together the basic sweet yeast dough
2.) Allow the dough to rise for 1 1/2 hours
3.) Punch down the dough and chill for at least 30 minutes and up to overnight.
4.) Roll out and cut out the donut shapes
5.) Allow the donuts to proof for about 40-45 minutes.
6.) Fry to donuts to golden brown and let them drain on a cooling rack and cool slightly.
7.) Dip in glaze.
8.) Stuff your face.
It really is that simple. There is some time involved, but the steps are not complicated. And there you have it! Hot fresh donut shop quality yeast donuts right out of your own kitchen into your face! BAM! … Emeril.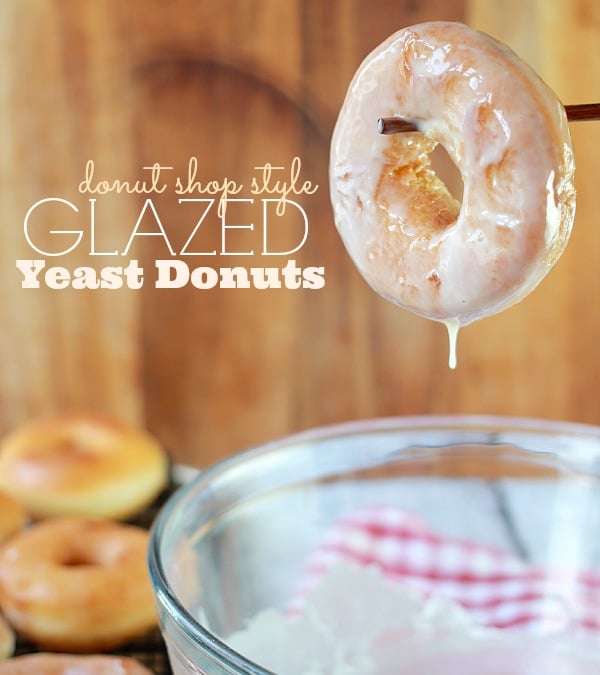 Glazed Yeast Donuts
Donut shop style classic glazed yeast donut recipe. Use the basic sweet yeast dough master recipe so that you can have hot fresh donuts right at home!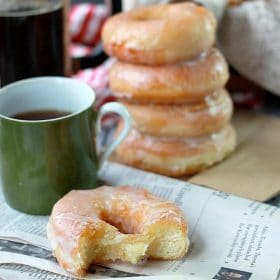 Ingredients:
For the Donuts
2/3 cup milk
1 package active dry yeast (0.25 oz package or 2 1/4 tsp)
6 TBSP unsalted butter, room temperature and cut into small pieces
1/4 cup sugar
3/4 tsp kosher salt
1 large egg
3 cups plus 2 TBSP all-purpose flour
frying oil (canola, peanut, vegetable)
For the Glaze
2 cups confectioners (powdered) sugar
2 tsp vanilla extract
4-5 TBSP milk
Directions:
For the Donuts
Warm the milk to 105-110ºF. Sprinkle the yeast over the warm milk, stir, and let it sit until it begins to get foamy. About 5 minutes.
In the bowl of a stand mixer, stir together the butter, sugar, salt, and egg.
Fit the mixing bowl onto the mixer with the dough hook. With the mixer on the lowest setting, pour in the milk/yeast mixture and the flour. Increase speed to medium and let the dough knead for about 5 minutes until it forms a soft sticky dough. The mixture will seem quite wet at first, but will form a smooth soft dough once kneaded in the mixer for the full time. If the mixture is too wet after kneading, add more flour 1 TBSP at a time until a soft but sticky dough forms.
Cover the bowl with a clean kitchen towel or loosely with plastic wrap and allow to rise at room temp to double in size. About 1 1/2 hours. Chill the dough in the refrigerator for at least 30 minutes and up to overnight.
On a lightly floured clean work surface with a lightly floured rolling pin, roll out the dough to 1/2″ thickness. Use a donut cutter or a large and small circular cookie cutter to cut out donut shapes. Place the donuts on a baking sheet lined with parchment paper to rise. Cover loosely with plastic wrap and let rise for about 45 minutes. If you are frying the donut holes, they only need to rise for about 20 minutes.
Heat about 2″ of frying oil in a shallow pot to about 350ºF. A fry thermometer is very helpful here. Set up a cooling rack over a baking sheet. Gently slide the donuts into the oil (you can use a slotted spoon for this) and fry for 1 1/2- 2 minutes, until lightly browned, before flipping once and cook for another 1 1/2- 2 minutes. Remove from the oil and allow to cool slightly on the cooling racks before glazing. Use either a slotted spoon or a chopstick to flip and remove from the oil, tongs can deflate the donut.
For the Glaze
Place the powdered sugar and the vanilla extract in a large bowl and whisk in enough milk to make a smooth pourable glaze.
Dip the slightly cooled donuts into the glaze, turning to coat both sides. Allow the glaze to set for about 5 minutes before serving.
All images and text ©
.