Prep these cinnamon rolls the night before and bake in the morning. These overnight cinnamon rolls bake up super fluffy and gooey and are slathered with cream cheese frosting while still warm!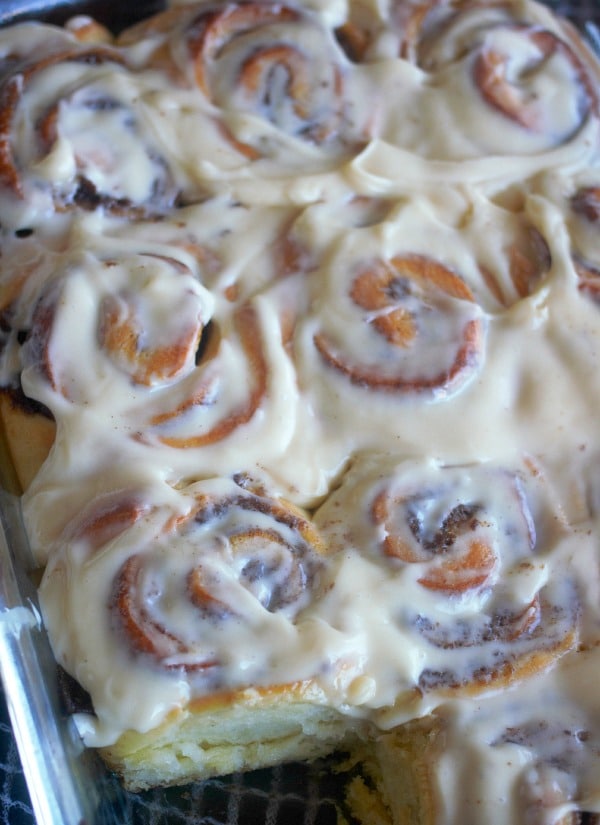 When I first decided I was going to do a series on baking with yeast I asked people to post on facebook what questions they had about baking with yeast. One of my friends asked, "I make cinnamon rolls at night. What do I need to do to be able to bake them in the morning and still have them be as fluffy as if I baked them immediately after they rise?" This is a great question! Plus, any excuse to make cinnamon rolls is okay by me!
I've always thought that all cinnamon roll recipes (or any breakfast yeast bread) should include instructions for if you are making the dough the night before and baking in the morning.
Let's face it, who really wants to get up 4 hours before you want to eat cinnamon rolls to get the dough prepped? Nobody. That's who. It just makes a lot more sense to prep them the night before and bake in the morning!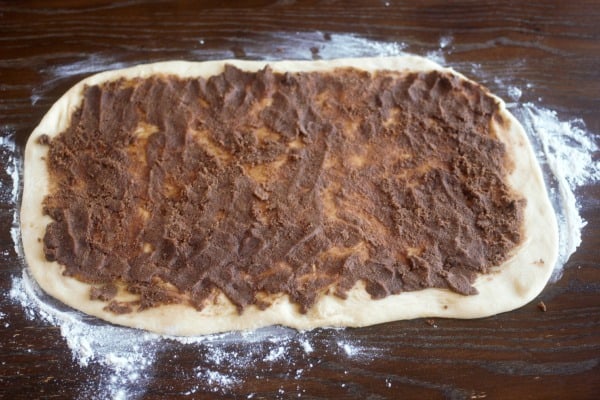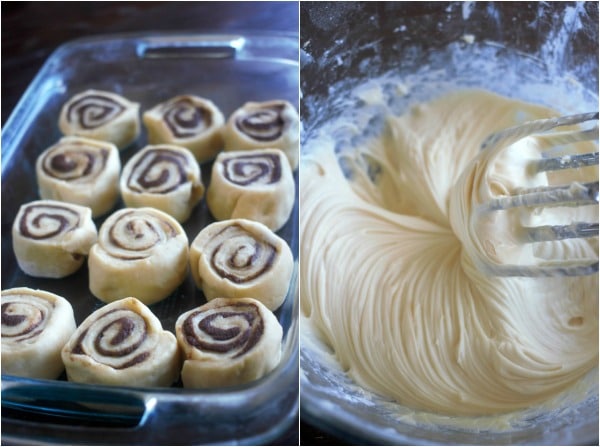 The thing you have to remember about making any yeast dough and putting it in the refrigerator is that the yeast is going to slow way down while it's cold. Remember, as we addressed in the Baking with Yeast 101 post, yeast is most active at warm temperatures.
I had a feeling that the problem with my friend's cinnamon rolls is that they were going into the oven cold. She confirmed that they were, and this is the problem with the fluffiness of the rolls.
When yeast is awake and feeding, it produces carbon dioxide. This is what makes the bread rise before it goes into the oven. Once the bread hits the oven, the yeast begins to die and the gas that the yeast produced expands and makes the bread rise even more.
Therefore, in order for the cinnamon rolls to be super fluffy, the dough needs to warm back up before going into the oven so that the yeast is awake and feeding.
I find that for best results I put the rolls into the refrigerator as soon as they are shaped. Then I take them out and let them sit in a warm place to come back to room temperature and finish rising before going into the oven.
This usually takes about 2 hours. But that's 2 hours where you don't have to do anything. You could even go back to bed! And if your kitchen is very warm, it may not even take the full 2 hours. You can always sit the pan near a heating oven to help them along.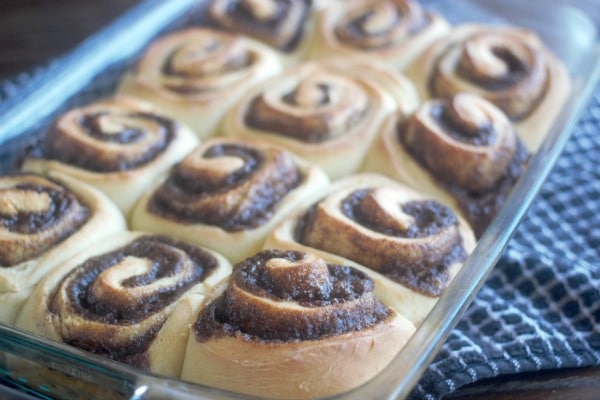 If you are ever in Chicago one of the biggest things on your eating agenda should be to get a cinnamon roll from Ann Sather. I'm telling you, they are incredible. I have never in my life had a cinnamon roll so tender, fluffy, gooey, and filled with butter and cinnamon. I have had a lot of cinnamon rolls and none compare to those of Ann Sather's!
But, with this recipe I aimed to get as close as possible to Ann Sather level and let me tell you these do not disappoint! Definitely the best cinnamon rolls I have made to date! I even made you another little tutorial video so you can see exactly how to do it yourself! I hope it helps!
Please let me know what other questions you have about baking with yeast so I can address them!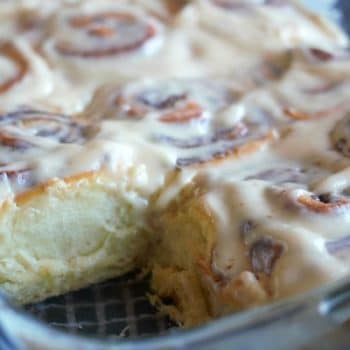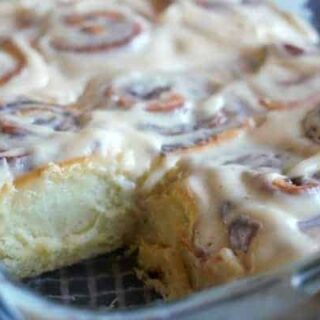 Overnight Cinnamon Rolls
Yield: 12 Rolls
Prep Time: 2 hours
Cook Time: 35 minutes
Overnight Rise Time (optional): 12 hours
Total Time: 14 hours 35 minutes
Prep these cinnamon rolls the night before and bake in the morning. These overnight cinnamon rolls bake up super fluffy and gooey are are slathered with cream cheese frosting while still warm! 
Ingredients
For the Dough
1 cup (240 ml) whole milk (lower fat milk can be substituted)
1 package (2 1/4 tsp, 7 gr) active dry yeast (not instant or rapid rise)
1/2 cup (100 gr) granulated sugar
1/3 cup (75 gr) unsalted butter, room temp
2 large eggs, room temp
1 tsp salt
4-5 cups (480-600 gr) all-purpose flour
For the Filling
1/3 cup (75 gr) unsalted butter, room temp
3 TBSP (36 gr) cinnamon
1 cup (220 gr) brown sugar, packed
For the Frosting
4 oz (113 gr) cream cheese, room temp
1/4 cup (1/2 stick, 56 gr) unsalted butter, room temp
1 tsp vanilla
2 cups (240 gr) powdered sugar
Instructions
For the Dough and Filling
In a saucepan, heat the milk over medium heat until it just starts to barely bubble. Just under a simmer. Remove the milk from the heat, pour into a bowl, and let cool until it is warm and not hot to the touch. You want it to be about 110-120 F. If its too hot for you to touch, it is too hot for the yeast.
When the milk is cooled to warm, add the yeast to the milk and stir together. Let sit for 5 minutes to proof.
In a large bowl, stir together the sugar, butter, eggs, salt, and flour. Add the milk/yeast mixture and stir together until it forms a dough.
On a lightly floured surface, knead the dough for about 5 minutes until its smooth and elastic. Alternatively, you can knead with a dough hook in a stand mixer.
Place the dough in an oiled bowl, turn to coat, cover with a towel, and let rise in a warm place until doubled in size, about 1 hour.
Deflate the dough by gently pushing your fist in the center and folding the sides over. On a floured surface, pat the dough out to a rectangle. Use a lightly floured rolling pin to roll the dough out to about a 16X12" rectangle.
Combine all of the ingredients for the filling together in a bowl. Spread the filling evenly over the rolled out dough, leaving about a 1/2" border. Starting on the long end, roll the dough into a log and pinch the seam closed.
Using a serrated knife, trim the ends off the roll. Cut the roll in half and then cut each half in half. Cut the roll into 12 pieces by cutting each section in 3 even pieces.
In an oiled 9X13 pan, space the rolls out evenly. Lay a piece of plastic wrap directly on top of the rolls and press down so no rolls are exposed. Refrigerate the rolls overnight.
About 2 hours before baking, take the rolls out of the refrigerator and let come to room temp and rise. You can place the pan next to a heating oven to speed up the process.
Preheat the oven to 350F. When the rolls are doubled in size, remove the plastic wrap and bake for 35 minutes.
Frost the rolls while still hot so the frosting seeps into the rolls.
For the Frosting
With a hand mixer, cream together the butter and cream cheese. Add the vanilla and powdered sugar and mix until smooth.
Nutrition Information:
Amount Per Serving:
Calories: 0