This rich hot fudge sauce is so easy to make with sweetened condensed milk and can be prepared on the stove top or in the microwave. The sauce is thick and gooey and perfect as a topping for ice cream or even as a glaze for cake. Pin it for Later »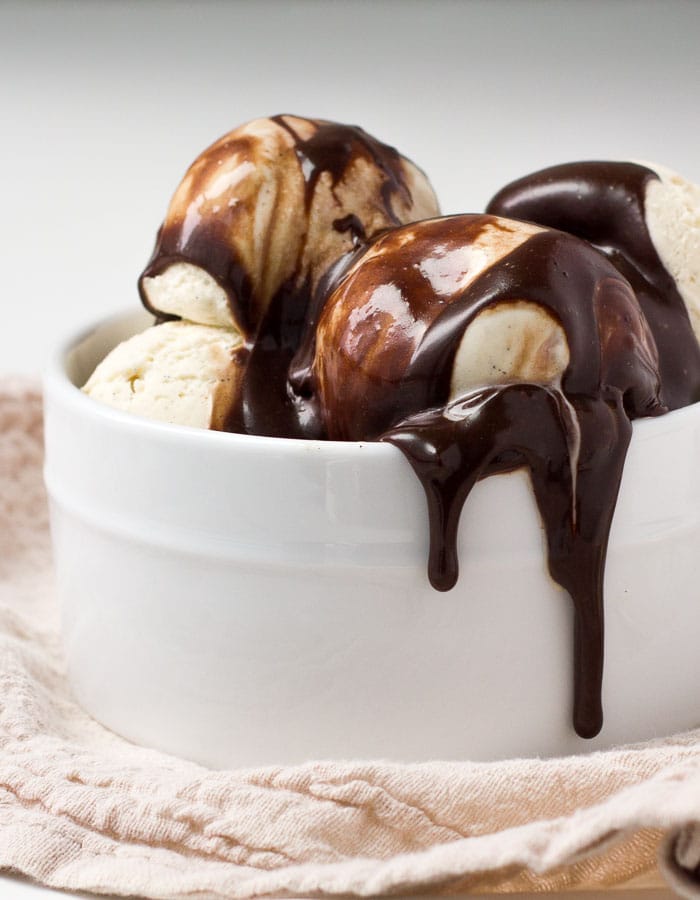 Hot Fudge Sauce Recipe Overview
Skill Level: Beginner | Techniques Used: Double Boiler
Making homemade hot fudge sauce is incredibly easy to do. The process is identical to how to make fudge with only a few different ingredient ratios.
This easy hot fudge sauce can be made on the stove top or in the microwave if you prefer. The stove top method utilizes a double boiler to prevent the chocolate from burning and seizing which makes this method more forgiving. However, if you pay very close attention, the microwave method results in a hot fudge sauce from start to finish in less than 5 minutes.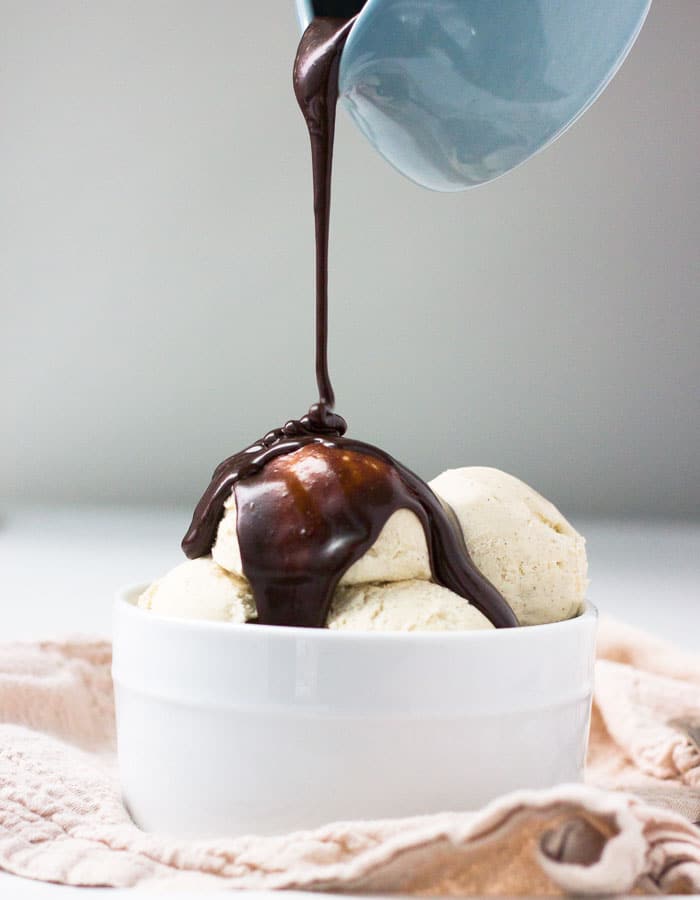 Hot Fudge Sauce Techniques and Science
Sweetened condensed milk is used for this hot fudge sauce to eliminate the need for boiling sugar to a very specific temperature. This makes this sauce essentially fool-proof!
Chocolate can burn at a very low temperature, 115-120 F (46-49 C). For this reason it is extremely important to use a double boiler if using the stove top method, and to heat in short bursts if using the microwave method.
As the sauce cools it starts to solidify but still remains soft. This makes it a perfect glaze for cakes as well!
Ingredient Functions
Butter adds richness to the sauce and keeps it soft as it cools.
Sweetened Condensed Milk is a reduced form of milk cooked with sugar, creating a thick syrup. This eliminates the need for a candy thermometer since the sugar syrup is already in the perfect state.
Chocolate and Cocoa Powder give the sauce it's chocolate flavor. The combination of the two gives the sauce a more intense chocolate flavor, while making the perfect fudgy consistency.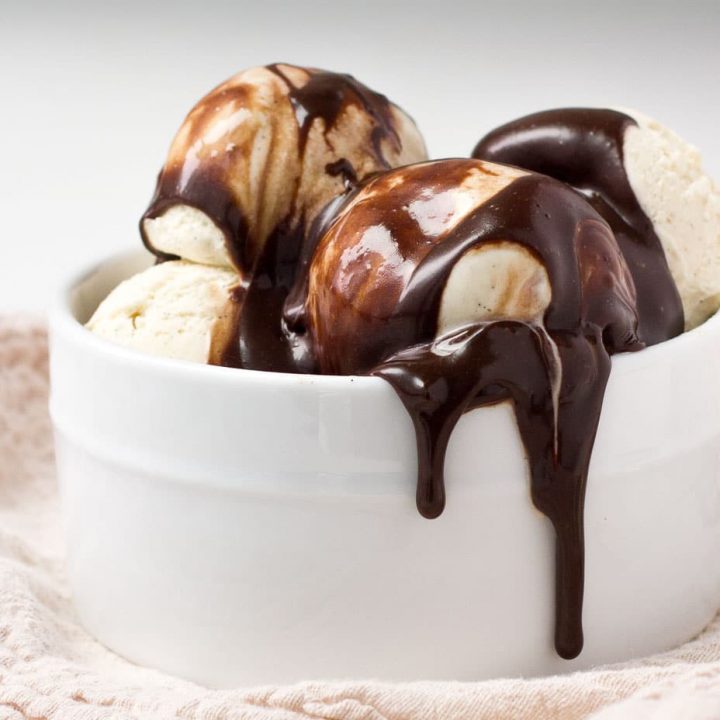 Hot Fudge Sauce
Yield: About 16 oz
Prep Time: 5 minutes
Cook Time: 10 minutes
Total Time: 15 minutes
This rich hot fudge sauce is so easy to make with sweetened condensed milk and can be made on the stove top or in the microwave. The sauce is thick and gooey and perfect as a topping for ice cream, as a glaze for a cake, or whipped into a fluffy frosting. 
Ingredients
1/2 cup (1 stick, 4 oz, 112 gr) unsalted butter
12 fl oz can (355 ml) sweetened condensed milk
1/2 cup (3.1 oz, 90 gr) semi-sweet chocolate chips (or chopped up chocolate)
1/4 cup (0.9 oz, 24 gr) unsweetened cocoa powder (can be natural or dutch-processed)
1/2 tsp Morton kosher salt or table salt (use 1 tsp if using Diamond kosher)
Instructions
Stove Top Method
Set up a double boiler: Set a medium saucepan filled with about 2 inches (5 centimeters) of water on your stove and turn it on medium heat to bring the water to a simmer. This will be the base of the double boiler. Choose a medium heatproof mixing bowl that will set on top of the saucepan without touching the water to mix your fudge sauce ingredients in.
Combine the ingredients: Cut the butter into small pieces and combine it in your bowl with the sweetened condensed milk, chocolate chips, cocoa powder, and salt.
Heat the sauce: Set the bowl over the pot of simmering water. Use a rubber spatula to stir the ingredients until all of the chocolate and butter are melted and create a smooth hot fudge sauce.
Microwave Method
Combine the ingredients: Cut the butter into small pieces and combine it in your bowl with the sweetened condensed milk, chocolate chips, cocoa powder, and salt.
Microwave: Heat the ingredients in the microwave for 30 seconds on high. Stir the mixture thoroughly, being sure to scrape the bottom and sides of the bowl. Heat for 30 more seconds and stir the mixture again. Heat in 15 second increments, stirring in between, until the mixture is a smooth consistency. This will take about 1 1/2 to 2 minutes.
Notes
To store: Pour into a heatproof container to cool then store in the refrigerator for up to 1 month.
To reheat: Heat in 20 second bursts in the microwave, stirring in between, until the hot fudge sauce is the desired consistency.
To use as a glaze: Pour warm fudge sauce over the cake and use an offset spatula to smooth out.
To use as a frosting: Allow the sauce to come to room temperature then transfer into the bowl of a stand mixer fit with a paddle attachment. Whip on medium high speed until fluffy and slightly lighter in color.
Nutrition Information:
Amount Per Serving:
Calories: 95
The links above are affiliate links, which pay me a small commission for my referral at no extra cost to you! Thank you for supporting Baker Bettie!