Fudgy Chocolate Sheet Cake with Fudge Glaze
This intensely fudgy chocolate sheet cake is topped with a chocolate fudge glaze to make one over the top chocolatey cake. This cake comes together all in one bowl and does not require the use of a mixer! Pin it for Later »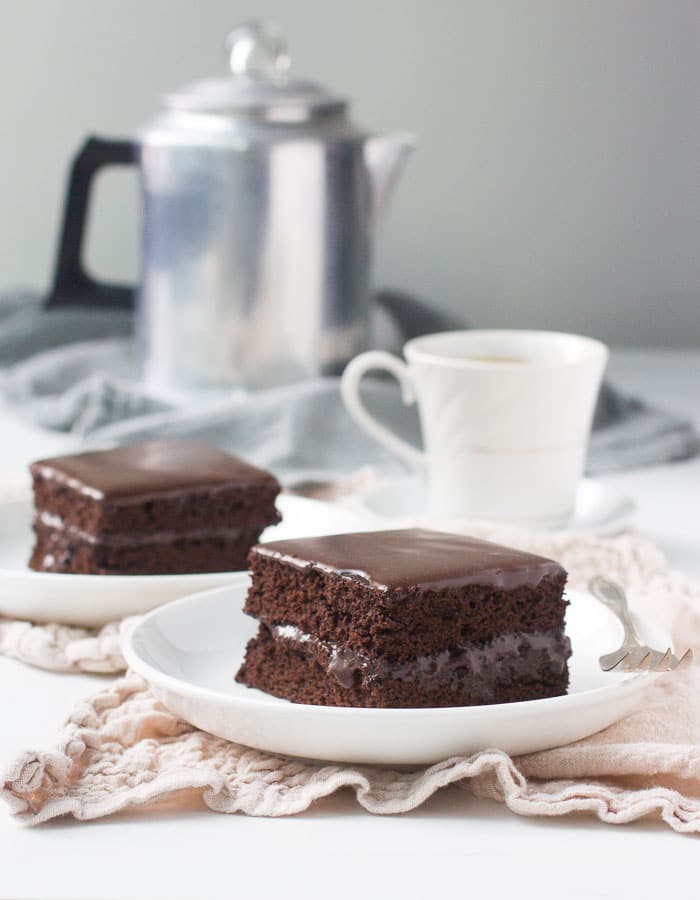 Fudgy Chocolate Sheet Cake Overview
Skill Level: Beginner
The beauty of this chocolate sheet cake is that it can be made all in one bowl without a mixer! The cake has an intensely chocolate flavor and a moist fudgy texture.
Cooled hot fudge sauce creates the fudge glaze for this cake, elevating the fudge factor even more! Keep the cake as a true sheet cake or cut it in half to create a simple layered cake!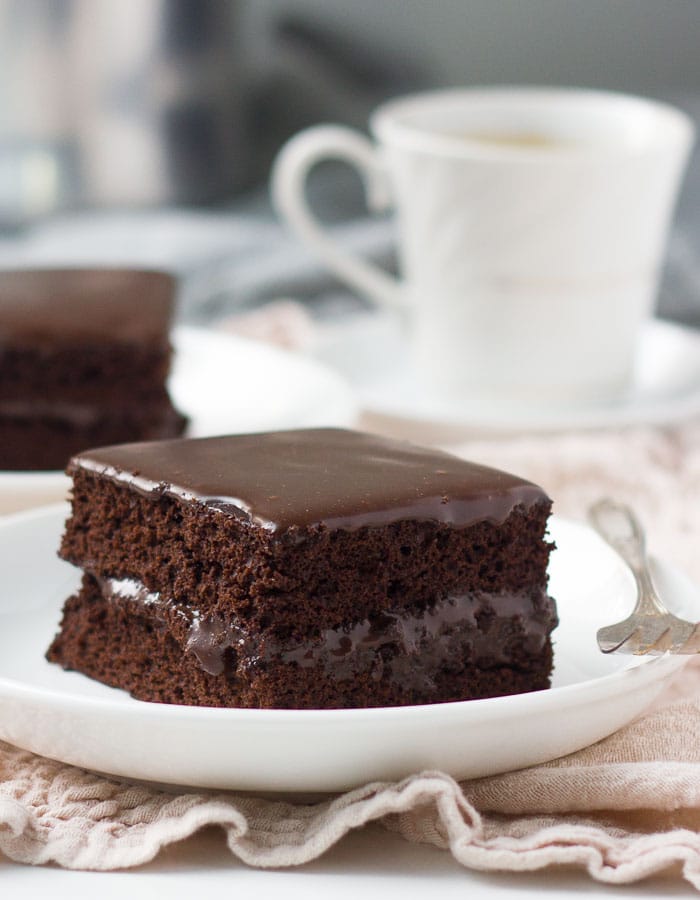 Chocolate Sheet Cake Techniques & Science
This simple chocolate cake does not use any of the standard cake mixing methods. Due to the oil in this cake, instead of butter or shortening, it is somewhat a hybrid cake that uses a similar method to the muffin mixing method. This means the dry ingredients are mixed together then the wet ingredients are added in a simple two step process.
Oil is used as the fat in this cake, instead of solid fat, which helps keep it moist and tender even when it is refrigerated.
Unlike many other chocolate sheet cakes, this cake is made without buttermilk. Instead, the ratio of sugar and liquid fat keep the cake tender.
There are 3 options for how to bake and assemble this cake:

Bake in a single thick layer in a 9 x 13 in (22 x 33 cm) baking dish.
Bake in a single thin layer, as a true sheet cake, in an 18 x 13 in (46 x 22 cm) half sheet pan.
Bake and assemble as a double layer sheet cake. With this option, the cake should be baked in an 18 x 13 in (46 x 22 cm) half sheet pan and then cut in half and stacked with glaze in between the layers. (This assembly is inspired by this cake, and is pictured in this post.)
Ingredient Functions
Flour is the main structure for the cake and holds the cake's shape. 
Cocoa Powder also contributes to the structure of the cake but mainly serves to give the cake its chocolate flavor.
Sugar sweetens the cake and also acts as a tenderizer because it breaks down gluten strands.
Baking Powder leavens the cake, making it rise. It is used instead of baking soda so that natural or dutch processed cocoa powder can be used in this recipe.
Salt and Vanilla serve to flavor the cake and round out the sweetness.
Milk adds moisture and tenderness to the cake.
Eggs bind the cake together and add moisture.
Oil adds richness and keeps the cake moist even when cold.
Hot Coffee or Water blooms the cocoa powder, creating a more intense chocolate flavor. This is also the main moisture for the cake. Coffee will enhance the chocolate flavor even more but will not add coffee flavor, however water will also work well.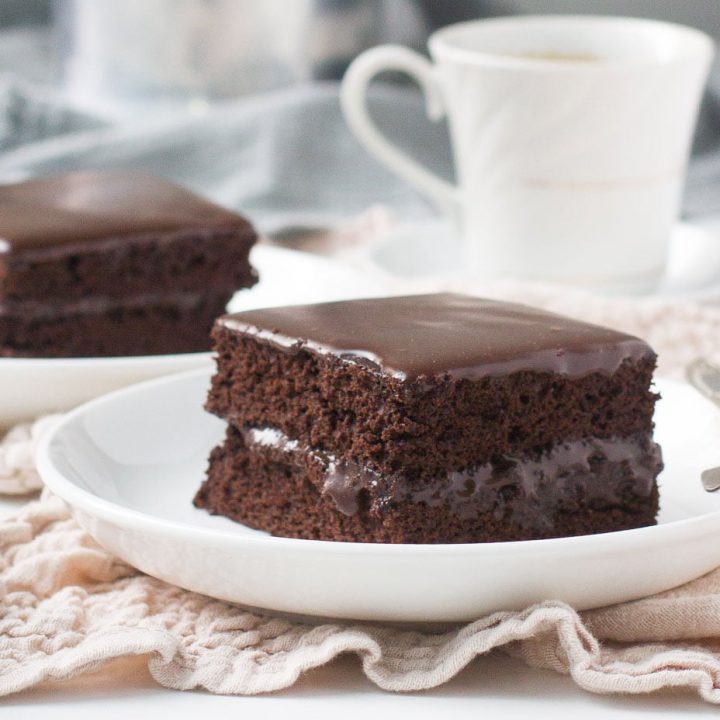 Fudgy Chocolate Sheet Cake with Fudge Glaze
Yield: 15 Servings
Prep Time: 10 minutes
Cook Time: 40 minutes
Total Time: 50 minutes
This chocolate fudge sheet cake is made all in one bowl and creates an incredibly moist and fudgy cake. Bake in a thick layer in a 9x13"  pan or as a true sheet cake in an 18x13" half sheet pan. 
Ingredients
For the Cake
2 cups (238 gr) all-purpose flour
1 cup (100 gr) unsweetened cocoa powder (natural or dutch-processed)
2 1/4 cup (441 gr) granulated sugar
2 tsp baking powder
3/4 tsp Morton kosher salt or table salt (use 1 1/2 tsp if using Diamond kosher)
2 tsp vanilla extract
1/2 cup (120 ml) whole or 2% milk, room temperature
3 large eggs, room temperature
3/4 cup (180 ml) vegetable or canola oil
1 1/2 cups (355 ml) very hot coffee or water
For the Fudge Glaze
1/2 cup (1 stick, 112 gr) unsalted butter
12 fl oz can (355 ml) sweetened condensed milk
1/2 cup (90 gr) semi-sweet chocolate chips (or chopped up chocolate)
1/4 cup (24 gr) unsweetened cocoa powder (can be natural or dutch-processed)
1/2 tsp Morton kosher salt or table salt (use 1 tsp if using Diamond kosher)
Instructions
For the Cake
Prep: Preheat your oven to 350 F (180 C). Prepare either a 9 x 13 in (22 x 33 cm) baking dish or an 18 x 13 in (46 x 22 cm) half sheet pan by lining it with parchment paper or by greasing it with non-stick spray. To make a layered sheet cake as pictured, choose the half sheet pan and line with parchment paper.
Mix Cake Dry Ingredients: In a large mixing bowl, whisk together the flour, cocoa powder, granulated sugar, baking powder, and salt until thoroughly combined.
Add in the Cake Wet Ingredients: Add the vanilla extract, milk, eggs, and oil into the bowl of the dry ingredients. Using a spoon or a rubber spatula (not a whisk) stir together wet ingredients until they are slightly combined. Add the hot coffee or water into the bowl. The hot liquid blooms the cocoa powder and intensifies its flavor. Stir together until combined. It will be lumpy at first, but will start to become smooth. Stop stirring as soon as the batter is smooth.
Pan & Bake: Pour the cake batter into the prepared pan and bake at 350 F (180 C) until a cake tester comes out of the center with moist crumbs, not liquid batter. This should take about 20 minutes for a cake baked in the half sheet pan and about 40 minutes for a cake baked in a 9 x 13 in baking dish. Allow the cake to cool completely before glazing.
FOR THE GLAZE
Combine Glaze Ingredients: In a medium heatproof bowl, combine all of the ingredients for the glaze.
Heat: This glaze can be made on the stovetop or in the microwave. To make in the microwave, heat the mixture in 20 second bursts, stirring in between, until the mixture is smooth and melted. To make on the stovetop, set up a medium saucepan on the stove with about 2 inches (about 5 cm) of water. Set the bowl with the ingredients over the pot. Make sure that the water is not touching the bottom of the bowl. Heat over medium/high heat, stirring occasionally, until the mixture is smooth. Set aside to cool.
To Assemble
To make a single layer cake: Whether baked in a half sheet pan or a 9x13 baking dish, the cake can remain as a single layer. Pour the cooled fudge sauce over the cake and use an offset spatula to smooth out.
To make a layered cake: Invert the sheet cake onto another sheet pan and remove the parchment paper. Cut the cake in half, cutting across the short edge. Pour half of the glaze on top of one layer, and use an offset spatula to even out, leaving a boarder around the edges. Carefully move the second layer on top of the first and press gently to adhere. Pour the rest of the glaze on top of the cake and smooth out.
To Store
Cover the cake loosely with plastic wrap and store in the refrigerator for up to 3 days. Because this cake is made with oil, it will remain tender even when cold. However, heating the leftover cake for 5-10 seconds in the microwave will restore the texture to a more fresh consistency.
Nutrition Information:
Amount Per Serving:
Calories: 404
The links above are affiliate links, which pay me a small commission for my referral at no extra cost to you! Thank you for supporting Baker Bettie!