Belgian Liege waffles are a style of waffle made with yeast dough and pearl sugar. This style of waffle results in a chewy and puffy yeasted waffle with caramelized bits of sugar on the surface. Follow this step-by-step tutorial to make the best Liege waffles! 
Jump to the Recipe »  |  Pin it for Later »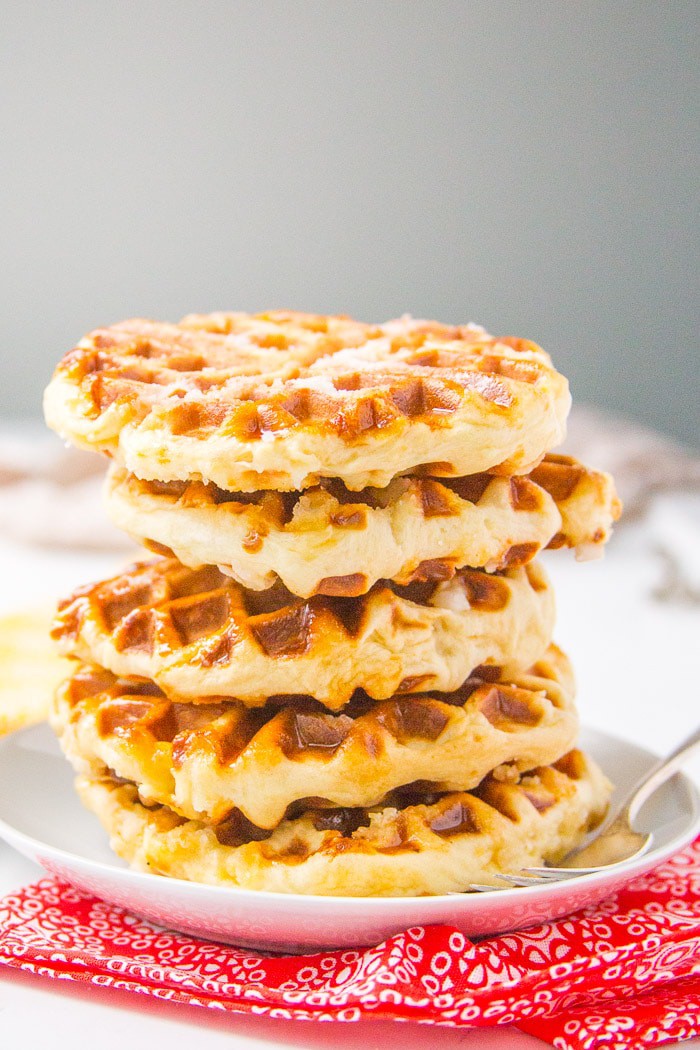 Belgian Liege Waffle Recipe Overview
Skill Level: Intermediate | Techniques Used: Modified Straight Dough Method | Components Used: Basic Sweet Yeast Dough, Homemade Pearl Sugar
If you've never had the pleasure of eating a Belgian Liege waffle then this is your next must make recipe! Liege waffles are a style of waffle made with a yeast dough rather than a batter like standard American waffles. The yeast dough is mixed with a very coarse sugar called pearl sugar which caramelizes on the outside of the waffle.
For this recipe, I like to use my basic sweet yeast dough. This easy yeast dough results in waffles that are puffy and chewy with the perfect amount of crispiness on the outside and tenderness on the inside. You can also opt to make your own pearl sugar for this recipe if you are unable to find real Belgian pearl sugar.
Difference Between Liege Waffles and Regular Belgian Waffles
The meaning of the term "Belgian waffle" has been skewed over time. Originally, Belgian style waffles refered to yeast-leavened waffles that were cooked in a style of waffle iron that has deeper pockets than American style waffles.
Brussels style Belgian waffles are made with a yeast-leavened batter and are very crisp and light. In contrast, Liege style Belgian waffles are made with a yeast-leavened dough, instead of a batter, that is mixed with pear sugar. Liege waffles are richer, puffier, and chewier than Brussels style.
However, it is common in America to refer to any waffle made with a waffle iron that has deep pockets as a "Belgian waffle".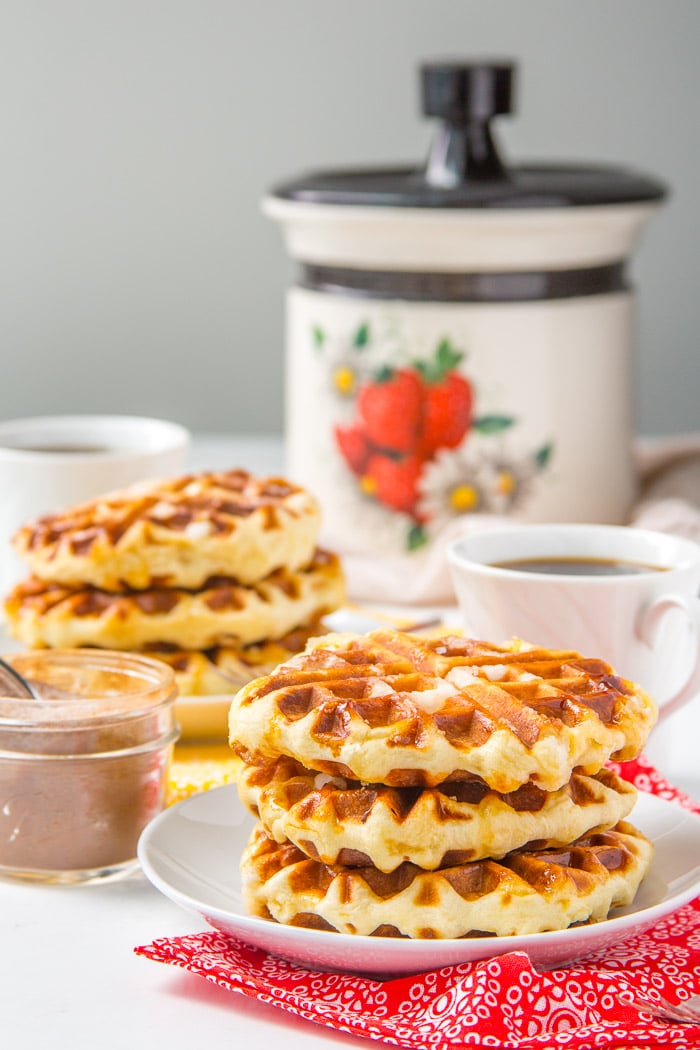 How to Make Liege Waffles
To make Liege waffles we are using my master sweet yeast dough recipe. This yeast dough is very easy to make and will give us very flavorful waffles that are thick and puffy! The method used to make this yeast dough is the Modified Straight Dough Method.
Pearl sugar will also be added to this basic dough. Pearl sugar can be purchased online or you can make your own pearl sugar substitute by breaking up sugar cubes into smaller pieces.
Step 1: Hydrate the Yeast.
Warm the milk to about 110 F (43 F) and mix the yeast into the milk. I like to use quick-rise yeast because it works so quickly, but active dry yeast can also be used.
Step 2: Mix the Butter, Sugar, Salt, and Eggs
In a large mixing bowl, mix together the melted butter, sugar, and salt. Add one egg at a time and mix to combine.
Step 3: Add the Flour
Add the flour into the mixing bowl and stir with a spoon or a spatula until a shaggy dough forms.
Step 4: Knead the Dough
You can knead this dough by hand or use a stand mixer with a dough hook. Knead until a smooth and elastic dough forms, about 8 minutes by hand or 6 minutes at medium/high speed in the stand mixer. You may need to add a little more flour, but the dough will become less sticky as it is kneaded.
Step 5: Ferment the Dough
Move the dough to a clean bowl and lightly spray it with oil. Cover the bowl with a towel or plastic wrap and let it sit at room temperature until double in size. This will take about 30-45 minutes if you used quick-rise yeast and an hour+ if you used active dry yeast.
Step 5: Deflate the Dough
Firmly press in the center of the risen dough. Bring the sides of the dough into the middle to deflate the air.
Step 6: Knead in the Pearl Sugar
Press the dough out on a work surface and add the pearl sugar. Knead the pearl sugar into the dough until evenly distrubuted. Alternatively, you can knead it in a stand mixer.
Step 7: Divide and Rest the Dough
Split the dough evenly into twelve pieces and place a piece of plastic wrap over them to rest for 10 minutes. This is a good time to heat up your waffle iron.
Step 8: Cook the Waffles
These waffles can be cooked in a Belgian style waffle iron with deep pockets or a standard waffle iron. I have this Cuisinart waffle iron and they still get very puffy in it.
The key to cooking these waffles is to find the setting on your waffle iron that is hot enough to caramelize the sugar but not so hot that it will burn the sugar. This is going to be different on every waffle iron. My suggestion is to start at a low heat and gradually increase the temperature until you find the setting that caramelizes the sugar. The first few likely won't caramelize, but they will still be delicious!
Tips, Tricks, & Techniques
Be very cautious to start the waffle iron at a low temp until you find the setting that will caramelize. Cleaning burned sugar from the waffle iron is extremely difficult.
These waffles can be made ahead and stored in the freezer in a ziplock bag for up to 3 months. To refresh, heat in a 250F (120 C) oven or toaster oven until warmed through.
Top these Liege waffles with any number of toppings. My favorite is a simple sprinkling of cinnamon-sugar but real whipped cream, nutella, or fresh berries would all be delicious as well!
Belgian Liege Waffle Ingredient Functions
Milk is the main moisture in the yeast dough and helps create richness.
Yeast leavens the dough, making the waffles puffy, and adds flavor.
Butter adds richness and keeps the inside of the waffles soft.
Sugar adds sweetness and gives the yeast more food to feed on.
Eggs create tenderness and additional richness in the waffles.
Flour is the main structure of the waffle.
Pearl sugar caramelizes in the waffle iron adding sweetness, depth of flavor, and texture.
The links above are affiliate links, which pay me a small commission for my referral at no extra cost to you! Thank you for supporting Baker Bettie!