Soft and Chewy Chocolate Chip Cookies
Learn how to make perfectly soft and chewy chocolate chip cookies. This post reviews the science of making a soft and chewy cookie and a recipe for cookies that stay perfectly soft and gooey even after cooled!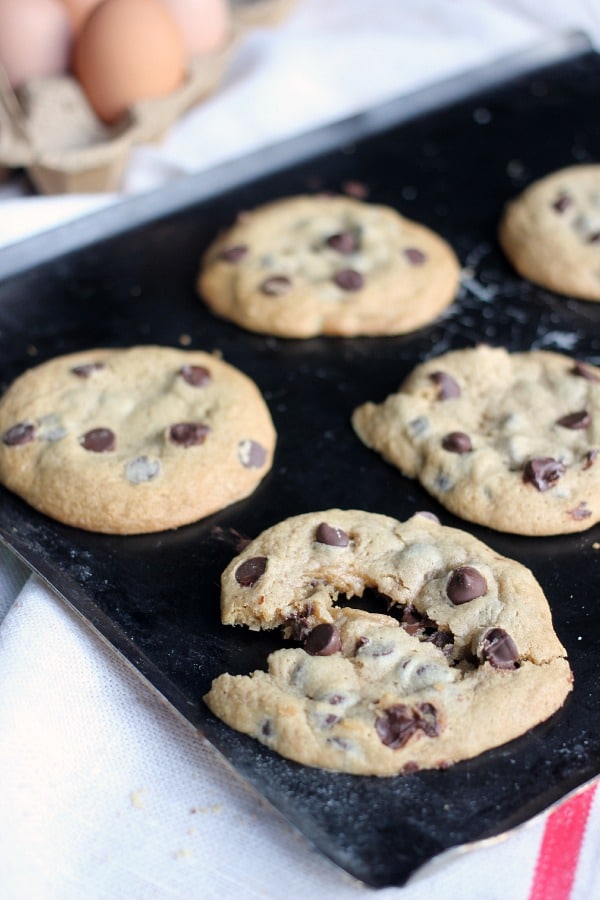 And so we've come full circle in this chocolate chip cookie game. The week started with me torturing tutoring you with math. But I promised you the math would lead us to lots of cookies. And didn't I deliver? We've reviewed cookies of the thin and crispy variety, and cookies that are cakey and thick.
So here we are today with these beautiful ladies. These soft and gooey and chewy thangs. Probably my favorite of the three! But I think I need to go do some more scientific taste testing just to be sure.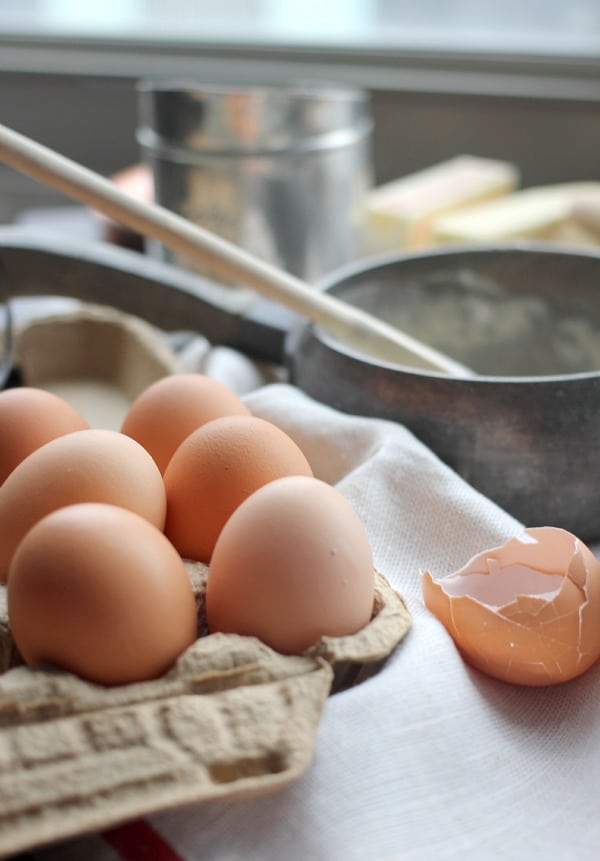 Alright, let's get into the science and math shall we?!
Creating soft and chewy cookies relies heavily on moisture content. And a big part of keeping that moisture content in the cookie is by using a sugar that is highly hygroscopic.
If you remember from the thin and crispy cookie post, we talked about how sugar is hygroscopic, meaning it absorbs and holds onto moisture. So we opted to use granulated sugar for the crispy cookies because it is less hygroscopic than other sugars. We wanted the moisture to evaporate and create a crisp cookie.
But today, we want the opposite! We want a sugar that is going to hold onto that moisture so that our cookies are really moist and chewy!
Molasses is a highly hygroscopic sugar. And you know what has molasses in it? Brown sugar! And you know what has even MORE molasses in it? Dark brown sugar! So for these chewy cookies we are using all brown sugar and preferably, all dark brown sugar.
Another factor that affects chewiness, is the gluten development. Bread flour could definitely be used here in place of some or all of the all-purpose flour. It has a higher gluten content and would create more chew. But most home cooks (including me) don't often keep bread flour on hand. Therefore, it would be beneficial to develop the glutens a bit more during mixing.
In the last two recipes, I talked about mixing in the flour just until combined and no more. For the purposes of creating a bit more chew here, the flour can be mixed for a little longer. But there is a fine line between developing a little gluten and over developing the gluten. We want a chewy cookie, not a tough cookie!
There are also other makeup techniques that should be considered here. A larger cookie will stay softer because it will retain more moisture. It will also serve you well to go a bit underbaked on these. The more they bake, the more they will dry out and become crispy. Bake just until the edges look set and the middle still looks underdone.
And storage is also very important with soft cookies. Keep cooled cookies in an airtight container. This will trap moisture in and keep them soft and chewy. Often times, they will become even more soft. You know how most cookies have at least a tiny bit of crispiness on the edges? After a day in an airtight container, that will be gone!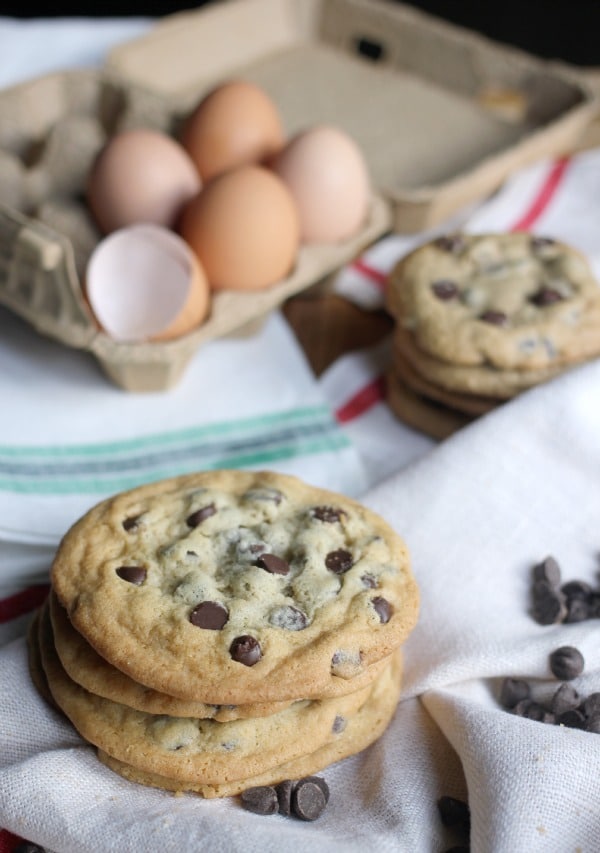 Ok, onto the math…
If you missed Monday's post go on over there and check it out to understand the basics of Baker's Percentages. Or here is the recap: Baker's Percentages focus on the ratio of every ingredient compared to the amount of flour in the recipe. Flour is always set at 100% and the rest of the ingredients are calculated off of that amount.
The basic formula for finding baker's percentages is:
weight of ingredient/ (divided by) weight of flour x (multiplied by) 100= baker's percentage
SOFT AND CHEWY PERCENTAGES:
1 1/2 cup (11.25, 318 gr) brown sugar, preferably dark brown- 100%
2 sticks (8 oz, 227 gr) unsalted butter- 71%
2 large (3.6 oz, 102 gr) eggs- 32%
1 TBSP (0.5 oz, 14 gr) vanilla- 4.5%
1 tsp (7 gr) baking soda- 2%
1 tsp (5 gr) kosher salt- 1.5%
2 1/2 cups (11.25 oz, 318 gr) all-purpose flour- 100%
If you compare these percentages to the thin and crispy cookie formula you will notice that a lot of it is very similar. Our sugar here is 100% and the total in the thin and crispy was 104%. The major difference here being that we are using brown sugar and most of the sugar in the other formula is granulated sugar.
The butter in the recipe is also a similar amount at 71% here and 74% in the thin and crispy. Here, the molasses will retain some of the moisture from the butter instead of letting it all evaporate.
One of the major things to consider is the amount of the eggs. It is double here than from the thin and crispy. This is mostly notable due to their moisture content.
There you go! I promised you lots of cookies and I feel as though I delivered.
Let's Recap!
The Basics of Baker's Percentages
Thin and Crispy Chocolate Chip Cookies
Thick and Cakey Chocolate Chip Cookies
And my original post from 2 years ago: The Science of the Chocolate Chip Cookie
Psssst….. (there may be more coming tomorrow…)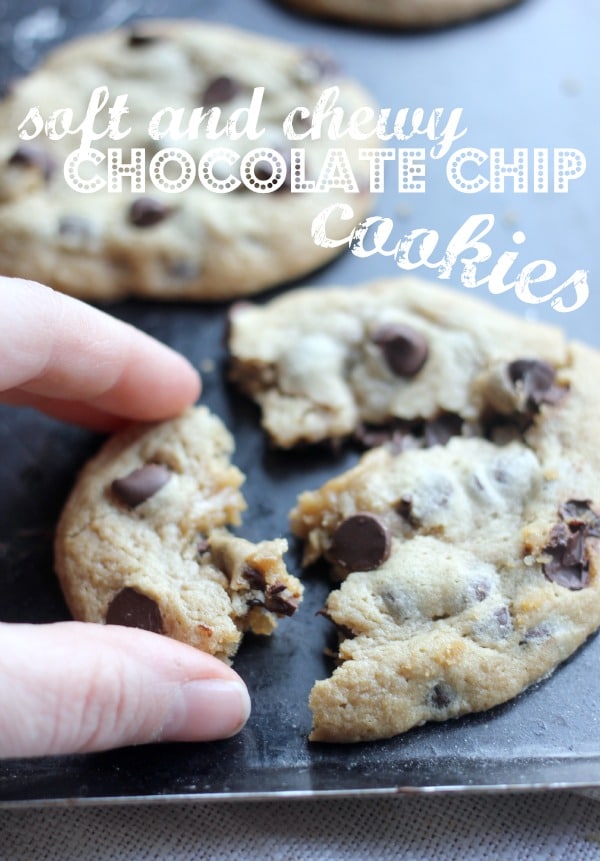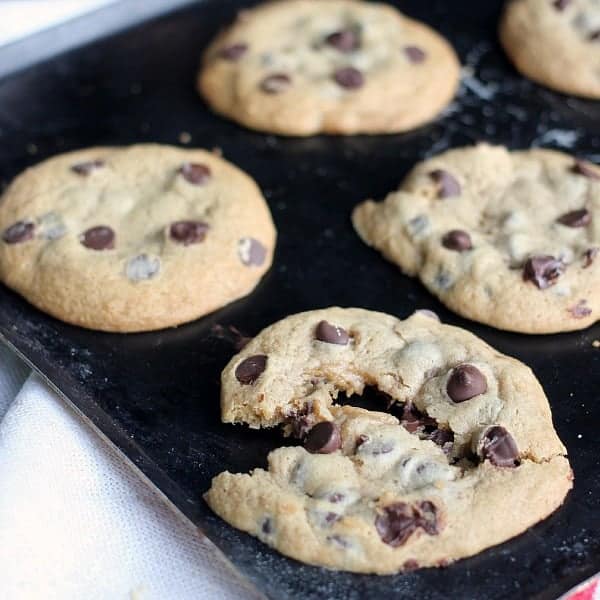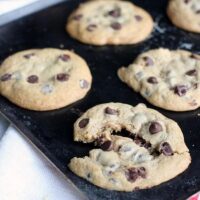 Soft and Chewy Chocolate Chip Cookies
Yield: 24 Cookies

Prep Time: 15 minutes

Cook Time: 12 minutes

Total Time: 27 minutes

This recipe creates cookies that stay perfectly soft and gooey even after cooled!
Ingredients
1 1/2 cup (12 oz, 336 gr) brown sugar, preferably dark brown
2 sticks (8 oz, 227 gr) unsalted butter, room temp
2 large (3.6 oz, 102 gr) eggs, room temp
1 TBSP (0.5 oz, 14 gr) vanilla
1 tsp (7 gr) baking soda
1 tsp (5 gr) kosher salt
2 1/2 cups (11.25 oz, 318 gr) all-purpose flour
2 cups (about 10 oz) chocolate chips of your preference (I use dark chocolate chips)
Instructions
Preheat oven to 350F (177 C).
Cream the butter and brown sugar on medium speed in the bowl of a stand mixer fitted with a paddle attachment or in a large bowl with a hand mixer. Cream until light and fluffy, about 3-5 minutes. Reduce the speed and add the eggs 1 at a time and the vanilla. Increase the speed and mix until well combined.
Sift together the flour, salt, and baking soda in a separate mixing bowl.
Slowly add the flour mixture to the butter mixture, scraping the sides of the bowl until thoroughly combined. Mix on medium speed for about 30 seconds more. Stir in the chocolate chips.
Scoop large mounds of dough (about 3 TBSP each) onto baking sheets lined with parchment paper or a silpat. It is best to only scoop about 9 cookies per sheet to allow enough room for spreading.
Bake for 10-12 minutes, rotating halfway through.
Allow the cookies to cool for 3-5 minutes then remove cookies from baking sheet onto a cooling rack to cool completely.
Store cooled cookies in an airtight container.
Nutrition Information:

Amount Per Serving: Calories: 250
---