10 Tips for Baking Perfect Chocolate Chip Cookies
Follow these 10 cookie baking tips to make your own perfect chocolate chip cookies! These tips will help you create cookies that taste amazing as well as look picture perfect! 
---
If you've followed this blog for any length of time, you may have caught on to the fact that I have a love affair with cookies. My obsession for developing the recipe for my most perfect chocolate chip cookie was what really sparked my passion for baking.
Here's the thing, cookies can seem like a really easy and approachable thing to bake, especially something simple like a chocolate chip cookie. But what I have found, is that a cookie recipe can go wrong in so many different ways. And achieving that beautiful, perfectly baked chocolate chip cookie, has taken me a lot of practice. So I wanted to pass along my tips that I have accumulated after literally thousands of batches of cookies. These 10 tips for baking perfect chocolate chip cookies paired with some practice and a lot of taste testing will help you to create your own best chocolate chip cookies!
Tip #1: Find your Perfect Recipe

This statement, "Find a perfect recipe," may sound quite redundant on a post about how to make a perfect chocolate chip cookie, but hear me out! I had this revelation quite some time ago that everyone has their own definition of what their perfect chocolate chip cookie is like. That cookie in that picture up there is my perfect cookie. It is thick and chewy, crispy on the outside and soft in the middle, and filled with brown butter, bittersweet chocolate, and toasted pecans. But maybe your perfect cookie is more classic like the one you find on the back of the Toll House package- not too thin or too thick, slightly crispy on the edges and soft in the middle. Or maybe you like really thin and crispy cookies, or thick and cakey cookies. Or maybe you just want an incredibly soft and chewy cookie. Whatever your definition of THE perfect chocolate chip cookie is, that is the recipe you should use.
Tip #2: Do Not Skip the Salt!

Baking with salt is just as important as cooking with salt. Don't believe me? Try making some cookies without any salt at all, then make another batch with even just a small amount of salt. The cookies without the salt will taste flat and overly sweet, while the cookies with salt will have more depth and balance. Cookies without salt just lack an overall depth of flavor. All good cookie recipes should call for some amount of salt, and if it doesn't, then I would seriously question the recipe!
Tip #3: Measure Your Flour Properly

One of the most common mistakes in cookie baking, or any baking really, is measuring the flour improperly. For those of us Americans, who insist on measuring by volume instead of by weight, it is so easy to mess this up! The best way to measure flour by volume is to fluff up the flour with a spoon and then lightly spoon it into the measuring cup and level it off.  Do NOT pack the flour down into the measuring cup. I repeat. Do NOT pack the flour down into the measuring cup! I wrote an entire post on this if you are the nerdy type like me and love proper technique and all the baking science stuff. Making sure you don't put way too much flour in your dough is imperative to your perfect chocolate chip cookies!
Tip #4: Don't Over-Mix the Flour

Once you get to the point in a cookie recipe where you are adding the flour to the dough, I suggest switching from the mixer to a spoon. This is a crucial point in the cookie making process. When moisture is introduced into flour the protein starts forming into gluten strands. The more the dough is worked, the more developed the gluten strands get. You want to minimize this as much as possible. Switching from a mixer to a spoon reduces the risk of overdeveloping the glutens.
I suggest adding all of your flour into the bowl and mixing just until the flour is incorporated. As soon as the flour is absorbed into the dough, stop stirring. This will help keep your cookie tender and help with the overall texture.
Tip #5: Use Good Quality Chocolate

As I'm sure you know, not all chocolate is created equal. If you decided to go through all of the lengthy steps to make my perfect chocolate chip cookie recipe but opted to use the basic Toll House chocolate chips then they just really aren't going to be the best. They just aren't!
I suggest looking for a high quality chocolate chip or even a chocolate bar to chop up! My favorite chocolate chips are either Guittard or Ghiradelli. I prefer the bittersweet or dark chocolate of either variety, but the semi-sweet and milk chocolate chips of both brands are good too for a sweeter chip.
Tip #6: Use a Cookie Scoop!

I have found that a cookie scoop is the best way to achieve cookies that not only bake evenly but also look beautiful! I always use a scoop that is on the larger side. My favorite scoop, you can find it here, is about 1/4 cup size. The cookies bake up beautifully. If you prefer to go for a smaller size, I like this scoop that is about a 2 tablespoon size. I wouldn't go much smaller than that as the cookies won't bake as evenly and can overcook easily.
Tip #7: Don't Overcrowd the Pan

When baking large cookies, I suggest only baking about 8 per sheet pan and for small cookies 12 per sheet. Pan. I also suggest only putting 1 sheet pan in the oven at a time. Leaving enough room on the sheet pan for the cookies to spread out is crucial. If you try to put too many cookies on the pan at once then the cookies will bake more slowly and less evenly.
Tip #8: Add more Chocolate Chips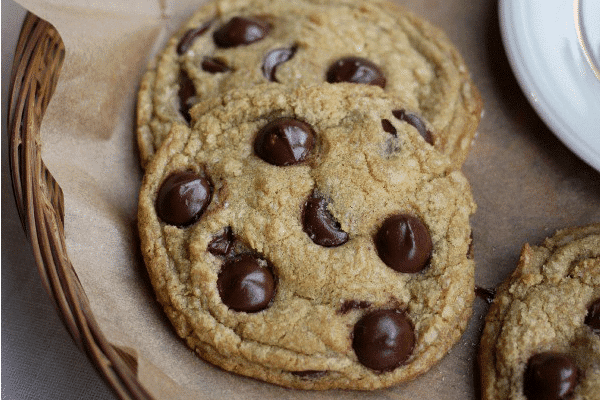 You know when you see pictures of cookies online and they look almost too perfect to be real? Adding a few more chocolate chips to each mound of dough before baking is the secret! This ensures that you have ample pieces of gooey chocolate on top of each cookie! I'm telling you! Your cookies will almost be too beautiful to eat if you use this trick.
Tip #9: Sprinkle With Salt (optional)

This step is completely optional but absolutely recommended to take your cookies to the next level! Right before baking, lightly sprinkle each cookie with a bit of flaky salt. The contrast of salty and sweet will take even the most simple cookie recipe, ahem 5 ingredient chocolate chip cookies, to a whole new level and make them taste a whole lot more gourmet!
Tip #10: Remove from the Oven When Slightly Under-Cooked

I find that 9 times out of 10 people are looking for a chocolate chip cookie that is soft in the middle. So unless you are that 1 person who prefers really crispy chocolate chip cookies, you want to pull your cookies out of the oven when the middles still look slightly underdone. If the cookie looks completely baked through when you remove them from the oven then they will be overcooked once cooled. The cookies are still hot and are sitting on a hot pan, so they will continue cooking slightly even after they are no longer in the oven. The more you bake, the better you will get a feel for this.
---
There you have it. My 10 tips for making the most perfect chocolate chip cookies that not only look amazing but taste amazing too! I could literally go on and on about this topic, but I will spare you. I leave you with my 4 cookie baking essentials. These are the 4 tools that I use with every batch of cookies and I truly feel I couldn't live without!
My Cookie Baking Essentials
#1: Hand Mixer or Stand Mixer– In order to properly cream your butter and sugar, a mixer is pretty crucial. That said, you don't need a fancy stand mixer. I personally have the Kitchenaid Professional stand mixer and love it, but for small batches of cookies I prefer to use my trusty hand mixer.
#2: Cookie Scoop– I have baked literally thousands of cookies in my day (I used to own a cookie company), and this is hands down the best cookie scoop. So many other trigger scoops break easily, but this Oneida Scoop got me through an order for 6,000 cookies and is still going strong! I prefer the large scoop for most cookies, but I also have the smaller scoop that I use as well when I want smaller cookies.
#3: Silicone Baking Mat– I'm not sure what took me so long to get on the silicone baking mat bandwagon, but now that I use them I will never look back! Baking mats make clean up a breeze and cookies bake up beautifully and evenly on the mats! Especially if you like your cookies on the thicker side, I find it is easily to keep your cookies from spreading too much when you use the baking mats.
#4: Good Basic Half Sheet Pan– Once you start baking on sheet pans you will stop wasting your money on those over priced baking sheets you find in the baking section of various shops. A good standard half sheet pan will last you a lifetime and is really the only baking sheet you will ever need. I have a half dozen of these Nordic Ware pans and use them every day. I personally find that cookies bake much more evenly on a standard sheet pan than on any other pan. They conduct heat well.
Disclaimer: Please note that this post contains affiliate links and I will earn a commission if you purchase through those links.