Easy Chocolate Chip Cookies
These easy chocolate chip cookies only require 6 ingredients! With only butter, flour, sugar, egg, salt, and chocolate chips you can make great chocolate chip cookies!
---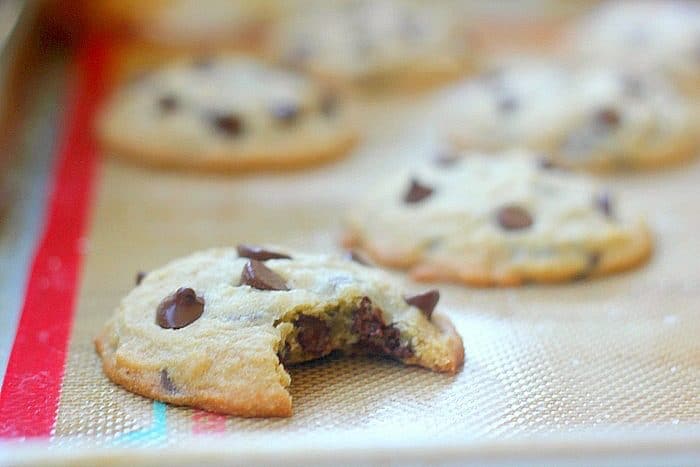 Cookies equal comfort. Especially warm right out of the oven eating them straight off the cookie sheet.
It just feels like warmth, love, and home. And while I love fancy cookies, sometimes I just want easy chocolate chip cookies.
I don't think there is any secret by now that I have a certain obsession affection for cookies. Especially the kind mentioned above.
I have this memory of visiting my aunt in Alabama when I was very young. It was time to take a bath and I was protesting (I apparently hated being clean). My aunt told me "if you take a bath I will have warm chocolate chip cookies for you when you get out…"
Sold. That's all it took. Bribery via warm chocolate chip cookies and I'm diving into the tub.
I think sometimes people who don't bake very often do not realize that cookies can really be a simple thing to make. You really only need 5 ingredients to make fantastic easy chocolate chip cookies and I bet most of us already have them in our pantry!
I created this simple chocolate chip cookie recipe that comes together quickly and uses things that you probably only have in your pantry!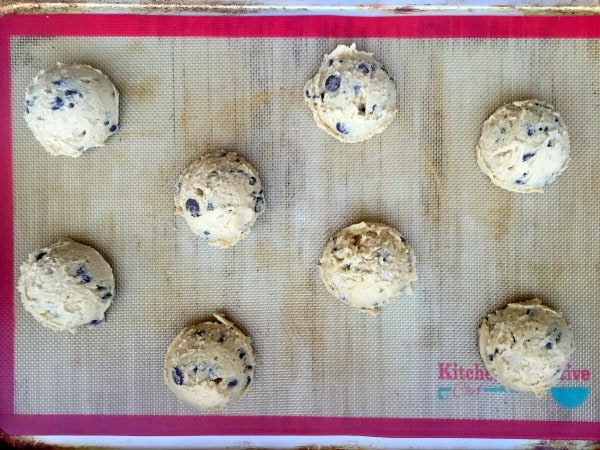 Ingredients for Chocolate Chip Cookies
NOTE: If you are wanting an easy vegan recipe, check out my post specifically for Easy Vegan Chocolate Chip Cookies.
#1: Butter:
The fat in the butter is important for creating tenderness and flavor. The moisture from the butter is also necessary to hold the cookie together and to create some tenderness when it heats in the oven and steam is released.
This recipe is created for the use of regular butter, salted or unsalted. You can substitute margarine or vegan butter, but results will vary.
#2: Sugar:
Sugar is for the purposes of sweetness as well as structure in the cookie. Brown sugar gives the cookies chew and moisture.
Granulated sugar will not work for this recipe. You must use light or dark brown sugar for these cookies.
#3: Egg:
A large egg is preferable. This recipe has been made successfully with other vegan egg substitutions (such as Ener-G egg replacer) however, results will vary. Baking is science!
When you alter recipes the results will also be altered. Check out my recipe for 6 ingredient vegan chocolate chip cookies if you are looking to veganize these!
#4: Flour:
All-purpose, self-rising, or bread flour. All of them work!
Because this recipe does not add any leaveners you can use self-rising flour in this recipe. To measure flour, lightly spoon it into measuring cups (do not pack down!) and level the cup off with a knife.
#5: Chocolate!:
Chips or chunks. Milk, bittersweet, or Dark. I guess you could even do white, but don't offer me any (who am I kidding, give me one!)
#6: Salt:
If you used salted butter or self-rising flour, then the dough will already have salt in it. However, if you used unsalted butter and all-purpose flour or bread flour then you definitely need to add a bit of salt.
While technically the cookies will bake perfectly fine without the salt, the flavor will be completely flat and just taste overly sweet without the addition of a little salt.
That's it! 6 ingredients: Butter, sugar, egg, flour, chocolate, salt. You don't need baking powder and baking soda to make very simple cookies.
Sure, if you have the time and want to make a more complicated recipe, then go for it! But this is that recipe for a quick, throw it together, I need cookies in my mouth in less than 15 minutes, kind of recipe.
Easy chocolate chip cookies win! Go make them. It is time.
Note: The point of this recipe is that it is very stripped down and simplified. They are simple and perfect in that way. If you have the time and want to try more over the top cookies, check out this post for my Best Chocolate Chip Cookies.
---
How to Make The Easiest Chocolate Chip Cookies: Watch the Video
---
Yield: About 12, 2-inch cookies
Easy Chocolate Chip Cookies
Prep Time 10 minutes
Cook Time 12 minutes
Total Time 22 minutes
These easy chocolate chip cookies only require 6 ingredients! With only butter, flour, sugar, egg, salt, and chocolate chips you can make great chocolate chip cookies!
Ingredients
1 stick (4 oz, 113 grams, 1/2 cup) softened butter- salted or unsalted, at room temperature (or you can microwave it for about 15 seconds)
3/4 cup (5.6 oz, 158 grams) light or dark brown sugar (do not use granulated white sugar)
1 large egg
1 tsp vanilla extract (optional)
1/4 tsp salt, or large pinch
1 cup plus 1/4 cup (5.3 oz, 150 grams) all-purpose flour, lightly spooned into measuring cup & leveled off, being careful not to pack down when measuring
1 cup chocolate chips (any kind your prefer or have on hand)
Instructions
Preheat oven to 350ºF.
In the bowl of a stand mixer fitted with the paddle attachment (or a large bowl with a hand mixer) cream together the butter and sugar until fluffy. (NOTE: if you do not have a mixer you can do this with a wooden spoon. Beat together the butter and sugar until completely combined and fluffy. This will take some time.)
Add the egg and vanilla (if using) to the butter/sugar mixture and mix until incorporated.
Stir in the flour (make sure your flour has not been packed down into the measuring cup when measured or there will be too much flour in your cookies), salt, and the chocolate chips just until combined. Do not mix for a long time after adding the flour, it will create cookies that are too tough or cakey. Scoop into mounds about 2 TBSP each onto ungreased cookie sheets (you can use a silpat or parchment paper to line your sheets). Do not put more than 9 cookies per sheet.
Bake at 350ºF until just set on the edges and middle still looks a little bit undercooked. About 8-12 minutes. (these cookies do not brown as much as other cookies because of the lack of baking soda or baking powder.)
Allow to cool on the baking sheets for 5 minutes before removing. Cookies will continue to cook on the sheets for a few minutes.
Recommended Products
As an Amazon Associate and member of other affiliate programs, I earn from qualifying purchases.
Nutrition Information:
Amount Per Serving:
Calories: 0