Basic Quick Bread Recipe (sweet or savory)
---
A basic quick bread recipe that is adaptable to be savory or sweet. Take this base recipe and add any spices, herbs, dried fruit, nuts, or any add-ins you like! There are endless combinations! 
I don't know about you, but quick bread is one of my favorite things to bake. I am pretty obsessed with trying new flavors and combinations of ingredients to make gluten free or vegan quick breads.
They can be savory or sweet and the base recipe is so incredibly adaptable and fool proof that bread or muffins can be in the oven in less than 10 minutes.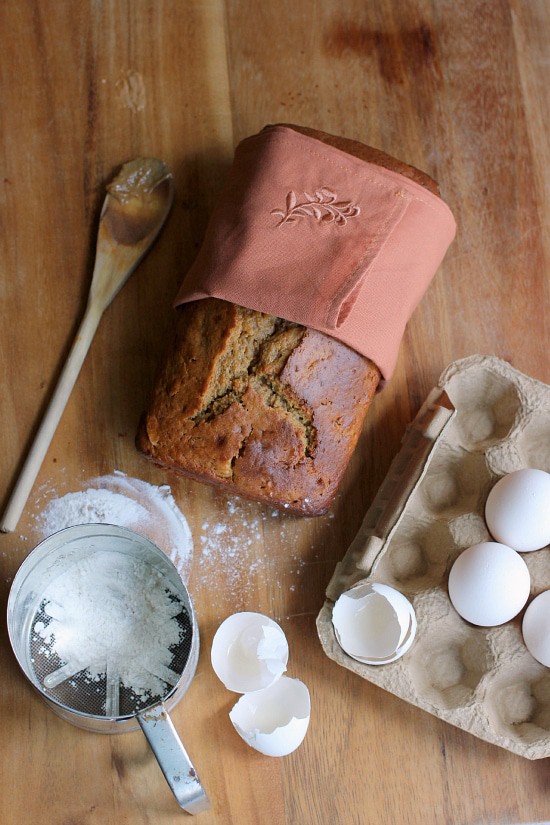 In this installment of the Back to Bake-sics Series I share with you my base recipe for quick bread. I use this for either savory or sweet bread.
The recipe makes a great bread as is for a side dish for soup or with some eggs for breakfast. Or add some cheese, jalapenos and even some bacon or sausage and you have a breakfast all on its own.
We still don't have a very well stocked pantry or fridge so yesterday I made bread with whatever I could find which was basically a tart apple, some cinnamon, and brown sugar. Simple. Delicious.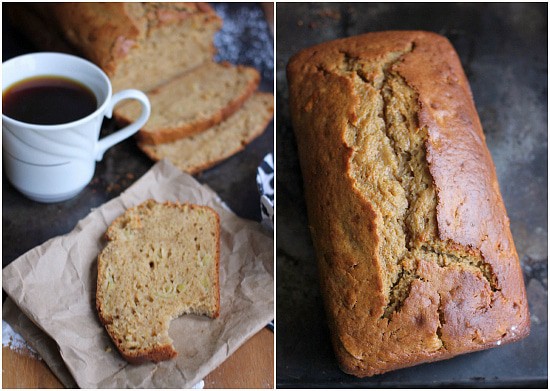 The 6 ingredients in the base quick bread recipe are:
Flour: Flour is the structure of the bread. All-purpose is preferred but bread flour would do the trick and self-rising flour is acceptable too if you leave out the other baking powder in the recipe.
I have also made this with oatmeal flour. It works great and gives the bread such an amazing chew and texture. I have never tried cake flour in a quick bread recipe and I wouldn't recommend it. The crumb would most likely be too tender and wouldn't hold together well.
Salt: Always. It seasons and brings out flavors.
Baking Powder: This leavens the batter and tenderizes the bread.
Milk or Moisture: I typically use buttermilk or other milk soured with vinegar. You could also use yogurt, sour cream, apple sauce, mashed banana, pumpkin, or other ingredients that have a creamy texture.
If you use one of the ingredients that isn't a liquid (such as banana or sour cream) it is best to use about 1 1/2 the amount originally called for. so 1/2 cup liquid to 3/4 cup banana.
Oil or Softened Fat: I typically use canola oil or vegetable oil but melted or softened butter works too. You could also replace this with peanut butter or another high fat ingredient.
Eggs: Eggs offer binding and some leavening for the batter. Ener-G egg replacer also works well in the recipe as well as other egg replaces such as applesauce or banana. Use 1/4 cup per egg of either of these.
If you want to make a sweet recipe add about 1/2 cup-1 cup sugar. Other great additions for sweet bread would be orange or lemon zest and juice, fresh or dried fruits, nuts, cinnamon, cardamom, chocolate chips, coconut, poppy seeds, vanilla, almond extract. or other extracts.
Other savory additions could be cheese, herbs, spinach, onion, mushrooms, sun dried tomatoes, garlic, crumbled sausage or bacon, jalapenos, or pretty much any other thing you want to try throwing in there!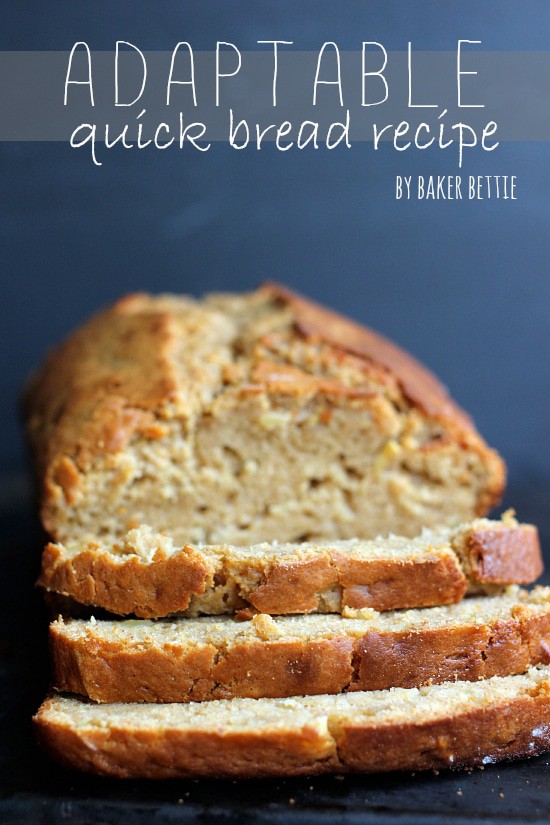 Other Posts from the Back to Bake-sics Series: 
5 Ingredient Perfect Chocolate Chip Cookies
---
Basic Quick Bread Recipe
A basic quick bread recipe that is adaptable to be savory or sweet. Take this base recipe and add any spices, herbs, dried fruit, nuts, or any add-ins you like! There are endless combinations!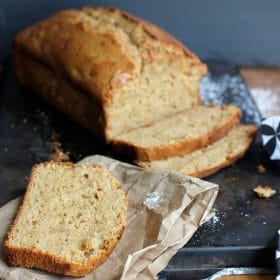 Ingredients:
1 1/2 cups flour
1 tsp baking powder
1/2 tsp kosher salt (up to 1 tsp if making a savory bread)
2 eggs (or egg replacement)
1 cup buttermilk (or other milk)
1/4 cup oil or liquid fat
1/2 – 1 cup sugar (optional if making a sweet bread)
Directions:
Preheat oven to 350ºF. Lightly oil a loaf pan or muffin tins and set aside.
In a large bowl stir together flour, salt, baking powder, and other dry herbs or spices if using.
In another bowl, lightly whisk together the eggs, oil, milk and sugar (if using) and other wet ingredients such as extracts if using.
Pour the liquid ingredients into the dry ingredients and stir together just until combined.
Bake at 350 for about 30-35 minutes until a toothpick comes out clean from the middle.
Note: This is enough batter for a small loaf pan. If using a large loaf pan, I double the recipe and increase the bake time to 1 hour.
All images and text ©
.
Products Featured in this Recipe:
(may include affiliate links)