Chocolate Raspberry Pavlova
A pavlova is a baked meringue dessert that is crispy on the outside and chewy on the inside. This chocolate raspberry pavlova takes this elegant dessert to a new level with chocolate meringue, whipped cream, fresh raspberry sauce, and chocolate ganache!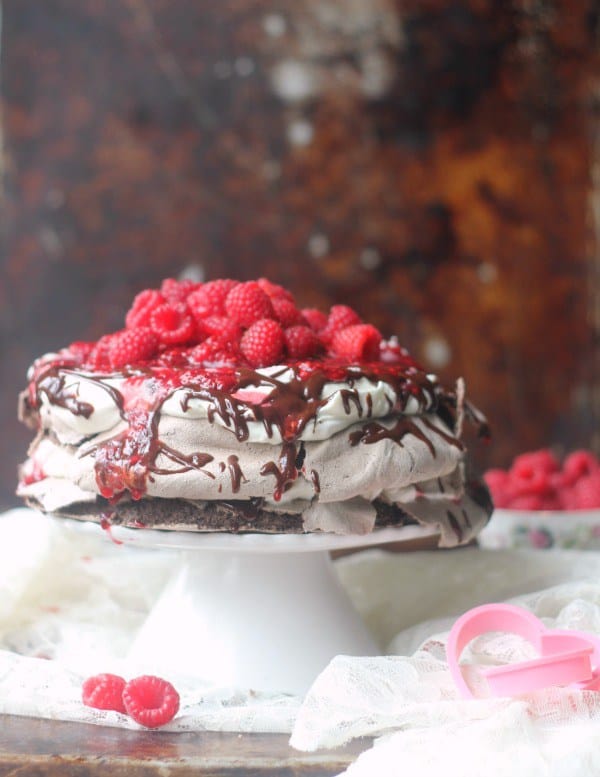 This article was originally written and published by me in the February 2015 Issue of VRAI Magazine. 
---
My husband and I became friends a few months before we ever started dating. He was easy to be around and easy to talk to. We clicked almost immediately. Not necessarily in a way that made me know we were going to be together. But we very easily became good friends. When we first started thinking of each other on a more romantic level, our relationship developed quickly. It made sense. It was easy to be together and I very quickly knew he was the man I would spend my life with.
I have a vivid memory of being out with him and a group of co-workers in a loud and crowded bar. He and I were talking for quite a long time and, as cheesy as it sounds, it was if nobody else was in the room. But then there was this point when I suddenly became aware of two of our friends staring at us. One of them stated, "You two are so in love!" I thought they were teasing. The way you would immaturely tease a friend about their new crush. But I know now that they were right. We were in love, or at least falling in love. And I had never truly done that before. I didn't recognize it at the time because I thought love had to be messy and difficult. I thought that you had to really fight for love and force it to work. That is what all "love" had been like for me before. But this was different. It was incredibly easy and natural to be together. We respected each other and truly listened to each other. We didn't fight with each other and we didn't have to fight for each other. I am thankful for him every single day.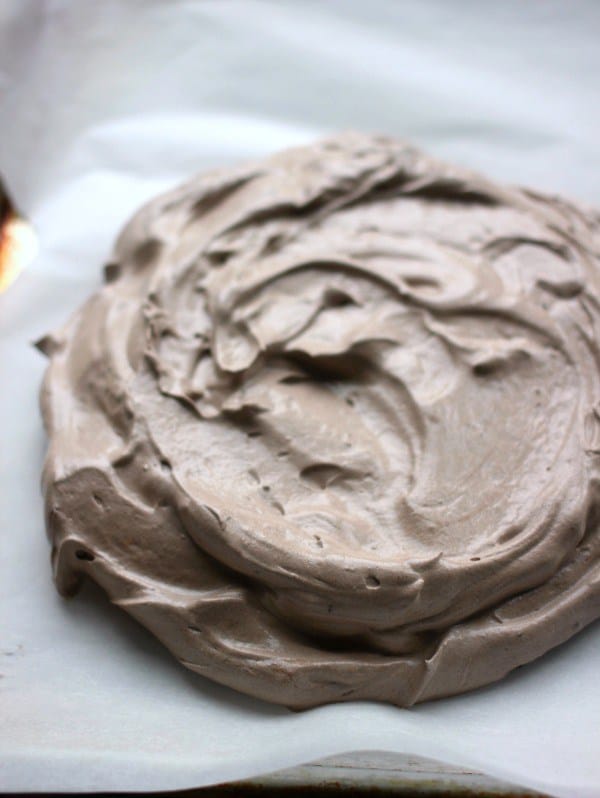 I've been really inspired to create desserts with meringue lately. It is so versatile and I have been using it to make all kinds of thingsover on my blog. For our February issue where we are celebrating our "special someones", whoever that may be, I wanted to make a pavlova! I think pavlovas are so beautiful and impressive looking yet they are so easy to create. I flavored this pavlova with cocoa powder and a hint of balsamic vinegar.
The vinegar helps to stabilize the meringue but also adds a bit of tanginess. I also piled on barely sweet whipped cream, rich chocolate ganache, raspberry syrup, and fresh raspberries. The outside is crispy but the inside stays so moist and chewy. It is definitely a dessert meant for pampering a special someone!
Baking is my natural go to for spoiling someone, or spoiling myself, and chocolate is an obvious choice. Whoever your special someone is, I encourage you to take some time to really show them how much they mean to you. A crisp yet chewy pavlova piled high with whipped cream, ganache, and raspberries says "I love you" loud and clear!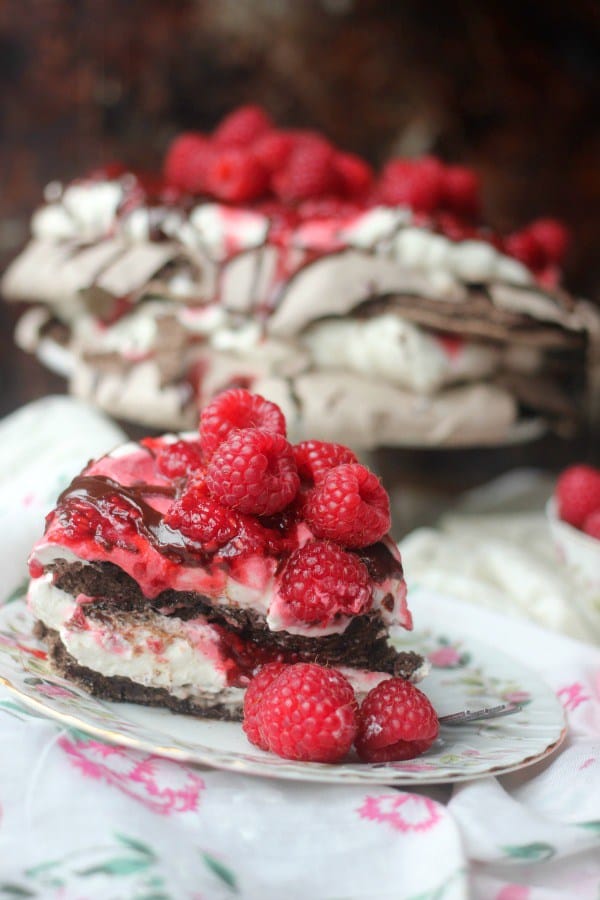 Baker Bettie
Yields 8-10
Chocolate Raspberry Pavlova
20 minPrep Time
3 hrCook Time
3 hr, 20 Total Time
Ingredients
For the Pavlova
6 egg whites
1/2 tsp cream of tartar
pinch of salt
11/2 cups sugar
1 tsp vanilla extract
2 tsp balsamic vinegar
11/2 tsp cornstarch
1/4 cup cocoa powder
ganache (for topping)
raspberry sauce (for topping)
fresh raspberries (for topping)
For the Raspberry Sauce
1 pint raspberries
1/4 cup sugar
For the Ganache
4 oz semi sweet or bittersweet chocolate chips
1/2 cup heavy cream
Instructions
Preheat oven to 250F. Line a baking sheet with parchment paper and set aside.
Place the sugar in your food processor and process until very fine, about 2 minutes. Alternatively, you can purchase superfine sugar.
In the bowl of a stand mixer fit with the whisk attachment, beat the egg whites and cream of tartar on medium speed until you have soft peaks.
Increase the speed to medium-high and begin adding the sugar 1 TBSP at a time until the meringue is shiny and holds stiff peaks. The meringue should feel smooth between your fingers and not gritty. [img src="http://bakerbettie.com/wp-content/uploads/2016/02/meringue-1.jpg" width="600" height="425" class="aligncenter size-full" title="meringue (1)"]
Add the vanilla extract and vinegar and beat until combined. Lightly spoon the cocoa powder and cornstarch over the top of the meringue and fold it in with a rubber spatula. [img src="http://bakerbettie.com/wp-content/uploads/2016/02/pavlova-2.jpg" width="600" height="400" class="aligncenter size-full" title="pavlova-2"]
Gently pile the meringue onto the parchment paper either in one large circle or in two smaller circles. Use an offset spatula to smooth out the meringue. It does not need to be perfect, some swirling looks quite nice. [img src="http://bakerbettie.com/wp-content/uploads/2016/02/pavlova-3.jpg" width="600" height="400" class="aligncenter size-full" title="pavlova-3"]
Bake for about 60 minutes if you divided the meringue in two or 75 minutes if you kept it as one. The outside should feel dry and firm but the inside will be soft and moist. Turn the oven off, leave the door slightly ajar, and let the meringue cool completely in the oven for about two hours.
Just before serving gently place the meringue on your serving plate. Top with whip cream, ganache, raspberry sauce, and fresh raspberries.

For the Raspberry Sauce

Add the raspberries and sugar to a sauce pan and bring to a simmer. Smash some of the raspberries with a spoon and cook until the mixture begins to thicken and is syrupy. Cool before using.

For the ganache

Heat the cream in a small saucepan over medium-low heat until simmering and almost boiling. Meanwhile, put the chocolate chips in a mixing bowl.
Pour the cream over the chocolate chips and let it sit for about 2 minutes.
Put your whisk into the center of the bowl and begin whisking from the center working your way out until the ganache becomes smooth.
7.6.4
177
http://bakerbettie.com/chocolate-raspberry-pavlova/
Tools I used and recommend for this recipe:
[AMAZONPRODUCTS asin="B000P9CWNY,B00004OCNM,B00004OCNS"]
Disclaimer: this post contains affiliate links.