Authentic New York Cheesecake is a tall, dense, and incredibly creamy style of cheesecake made with sour cream. The technique for mixing and baking this cheesecake makes it truly the best!
Jump to the Recipe »  |  Pin it for Later »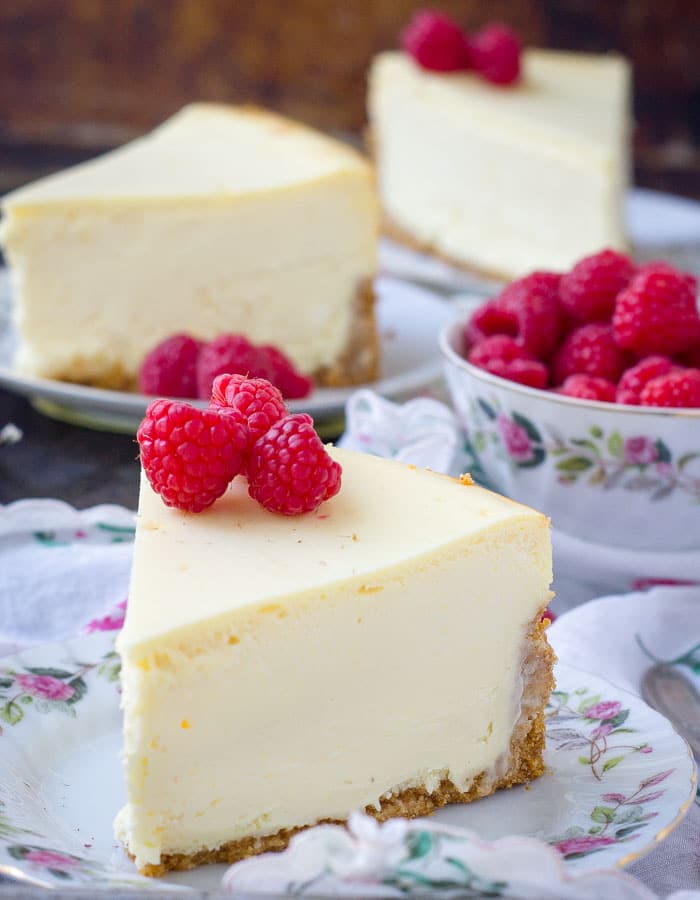 New York Style Cheesecake Overview
Difficulty: Intermediate 
New York Cheesecake is an incredibly creamy and dense style of cheesecake that is somewhat different than other cheesecakes due to the way it is baked and because the recipe includes sour cream in the mixture.
New York Cheesecake is not baked in a water bath like many other cheesecakes, rather it is started in a very hot oven for a short period of time and then baked at a low temperature for the remaining time. This method forms a skin on the top of the cheesecake, setting the top in place which keeps the filling dense and prevents cracking on top.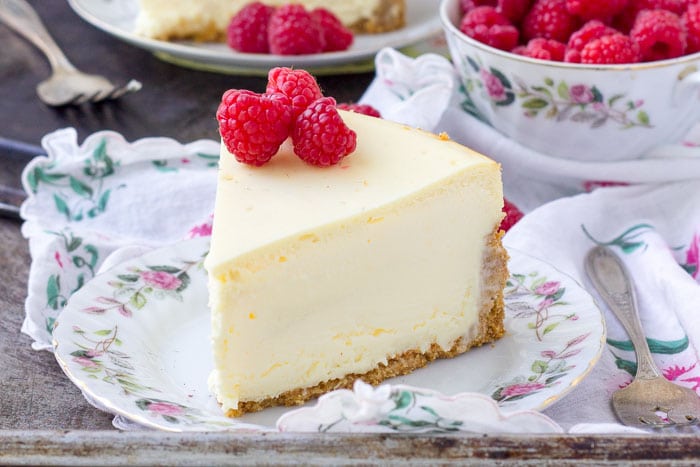 Tips, Tricks, and Techniques
It is especially important that your ingredients be at room temperature before making the filling for this cheesecake. This will ensure that the filling is extremely creamy, making the best cheesecake.
Be sure to use the paddle attachment, not the whisk attachment, when mixing the cheesecake filling. Cream cheese can start to separate if it is not beaten properly.
This filling will fill up a 9″ (23 cm) spring form pan right up to the top, making a very tall and rich cheesecake. The process of starting it in a hot oven will ensure it will not overflow.
Cheesecake is best made the day before serving due to the long baking and chilling time. Allow it to chill in the refrigerator for 4 hours at the very least before slicing so the filling will be truly set.
This classic plain cheesecake with a simple graham cracker crust is truly amazing eaten on its own, or use it as a canvas for fresh berries or top with a chocolate sauce or caramel sauce!
If you prefer a sturdier crust, you can use the shortbread crust recipe in place of the graham cracker crust.
Ingredient Functions
Cream Cheese is the key ingredient in the filling and is also the main structure and flavor of the cheesecake. Full fat cream cheese is the best option for the creamiest cheesecake with the best flavor.
Sugar sweetens the cheesecake filling.
Flour is used in a small quantity to help stabilize the filling and keep it dense.
Eggs are the binding ingredient and help create a silky smooth texture.
Sour Cream adds a slightly tangy flavor and contributes to the creaminess of the filling.
Vanilla and Lemon Zest only serve to flavor the cheesecake. These two ingredients create the iconic classic cheesecake flavor.
New York Cheesecake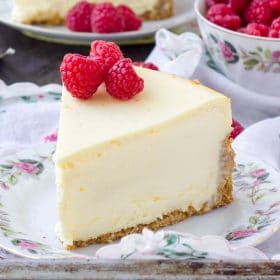 Ingredients:
Directions:
The links above are affiliate links, which pay me a small commission for my referral at no extra cost to you! Thank you for supporting Baker Bettie!