Classic Carrot Cake with Cream Cheese Frosting
This is a simple recipe for classic carrot cake with cream cheese frosting. The recipe uses tons of carrots and makes a classic version of carrot cake without pineapple, coconut, or raisins. The cake can be made a sheet cake or as a round layered cake.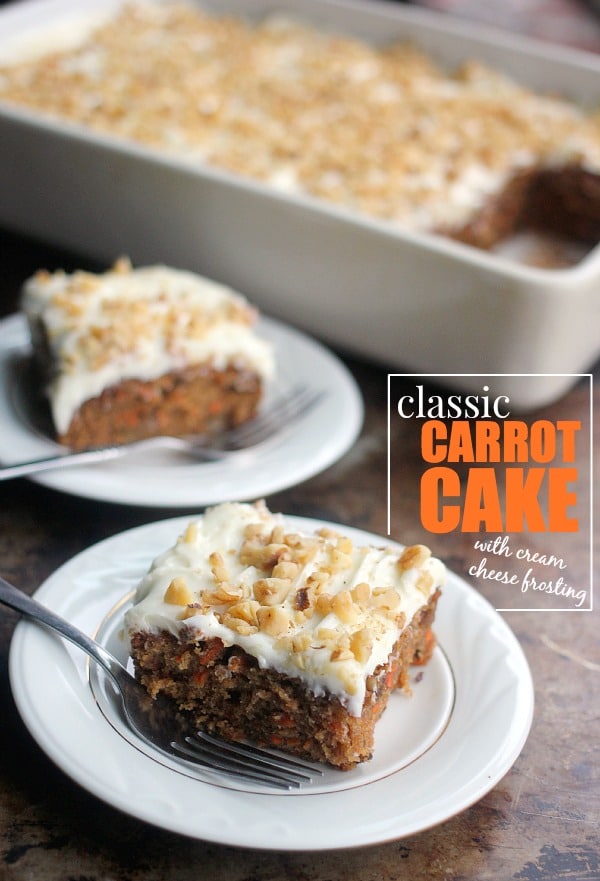 I feel like Mr. BB and I have officially become "city people." A few months ago he took a new job in the city instead of commuting to the burbs every day. This means we both walk to and from work every day, almost 3 miles each way. I know. These Kansas kids that drove less than a mile to work everyday just over a year ago are now walking almost 6 miles a day in the city!
To be honest with you, I absolutely love it. But this new development means that we didn't need a car anymore. So we sold it. We are carless. What?! I've had my own car since I was 14 and now we don't have one. It's weird and awesome at the same time.
And being carless has also brought us into a whole new "city folk" lifestyle change: ordering our groceries and having them delivered. I always thought that was a rich person thing to do. Nope. It can also be a living in the city without a car thing to do.
I have to admit, I miss grocery shopping in the store. But I miss the kind of grocery shopping I could do in Kansas where I could stroll and peruse the aisles leisurely. I DO NOT miss the frantic mess of grocery shopping in the city where all you want to do is push everyone down and get out of there as quickly as possible.
Last week I ordered a pound of carrots and they ended up delivery 3 pounds. So I've been using carrots in basically everything I could think of.
Naturally, carrot cake came to mind. It's one of my favorites but I never really think of making it. 2 pounds of extra carrots is definitely an excuse for carrot cake!
A lot of carrot cakes call for pineapple, coconut, raisins, and walnuts. For me, that is a bit of overkill. I mean, I'm not going to turn down a piece. But I like a simpler, more classic version. Tons of carrots, some warming spices, and walnuts for texture contrast.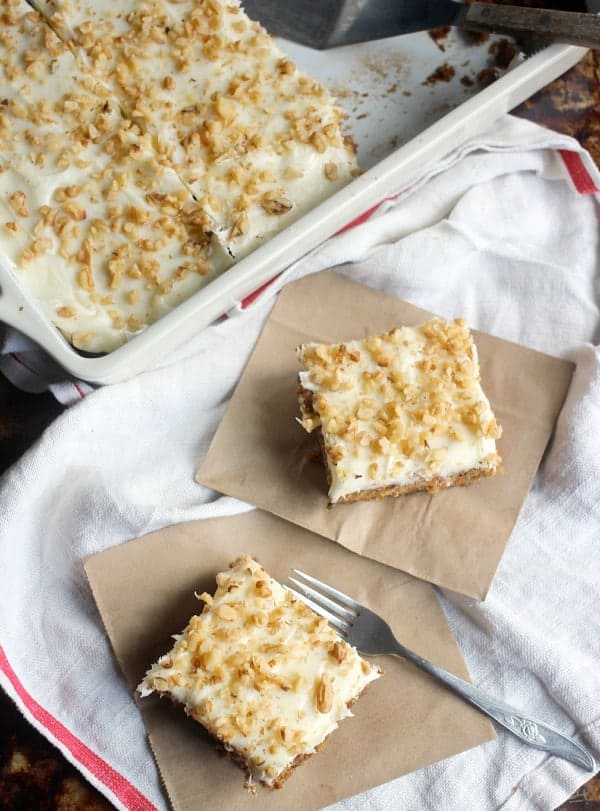 To make the carrot cake… 
STEP 1: PREP YOUR CARROTS AND WALNUTS
Peel your carrots and shred them on a box grater or in the shredder on your food processor. You need 2 1/2 cups and this took about 4 medium sized carrots.
I always like to toast my nuts for recipes. It brings out their flavors so much more. I used to think that nuts ruined baked goods until I tried them toasted. It really makes all the difference.
Just place the walnuts in a dry pan over low heat and stir occasionally. Keep a close eye on them. When they become really fragrant remove the walnuts from the heat and set aside to cool.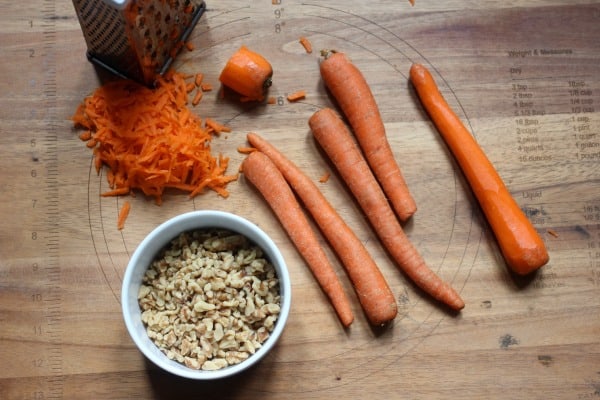 STEP 2: MIX TOGETHER YOUR DRY INGREDIENTS
Whisk together all of your dry ingredients in a mixing bowl. The lineup here is all purpose flour, baking soda, salt, cinnamon, ground ginger, and ground nutmeg.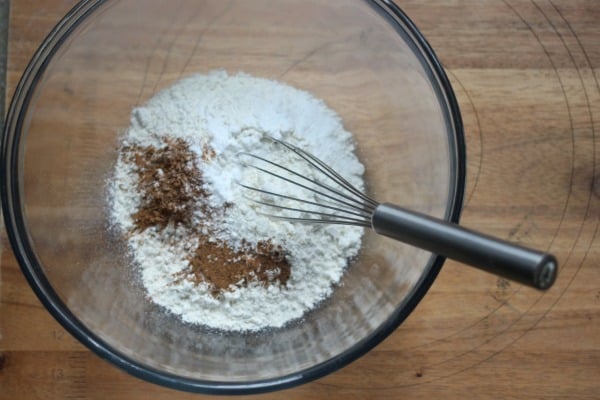 STEP 3: MIX TOGETHER YOUR WET INGREDIENTS
In the bowl of a stand mixer (or a large bowl with a hand mixer) mix together your wet ingredients on low speed until incorporated.
Remember from my zucchini bread tutorial video that sugar is often mixed in with the wet ingredients.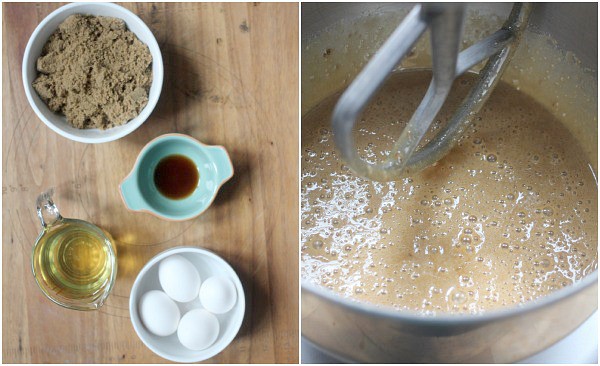 STEP 4: ADD THE DRY INGREDIENTS TO THE WET
Turn the mixer off and add all of the dry ingredients into the mixing bowl. On low speed, mix for about 15 seconds. Turn the mixer off again and scrape down the sides and the bottom of the bowl. Mix again for about 15 more seconds. Turn the mixer off.
As always, with cakes and quick breads and delicate baked goods you want to mix as little as possible. Over-mixing creates tough and dry baked goods. 
STEP 5: ADD YOUR MIXINS
Add the carrots and walnuts to the mixer and mix for a few seconds. Stop. Scrape down the bowl. Then mix for a few more seconds.
If you wanted to add in raisins or coconut or other things that make you happy (like chocolate chips!) go ahead and do that! I'm keeping this one simple and classic.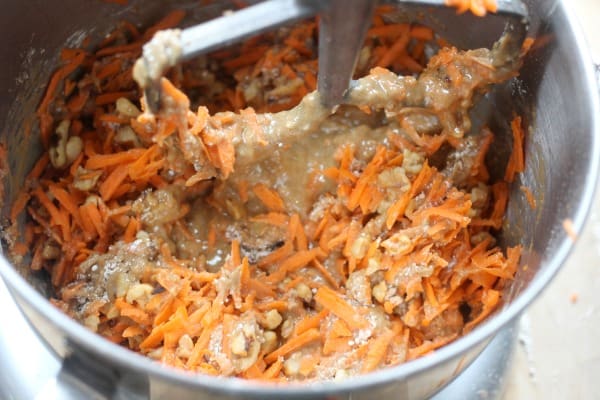 STEP 6: PAN AND BAKE
This batter can be baked in 2- 9″ round cake pans to make a layer cake, or in a 9X13 baking dish like I made here. Grease the baking dish(es) and pour in the batter. Bake at 350ºF for about 25-30 minutes or until a toothpick comes out with a moist crumb.
Allow to cool completely before frosting with cream cheese frosting.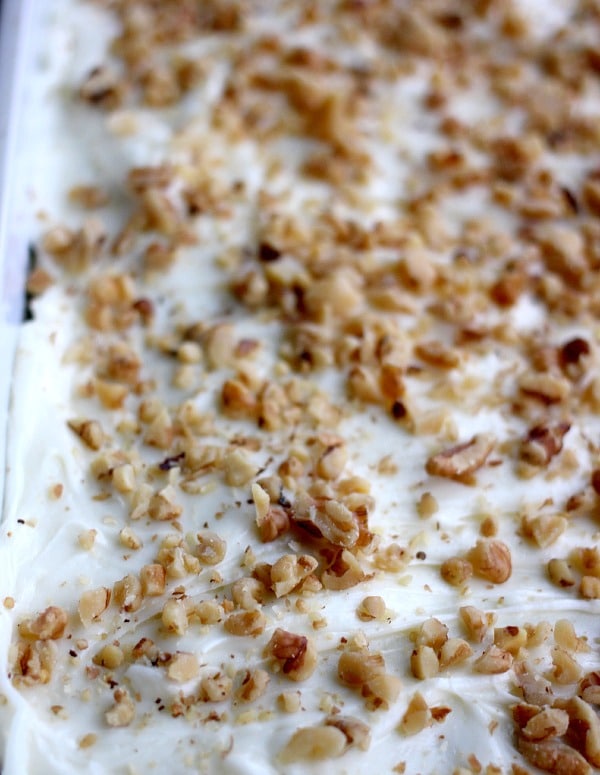 Baker Bettie
Yields 1-9
Classic Carrot Cake with Cream Cheese Frosting
15 minPrep Time
30 minCook Time
45 minTotal Time
Ingredients
FOR THE CAKE
2-1/2 cups lightly packed, grated carrots
3/4 cup chopped walnuts, toasted (more for topping the cake if desired)
2 cups all-purpose flour
1-3/4 tsp. baking soda
3/4 tsp kosher salt
2 tsp. ground cinnamon
3/4 tsp. ground nutmeg
3/4 tsp. ground ginger
1 cup canola or vegetable oil
4 large eggs, room temperature
2 cups packed light brown sugar
1-1/2 tsp pure vanilla extract
FOR THE FROSTING
1 lb. cream cheese, softened
1/4 cup unsalted butter (1/2 stick), softened
3 cups confectioners' sugar
1 TBSP pure vanilla extract
1/2 tsp kosher salt
Instructions
FOR THE CAKE

Preheat the oven to 350ºF. Peel and shred the carrots either on a box grater or with a food processor. Toast the walnuts over low heat in a dry pan until fragrant. Set aside to cool.
In a medium bowl, whisk the flour, baking soda, salt, cinnamon, nutmeg, and ginger together.
In a large bowl with a hand mixer or in a stand mixer fitted with the paddle attachment, mix the oil, eggs, brown sugar, and vanilla on medium speed until well combined, about 1 minute.
Add the dry ingredients and mix on low speed until just blended, about 30 seconds. Scraping down the bowl as needed.
Add the carrots and the walnuts into the bowl and mix just until incorporated, scraping down the bowl as needed.
Spray either a 9X13" baking pan or two 9" round pans with pan spray. Pour the batter into the pan. Bake at 350ºF for 25-30 minutes, until a toothpick comes out of the center with a moist crumb.
Let the cake(s) cool completely before frosting.

FOR THE FROSTING

In the bowl of a stand mixer with the paddle attachment or a large bowl with a hand mixer, beat the cream cheese and butter with the mixer on medium speed until very smooth and creamy, about 1 minute.
Add the powdered sugar, vanilla, and salt and beat on medium high until blended and fluffy, about 2 minutes. Cover the frosting and set aside at room temperature until ready to frost the cake.
7.6.4
125
http://bakerbettie.com/classic-carrot-cake-cream-cheese-frosting/
Products I used for this recipe…
Disclaimer: Please note that the links below are affiliate links and I will earn a commission if you purchase through those links.
[AMAZONPRODUCTS asin="B0006SGQFY"][AMAZONPRODUCTS asin="B009VUHLHA"][AMAZONPRODUCTS asin="B00TBPDCCI"]