How to Make Homemade Eggnog
Eggnog is a must have at any holiday party and a homemade version is incredibly easy to make and so much tastier than any store bought variety. You can spike it with your booze of choice! I choose bourbon!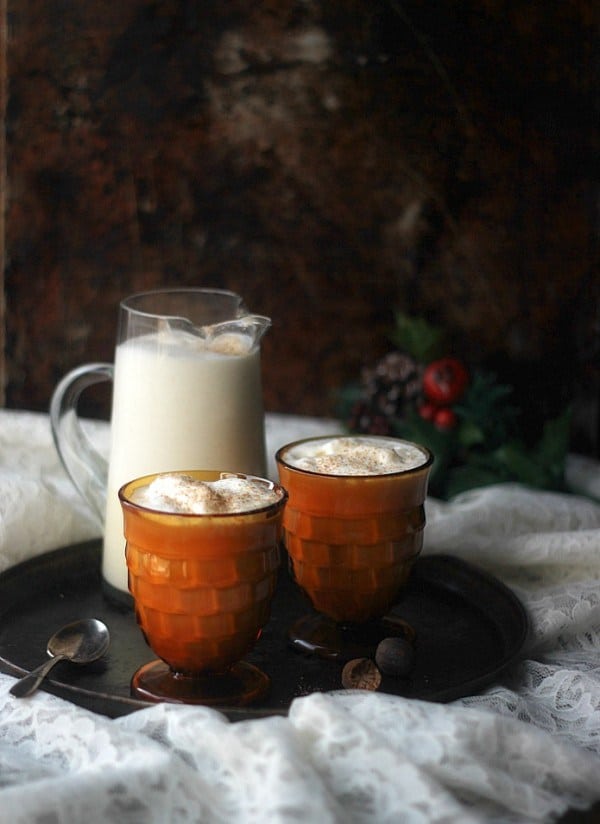 I originally wrote this article and recipe for the December 2014 edition of VRAI Magazine. The article references me living in Philadelphia because I was at the time of original publishing, however I now live in Chicago. 
I grew up in a fairly small town in Kansas. A town called Hutchinson that is literally also known asSmallville. It is a special place, though I'm sure a lot of people have this biased affection toward the place where they were raised. But Hutchinson would become an even more special place to me during the holidays. The whole town would light up with almost every house putting up elaborate lights. I remember it feeling larger than life. Like living in a movie where most of your neighbors are the Grizwolds.
We lived in a particularly special neighborhood during the holidays. Every year our neighborhood would host a luminary night where every house would line their sidewalks and driveways with paper luminaries. The sight of all the candles flickering in the paper bags for blocks and blocks is absolutely enchanting. The neighborhood is alive with love and celebration. Everyone opens their houses up for holiday parties and the whole town flocks to the neighborhood to see the luminaries, hear carolers, and spend some quality time with those they love. It is just one of those special memories that can't be recreated through words. You have to experience it to truly know its charm.
I live in Philadelphia now and a big city brings it's own charms during the holidays. There is an energy that is difficult to quantify. I love that my mode of transportation is on foot and I get to travel through the heart of the city experiencing the holiday buzz every single day. It is energizing. Someday I will look back on this time, our first few years of marriage while living in Philadelphia, and I will have fond memories of what we did during the holidays. I will remember our drafty loft apartment and our long walks to work everyday through the lit up city. I will remember the energy of the city and how magical it feels. I will always miss and have such fond memories of the holidays in Kansas. The smell of my mother's famous Wassail brewing on the stove while our Kenny Rogers and Dolly Parton Christmas CD blasts all day long as we prepare to open our house up to family and friends for the luminaries. That is the definition of my childhood holiday memories. But while I will always reminisce about my past holiday memories, I try to also stay present in the now because these are the future memories in the making.
Wishing you and your family a very happy holidays!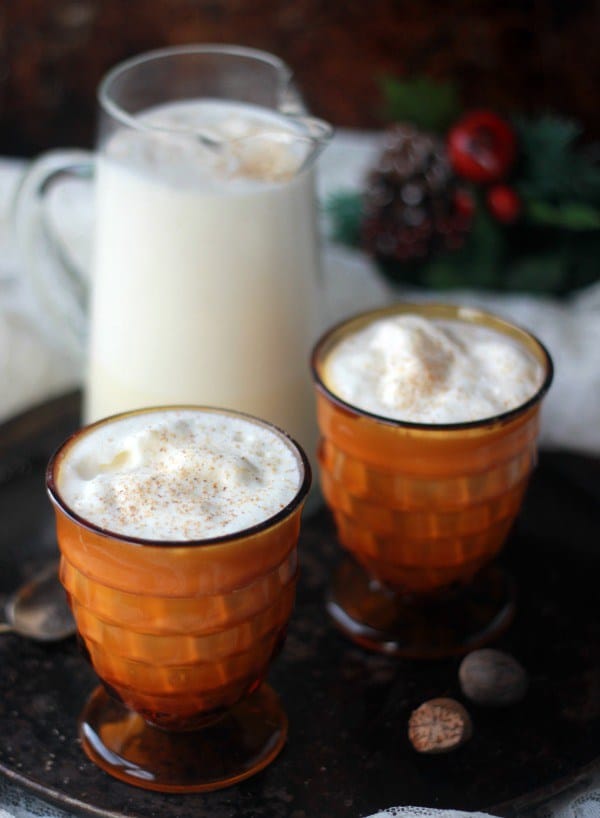 ---
Eggnog is a must have at any holiday party and a homemade version is incredibly easy to make and so much tastier than any store bought variety. Eggnog, by definition, uses whipped raw eggs to thicken and flavor it. Make sure to use Grade AA eggs or pasteurized shell eggs to eliminate any small risk of foodborne illness.
The process of making eggnog is a simple process of whipping the egg yolks and the egg whites separately and then mixing them together with the other ingredients. Fresh nutmeg is the iconic flavoring of eggnog and should not be skipped. I love bourbon for my eggnog, but spiced rum or brandy could be used.  

Ingredients
4 large eggs*, separated (use the freshest eggs or pasteurized shell eggs)
1/3 cup sugar + 1 tablespoon, divided
2 cups whole milk
1 cup heavy cream
2/3 cup bourbon (can be omitted, or 1/3 cup or 1/2 cup can be used for a less boozy nog, but 2/3 cup is not overly boozy)
11/2 teaspoon freshly grated nutmeg, plus more for serving
Instructions
Gather a large mixing bowl and a medium sized mixing bowl. Separate your egg yolks from the whites, placing the yolks in the large bowl and the egg whites in the medium sized bowl.
With a hand mixer (or a whisk if you do not have a mixer, but this will take much longer) beat the egg yolks until they lighten in color. Gradually add the 1/3 cup sugar while continue to beat until it is completely dissolved.
Add the milk, cream, bourbon and nutmeg and stir to combine.
Clean the beaters for your hand mixer and then beat the egg whites to soft peaks. With the mixer still running gradually add the 1 tablespoon of sugar and beat until stiff peaks form.
Whisk the egg whites into the mixture and then chill.
Serve with more freshly grated nutmeg.
Notes
*THIS RECIPE CONTAINS RAW EGGS: Consuming raw egg can increase the slight risk of salmonella or other food-borne illness. Please use caution. To reduce this risk, use very fresh eggs that have been stored properly under refrigeration. Grade AA is the best and freshest eggs to use for recipes calling for raw egg. Pasteurized shell eggs can also be used here, which have been treated to destroy salmonella. br]
Recipe adapted from Alton Brown's [Eggnog Recipe
7.6.4
172
http://bakerbettie.com/how-to-make-homemade-eggnog/
Tools I used and recommend for this recipe:
[AMAZONPRODUCTS asin="B009VUHLHA,B00004S7V8″]
Disclaimer: this post contains affiliate links.