Cinnamon Salted Caramel Brownies (gluten free, vegan)
Vegan salted caramel brownies are so simple to make. Blend together all of the ingredients for the salted caramel then mix with almond flour and bake! Top with more salted caramel and these are incredibly decadent.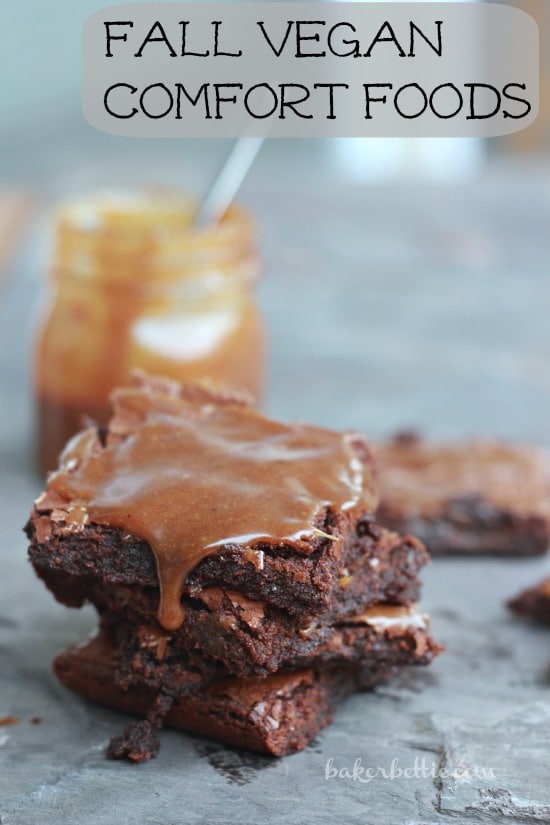 Ok Vegan MoFo'ers I'm back! I totally intended to do today's post and tomorrow's post during the week but things got a little too hectic around here and it just didn't happen. I will do better next week!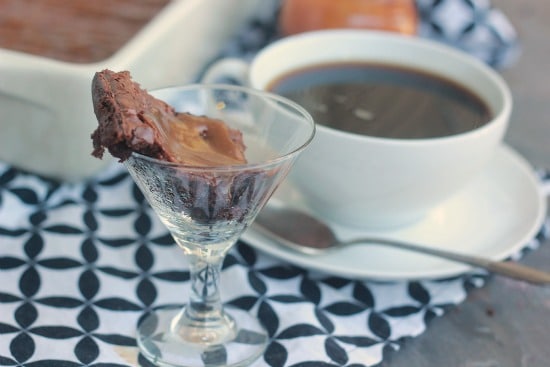 On Wednesday I promised you these Cinnamon Salted Caramel Brownies after I posted my Cinnamon Salted Caramel Sauce recipe. I have to admit I got the idea for this concept some time ago when Cara from Fork and Beans asked me to do a guest post on her amazing blog.
That girl is so freaking talented and creative that I knew what I came up with needed to live up to her awesomeness  After A LOT of brainstorming I came up with a Salted Caramel Skillet Cookie made from  a Raw Salted Caramel I had made before.
Today's recipe is really just a variation on a theme. The concept is the same. Just a few different ingredients for a totally new flavor!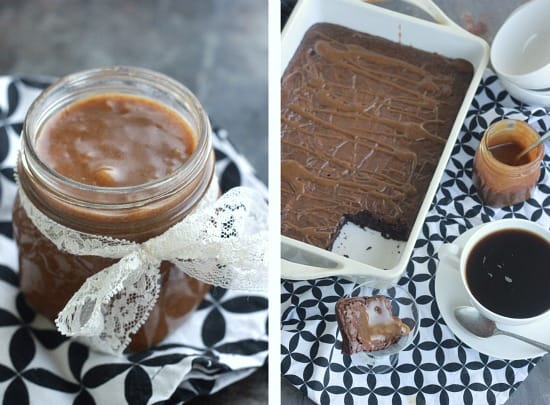 This recipe is a synch to throw together. Just prepare the Salted Caramel Sauce in your blender then mix it with a few dry ingredients and in 20 minutes, viola! Warm, gooey, Cinnamon Salted Caramel Brownies.
You will even have lots of left over sauce to drizzle over top and save for ice cream. Speaking of ice cream, stay tuned for tomorrow's Fall ice cream recipe!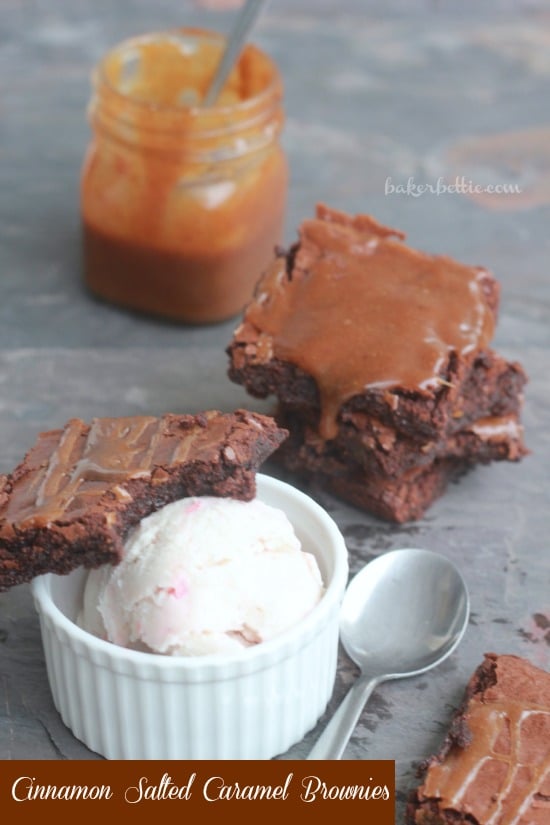 ---
Tools I used for this recipe…
[AMAZONPRODUCTS asin="B006E5A5VO,B001K21XJE"]
---
Two years later: Cheesecake Cookie Dough Bars
One year later: The Muffin Mixing Method and Basic Muffin Recipe
Baker Bettie
Yields 9
Cinnamon Salted Caramel Brownies (gluten free, vegan)
10 minPrep Time
15 minCook Time
25 minTotal Time
Ingredients
for the salted caramel
1 cup almond butter
11/4 cup pure maple syrup
3/4 cup solid coconut oil (use non-virgin if you do not want the taste of coconut)
2 TBSP vanilla extract
2 tsp cinnamon
3/4 tsp kosher salt
for the brownies
1/2 cup cocoa powder (unsweetened)
2 cups sifted almond flour
1 1/2 cups salted caramel sauce
Instructions
Put all ingredients for the salted caramel into a food processor or a high speed blender.
Blend on high for approximately 2 minutes, scraping the sides down periodically. (blending this long will create a very sticky caramel like sauce) THIS STEP IS IMPORTANT! DON't SKIP DOING IT FOR THIS LONG!
In a large bowl, combine cocoa powder, almond flour.
Pour 1 1/2 cups of the salted caramel sauce into the mixture and stir until well combined.
Spread the mixture evenly into a lightly oiled 8x8 pan.
Bake at 350 for 12-15 minutes, until a toothpick inserted in the middle comes out clean.
Drizzle warm salted caramel over the top.
Allow to cool in the pan before slicing.
7.6.7
25
https://bakerbettie.com/cinnamon-salted-caramel-brownies-gluten-free-vegan/