Quick Puff Pastry | The Step-by-Step Process
Quick puff pastry bakes up with all of the buttery flakiness of traditional puff pastry, but is ready to use in in under an hour! If you've ever wanted to get your feet wet with making a laminated dough, quick puff pastry is the perfect one to try first! Use this quick puff pastry dough to make a wide variety of sweet and savory creations!
Have you ever thought to yourself: "I'm going to try my hand at making homemade puff pastry!" And then you read a recipe for it and immediately decided that making puff pastry from scratch requires too much of a time commitment? (Raises hand) Been there, done that! Let's be honest, if you've ever made traditional puff pastry from scratch then you know it is a pain in the ass! Let's call it what it is. No sugar-coating here.
Sure, if you have all day long to go back and forth and tend to it over and over again, it totally pays off. The process of making puff pastry can actually be quite cathartic – spending so much time and energy on one pastry dough and seeing such glorious results. I get it. But what if I told you that you could easily make a quick pastry dough that is very similar to traditional puff pastry and it would be ready for you to use in about an hour?! Would you be more into it then? I know I am!
I think for a long time I sort of thought of quick puff pastry as the lazy way out. But I finally gave in and made it recently and real talk, this pastry is straight up GOOD. There is no shame in this game. Quick puff pastry results in some pretty amazing treats and you can pat yourself on the back for making it from scratch!
Quick puff pastry, like traditional puff pastry, is what we call in the baking world a Laminated Dough. If you didn't happen to catch my last post, Laminated Dough 101, you should definitely head over and check that out first. Especially if laminated dough feels intimidating for you. I promise it will give you confidence!
Process of Making Quick Puff Pastry
I think quick puff pastry, also referred to as Blitz Puff Pastry or Rough Puff Pastry, is the perfect dough to get your feet wet with making laminated doughs! If you find them intimidating, this dough will break you in and give you assurance that you can do this! Just you wait!
If you've never made quick puff pastry, the idea is the same as traditional puff pastry. A ridiculous amount of butter is worked into the dough by completing a series of folds so that the butter is layered throughout, creating that rich flakiness that we all love in puff pastry.
Step 1: Mise En Place (Setting Up Your Ingredients)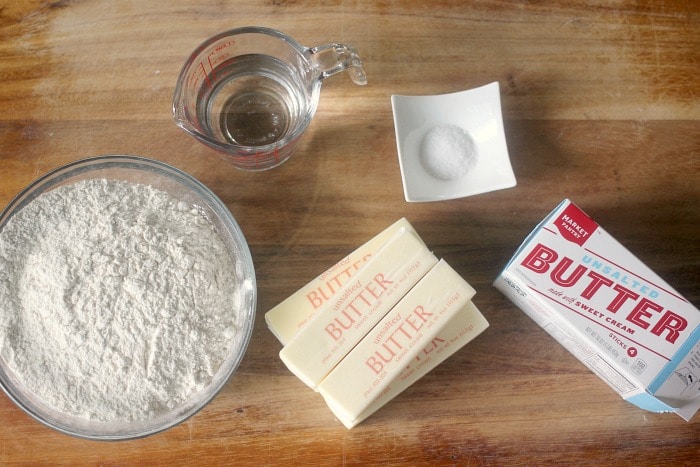 The ingredients required for quick puff pastry are few! Flour, Butter, Salt, & Water!
Step 2: Working the Fat into the Dough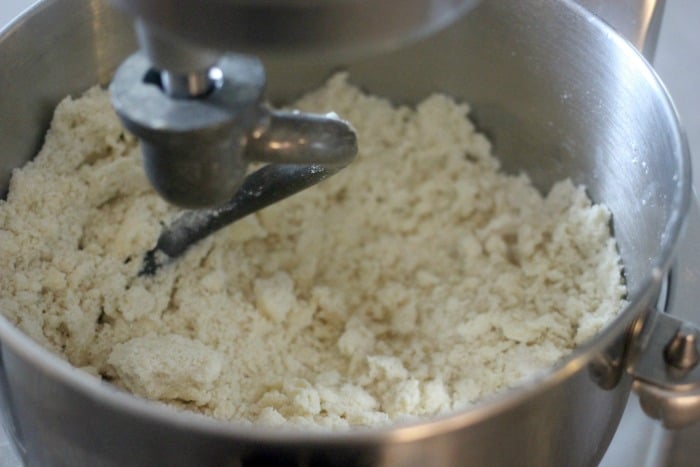 If you've ever made pie dough this step is very similar. The cold pieces of fat are "cut" into the flour, distributing pieces of fat throughout the dough. This step is much simpler and quicker than a traditional puff pastry. The major difference in this dough compared to pie dough is the amount of butter used.
Step 3: Mixing in the Liquid
The water and salt is then added to the flour/butter mixture and mixed just until the dough comes together enough to handle.
Step 4: Creating the "Folds" (aka Layers) in the Dough
The dough is then rolled out and folded over itself several times to create layers throughout the dough. In traditional puff pastry, a resting time is necessary between each fold. The best part about quick puff pastry is that a resting time is not necessary between each folding session, allowing for the dough to come together much quicker!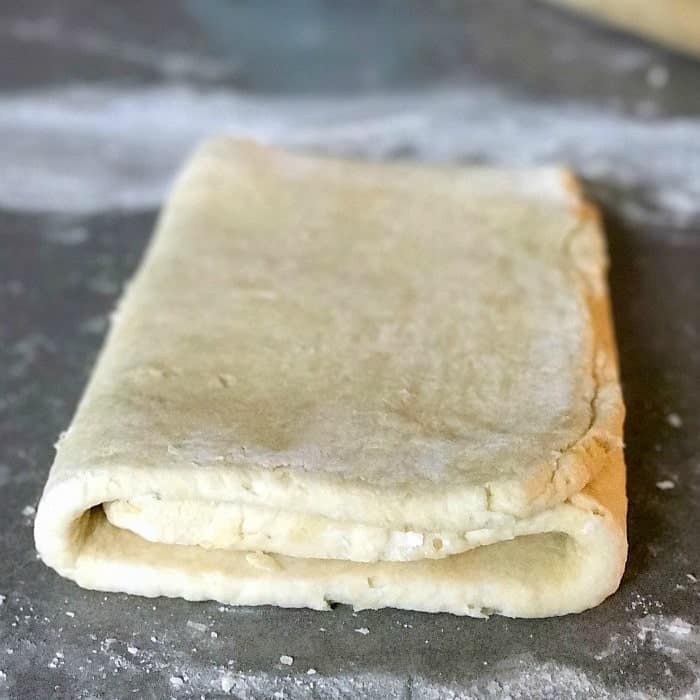 Quick puff pastry can be used in a wide variety of recipes! It can be used as the crust for hand pies or other fruit filled pastries. You could also use it for savory breakfast puff pastry squares or as a decadent appetizer with cheese and bacon. The possibilities are endless!
Yield: About 2 1/2 lbs of dough
Quick Puff Pastry
Prep Time 1 hour
Total Time 1 hour
This is a base recipe for quick puff pastry. Unlike traditional puff pastry, this dough can be made within one hour and used almost immediately. The dough resembles traditional puff pastry in its flakiness and layers once baked, however it does not puff quite as high as traditional puff pastry. This dough works very well for shaped pastries such as pinwheels and hand pies, pastries such as napoleons, as well as a pie crust or galette crust.
Ingredients
1 lb 4 oz (570 gr, 4 1/2 cups + 2 1/2 TBSP) all-purpose flour
1 lb 4 oz (570 gr, 2 1/4 cups, 5 sticks) cold unsalted butter, cut into about 1 inch pieces.
1 1/2 tsp (7.5 gr, 0.3 oz) Morton kosher salt
6 fl oz (180 ml, 3/4 cup) very cold water
Instructions
Put the flour in the bowl of a stand mixer fitted with a dough hook.
With the mixer running on low speed, add the cold 1-inch pieces of butter a few pieces at a time. The dough hook will "cut" the butter into the flour. Once the butter is cut throughout the flour (it will look like very coarse meal), stop the mixer. You do not want to knead the dough.
Combine the salt and the water together. Turn the mixer back on low speed and add the water/salt mixture to the mixing bowl. Mix only until the dough comes together enough to handle. You should still see lumps of butter and the dough will look like a pie dough.
Form the dough into a square and let it rest in the refrigerator for 10 minutes. You can place it on a sheet pan or wrap in a piece of plastic wrap while it rests.
Roll the dough out in the shape of a rectangle to about 1/2" thick. Starting on the short end of the dough, fold 1/3 of the dough toward the center. Take the other 1/3 of the dough and fold it over the center, overlapping the already folded dough. This is called a "single turn".
Repeat step 5 two more times.
Roll the dough out in the shape of a rectangle to about 1/2" thick. Starting on the short end of the dough, fold 1/4 of the dough toward the center. Take the other 1/4 of the dough and fold it toward the center so that the two ends are meeting in the middle. Fold the dough in half as if you are closing a book. This is called a "double turn".
Your dough is now ready to be shaped. After it is shaped, allow it to rest in the refrigerator for at least 30 minutes before baking to prevent shrinkage. Unused dough can be wrapped and stored in the refrigerator for up to 72 hours, or in the freezer for up to 6 months.
Notes
Note: If the dough feels too warm, feels rubbery, or is shrinking back a lot while rolling out to do your folds, let it rest in the fridge for 10 minutes to relax the gluten and to let the fat firm up.