Soft sour cream sugar cookies are a holiday must have with our family! This sugar cookie Christmas tree is made with these cookies because they hold their shape well and do not spread during cooking. The cookies stay pale in color after baking and are very soft and tender. A royal icing looks lovely and does not stick so the layers can be easily removed.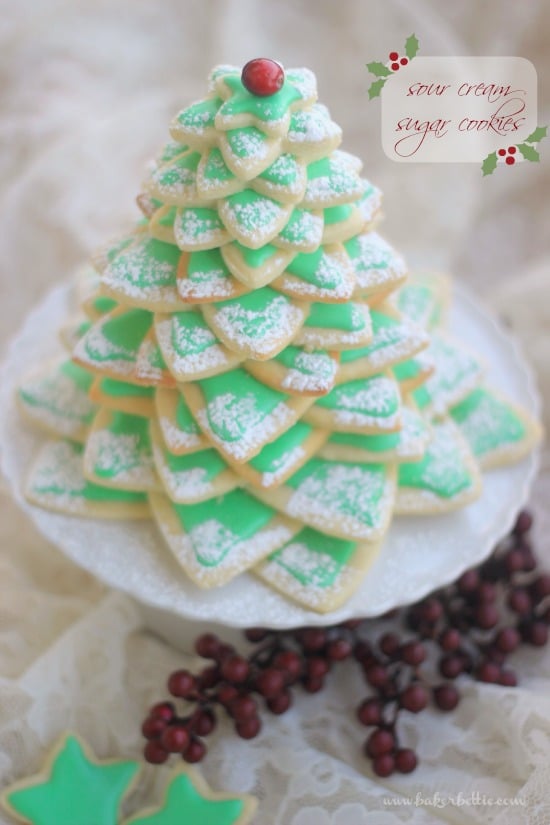 I did something for the first time last weekend. I made decorated cut-out sugar cookies. To most, this may not seem like that big of a deal. But for me, it was huge. For several reasons.
If you have followed my blog a while now, it is no secret that I have a thing for cookies. Possibly an obsession. I have 25 cookie recipes on this blog. Twenty-Five!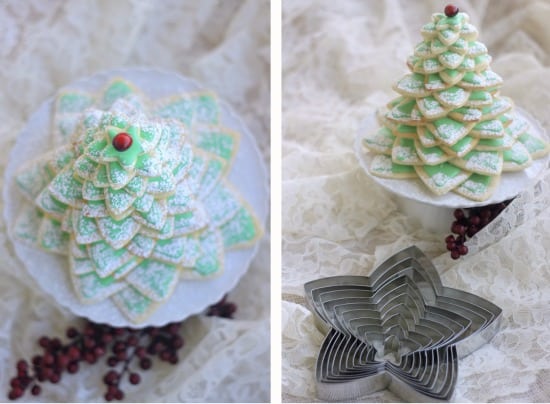 But for some reason I have always stayed away from decorated cut-out cookies. I usually say that it's because I don't like frosting, and that really is true. I much prefer things without frosting. But the truth of the matter is that I am intimidated by them.
While I may be confident in my creativity at creating recipes and and flavor combinations, my artistic ability is literally about the level of a 5 year old. So naturally I run and hide and make excuses for anything that I'm not amazing at. It's what I do.
But I'm trying to make it not what I do. I started simple. I don't know if you can really consider these "decorated cookies," but they involved a piping bag and a steady hand so for me that is waaaaay out of my comfort zone. And using the tree cookie cutter set was perfect because you can easily hide the imperfections by the way you stack them.
I do admit, it came out really adorable. I was pretty pleased and will definitely have to try more advanced versions of the decorating soon.
If you have never had a sour cream sugar cookie you NEED to make these. The are perfect. Several of my family members and friends make these around the holidays every year and they are my favorite.
They stay perfectly soft, have a bit of tang, and are just a little too addicting. The perfect holiday cookie.
They also work really well for this star cookie tree because they do not spread at all during baking and hold their shape well. The royal icing also hardens so the cookies can easily stack and not stick to one another.
The specific cutters I used here are from Crate and Barrel and they sadly no longer carry them. You can find similar cookie cutters to make this tree on Amazon
.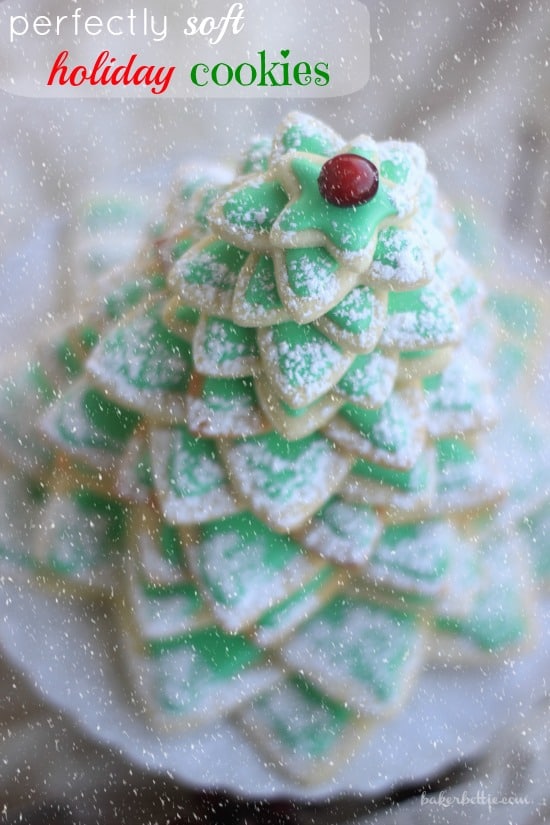 Baker Bettie
Yields 3
Sour Cream Sugar Cookies
2 hr, 30 Prep Time
6 minCook Time
2 hr, 36 Total Time
Ingredients
for the cookies
1/2 cup unsalted butter
1/3 cup vegetable shortening
23/4 cups all-purpose flour
3/4 cup sugar
1 egg, beaten
1/3 cup full fat sour cream
11/2 teaspoons baking powder
Juice of 1 lemon
for the icing
2 large egg whites
2 tsp fresh lemon juice
3 cups powdered sugar
food coloring (optional)
Instructions
for the cookies

In the bowl of a stand mixer fitted with a paddle attachment, beat butter and shortening about 30 seconds or until softened.
Add sugar, egg, sour cream, baking powder, and lemon juice and mix until incorporated. Scrape down the sides of the bowl.
With the mixer on low, slowly add the flour. Scrape sides as needed.
Divide dough in half. Cover and chill for 2 to 3 hours or until easy to handle.
Preheat oven to 375.
Roll dough on lightly floured surface to 1/8 inch thick.
Cut with desired cookie cutter, dipped in flour to prevent sticking.
Place on parchment or foil lined baking sheet.
Bake at 375 degrees for 5 to 6 minutes or until edges are firm and very lightly browned (these will not turn golden, they should still be white in color)
Slide parchment paper with cookies attached onto counter top to cool for 5 minutes.
Remove to wire rack to cool completely before icing.

for the icing

In the bowl of an electric mixer fitted with a whisk attachment (or a hand mixer) beat egg whites and lemon juice until frothy.
Add the powdered sugar and beat until combined and smooth.
Add food coloring, if desired, and beat until combined.
The icing needs to be used immediately, as it hardens.
Place in a piping bag fitted with a fine tip.
Trace the outer edge of the cookie with the icing
"Flood" the inside of the cookies with icing (go back and forth with the icing until it is mostly covered with icing)
Use a toothpick or an offset spatula to smooth out the icing and pop any air bubbles.
Allow to harden for at least 2 hours.
Store in an airtight container.
7.6.7
21
https://bakerbettie.com/sour-cream-sugar-cookies/