Apple Cider Muffins with Almond Streusel
Apple cider muffins are bursting with apple flavor with fresh shredded apples and an apple cider reduction. These muffins are topped with a generous amount of brown sugar/almond streusel and you have a perfect fall treat!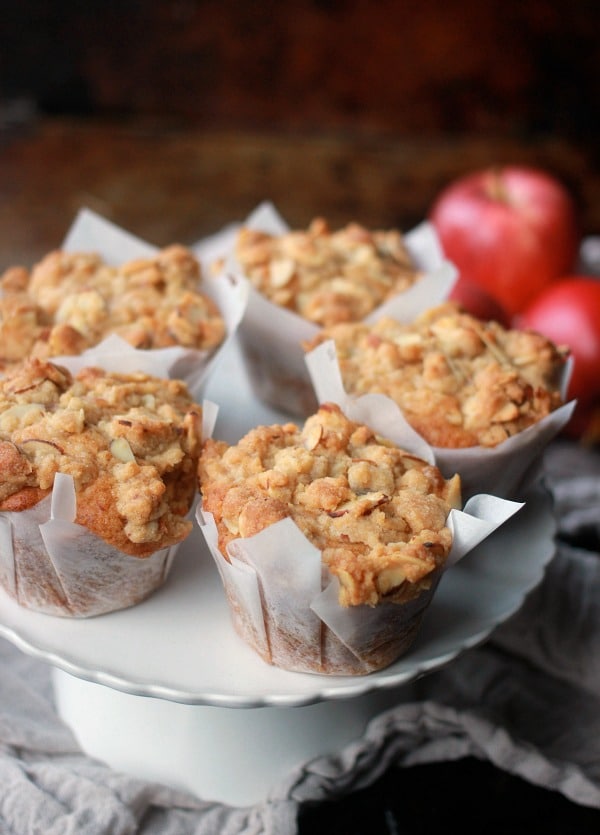 Now we are in it. We are sooooo in it. Living on the east coast fall smacks you over the head and is in your face. The vibrance of the leaves, the crispness of the air, the dreary grey skies… Yeah, sure. We have all of that in Kansas. But it just seems more intense here. Like fall was made for the northeast.
I don't know about you, but I'm starting to freak out a little bit about how fast time goes these days. Why didn't anyone ever tell me that this is what happens when you become an adult? I wasn't prepared for this!
I can't believe October is almost over. And it's almost November! Which means it's almost December!!!! And before we know it we will be well into January, and it will be 2015?!?!?! and I will turn 29….. (WHAT?!) Which means before I know it I will be THIRTY. Did you hear me?
THREE-ZERO!
'I'm hyperventilating.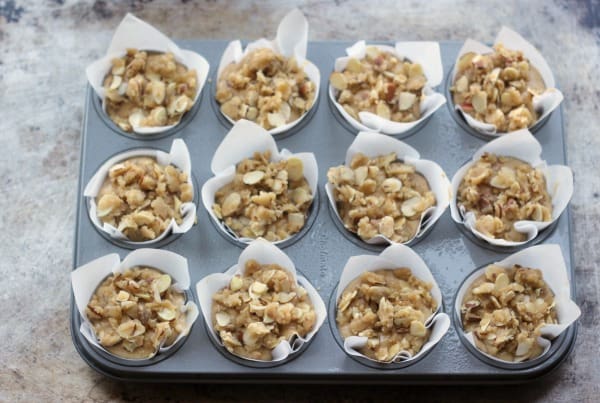 I haven't made anything pumpkin spice yet. I haven't even eaten anything pumpkin spice yet. I will. I love it just as much as the next guy. But I'm still holding out a little longer. I guess it's my way of trying to slow time down a bit.
Why is everyone in such a hurry to jump into the next season and move time along faster than it is already going?! Let's ease into it.
I'm loving the apple everything right now. So I decided to make some intensely apple flavored muffins. The batter is filled with apples and enhanced with an apple cider reduction.
I also had to add a good dose of almond streusel on top. Probably about double what most recipes would call for. Too much streusel doesn't exist in my world! Bring it!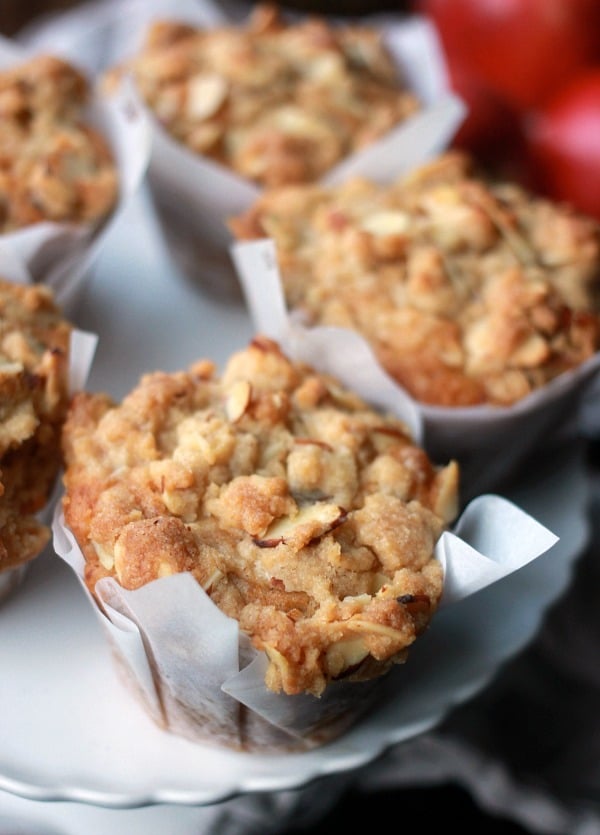 Baker Bettie
Yields 12
Apple Cider Muffins with Almond Streusel
15 minPrep Time
25 minCook Time
40 minTotal Time
Ingredients
FOR THE MUFFIN BATTER
2 cups apple cider (3/4 in end)
2 1/2 cups all purpose flour
2/3 cup brown sugar
1 TBSP baking powder
1/2 tsp salt
3/4 tsp cinnamon
1 large firm apple
2/3 cup canola oil 1 egg
FOR THE STREUSEL TOPPING
1/3 cup flour
1/4 cup brown sugar
1 oz almonds
2 TBSP melted butter
Instructions
MAKE THE MUFFIN BATTER

Pour the apple cinder into a small saucepan and bring to a boil of medium-high heat. Let reduce a little more than half way. You want to end up with 3/4 cup. I pour the cider into a liquid measuring cup every so often to check the level. Set aside to cool.
Preheat the oven to 375F and line a muffin tin with paper liners.
Place the flour, sugar, baking powder, cinnamon, and salt in a large bowl and stir with a whisk to combine. Finely dice or grate the apple and put it in the bowl with the dry ingredients and stir in with a fork.
Put the reduced cider in a medium mixing bowl, add the vegetable oil next to help cool the cider further. Add the egg and beat the wet ingredients together lightly. Make a well in the dry ingredients and pour in the wet mixture. Stir together just until combined being careful not to overmix.
Transfer the batter to the muffin tins, filling about 3/4 full.

MAKE THE STREUSEL

Stir together the flour, almonds, and sugar for the streusel in a small bowl. Stream in the melted butter and stir together with a fork until crumbly.
Scatter the streusel evenly and generously over each muffin.
Bake in a 375F oven until risen and a toothpick comes out with a moist crumb, about 25-30 minutes. Transfer to a wire rack to cool a little before serving.
The muffins are best eaten warm on the same day, but you could store them completely cooled overnight in an airtight container and warm them in the microwave the next day.
7.6.4
130
http://bakerbettie.com/apple-cider-muffins/